Kombucha, booch, 'the elixir of life', bubbly juice or whatever you might call it is a probiotic, fizzy, kind of sweet, kind of sour, fermented tea with supposed health benefits such as gut health and digestion, detox, weight loss and helps against inflammation. These things aside, with today's creative flavor combos (think Rosemary + Grapefruit, Blueberries + Cinnamon, Pomegranate + Mint and so many more!) it's an amazing and healthier alternative to a soda, especially when it's hot. And while it may not be the traditional 'drain the bottle' sort of thirst quencher, those of us who love our booch will tell you it's just as satisfying! With a recent spike in Kombucha available in town, Bangalore now has plenty of great options. Check out our favorites below!
---
HOME BREWERS
---
COMPANY:

True Brew began as the quest of founder Smita Sajnani trying to improve her own gut health. After drastic lifestyle changes, she purchased a SCOBY and tried making kombucha at home which became quickly loved by friends and family. Fast forward to today, TB brews in small batches using all organic ingredients.
TASTE:

The taste of True Brew is really amazing- a perfect harmonic blend of fizz and flavor! With two main flavors Pomegranate and Pineapple (the fruits available year round) they also offer seasonal flavors such as Mango + Ginger and Kokum and are constantly experimenting with new delicious combos! You can't really go wrong with any of them!
PRICE:
Rs. 200 per bottle (300 ml)
HOW TO GET IT:

Order it on Instagram and arrange pickup or get Dunzo to pick it up
VINE TIP: Follow True Brew on Instagram to get a special discounted rate of Rs. 175 per bottle!
KOMBUCHA KULTURE-

NO LONGER BREWING
COMPANY:

Based out of her kitchen in Palm Meadows, Sheetal supplies the good booch to all the expat housewives in the Whitefield area. With small batches ready every other week or so, her products are snatched up quickly!
TASTE:

Kombucha Kulture's flavors are on the stronger side, which makes it one of our favorites! Customers who prefer a milder taste often will add in some soda water for the perfect balance. Flavors are constantly evolving as well. Past flavors have been Berries + Mint, Mango, Orange + Cloves, Kefir Lime with 3 Roots, Green Apple + Cinnamon and more!
PRICE:

Rs. 200 per bottle (250 ml)
HOW TO GET IT:

Contact Sheetal below to join the WhatsApp ordering group

No Longer Brewing 🙁
COMPANY:

We fell in love with Kōbo after first trying them at Vine Fave Restaurant Forage. Owner Payal Shah has her kombucha on tap (basically the Kombucha equivalent of "on point") and doesn't just stop at drinks! She ferments (almost) anything from kimchi, garlic and honey, tomatoes, Siracha sauce (!), cucumber pickles and so much more! She ferments in tiny batches and is very popular so stuff goes quick!
TASTE:

We love that flavors are kept interesting, seasonal and changed up on the regular; Rosemary, Pineapple, Mulberry, Italian Lime, Passionfruit and Roseapple, Rhubarb, Bayleaf as well as special holiday flavors like a mulled wine taste-alike at Christmas! For those who don't like a very flavored booch, Kobo also has a plain flavor.
PRICE:

Rs. 220 per bottle (300 ml)
HOW TO GET IT:

Order on Instagram and arrange delivery by Dunzo or else as of mid-June you can pickup at Kōbo's brand new Fermentary space (tours by appointment also possible!) in Indiranagar, or order a shot while dining at Forage or FabCafe
VINE TIP: Kobo also has some amazing other probiotic drinks too! We adore the real Ginger Ale as well as Passionfruit Water Kefir- MUST TRY!
Payal, Tel: +91 99809 02800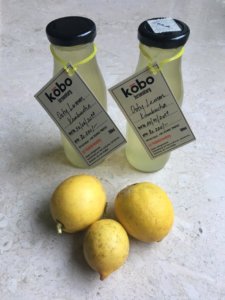 COMPANY:

Former tax consultant Honey Islam started making kombucha here in Bangalore using a small amount of SCOBY (the good culture and bacteria added to tea to create booch) that she brought all the way from California! They are now a craft kombucha brewery using fine quality Indian orthodox teas and seasonal botanicals.
TASTE:

Mountain Bee mixes unflavored kombucha with fresh juices to create some of their flavors, making it a great option for people who are still getting used to kombucha and are looking for a slightly less potent taste. Meet Aloha Ananas (kombucha and fresh pineapple juice), Wild Watermelon (kombucha and fresh watermelon juice) and Mangosteen (mangosteen and kombucha). For natural booch lovers, you can also choose The Original Booch which is exactly that, unflavored kombucha. Other fun flavors include Singer Ginger (organic ginger and maple syrup), Vanilla Brown (vanilla bean pod and brown sugar) as well as their seasonal concoctions such as Rose + Strawberry, Mangosteen, and Marfa Mango (mangos and ginger).
PRICE:

Rs. 200 per bottle (220 ml)
HOW TO GET IT:

Order via their Instagram or order form and choose from pickup or delivery option. You can also grab a bottle at Equilibrium Climbing Station in Indiranagar (you'll even get a special rate of Rs. 180 a bottle!) and Fresh Mills Kalyan Nagar

Honey, Tel: +91 96201 34029

COMPANY:

Poonam Illuri lives on a small farm in Whitefield with her four cows, three dogs, and countless squirrels. She teaches block-print, mosaic and tie-dye and makes Kombucha in her spare time. Her booch is made with mainly green tea leaves with organic brown sugar or jaggery before its' second ferment where fruit or ginger is added in.
TASTE:

The taste is a blend of mildly sweet, tangy and tart. Flavors depend on seasonal availability.
PRICE:

Rs. 200 per bottle (250 ml)
HOW TO GET IT:

Poonam brews to order and can deliver after a week of ordering with her via phone
VINE TIP: Poonam recommends mixing the kombucha with fresh orange juice and ice for a refreshing cocktail!
Poonam, Tel: +91 98441 16839
COMPANY:

Founder of The Gluten-Free Bread Boutique Shwetha Muthanna grows her kombucha with a mix of green and black loose leaf tea along with organic palm sugar until they reach their fermented, vinegar-like consistency. She also offers a range of other probiotic goodies such as Vegan Coconut Water Kefir, Kvass (a fermented drink made from beets) and Dairy Kefir Yogurt.
TASTE:

Flavors include Plain, Coffee and Holy Basil
PRICE:

Rs. 400 per bottle (300 ml)
HOW TO GET IT:

Collection from her home near Leela Palace or Dunzo for delivery

Shwetha, Tel: +91 98458 69109
---
RESTAURANT BOOTCH
---
COMPANY:

One of our favorite fresh pressed juice companies has recently started serving up some pretty good Kombucha, perfectly complimenting their amazing juices. Brewed in-house and fermented for a week, the shelf life of each bottle is four days.
TASTE:

For those looking for lighter flavors, Fresh Pressery offers a more subtle tasting Kombucha yet still delicious. Flavors rotate weekly between Pineapple and Mint, Pineapple and Jasmine, Pomegranate, Mango and Juniper Berry.
PRICE:

Rs. 200 per bottle (250 ml)
HOW TO GET IT:

Enjoy it at one of their lovely cafes in Koramangala or Lavelle Road, or order it online!
COMPANY:

Founder Arun originally brewed Kombucha for fun for colleagues in his office until deciding to make it his full-time occupation. Based out of Whitefield, Home Bew Kombucha is now FSSAI certified and supplies to healthy restaurants and concepts (see below!)
TASTE:

Home Brew likes to avoid monotony by brewing a wide selection such as Lavender, Jasmine, Hibiscus, Rose Hip, Lemon Grass, Aparajit/ Butterfly Pea Flower and also doing a second fermentation using fresh in-season fruit like Pineapple, Orange, Apple, Cinnamon, Strawberry, and Peach.
PRICE:

Rs. 140 per bottle (200 ml)
HOW TO GET IT:

You'll find Home Brew booch at The Flying Squirrel (they even created an exclusive flavor made of Cascara coffee bean shells for them), Mimansa and Foxtrot, Cafe Noir, Enerjuvate, Nuts Over Salads, Ai Cavalli at the Embassy Riding School, The Farmhouse, Barley and Grapes at their airport location, and more! You can also order directly from Home Brew Kombucha and pick up or have it delivered for a fee

Arun, Tel: 91 98405 76584, [email protected]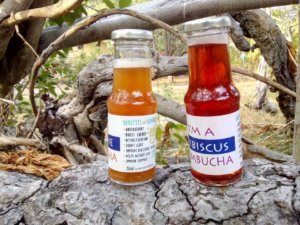 ---
IN STORE
---
COMPANY:

Mumbai based Kombucha brand, HappyBooch has recently started popping up in select grocery stores and restaurants in Bangalore, much to our delight!
TASTE:

With 6 signature flavors: Chai Spice, Rose Lavender, Basil Lime, Butterfly Peaflower, Strawberry Dreams, Ginger Love, and Guava, HappyBooch have a mild fizz to them for those of you who prefer a slightly less carbonated taste to your booch.
PRICE:

Rs. 150 per bottle (250 ml)
HOW TO GET IT:

Pick up a bottle at FoodHall or restaurants such as Smokehouse Deli

COMPANY:

Another Mumbai fave booch that has suddenly become available and is easily recognizable with Tony the Tiger's more zen brother on the bottle, Tiger Zen calls themselves a Probiotic Ice Tea. Their tea has been tested for a high amount of antibiotics apart from the probiotics and have a 2-month shelf life.
TASTE:

Flavors include Classic, Rose, Apple + Cinnamon, Mango Cheer and Hibiscus + Kokum. Tiger Zen's taste is more on the tangy side of flavoring.
PRICE:

Rs. 150 per bottle (250 ml) except Mango Cheer for Rs. 170
HOW TO GET IT:

Available here in Bangalore at Foodhall
COMPANY:

Mumbai (where else) based company Bombucha produces slow-fermented probiotic goodness and follows batch fermentation. They brew using green, black and even white tea sweetened with organic raw sugar. They also do gingerales, sauerkraut and kimchi.
TASTE:

We like that each of the 6 flavors available has a descriptive name such as The Refresher: Hibiscus + Lime, The Healer: Mango Tumeric, The Relaxant: Chamomile, The Classic: Smokey Oolang, The Iron Booster: Supergreen and The Weight Watcher: Apple Spice
PRICE:

Rs. 240 per bottle (500 ml)
HOW TO GET IT:

Available for pickup at Foodhall or delivery through Amazon.In and Urban Platter websites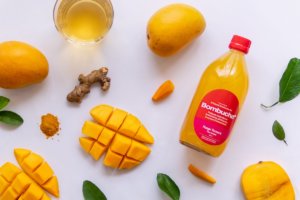 With the 'anything to do with your gut' health trend of 2019, we imagine these won't be the only booch suppliers on the Bangalore market for long! Let us know if we've missed any of your favorites!
---