When I told my friends I was going to do a Closet Cleanse/ personal styling session, they were all quite taken aback- I definitely do not seem like the type (is there a type?). My days are very varied, from office work and corporate meetings to working on the ground in rural areas and volunteering in a foster home to dinners on 12th Main and cocktails at Lavelle Road.
Since I moved to India, I fell into a bit of a style rut and I have a closet full of clothes that I haven't touched for the whole year. I stopped wearing some of my nice clothes because the pressure of always being dressed up that comes with living in Dubai wasn't there anymore and my waistline definitely expended a bit, which I blame 100% on The Vine and restaurant reviews.
---
KIRAN REYNOLDS
---
I met fashion consultant Kiran Reynolds by chance at a women entrepreneurship event and fell in love with her style and how effortlessly chic she looked because deep down that is the vibe we all aspire to. Originally from London, Kiran comes from a fashion background with a degree in Fashion Buying. She worked in the Womenswear Buying Office in Selfridges on Oxford Street before creating concepts for window displays and store visual merchandising. She later lived and worked in Toronto designing womenswear, footwear, and accessories.
Here in Bangalore, she consults fashion boutique owners on their Visual Merchandising and Store Layout as well as styling up mannequins and models for marketing photo shoots. She offers one-to-one personal styling sessions and Closet Cleanses for private clients.
---
CLOSET CLEANSE
---
I set up a closet styling/organizing session with Kiran and before we started, she asked me to send her pictures of styles I liked and what I hoped to achieve from the session. I wanted to come out of it with an edited version of my closet, purged from the crap I don't wear, where every piece makes sense and works with other pieces to create an easy, clean look for any occasion.
Kiran was right on time and super excited to get going, while I was panicking because I have so. Much. Stuff. We started by pulling everything out and getting rid of anything that needed mending, hasn't been worn in ages or was too small. As much as I like to lie to myself, there is no way I am ever again fitting into my early 20s party bodycon dresses, so out they went. Once I was happy with what was left, Kiran made me get rid of an extra 10%. She is ruthless! She explained to me that the biggest mistake I made was layering stuff on the same hanger and it's true- I totally forgot I had some of my nicer things because they were buried under two jackets and a pair of pants. We hung everything nicely and organized it by color and sleeve length, another great trick to draw your eye to the most weather-appropriate style.
From this…
…to this!
Then, the fun began. Kiran asked me to pull out pieces I love but find difficult to style and we dragged out all of my shoes, bags and scarves to create new, fresh outfits that I never in a million years thought of wearing together. We took pictures of them so I know how to repeat them and Kiran helped me identify the gaps in my closet, such as belts and bodies, that will help me look more put together. We were fully done in 2 hours! The next morning, I approached my closet with such lightness and joy (she totally Marie Kondo'd me) and my getting ready time in the morning went down by good 10 minutes, which we all know is the equivalent of an hour at 7 AM. I have also been getting compliments left, right and center since the Kiran makeover.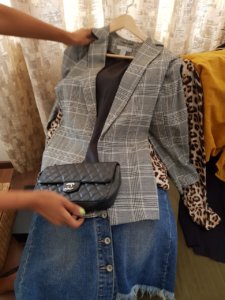 ---
THOUGHTS
---
I highly recommend working with Kiran if you are moving and want a lighter closet, switching careers and need to look more put together or just want a super fun afternoon that will leave you feeling lighter and chicer. Now that it's moving season in Bangalore, this is your chance to make sure you don't move the stuff you will never wear again.
THE VINE TIP:

Kiran also does styling for special events and personal shopping!
WHAT:
A Closet Cleanse and styling session with Fashion Consultant, Kiran Reynolds
WHERE:
at your own home
PRICE:

Rs. 2,500 per hour (total time depends on your wardrobe size)
CONTACT

:

Tel: +91 76761 49408, Email

[email protected]

, www.kiranreynolds.com (COMING MONDAY)
---
Main photo by New Africa, Photo #2 courtesy of Kiran Reynolds, All other photos courtesy of Tena Pick