One of the best ways to boost a country's economic level is to buy local. In 2014, India launched the "Make in India" initiative as part of a wider set of nation-building initiatives. It was devised to transform India into a global design and manufacturing hub. However, as more international brands are making their presence in India, it's also important to know how those brands are supporting the local manufacturers. One of the brands on everyone's mind (and shopping list) is IKEA. A Swedish brand by origin, it has manufacturing units and commercial outlets across the world and now it's made it's way (finally) to namma Bengaluru. For 35 years IKEA has been sourcing products from India and currently 20% of the products on offer within the IKEA India outlets are tagged "Made in India" (source).
To help support further the ability to buy locally made products, from the Vine we've devised a list of our favorite Made in India products. You can browse this page on IKEA's site for a more comprehensive list as well.
JUMP TO SECTION
---
LIVING ROOM
---
GURLI FLOOR CUSHION
When you have small kids you are bound to wind up spending 99% of your time with toys on the floor. Make the area more comfy for everyone with a nice floor cushion. The Gurli floor cushion comes in tons of prints so surely you'll find one to match your space.
Buy it here.
HILDAMARIA CUSHION COVER
This is just an example of one of many designs for cushion covers that work for making both inside and outside spaces a bit more comfortable.
Buy it here.
KRONMAL SHEER CURTAINS
Sheer curtains are a great option for letting in the sunny Bangalore days while maintaining a bit of privacy. White curtains go great with any room to make them have an easy and breezy feel without feeling the weight of thick fabrics.
Buy it here.
THE VARVY CORNER SHELF
This corner shelf helps add a bit more storage space to an empty corner without taking up too much real estate on your floor. The Varby shelf comes in 3 colors.
Buy it here.
GLADOM TRAY TABLE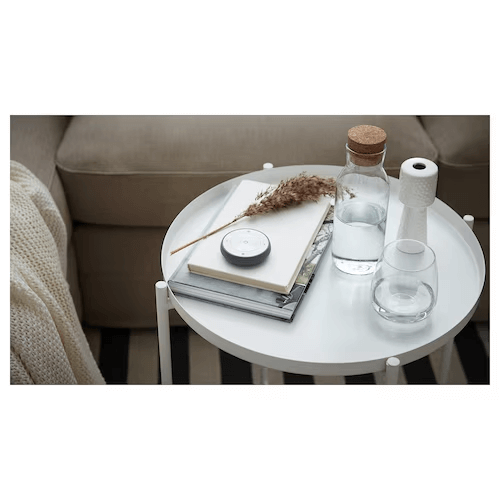 The tray detaches from the table legs to make it even more functional. It works for a side table in a living room or even in a bedroom. It's compact enough to fit into your reading nook, too.
Buy it here.
---
BEDROOM
---
RIGGA CLOTHES RACK
You never can have enough clothes storage. If your room, guest room, or kid's room doesn't have a lot of built-in closet space, this is a great way to get storage quickly and efficiently.
Buy it here.
LUDDROS MATTRESS PROTECTOR
A washable mattress cover is key to keeping your mattress in pristine condition for many years. Buy 2 and switch them out while one is in the wash for a forever fresh feeling in your bed.
Buy it here.
STJÄRNSTARR COOL DUVET
Bangalore weather is never the thick duvet type of weather which is why this "cool" duvet is perfect for getting the cozy feeling of wrapping up in a blanket without getting all sweaty. It's also machine washable so you don't have to worry about heading to the dry cleaner.
Buy it here.
SKOGSFRAKEN PILLOWS
These pillows are available in high or low support. Did you know? High support pillows are recommended for side and back sleepers and low support pillows are for stomach sleepers.
Buy it here.
FLAT SHEET WITH 2 PILLOWCASE SET
It's probably no surprise that you can find sheet sets on IKEA, but it's always great to know that many of the bedding textiles are made right here in India. With a huge range of colors and patterns, just click "Product Details" on the item page to see if it's made in India.
Buy it here.
NATTJASMIN FITTED SHEET
The only downside of a fitted sheet is folding it! But it makes up for it when you don't have to worry about your sheets pulling out from the bedframe after a night of tossing and turning.
Buy it here.
---
KITCHEN
---

RASKOG TROLLEY
This trolley is truly multi-functional as you can use it in the kitchen, living room, bathroom, or for portable arts and crafts for kids.
Buy it here.
HALLBAR WASTE BIN
The Hallbar line has tons of solutions for waste bins and storage that are stackable. This one is specifically designed for organic waste and has holes to help air circulation to prevent stench. You'd think the opposite, but according to IKEA it's good for reducing odor. We will believe you until we smell otherwise.
Buy it here.
VARIERA SHELF INSERT
Shelves are never the right height for all your needs. These shelf inserts help maximize space in a tal cupboard with minimal built-in shelves.
Buy it here.
FULLASTAD LUNCHBOX SET OF 3
You can never have enough food storage containers with lids. The fullastad comes in a set in bright colors which is perfect to send for a school tiffin.
Buy it here.
RINNIG TEA TOWELS
​​
In my house we never can find the kitchen towel. It's usually in some corner soaking up a mess of water or hiding on a countertop seemingly far away from where you need it. To avoid drip drying across your house, stock up on plenty of these kitchen towels.
Buy it here.
GARNITYREN BOWLS WITH LIDS
I am a sucker for any kitchenware that comes with a lid. Why do I need to prep and serve a salad in one bowl and then transfer it to a dedicated storage container later? These bowls are cute enough for serving and big enough for food prep. Win-win.
Buy it here.
DRY FOOD TRANSPARENT JARS WITH LIDS
Because your kitchen has to look like it's straight out of The Home Edit. No exceptions! Though I'm somewhat kidding, bonus points to anyone with their kitchen cupboards looking like a rainbow.
Buy it here.
HEMLAGAD 6 PIECE COOKWARE SET
You can't tell from the picture, but the big pot has a lid perfect for straining. That pretty much sold us.
Buy it here.
---
DINING ROOM
---
NISSE FOLDING CHAIR
No more social distancing means you might need to store a few extra chairs for that impromptu dinner party.
Buy it here.
MELLTORP TABLE + 2 CHAIRS
This compact table and chairs (they stack) set is great for a small breakfast nook.
Buy it here.
---
BATHROOM
---
SALVIKEN BATH TOWEL
We're all about white linens in the bathroom, but if you're not into seeing how much grime you didn't successfully wash off after a day in dusty Bangalore, then there are other colors for you, too!
Buy it here.
ALSTERN BATH MAT
Do you also cringe when you have to walk across the bathroom floor straight out of the shower? Stock up on these thin bath mats that you can pop in the wash easily. (I also cringe when there are bath mats that obviously can't be washed easily).
Buy it here.
---
RUGS
---
TIPHEDE RUG
This rug will fit perfectly in any home and is weaved with a bit of black to avoid having to keep all your creatures (pets and kids included) off of it.
Buy it here.
LOHALS RUG
Jute rugs are perfect to warm up any space naturally without having to go with a high-maintenance rug.
Buy it here.
AROSUND DOORMAT
I am going to make a guess and say this doormat says WELCOME in Hindi. But who am I kidding, it could say GO AWAY and I'd have no clue. Note to self: learn Hindi!
Buy it here.
STOCKHOLM 2017 RUG
I have this rug in my home office and I was scared of the amount of dirt and stains it would put on display. A year later, it's holding up well enough due to the grey and beige (it's not white despite what it looks like in the image) pattern.
Buy it here.
---
KIDS
---
MAMMUT CHILDREN'S CHAIR
One of the reasons we all went crazy about IKEA opening in Bangalore was the fact that we could finally source some decent stuff for kids. Note to IKEA: please bring back the kids' kitchen!
Buy it here.
MATA 4 PIECE EATING SET
For the smallest ones, this frog-themed dining set is too cute to pass up.
Buy it here.
GLIS BOX WITH LID
Let's admit it, your kids have way too many things. These boxes with lids are perfect to organize all of their little items that seem to get up and walk around the house whenever they get the chance.
Buy it here.
BAGIS CHILDREN'S CLOTHES HANGERS
Cute and colorful options for hangers for all of your kids' clothes (even though they probably refuse to wear more than that one grubby outfit that you secretly hate).
Buy it here.
KALAS MULTICOLOR CUPS
I stocked up on these little cups when I wanted to celebrate my son's birthday without all the disposable waste. They were perfect and stack nicely so I don't have to dedicate a whole kitchen cupboard to all these extra cups that I use just for occasional kid-friendly gatherings.
Buy it here.
KALAS UTENSILS SET
Another product that works well to keep on hand for zero-waste kid-friendly gatherings.
Buy it here.
---
DECOR
---
NEJKON PLANT POT
There are tons of plant pots on IKEA and many of them are made right here in India. This white one is designed specially for orchids. The hardest part after sourcing an orchid in Bangalore is getting that orchid to survive!
Buy it here.
VANILJSTAND PLANT STAND
Once you've picked out all your pots and plants, this stand is perfect to put them on display near a window or on a balcony/terrace. Don't have a green thumb? I suppose you could use this plant stand as a mini bar as well!
Buy it here.
VINDFLAKT TEALIGHT HOLDER
Gold and wiry seems to be all the design rage. You can make your indoor or outdoor space more romantic with this tealight holder
Buy it here.
KNASTRIGT ELEPHANT STATUES
Every single house in India has some sort of homage to the elephant. These little golden elephants work perfectly on a shelf or as a ring holder.
Buy it here.
UTVANDIG DECORATIVE BOWL
As we mentioned before, gold and wiry is in! We don't know who is storing apples in their living room though.
Buy it here.
---
ORGANIZATION / STORAGE
---
KARTOKEK RACK WITH 5 HOOKS
Because no chair back should become the dumping ground for that coat you only use once in a blue moon in Bangalore.
Buy it here.
KAMPIG 3 ARMED SWIVEL HOOK
A more compact and aesthetic way to store items for "I might need a coat and umbrella" days.
Buy it here.
TJILLEVIPS JUTE BASKET
If you're in India you not only have something with an elephant on it in your house, but also probably something made out of jute. And why wouldn't you? It's perfectly aesthetic and wonderfully functional for a storage box.
Buy it here.
HALLBAR BIN WITH LID
We had mentioned these bins in the kitchen section because they can be used for waste bins, but they're also great for storage solutions as they're also stackable.
Buy it here.
SAMLA BOX WITH LID

These boxes can help make all your organizational dreams come true (believe us, the author of this article is a personal organizer). They come in a variety of size as well so you don't have to mix and match.
Buy it here.
---
All images courtesy of Ikea.In