In my 5 years of living in Bangalore I had the same conversation over and over with random strangers: "Oh you live in Bangalore? Well yes, it's an IT hub and a solid place to party, drink craft beer and eat but that's about it no?" and "Not really much to do for children or visitors and the traffic – oh the traffic …" Of course most Bangaloreans have heard this (and even felt this) before and while this may be the truth, if you stay at home being upset about the traffic and wallowing about your life choices, expecting Priyanka Chopra to jump out of a helicopter to save you from dying of boredom, it will be the truth. It could, however, be a totally different story if you decide to put on your adventurous pants, add in a little effort and GO FOR IT. Then Bangalore can be quite a cool and fun place to live and visit, not only to fly through en route to the Maldives or Goa.
Wow, was I tired of having to always defend my Bangalore to people and explain that in fact it is an excellent place to have an amazing holiday while visiting us. Friends and neighbors never stop asking for suggestions of what to do with visitors, the in-laws, themselves, their children. One day it just became a widely circulated WhatsApp list and now as my family and I are leaving this beautiful place, it has become an article – a love declaration – that, as per my hopes, will be kept alive and updated and be used to end and stomp out the debate about Bangalore being a fun-free zone forever! Here is the encyclopedia to Banglorious Living!
JUMP TO A SECTION
---
PHYSICAL ACTIVITIES + THE GREAT OUTDOORS
---
HIKING
There are plenty of great hiking trips to be taken around Bangalore. Nandi Hills is an obvious choice to start with but there are so many more amazing trails waiting to be explored with fabulous views, some historical monuments and cultural experiences along the way. There are reliable agencies like Unventured that can tailor options for any occasion, fitness level and interest including transport and food. Savi Farms has a child-friendly hiking trail, Bangalore Walks is another company to check out (they even run a walk conducted by children's author Roopa Pai) as well as Rustik Travel.
VINE PRO TIP: Some trails have limited passes per day/week so make sure to book in advance!

BICYCLE TOURS
Yes the traffic can be overwhelming but hear us out. Cycling in Bangalore is an actual thing. From road bikes (find groups online or connect through Strava), mountain bikes and trekking, there are plenty of opportunities for every age and level in and around Bangalore. It's always great for newbies to either connect with existing groups (almost every community has some avid cyclists meeting regularly) or to use agencies like Unventured that can plan it all out, get you the necessary gear and make it an adventure of a lifetime without putting your safety on the line. If you are located on the outskirts, it will blow your mind that within a few minutes you are outside the city, in the fields with beautiful morning fog and getting a glimpse into local markets and lifestyle.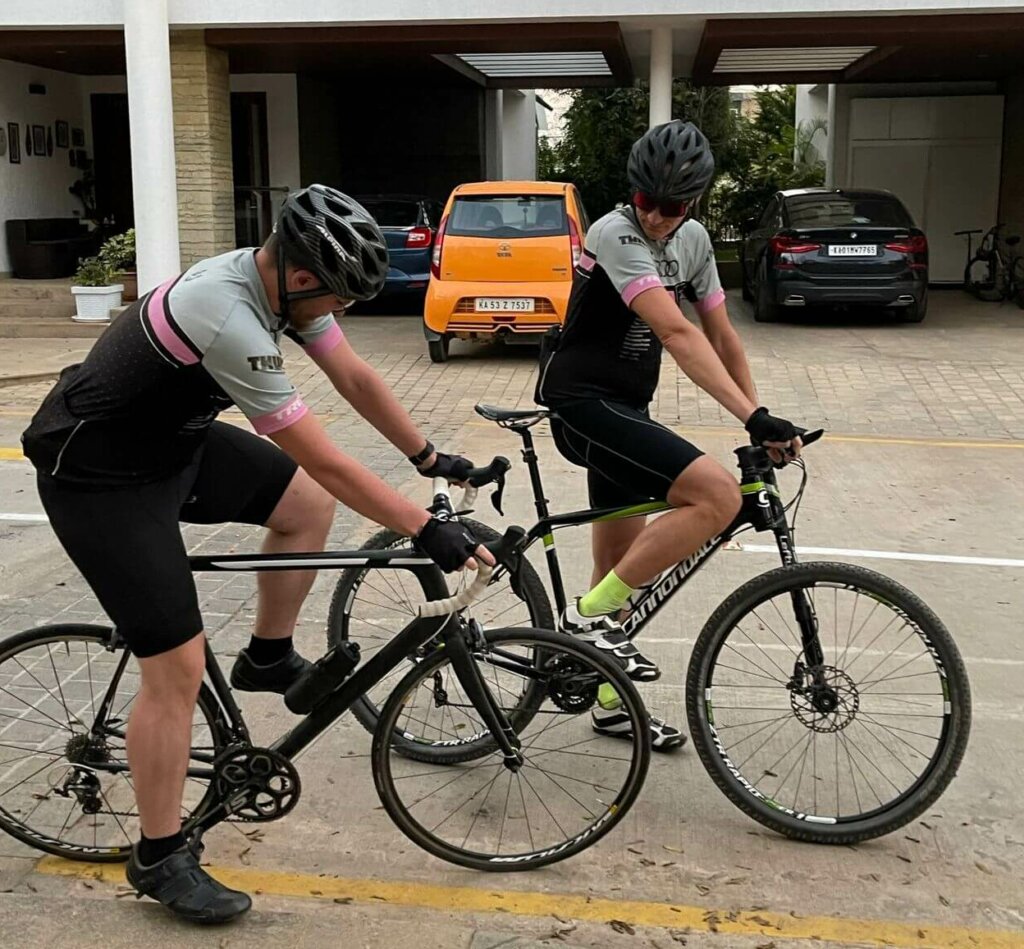 MOTORBIKE TOURS
Same as with cycling, motorbiking can be a positive and safe experience if you plan it out before, make yourself aware on how traffic works in India (horn signals, etc.), wear the necessary safety gear (helmets as bare minimum) and ideally connect with people that do motorbike tours in their free time (within communities) or organize it through agencies. You can easily rent motorbikes of any size and power online or through a dealership. They will drop them in front of your door and pick them up once you finish. Some guided tour companies include Enfield Riders which even have riding lessons for women across India
CAMPING
Oh yes, there is a camping scene in Bangalore and it can be so much fun. There are camp grounds and there are also places (like plantations and farm stays) that will happily organize something within your budget and add on to the experience with trails, bonfires and many more. Agencies like Campmonk or Unventured will help you to explore in a safe manner, even if you are an avid camper do not spontaneously stop somewhere in the woods just because there is wildlife. Adeventrip hires out camper cars with a driver and have a few campsites to choose from. Vama Retreats creates family and pet friendly experiences in a more glamping style complete with adventure courses. For one step further away from 'roughing it' The Ritz Carlton Bangalore offers "camping for children" where they set up a tent in your hotel room so kids are on an adventure while parents can get pampered.
HORSEBACK RIDING
You do not have to be a professional equestrian to be on horseback and have a fun day out. There are large stables (Embassy Riding School) and smaller ranches (School of Lifestyle) where kids can safely ride a pony, everyone can do group rides, dressage, general lessons or go on curated adventures; most can provide the necessary safety equipment and one-off or regular classes individual or in groups.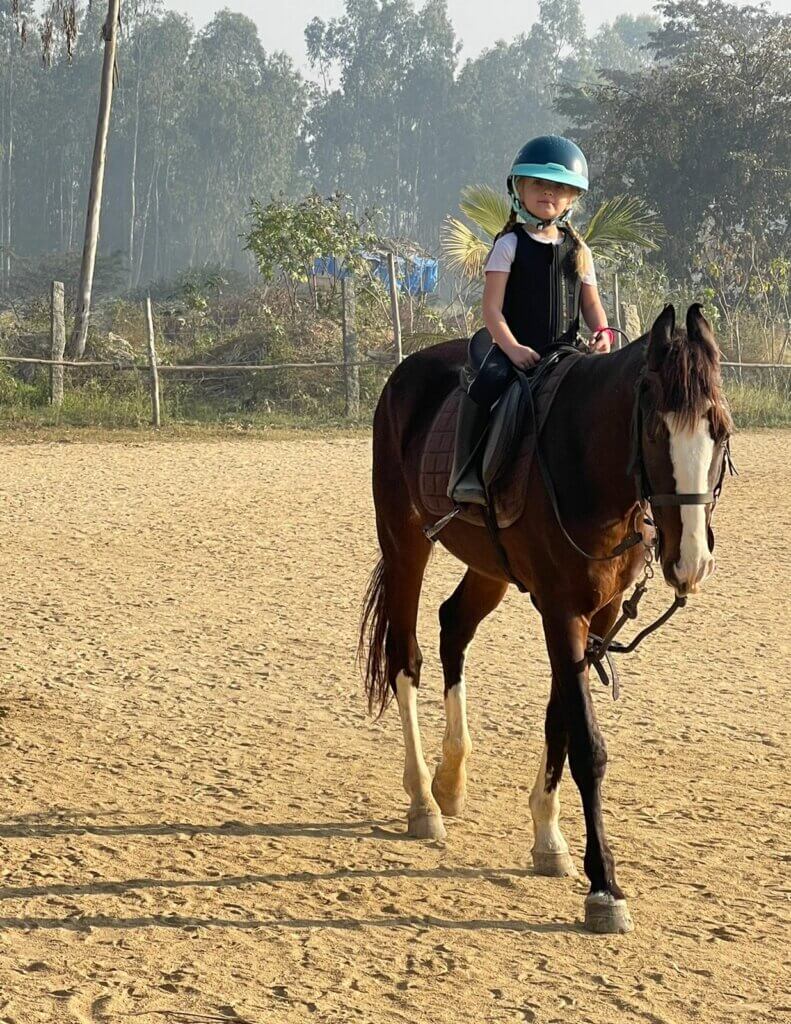 GOLF
There are a few great quality options for golfing. As a regular thing (golf club) or a one-off, for children, newcomers or experienced folks, fantastic courses and well equipped driving ranges are waiting to be explored and enjoyed. Check out Bangalore Golf Club, KGA, Prestige Golfshire, Prestige Augusta Golf Course, ASC Center and many more.
PRIVATE SPORT COACHING
In Bangalore, you'll readily find high-quality private coaches for a wide range of sports. This holds true for both beginners looking to explore something new and experienced athletes aiming to enhance their skills. Whether you want to learn swimming or refine your stroke techniques in the pool, boost your performance on the tennis, badminton, or squash court, or engage in personal fitness, self-defense, pilates, yoga, barre de terre, running, and beyond, the possibilities are virtually limitless. Several larger compounds have their own fitness classes and bootcamps run by residents or external coaches. For instance popular bootcamp Move It Crunch It Lift It at Prestige Oasis in Northern Bangalore.
If your visitors or family members are interested in trying out new sports or honing their abilities, you've come to the right place. Check out our list of kids sports and academies here.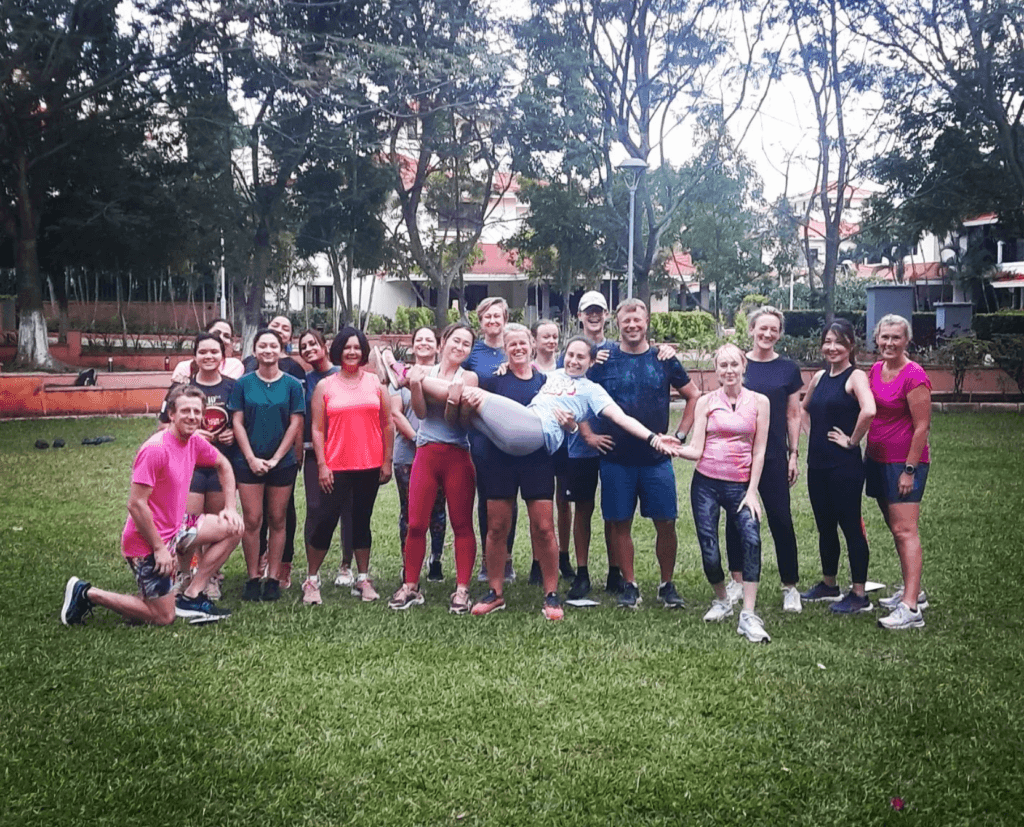 ---
EXPLORING BANGALORE
---
SIGHTSEEING
Explore incredible India or fall in love with Bangalore again through curated walking tours, tuk tuk city tours spiced up with beautiful stories, cultural experiments and historical insights. While it is actually very safe to explore main attractions by yourself, there are full service agencies like Unventured that can curate unforgettable adventures built around your needs, interests, abilities, dietary restrictions and circumstances and make it so much fun. (Potential sites to visit include: The Bangalore Palace, Tipu Sultan's Summer Palace, Bangalore Fort, Vidhana Soudha, Lalbagh, Cubbon Park…)
LOCAL FESTIVALS
Whether you have visitors coming or you and family members want to explore incredible India there are countless magnificent festivals to immerse yourself in from October onwards. These festivals are spectacular to watch and fabulous to experience (ganesh churta, durga, diwali, onam, holi just to name a few). Individual neighborhoods and communities will celebrate with special displays, gear up with decorations, commemorate with colorful festive parades so it's always worth putting on adventurers pants and going to look what's going on.
VINE PRO TIP: Driving around at night in the festival time watching all the lights and colorful displays, stopping for some snacks and sweets at local sweetshops is an unforgettable experience of its own.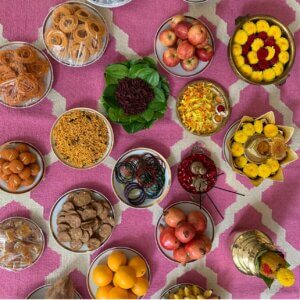 MANGO WALK
If you are lucky enough to be in India/ Bangalore from mid April until the beginning of June, be ready to explore everything Mango. This is mango season with hundreds of different varieties available and even the smallest shops will have several options to experience. Mango season is an unparalleled opportunity to take visitors or yourself on mango tours/ mango walks where you can experience different varieties of mangoes, mango based dishes and walk the mango street (located in the Jayanagar area). We promise Indian mangos are next level.
VINE PRO TIP: Join our annual curated mango experience with The Vine and Unventured. Also there are farm stays like Savi Mango Farm that offer day trips and weekend staycations around mango farming.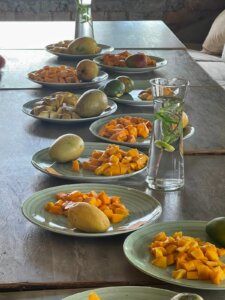 STRAWBERRY PICKING
January until February is strawberry season. Similar to mango season, take your little ones or visitors to the strawberry fields and pick (and snack on) fresh juicy sweet strawberries until you drop. This can also be combined with trails, cycling and cultural experiences making a really lovely day trip. Check out Bangalore Berry Company!
TEMPLE VISITS
It's generally worth it to visit just any temple and you will see many when stepping out on the street. However, there are a few temples that will be more suitable for younger children or visitors, with curated and guided experiences making it easy to navigate, learn and explore Hinduism. A great temple to start at is Shivoham Shiva temple. It's located behind a shopping mall, entrance through the deep garage. Once you enter it's like you are suddenly in a different world. For a small fee (around 500 INR per person) you go on a spiritual /hands-on journey and will be personally guided through different rituals and ceremonies and that will be such an interesting, good and manageable experience for any age group. ISKCON temple, Bull temple, and Kali temple are great options to explore the more spiritual aspect and immerse yourself.
VINE PRO TIP: Always keep your common sense in-check and dress appropriate (no skimpy outfits). If you are not sure what is appropriate, do ask a local and observe and copy what other visitors are doing. For example, take off your shoes when others do, respect no camera zones, approach with an open, kind and explorative heart. Many times you will be offered food or snacks that are safe to be eaten. Again if you are not sure just ask other visitors, people normally are welcoming to give insights in their culture and religion. It's also worth it to keep the festive calendar in check because some festivals mean more visitors but also special once in a lifetime experiences and displays.
CRICKET
You might already have realized that cricket is the Indian national sport. You could surprise your visitors with a private cricket session and then take them to one of the professional major league games. Or you can also keep it more local anywhere on the weekend in any neighborhood you will see people in parks and sportsgrounds meeting and playing cricket. Some are more organized tournament style while others are more random. Whatever you decide to do it is always a lovely, relaxed and fun atmosphere and maybe you will be lucky and invited to join in.
CHURCH STREET AREA – BOOK STORES
A booklover's paradise in Bangalore? Very much so! Definitely go and visit Church Street and some of Bangalore's oldest, most eclectic and scenic bookshops where you can find any old and new book after browsing shelves for hours. Some shops offer to take your books back on commission after reading and you can buy new ones. Beautiful artsy area with kawaii, gaming and souvenir shops, coffees and lots of nice restaurants. Don't miss out on one of Bangalore's most iconic banana leaf joints.
MALLS
Besides the well-known shopping areas like Indiranagar, Lavelle Road and Koramangala with beloved shops like Nicobar, Paper Boat Collective, FabIndia, Pinklay, Beruru, The Purple Turtles, Cinnamon, Raintree and many, many more mall shopping in India can be quite an exquisite and wowsome experience. There are plenty of major luxury malls (UB City, Phoenix MarketCity, Orion Mall, Bhartiya Mall of Bengaluru, Phoenix Mall of Asia (opening soon)) offering extensive shopping experience, exciting restaurants and lots of additional entertainment options.
MARKETS/MARKET AREAS + STREETS
Markets are an experience of their own. Depending on the time of day it's also unproblematic to take children and senior visitors. Be aware that festival season and weekends can get really busy but besides that brave up and do the trip. It's a fabulous opportunity to try local produce, find those incredible India national geographic photo moments and to bond with the Bangalorean crowd. Self-guided or if you are new to India with help from tourists guides (that will offer a lot of informations and insights) you won't regret visiting one (or all :-)) of the following options:
Chickpet (sarees, all kinds of festive traditional clothing, textiles, laces, decoration, accessories, jewelry, silks) gets really busy in afternoons, pre-festivals and at the weekends. There is also a whole area where you can see silk dyeing units and weaving factories, pretty spectacular walks and so much to see wherever you turn.
Cotton Market (cotton fabrics and with some patience you may even find some overstock of export fabrics from well-known brands for a fraction of price) slowly opens around 11 AM
Commercial Street (fancy festive attire, accessories, jewelry, mixed with major western brands, souvenirs, interior and lots of tailor studios)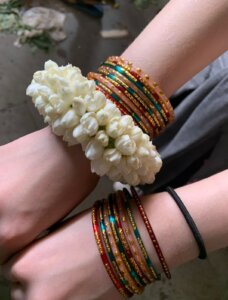 KR Market flower street (happening every morning between 2AM and 7AM) wholesale flowers and fillers just in the street leading up from mosque to KR market. Take old shoes and be really vigilant regarding traffic and loads of people pushing around. It's spectacular but better explored with someone that knows or a guide. Not for children and senior citizens.

KR Market (flowers, fruits and veg, spices, pooja, household, flower garlands production and festive decoration, wholesale bangles etc) avoid on weekends in the afternoon and before major festivals. However flower decorations inside the market building will be spectacular/ out of this world for major festivals. Ideally explore for the first time with a guide or someone that knows their way around.
Car part of Russel Market nestled in the Russel market area is the car part market. Word has it that you can find anything you need to construct a functioning car or scooter from scratch. In the early morning hours (4AM…) they bring in old vehicles. Super interesting to observe them deconstructing them with a hammer and bare hands. Parts are being transported right away to the stalls that specialize in them and within a few hours even big trucks are gone. Be really careful with photographs and ask before if it is alright.
Russell Market It's a whole area with different speciality sections. Pets, beef, chicken, lamb, fish, fruits, vegetables; a fab way to explore local cuisine and to find some of the best quality fruit and veg. Be aware that some areas might feel overwhelming for vegetarians and children as meat is being prepared directly en place not always in the most hygienic conditions. Also here for your first visit you either like to hire a guide or go with a local as the background stories are pretty amazing and it is always great to have someone experienced showing you around.
---
SPAS + SALONS/ MEDICAL TREATMENTS
---
There certainly are a lot of pampering and treatment options available in Bangalore. Not only mind and soul but also physical health , relaxation and appearance can be taken care of in many different ways. Compared to western pricing, quite reasonably priced your visitors are in for a real treat.
MASSAGE + FACIALS
From 5-star hotel spas, Ayurvedic retreats, spa clinics, boutique spas to spa professionals that you can book to come to your home, Bangalore has many options to be pampered and indulge in specialty massages and facials. Check out our Vine favorite massages here.
COSMETIC FACIALS + TREATMENTS
A lot of dermatology clinics offer cosmetic facials (vampire, microdermabrasion, derma glow, oxyjet,,,) and other cosmetic treatments (botox, filler, volite, sculpting, laser, cosmetic surgery, laser hair removal, hair transplant, tattoo removal…). Do explore and research beforehand and look for well-tested and positive rated clinics and dermatologists amongst neighbors, friends and within your social networks. Some fan favorites include Dr. Sunaina Hameed at Skin Health Advanced Dermatology Centre, Dr. Sravya, Dermaglo and Kosmoderma.
SALON SERVICES
A plethora of salons and at home professionals are offering an exciting range of salon services. Waxing, haircuts and styling, blow dry, manicures, pedicures, threading etc. Also here, pay some attention to word-of-mouth and to other people's experiences and suggestions if you haven't identified your own favorite places yet. Here are our fave places to get your hair done in Bangalore! For perfect ten nails, definitely check out Elan Nail Salon. A go-to for lashes is at JC Lash Studio. For at home services try Urban Company.
VINE PRO TIP: Many salons offer kids packages for fun mani-pedi sessions for little princesses and princes.
FREE FLOATING
A wholesome way to fully peace out and experience free floating in massive epsom salt water tanks. Try out 1000 Petals or Salt World.
AYURVEDA
India is the home of Ayurveda. You will find endless options for just any budget and taste suited to deal with just any health problem utilizing ayurvedic medicine, nutrition and treatments. There are full service ayurvedic treatment programs, retreats and also restaurants, ayurvedic clinics, shops and doctors to help you on your ayurvedic journey to health. Here are two of our favorites, Soukya and Shreya's Yoga Retreat and AyurvedaGram Heritage Wellness Centre.
ENERGY WORK
After taking care of the body it might be sensible to visit some of the talented energy workers. Horoscopes, Reiki, Crystal Healing, Tarot, Numerology to have a peek into the universe's plans and to decompress and calm the mind and soul.
DENTAL
Your visitors might be interested in fixing or improving their smiles. State of the art dental studios using up-to-date treatments, techniques and high tech materials are available. Invisalign, dental fixtures, delta prosthetics, cosmetic procedures, whitening you name it. If you're looking for a paediatric dentist, we can recommend Dr. Rana Rouble at Lifetime Dental and Smilax Dental in Bellandur.
---
CULTURAL EXPERIENCES
---
Yes, there are the obvious things to do as a visitor such as trekking the Himalayas, going to all the places and visiting festivals but from the Vine perspective the following sublists will add to you and your visitors' experience and take it up a few notches. You don't even have to leave Bangalore if you want to do small or big adventures! Your motto should be, "Go, do, try, see, hear, taste, touch – Incredible India." Some of these experiences can be done from the convenience of your home and some a short (or not so short) ride away but will be worth every second!
TRADITIONAL ARTS + CRAFTS
Decorations, arrangements, colors, flowers, dances and music executed with love, pride and a deep sense of tradition are absolutely spectacular. Many techniques and crafts are taught from generation to generation and can't always be packed into a single workshop, but it's worth trying!
BLOCKPRINTING
A fun group activity and pretty much doable for any age. No need to be super artsy, just go and create unique keepsakes to take home. Depending on the studio you will stamp on paper or cotton canvas items while given insights on traditional block printing and leaving you with a new appreciation for all the pretty designs out there in the shops. (Some of the Vine's fave places to do block print are at Gaia Farm and Spring Rhythm's studio.
VINE PRO TIP: The blocks themselves make beautiful keepsakes. There are artists that can customize your own designs on a stamp.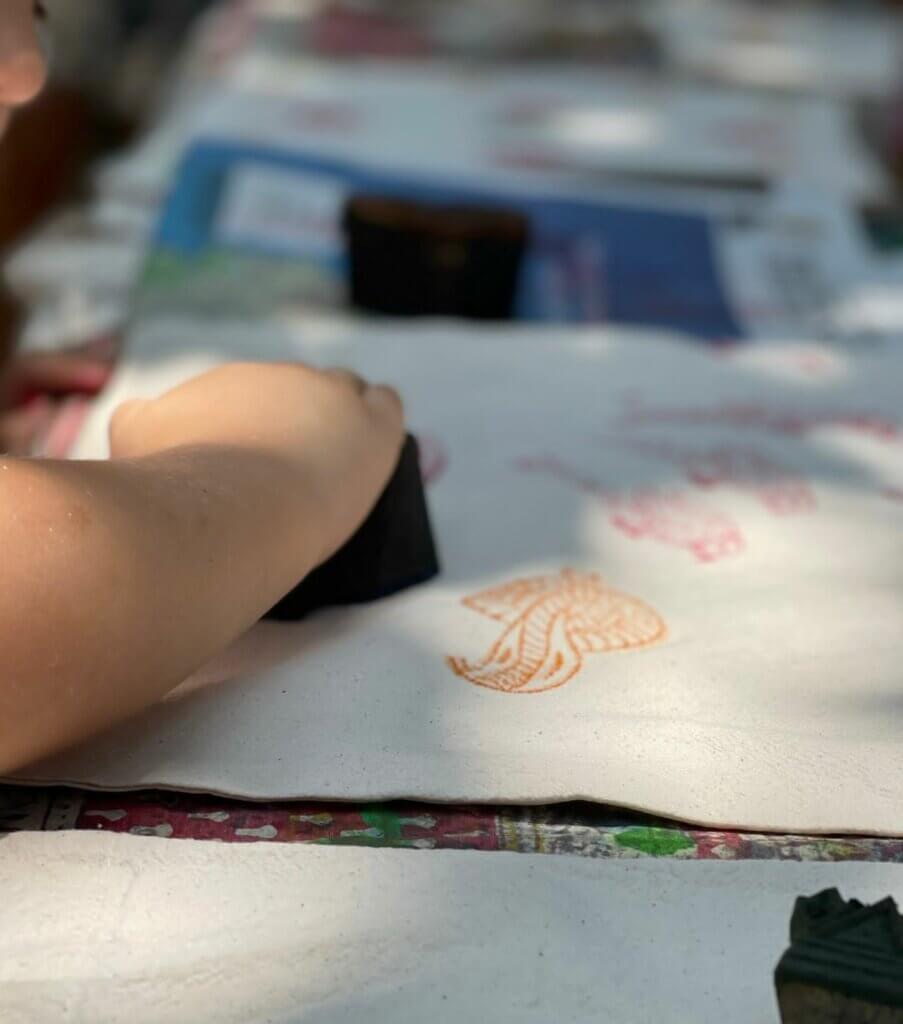 POTTERY
Your chance, in single or group classes, to make your own Ganesh statue, diyas, pottery pieces and learn the ropes of pottery (free form or on the wheel). Suitable for most ages and any level of ability. Some places to try are Mud Effects Studio.
VINE PRO TIP: For inspiration, find out which festival is happening next and which idols are associated with them!
PAIN YOUR OWN GANESH/DIYA
Ever wanted to paint your own Ganesh or diyas? It can be done in an art studio but also easily in your own home. Objects you want to paint can be made by yourself, bought roadside or via Amazon. Art supplies can also be found at Itsy Bitsy or on Amazon.
VINE PRO TIP: This is ideal for big groups, young kids and to decompress and relax. If you like more traditional designs you will find a lot of inspiration online

PAINTING CLASSES
From tribal painting techniques to traditional pieces on canvas (Pichwai, cows and elephants) and even actual pieces like wooden cow heads; there are many good studios and artists ready to teach and guide you and your guests in creating your own masterpieces. In their studios or in the convenience of your home they will supply all materials and help you in the process. Check out Mapleink, (Cowhead vidya, cow elephant tribal bishnu, pichwai traditionals ajay, ekta toran )
VINE PRO TIP: There are countless arts and crafts classes happening depending on the time of year. Sometimes paired with historical insights, stories and foods.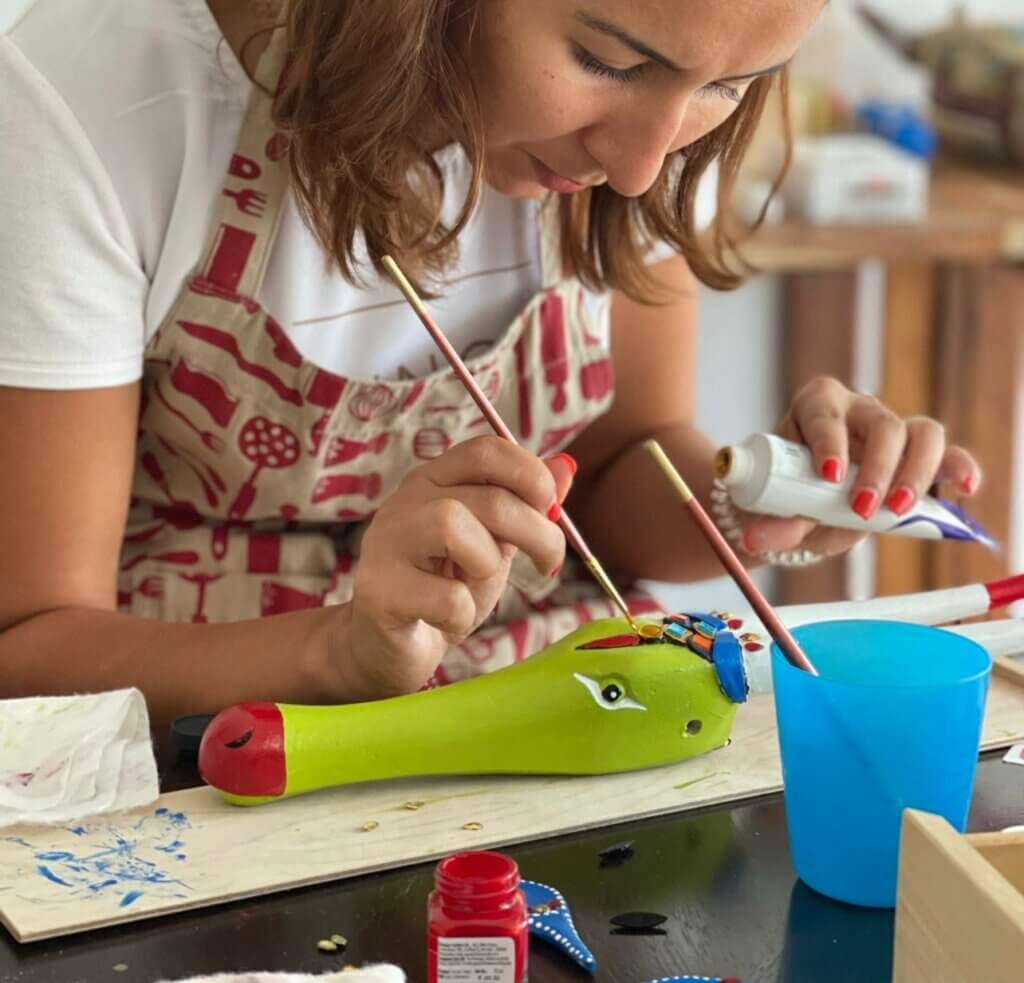 RANGOLI FLOWERS + COLOR POWDER
Rangoli are omnipresent in just any festive occasion in India. Most of the time they are made out of bright colored powders. There are professionals able to come to your home or community to teach essential techniques. It's a fun group activity but it requires patience. The results however will be spectacular. If you work with a big group and/or children or just want to explore rangolis on your own, use pre-made stencils and colors (all materials available on Amazon, pooja stalls at markets or in little shops in the direct neighborhood)
VINE PRO TIP: The colors will stain if you don't feel brave enough or have smaller children, you could also make rangolis from flowers. In shops outside on the road there are sellers everywhere so go and grab a few bags with different flowers and in different colors (ask your helper, driver or neighbor if you are not sure where to go). First you prep the materials by plucking the buds or petals and then just immerse yourself and let it flow. (video pics)
FLOWER GARLANDS
You can't walk around India without noticing the lush colorful variations of flower garlands. Flowers are an integral part of any festive occasion or display and the individual techniques to create them will blow your mind especially when realizing the lifespan of a single plucked flower or petal, the temperatures and size of some of the arrangements. The central hub for flowers in Bangalore is KR market. There is a daily early morning wholesale happening every morning between 2 AM-7 AM and then there is a whole section inside the market where the mentioned garlands are being made, displayed and sold. While it's humbling to watch single jasmine buds being threaded into massive garlands or single rose buds being rolled and worked into bridal arrangements, it's also a wonderful experience to sit down and try some basic designs yourself.
VINE PRO TIP: There are artists found in KR market that can come home and teach you some techniques or maybe you ask your helper or a neighbor for tips.


MANDALA STONES + CLASSES
Peace out in private or studio mandala sessions on paper, fabric or even stones. Supplies can be found on Amazon or Itsy Bitsy if you want to try on your own. If you go and do it with a teacher/ at a studio they will provide all necessary equipment

EMBROIDERY + SEWING
There are a plethora of artists and studios available that will be able to accommodate individuals or group classes introducing you to different techniques and levels.
BOLLYWOOD/INDIA PARTY
When in India why not do as the Indians do? An Indian-themed night, Bollywood party, or photoshoot just because life is beautiful. There is always a reason to celebrate so we had to add the following suggestions, another highlight to your Incredible India extravaganza.
BOLLYWOOD DANCE SESSION
First things first- Bollywood movies and Indian celebrations almost always include a lot of dancing. Yes, this is a sign for you to pick up some swift moves with a private teacher or in a group setting. You can hire freelance dance teachers to come to your place or can also check your neighborhood and community for existing regular group classes. The teacher will most of the time choose one or two songs and you will learn a fixed choreography.
VINE PRO TIP: Whether you're a dancer or not, it doesn't really matter – don't overthink it and miss out on such a session. Bollywood dance is amazingly fun and energizing, give it your all ad forget about what you look like, just have fun and we promise you 'll be back for more.
SHOPPING
Next level, now that you have the moves, it's time for coordinated clothing and accessories. Nothing beats a day out shopping in buzzing downtown. Sarees, Lehengas, kurtas or whatever Indian attire floats your boat! Then add shoes, bangles and some bling to finalize the look. Not only will everyone feel super special and look spectacular, it's such a fun thing to do for all ages.
VINE PRO TIP: Depending on budget and taste you will find everything you need in malls and in the wider commercial street area . Or go to Chickpet market to get outfits for everyone even with a very small budget.

MEHENDI
Have you ever had the chance to see Indian women with their festive Mehendi (Henna Tattoos) on legs, feet, arms and hands in all their glory? A special opportunity for you to share with your visitors. Mehendi lasts up to 14 days and is quite inexpensive to have done by an artist in your home or in any mall or neighborhood shop. They will sit you down and the artist will help you choose a design of your liking. The artist then applies the color and then you'll wait for it to dry and fall off which can take a few hours.
VINE PRO TIP: It's sensible to keep the process in mind and to not plan anything big on this day because depending on where you chose to have the mehendi done and its size it might be impossible to use your hands or walk in shoes for some time.


BOLLYWOOD DRESS UP PARTY/NIGHT OUT
Whatever you have planned – enjoy. Depending on the occasion and size of your party or where you are headed you could think to book a makeup artist/ hairdresser (check out our Where to Get Your Hair Done article here) to complete your dramatic glamorous look.
VINE PRO TIP: Stylists can also be booked to come to your place and will also assist you to dress up traditional clothing pieces (draping sarees aren't easy!). In India you can easily book helping hands, companies to install fairy lights, bring furniture, decorate with flowers, DJ, catering, photographer etc.
---
SPIRITUAL- PHYSICAL EXPLORATION
---
YOGA
You obviously have heard about yoga before moving to India but are you aware how many different Yoga practices are out there? It's time to try a few new ones. There are countless practices and talented Yoginis that will teach with different paces, aims and goals. Hatha, Ashtanga, Yin, Kundalini, Nidra to just name a few. There are no entrance barriers – absolutely everyone can do Yoga. There will be options to practice or maybe to just have a trial class for any age-, fitness- and health level in the comfort of your home or at a studio within an individual or group setup. You never know, you may decide you want to do a teacher-training course and start teaching yoga yourself, you wouldn't be the first woman who moves to India to do so!
MEDITATION/BREATHING/SINGING BOWL CLASSES
Any of these for the ultimate reset or day off. These are possible in studios or with private instructors or in the privacy of your home.

ASHRAM
Interesting places worth exploring- keep an open mind.
VINE PRO TIP: Most ashrams are open to visitors however you should always do some research before and find out how it works at the specific ashram you want to visit , visiting hours, visitor passes etc…
SOUVENIRS FROM INDIA
We curated an article about souvenirs and what to bring back from living or visiting India. Find some inspiration here!
---
LEISURE FOR FAMILIES
---
HALF DAY ACTIVITIES FOR TODDLERS, KIDS + TEENS
ARCADES
Loads of old school and new arcade games that can occupy a rainy day, offer a great location for birthday parties or, since most arcades are located in shopping centers, a place to drop the family off so everyone is entertained and happy while you are shopping. At the entrance you can buy a pass for a certain amount of money to play games. Depending on the game you play, you win paper or digital tokens that can be later exchanged for little prices at the shop. Arcades are in just any mall normally near the food courts. Major brands that are generally well maintained and staffed are Timezone (in all Nexus malls, Phoenix mall, Orion mall …), Torq3, and Funtura.

TRAMPOLINE FUNPARKS
There are a few options, the most modern is My Play Factory. While it has an array of other activity options it also has a well equipped large trampoline park for the whole family. Other choices for bouncing are Sky Jump Trampoline Park and Bounce Inc.
VINE PRO TIP: Always bring your own grip socks along to avoid extra charges.
BOWLING
Most malls or arcades have bowling alleys of all sizes. Here are the 4 most noteworthy ones: PVRbluO, Amoeba, The Grid, Torq3
VINE PRO TIP: Depending on the place, plan ahead and reserve in advance to avoid prolonged waiting times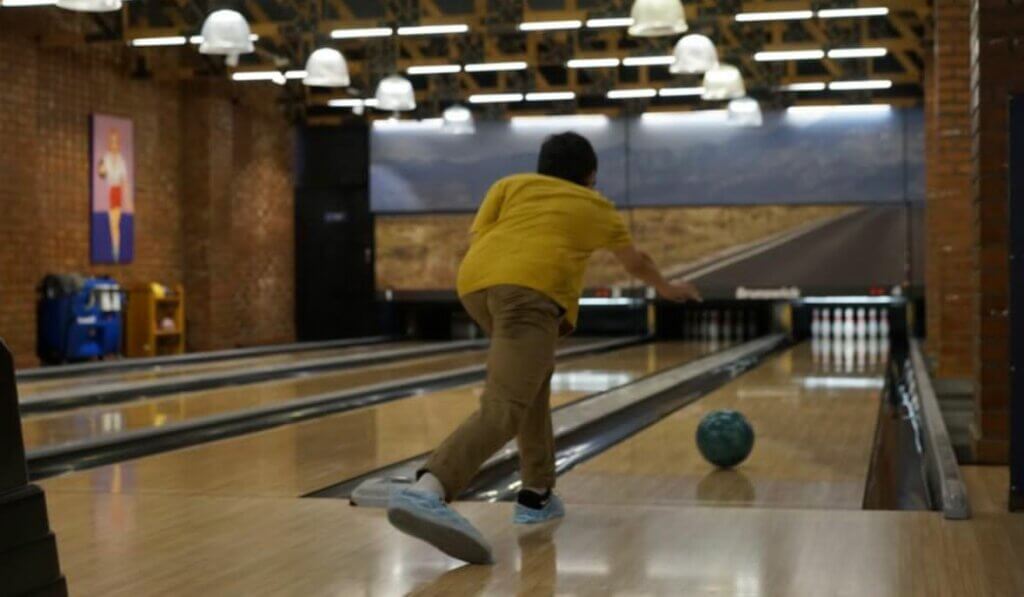 LASER TAG
Same as with bowling and trampoline parks, laser tag facilities are usually connected to some of the indoor gaming/ e-zone centers. Depending on the facility you can reserve it for larger groups accessible for all age and fitness levels. Options include Torq3, Gaming Galaxy, and The Grid.
GO KARTING
Torq3 and Red Riders are nice larger racecourses with different cart options to cater for most levels of ability. From the age of 4 years old kids can co-drive with their parents.
VINE PRO TIP: Book in advance to not clash with corporate events or birthday parties.
INDOOR PLAY ZONES
You will find plenty of state-of-the-art indoor playgrounds and play zones in all the large shopping malls. Most will offer special zones for the different age groups (toddler/junior). The most loved and newer brands are Play 'N' Learn (Nexus, Phoenix Market City), Funky Monkey (Orion) but there are many more to explore.
VINE PRO TIP: Pack socks for everyone that will enter including adults.


CLIMBING
Urban Climbers, Equilibrium Climbing Station, Elevate Climbing are indoor climbing areas which provide safe and modern facilities for all free-climbing and wallclimbing aficionados of all ability levels. Bangalore Adventure School provides technical training for rock climbing (outdoor) and other various outdoor activities such as canyoning, caving, trekking etc. For the whole family you might want to consider a rope adventure course – My Play Factory and Active Arena offer parkour for different ages and difficulties.
VINE PRO TIP: Do research before hand about age and weight restrictions. Some courses are only accessible from the age of 12 and max 90 KG weight.
CINEMA GOLD + FAMILY CINEMA
There are quite a few amazing cinematic adventures in Bangalore. Besides the normal 2D shows, we should mention 5D movies and specialty cinemas such as Cinepolis (at Nexus Shantiniketan) for example has a special Junior Cinema that comes with an built-in playground, slides, extra breaks in the movie, family sofas to make it a nice experience also for the younger crowd. VIP full service cinemas like VR Gold (VR mall, Orion) offer next level services with dine-in menu, ultra comfortable massive reclining seats, blankets and round the clock butler service directly to your seat. Tickets can be booked easily in advance via BookMyShow app or homepage.
VINE PRO TIP: Most movies are shown in various languages and subtitles so double check which one you picked before purchasing the ticket in the app.
COOKING CLASS
A cooking class for a group of visitors, family, friends, birthdays or corporate events is always a good idea. Slurp Studio is a spacious, fully-equipped rooftop cooking studio that pretty much has it all. From learning how to make Indian cuisine to just any other cuisine or specialty you wanted to master down to absolute fab kids cooking sessions, you are in for a very good time. They take care of everything, make it a safe and fun experience and after cooking, you can enjoy the meal right there on their terrace.
VINE PRO TIP: Slurp Studio offers regular culinary sessions but can also customize and cater around any dietary need or interest.
VIRTUAL/AUGMENTED REALITY
Interesting for the tween-teenager plus crowd, VR is a thing now in Bangalore. While you can't compare it with facilities in Korea or Japan there can be lots of fun exploring the local options like VR Galaxy, DimensionX, VR Voyage. Some are super small but some cater to larger crowds.
VINE PRO TIP: It's pretty new to India so it's advisable to keep regular tabs on availability and potential new facilities.
ESCAPE ROOMS
Another thrilling experience for older children, teenager and adult visitors are escape rooms. And there are plenty of different rooms to try: Breakout, Mystery Junkies, The Amazing Escape, Gaming Galaxy.
VINE PRO TIP: Definitely book in advance!
NAMME METRO
Namma Metro is expanding and outside of the high traffic times, it is a safe, modern, little adventure connecting all relevant spots downtown.
VINE PRO TIP: Tickets can be bought through the app.
AV RIDES
Dirt Mania has you covered not only with AV rides (existing tracks) and individualized AV tours (also check out Freakouts) but there is also paintball and other messy fun games.
VINE PRO TIP: Pre-booking is mandatory!
ARTS + CRAFTS/ DIY ART STUDIOS/ WORKSHOPS
Imagine a crafty day filled with glitter, pouring of paint and other messy supplies but your house stays clean? It's possible at places like Maple Ink (Whitefield), The Firefly Terrace or Lillibees Art Studio have you sorted. Looking for a spontaneous walk-in option? The Firefly Terrace offers a massive arts and crafts menu on a walk-in basis. Maple Ink is a cute place in Central Whitefield offering art projects and classes and makes a great place for a crafty birthday party. Lillibees Art Studio has daily art classes of all kinds and techniques (in the heart of Whitefield).
VINE PRO TIP: There are many more places for adult art classes, these are just the ones for kids!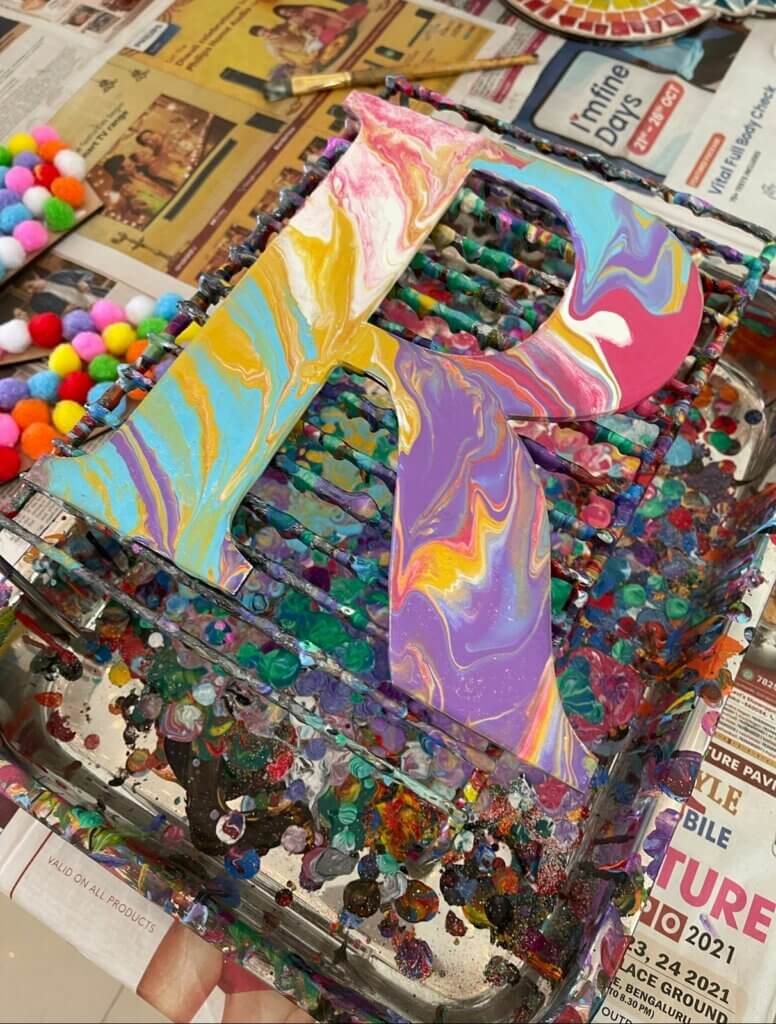 DAY TOURS
PICNICS
If you want the fun of the picnic without any of the preparation, use these companies to help organize your picnic fun. The Picnic Company, Gourmet in a Garden and NJH at Malaikal help plan your food and even location.
BIG BARN NATURE CAMP
Let's be farmers for a day! Big Barn Farm is a super cool -actual organic certified farm- near Bannerghatta with animals large and small, holiday tractor rides, fab picnics and many more things for a fun day out for the full family but especially the smaller crowd.
VINE PRO TIP: Bookings must be made in advance to not disturb the animals and the actual farming. Big Barn has specific visiting times that have to be booked in advance.
THE MARTIN FARM
The Martin Farm is a tiny little farm in the Sarjapur area with a few bigger and smaller animals, a play area and is really good for a small trip or picnic when coming from Whitefield.
VINE PRO TIP: We also see it as a potential location for a tiny farm lover's birthday party.
SAVI MANGO FARM
Only a brief 45 minutes ride away from Whitefield is Savi Farm aka the Mango Farm. It's a happy place with animals, veggie fields, mango trees and so much space to explore. Meena and her welcoming team offer morning or afternoon slots (that have to be booked in advance) filled with all kinds of seasonal farm activities such as trails, tractor rides, harvesting fruit and veggies and helping take care of the animals. They serve the most tasty fresh farm-to-table meals catered for everyone's individual dietary needs. There is a little body of water for kids and the option to stay overnight by adding a bonfire and making it a weekend trip.
ZOO SAFARI
You surely have heard that Bangalore has its own zoo but did you know there is also an actual safari next to the zoo? In buses or smaller, more private buses or cars you will be taken around to see free-walking elephants, bears, tigers (if you are lucky) and many more animals. You can either reserve online or book directly at the zoo entrance
VINE PRO TIP: Choose the early morning slots or last slots when most of the animals are the most active.. For families with small children we suggest to definitely book individual jeep rides. For a little tip the drivers will take more time to look around and for you to marvel at your favorite animal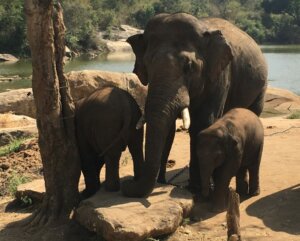 BUTTERFLY WORLD
Directly next to the zoo safari and the actual zoo is Butterfly World- a lush green dome filled with butterflies, flowers and all you ever wanted to know about them. It is advisable to go there right when it opens so on most days you will have the place to yourself.
VINE PRO TIP: For a little extra, the butterfly keepers will show the different stages from caterpillar to butterfly, the cocoons of various species and snap a few glorious keepsake pics with butterflies on the hands (of older children).
AMUSEMENT PARKS
There are a few adventure parks in town. Which one to choose really depends on individual taste, expectations and age of the visitors. Wonderla, FunWorld and Snow City are the most popular ones.
VINE PRO TIP: We suggest arriving as soon as they open so you can enjoy rides and facilities.
ASHRAM
There are countless very famous ashrams all over india. Most of them offer programs to participate, some also offer day tours. The Art of Living is famous and located in the south of Bangalore (watch this space for our review soon). An easy place to go and explore what ashram life and philosophy is all about. Depending on the ashram you can either enter without booking or you'll need to go through a, sometimes, lengthy registration process.
VINE PRO TIP: If you are looking for special events or would like to experience specific part of an ashram it's worthy to do some research and plan your visit well in advance.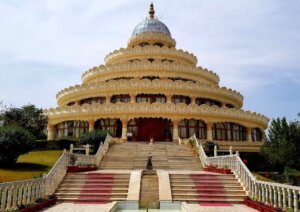 MUSEUM OF ART & PHOTOGRAPHY (MAP)
Finally after years in the making, the incredible Museum of Art and Photography opened its doors in 2023 in close proximity to Cubbon Park and Visvesvaraya Industrial and Technical Museum. Immerse yourself in Indian art and culture; a melting pot of ideas, stories and cultural exchange. Other than permanent exhibitions and changing art galleries, they have their own art and research library, education center, research facility, caffe and a fine dining restaurant.
HERITAGE CENTER & AEROSPACE MUSEUM (HAL)
HAL is an essential for every child and grownup who wants to explore everything related to Indian aerospace. Real jets, helicopters and many more cool things to see and walk around in semi open exhibitions. Nice for the whole family and good opportunity for a little trip cum picnic.
INDIAN MUSIC EXPERIENCE MUSEUM (IME)
The Indian Music Experience Museum is located in JP Nagar and is the place for a fun engaging day out for old and young showcasing India's music history, all the different genres and instruments of India. Hands on place, well-maintained with a sound garden outside.
CURIOUSCITY SCIENCE CENTER
Curiouscity is all about science-based learning for kids using a super fun approach. Well-maintained modern new facility, hands-on all around with science labs, a kids play zone, illusions and so much more located in the Sarjapur area.
VINE PRO TIP: Some parts of the center are run by science students of Bangalore's most prestigious universities which is why the place has both fixed and changing opening times and sometimes is closed during the holidays.
VISVESVARAYA INDUSTRIAL & TECHNOLOGICAL MUSEUM
In close vicinity to IME and Cubbon Park is another cool science museum for all explorers small and tall. The Museum itself contains the hall of engines, fun science galleries, space exhibit, biotech and electronics exhibits, dinosaurs and multiple shows covering divergent science topics in regular intervals in English and Kannada. They now added "science for kids" a special zone designed for tiny people to safely play and engage with science from early ages.
PLANETARIUM
The Jawahar Lal Nehru Planetarium is quite a cool (or romantic) place to take your loved ones to watch some stars and have a little taste of space science. The planetarium has regular shows in Kannada and English covering everchanging topics. There are regular live night sky watches.
VINE PRO TIP: The program for summer 2023 is out featuring "Dawn of Space Age", "Exploring the Universe" and "Celestial Fireworks"
HELICOPTER RIDE
We agree, it's a little bit of an extravagant suggestion but yes helicopter rides to explore Bangalore from above are an actual thing.
VINE PRO TIP: For everyone that wants to experience a brief helicopter ride on a budget, Blade Helicopter Services offer twice daily helicopter rides from HAL Old Airport Road to the airport. Maybe throwing in a lunch or stint at the Virtual Reality Zone at Terminal 1 and then back by car.
---
Main photo from Canva, all other photos courtesy of the author