Finding decent bread here is not as easy as you would think. While every grocery store carries bread, the selection and quality may not be what you are used to. Sure you can pick up toast and other soft loaves, but we generally find a lack of good quality hard, crusty bread. A few home bakers have taken this opportunity to start businesses that deliver fresh sourdough. We round up some of the best places in town to get your bread from!
---
STORES + BAKERIES
---

With a choice of Rye Bread, Parmesan and Garlic Ciabatta, Carrot and Sesame Bread, and Sourdough Baguette, this all-day combination cafe, bakery, and deli offer some delicious bread. Freshly made Burger Buns and Bagels are also available. What's more, WBC love a challenge and will try to source hard-to-find items for you!
Whatsapp or call in your order up to an hour before and send your driver to pick up your fresh bread.
Whitefield Baking Company, Marriott Whitefield, Plot No 75, 8th Rd, EPIP Zone, Whitefield, 560066, Tel: 80494 35233/WhatsApp 88841 91432 , www.marriott.com

One of the best places in town to get high-quality food, the bread here is no exception.
All breads are freshly made in the store every day, y

ou'll find the usual Baguettes and Soft Loaves as well as a selection of pita, crostinis and pretzel bread. Grab a Cheesy Garlic Pull-apart Bread or a

Chilli Corn Bread to serve with a soup or salad.
Food Hall even offers delivery to areas of Bangalore close to the stores. Persian Flatbread Na
VINE TIP: So far this is one of the only places where we have found great bagels, if they are in stock, grab a few packs to freeze!
Food Hall, 1MG Mall, 1 MG Road, Someshwarpura, Ulsoor, 560008 and Ground Floor, VR Mall, Whitefield Rd, Mahadevapura, 560048, Tel: 1MG 80220 86533/ VR Mall 80465 24155, foodhallonline.com

Good breads are the least we would expect from a leading Academy of Baking Science and Pastry Arts that conducts its own courses on Basics of Bread and International Breads. While their selection is somewhat limited, they offer Baguettes, Focaccia, as well as Multigrain loaves with oats, sunflower, poppy, flak and linseed. We wouldn't be able to list Lavonne without mentioning their amazing Croissants which are freshly baked every morning and usually sold out a few hours later. These are for sure the best croissants in the city.
Lavonne, 263, 3rd Cross, 2nd Stage, Domlur, 560071, Instagram: @lavonneacademyindia, Lavonne.in
---
RESTAURANTS
---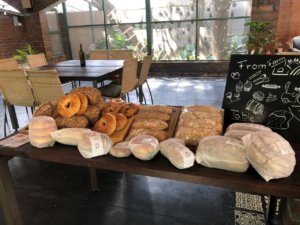 The Farmhouse offers all natural and mostly organic food and drinks surrounded by the lovely palm-shaded oasis that is Lake View Farm. German families in Bangalore rave about their artisanal bread which are made sans chemicals and include 'The Dark Brown' (made with 50% ragi sourdough), Carrot and Walnut Loaf, 'Koernerstange', and Ciabatta as well as a large selection of bagels (Cinnamon, Onion, Sesame, Whole Wheat).
They don't deliver but bread is available for pick-up or delivered by Dunzo. All bread is baked daily on site and advanced orders will be ready at 1 PM. Closed Mondays!
VINE TIP: For a sweet treat, try their Vegan Pumpkin Chocolate Rolls!
The Farmhouse Kitchen & Bakery, Lake View Farm, Varthur Main Road, Whitefield Main Road, 560066, Siddapura, Bengaluru, Karnataka 560066, Tel: 09 9864 52737, Facebook Page
CHEZ MARIANNICK
A Whitefield favorite, Chez Mariannick is a lovely French boulangerie and cafe run by Mariannick and her husband, Shashi. Well known for their Baguettes (multi-grain, whole wheat and white), Croissants, Pain au Chocolates, and Brioches, this cafe also churns out delicious pizzas from their woodfired ovens. Also on the menu: White and Whole Wheat Loaves or 'Pain Rustic' and 'Pain Complet' and 'Pain au Levain' a French sourdough made partly with whole wheat.
The cafe itself is charming with a pleasant outdoor seating area for dining in. Bread deliveries are made daily between 12:30 and 2pm and within hours of ordering via phone or WhatsApp.
VINE TIP: The french baguette is definitely one of the best in BLR!
Chez Mariannick, 1A Anjanappa Building, Patel Narayanswamy Layout, Siddapura, Whitefield, 560066, Tel: 97394 06536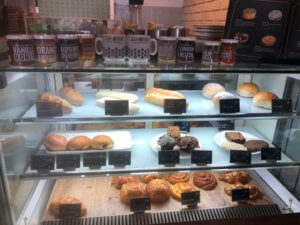 This chain of stylish bistros represents "French art de vivre" with high quality food in a friendly and comfortable atmosphere. Aside from serving up French cuisine for breakfast, lunch and dinner, their AtMyPlace menu offers Baguettes, Wheat Bread, Pan Bagna, Panini and Multigrain Bread. Enjoy a loaf with some of their real fruit jams, carefully selected honey, premium olive oil, or balsamic vinegar.
Café Noir, locations throughout the city, cafenoir.co.in
---
HOME BAKERS
---
Mumbai-native and founder Samruddhi completed her Diploma in European Baking in Germany and has returned to Bangalore ready to bring the art of sourdough baking from Europe to India. She even conducts workshops and training of sourdough baking using all local ingredients. The signature range of 100% sourdough claim to be crusty on the outside but tender on the inside and always bursting with flavor! The variety of creative sourdough options include Country (or plain), Sundried Tomatoes and Olives, Jalepenos, Sunflower, Seed Fest, Cranberry and Walnut, Orange and Chocolate, and Crushed Pepper and Parmesan Chunks! If these flavours are not enough for you, they are open to custom baking them with your own choice. Krumb Kraft also has a hybrid line of breads which contain both natural + commercially available yeast. The combination supposedly equals complex flavor with a good ride and a soft crumb in the Potato, Herbed and Spiced Potato, and Flax Seeds & Cracked Wheat bread.
All breads are baked to order and need a lead time of at least 24 hours. Pick up is from Domlur or delivery can be arranged from Krumb Kraft. Community delivery groups are already set up for Adarsh Palm Retreat, Adarsh Vista, Palm Meadows, Presige Ozone, and Pebble Bay, Sobha Zircon, Crown Aura, RMZ Galleria + more.
VINE TIP: we really love the potato bread!
Krumb Kraft, Tel: 94496 36608, krumbkraft.in

Former research consultant Selvan has always wanted to do something that used his hands, and in February of 2018, he decided to start Sour House. He aims to focus on fermentation and create products that are naturally processed using ingredients sourced directly from producers. The core of Sour House is to bring healthy, naturally processed food to people in a socially responsible way. With 5 different varieties of sourdough varying from Mild, Sour, Dark, Whole Wheat Sour and Seeded, the fermentation times are anywhere from 14 to 36+ hours. Prices range from Rs. 180 – 200 per loaf.
Orders are taken via WhatsApp on Mondays, bread is baked on Thursday-Saturday and delivered by Saturday evening at the latest. Weekly subscriptions are also possible.
Sour House, Tel: 98940 62073, [email protected], Instagram: @sourhouse_india

The Indo-French duo behind Oven Spring, Pierre and Ponnanna wanted to introduce world-class artisan breads to BLR. Their focus is on 100% natural products made with unbleached flour and without
added

preservatives or bread improvers. With a menu consisting of iconic French Baguettes, Italian Ciabattas and Foccaccias, brown Sandwich Loaves, Banh Mi, Slider and Burger Buns, Croissants and Pain au Chocolat as well as traditional Batard sourdough loaves, you should be able to find your favorite type of bread on the list. Prices start at Rs. 25 (per slider) up to Rs. 230.
Ordering can be done via WhatsApp and picked up in Indiranagar Monday to Saturday from 4:30-6:30pm. Delivery is possible depending on location.
Oven Spring, Greensoul Artisans Pvt Ltd, #194, 7th Cross Road, CMH road, Below City Union Bank, Indiranagar, Tel: Pierre 99013 53623 or Ponnanna 98454 33436, Instagram: @OvenSpring_boulangerie
A fairly new player to bread scene, the founders of Loafer & Co. love bread and wanted to make high quality bread using old school techniques such as slow fermentation and sourdough. They also wanted to use local grain such as millet, and wheat grown locally in our breads. They work with organizations such as Jivabhumi and source produce directly from farmers who use natural methods of farming. All breads are free of refined sugar, preservatives and other chemicals. Slow fermented bread include The Seedy Loafer (five millets, five seeds, freshly ground whole wheat), The Semolina Sandwhich Loaf (semolina, white flour, sunflower oil) and Foccacia (with millets, rosemary, sea salt, olive oil). Sourdough options include with or without seeds as well as a Sourdough Baguette. Beer boiled Bagels and Japanese Milk Buns are also available. Prices range from Rs. 150-180.
Ordering must be done 1-2 days in advance via Phone or WhatsApp and picked up in Malleswaram. Delivery within a certain radius are free (the areas around Malleswaram and Sadashiv Nagar and also in Cooke Town) using Dunzo. Outside of these zones, delivery is free (if the cost is below 100rs) the first time and then will be charged after.
Loafer & Co, 191, 8th Main Road, Malleswaram, 560003, Tel: 77607 50727, [email protected], Instagram: @loaferandco
---
FIND THE COMPLETE MENUS HERE
---
[ngg_images source="galleries" container_ids="5″ display_type="photocrati-nextgen_pro_imagebrowser" ajax_pagination="1″ display_type_view="default" order_by="sortorder" order_direction="ASC" returns="included" maximum_entity_count="500″]
---
Main photo from The Vine BLR, photo #1 courtesy of Whitefield Baking Company, Photo #2 courtesy of Food Hall, Photo #3 courtesy of Lavonne, Photo #4 courtesy of The Farmhouse, Photo #5 courtesy of Chez Mariannick, Photo #6 courtesy of the Vine BLR, Photo #7 Krumb Kraft, Photo #8 courtesy of Sour House, Photo #9 courtesy of Oven Spring, Photo #10 courtesy of Loafer & Co.