We originally launched this article in 2018 and it has been quite the buzz ever since. Back then finding decent bread in Bangalore was not as easy as you would think. We're happy to say the 2023 update of this article is starting to tell a different story. Even though 
you still can't find the greatest selection of hearty breads 
in physical grocery stores, it's pretty much still limited to sandwich bread and a few other options. This have given room to some great entrepreneurs in the baking business to fill the gaps where the mainstream bread companies are lacking. Without further ado, we round up some of the best places in town to get your bread from!
---
RESTAURANTS + CAFES
---

Former research consultant Selvan has always wanted to do something that used his hands, and in February of 2018, he decided to start Sour House. He aims to focus on fermentation and create products that are naturally processed using ingredients sourced directly from producers. The core of Sour House is to bring healthy, naturally processed food to people in a socially responsible way. With 5 different varieties of sourdough varying from Mild, Sour, Dark, Whole Wheat Sour and Seeded, the fermentation times are anywhere from 14 to 36+ hours. Prices range from Rs. 180 – 200 per loaf.
The bakery cafe, located in Koramangala 4th Block, is a great place for working remotely while having a coffee, kombucha, toastie, or one of their freshly baked and decadent pastries. If you can't make it to the cafe, you can order online on sourhouse.in. 
VINE PRO TIP: Keep checking their menu as they add new items regularly!
Sour House, 39, 8th Main Rd, KHB Block Koramangala, Koramangala 4th Block, Koramangala, 560034 Tel: 080503 95841,  [email protected], Instagram: @sourhouse_india
Order here (all orders placed by 5pm will arrive the next day between 3-7pm)

Good breads are the least we would expect from a leading Academy of Baking Science and Pastry Arts that conducts its own courses on Basics of Bread and International Breads. While their selection is somewhat limited, they offer Baguettes, Focaccia, as well as Multigrain loaves with oats, sunflower, poppy, flak and linseed.
VINE PRO TIP: We wouldn't be able to list Lavonne without mentioning their amazing Croissants which are freshly baked every morning and usually sold out a few hours later. These are for sure the best croissants in the city.
Lavonne, 3 locations across Bangalore (Domlur, St. Mark's Road, Whitefield), Instagram: @lavonneacademyindia, Lavonne.in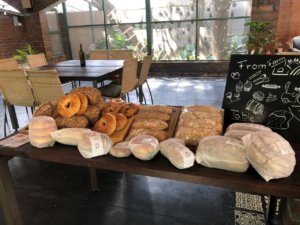 The Farmhouse offers all natural and mostly organic food and drinks surrounded by the lovely palm-shaded oasis that is Lake View Farm. German families in Bangalore rave about their artisanal bread which are made sans chemicals and include 'The Dark Brown' (made with 50% ragi sourdough), Carrot and Walnut Loaf, 'Koernerstange', and Ciabatta as well as a large selection of bagels (Cinnamon, Onion, Sesame, Whole Wheat).
All bread is baked daily on site and advanced orders will be ready at 1 PM. You can order before 9 pm for next day deliver, but note: Closed Mondays!
The Farmhouse Kitchen & Bakery, Lake View Farm, Varthur Main Road, Whitefield Main Road, 560066, Siddapura, Bengaluru, Karnataka 560066, Tel: 09 9864 52737, Website, Facebook Page, Instagram 
Order here!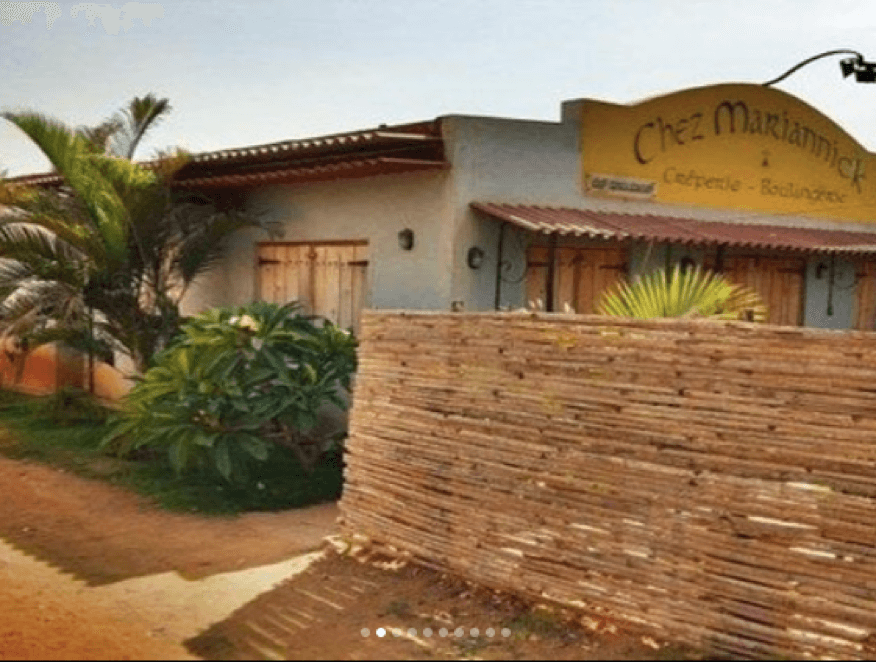 Image source: https://www.instagram.com/thesaltandpepperstory/
A Whitefield favorite, Chez Mariannick is a lovely French boulangerie and cafe run by Mariannick and her husband, Shashi. Well known for their Baguettes (multi-grain, whole wheat and white), Croissants, Pain au Chocolates, and Brioches, this cafe also churns out delicious pizzas from their woodfired ovens. Also on the menu: White and Whole Wheat Loaves or 'Pain Rustic' and 'Pain Complet' and 'Pain au Levain' a French sourdough made partly with whole wheat.
The cafe itself is charming with a pleasant outdoor seating area for dining in. Bread deliveries are made daily between 12:30 and 2pm and within hours of ordering via phone or WhatsApp.
VINE TIP: The french baguette is definitely one of the best in BLR!
Chez Mariannick, 1A Anjanappa Building, Patel Narayanswamy Layout, Siddapura, Whitefield, 560066, Tel: 97394 06536, Instagram

This chain of stylish bistros represents "French art de vivre" with high quality food in a friendly and comfortable atmosphere. Aside from serving up French cuisine for breakfast, lunch and dinner, their AtMyPlace menu offers Baguettes, Wheat Bread, Pan Bagna, Panini and Multigrain Bread. Enjoy a loaf with some of their real fruit jams, carefully selected honey, premium olive oil, or balsamic vinegar.
Café Noir, locations throughout the city, cafenoir.co.in, Instagram
---
HOME BAKERS
---
Mumbai-native and founder Samruddhi completed her Diploma in European Baking in Germany and has returned to Bangalore ready to bring the art of sourdough baking from Europe to India. She even conducts workshops and training of sourdough baking using all local ingredients. The signature range of 100% sourdough claim to be crusty on the outside but tender on the inside and always bursting with flavor! The variety of creative sourdough options include Country (or plain), Sundried Tomatoes and Olives, Jalepenos, Sunflower, Seed Fest, Cranberry and Walnut, Orange and Chocolate, and Crushed Pepper and Parmesan Chunks! If these flavours are not enough for you, they are open to custom baking them with your own choice. Krumb Kraft also has a hybrid line of breads which contain both natural + commercially available yeast. The combination supposedly equals complex flavor with a good ride and a soft crumb in the Potato, Herbed and Spiced Potato, and Flax Seeds & Cracked Wheat bread.
All breads are baked to order and need a lead time of at least 24 hours. Pick up is from Domlur or delivery can be arranged from Krumb Kraft. Community delivery groups are already set up for Adarsh Palm Retreat, Adarsh Vista, Palm Meadows, Presige Ozone, and Pebble Bay, Sobha Zircon, Crown Aura, RMZ Galleria + more.
VINE PRO TIP: We really love the potato bread!
Krumb Kraft, Tel: 94496 36608, krumbkraft.in

Lilypond Bakery has an ever changing menu that you can keep in the loop with by joining their WhatsApp broadcast. Bagels, garlic bread, cinnamon rolls, sourdough bread, baguettes, brioche buns, and so much more. They're all guaranteed to be high-quality, artisanal, and handmade.
Lilypond, Instagram
Order via 
WhatsApp 9724648124 

The founders of Loafer & Co. love bread and wanted to make high quality bread using old school techniques such as slow fermentation and sourdough. They also wanted to use local grain such as millet, and wheat grown locally in our breads. They work with organizations such as Jivabhumi and source produce directly from farmers who use natural methods of farming. All breads are free of refined sugar, preservatives and other chemicals. Slow fermented bread include The Seedy Loafer (five millets, five seeds, freshly ground whole wheat), The Semolina Sandwhich Loaf (semolina, white flour, sunflower oil) and Foccacia (with millets, rosemary, sea salt, olive oil). Sourdough options include with or without seeds as well as a Sourdough Baguette. Bagels and Japanese Milk Bread are also available.
VINE PRO TIP: Their bagels are the best bagels in Bangalore without a doubt.
Loafer & Co, 29, Akshaya Building, Vayunandana Layout, Hebbal Kempapura, 560024 Tel: 77607 50727, Instagram
Order on their website
here
for delivery on Tuesdays and Fridays. 

This small batch, handcrafted, artisanal bakery makes their products made with high quality / organic ingredients, no preservatives or additives. What started as a mommy project after Marina quit her job to take care of her young kids turned into her making her own bread when she wasn't satisfied with the options she found (Read more in our Vine Profile !).
Order via phone+91 9845847975 

An atelier "Micro Bakery" known for its quality and craftsmanship in the baked goods sphere. They offer premium Japanese breads baked to perfection without the addition of preservatives.
VINE PRO TIP: They have bear and cat shaped bread perfect for your pickiest little one.
Advance order only via their website
Windmills of Your Mind, EPIP Zone, Whitefield, 560048, Instagram, [email protected], 7349488617
A diverse team of German and Indian colleagues are thrilled to bring the authentic, fresh and healthy German bread culture from the ovens to Bangalore tables. Options include sourdough baton bread, sourdough buns, laugen pretzels and mini baguettes
Delivery here (Closed Mondays)
Bäcker Deutschland, 1, 6th Cross, 7th Main, New Friends Colony, ST Bed Layout, Koramangala, Phone: +91 866 0463 870, Instagram
---
STORES + BAKERIES
---

With a choice of Rye Bread, Parmesan and Garlic Ciabatta, Carrot and Sesame Bread, and Sourdough Baguette, this all-day combination cafe, bakery, and deli offer some delicious bread. Freshly made Burger Buns and Bagels are also available. What's more, WBC love a challenge and will try to source hard-to-find items for you!
Whatsapp or call in your order up to an hour before and send your driver to pick up your fresh bread.
Whitefield Baking Company, Marriott Whitefield,  Plot No 75, 8th Rd, EPIP Zone, Whitefield, 560066, Tel: 80494 35233/WhatsApp 88841 91432 , www.marriott.com

The Baker's Dozen started out of Mumbai in 2013 and is currently present pan-India including in Bangalore. At the time of publishing this article, they had 11 outlets across the city where you can buy their bread. It's also available online with BigBasket and Amazon. They originally started with sourdough in Mumbai and have spread pan-India with a huge variety of baked goods, both savoury and sweet. Their products are packed for a longer shelf-life and are always available and easy to purchase if you've run out of a fresh loaf.
---
GLUTEN-FREE OPTIONS
---
Check out our Gluten-Free list to find Gluten-Free bread options here!
---
Main photo from The Vine, all other photos courtesy of the brands.
First published July 1, 2018, Updated August 25, 2023