One of the best things about living in Asia is the abundance of great, affordable massage places. For me, a Sunday is not a Sunday if it doesn't involve a massage. Unfortunately, having a ton of options also means having to go through a bunch of places that are far from great (or far from clean). Here is a list of The Vine approved massage places across the city and across the price range.
Meraki is a gem. It is a beautiful, Moroccan-style spa that has a stripped down spa menu covering everything you need for a great experience without being too fussy and confusing. They have two branches, one in CBD and one in Indiranagar, making it convenient for a quick stop when you are in the city. Their aromatherapy is my favorite, but if you need something a bit stronger their Signature Touch massage is a killer in the best possible way. The rooms are clean and comfy and the steam room in every room is a great way to finish the massage. With most 60-min massages being 3.000 rupees, it is also great value for money.
VINE TIP: if you are visiting the Indiranagar branch, ask for Esther
Meraki Spa, St. Marks Road, Tel: 76196 13118 and 100 Feet Road, Indirangar Tel: 96634 76613‬, www.merakispa.in

With branches in USA and UAE as well, this large chain is super convenient (they are everywhere) and offers a great, no-fuss service. I prefer them for Swedish and head massages, but they are also great if you need to get your eyebrows done or a quick mani. Their spas are always clean and while not super fancy, their therapists are great- and that is what counts.
VINE TIP: find them at the airport for a quick pre-flight pick me up
O2 Spa, over 16 locations throughout Bangalore, www.o2spa.org, find the massage menu here
Another chain that is easy to find, I love Bodycraft for multiple services, such as facials and microdermabrasion but multiple ladies also mark it as THE place for pre and post-natal massages. Expecting in Bangalore adds a whole level of hectic, so treat yourself and your bump to a massage at Bodycraft. For everyone not expecting, the sports massages are great and actually go in deep- no light strokes here. Their prices start at 2.250 rupees.
Bodycraft, over 10 locations around Bangalore, www.bodycraft.co.in, find the spa menu here

Oh Conrad spa, let me count the ways… This is my favorite place in the city- not just a favorite spa but literally the favorite anything in Bangalore. From the décor to the smells, the music and the perfect temperature to the products they use and the amazing therapists, you are in for a treat. It is not a cheap place, so I treat it more of a "let me do something special" than "let me walk across the road and get a massage", but for when you want to spend some quality alone or couple time, it's so worth it. Their massages are all great, but so are the facials!
VINE TIP: go for the City Elements facial for ultimate relaxation and getting that glow back
The Conrad Spa, 25/3, Kensington Rd, Someshwarpura, Ulsoor, 560008, Tel: 80221 44444, www.conradhotels3.com, find the spa menu here

This UB City hotel spa has been a long time firm favorite of mine. Combine it with some UB City shopping, drinks at the Sky Bar or some yummy cake and you have yourself a quintessential Bangalore weekend well spent. It is a beautiful space with airy, large rooms that always smell great and the staff is probably the most courteous in all of Bangalore. This is a great choice for a couples massage as they have a lovely package!
VINE TIP: this is my favorite Thai massage place in Bangalore! If you feel you will miss out on the oil and pressure, don't- their Thai massage will leave you feeling brand new
Angsana Oasis Spa, 12th Floor, Oakwood Premier Prestige Bangalore, UB City, 560001, Tel: 802234 8888 / 80223 45678 www.angsanaspa.com

Leela is such a centerpiece of expat living in Bangalore that it is not surprising their spa is also high on our list of favorites. The luxury and thoughtfulness of the hotel extends to the spa as well, which is truly an oasis of calm in the city. All of their treatments are good, but I highly recommend you go all out and book yourself in for one of their spa retreats. What is nicer than spending a day at the Leela? Spending half of it at their spa.
VINE TIP: We love their City Escape retreat!
The Leela Palace Spa, 23, HAL Old Airport Rd, HAL 2nd Stage, Kodihalli, 560008, Tel: 80252 11234, www.theleela.com

Another hotel spa, this one is luxury defined. All dark wood and soothing atmosphere, this ESPA spa is the best of hotel spas, so you feel like you know what to expect when it comes to treatments. You think sure, it will be good, it's the Ritz. And then you start… and it's not just good, it's phenomenal. I went for the 90-min Jaali Embrace because their website showcased it and OMG it might have been the best treatment I ever had. It was my first four-hand treatment and it was so hard to go back to having just one therapist after that.
The Ritz-Carlton99, Residency Rd, Shanthala Nagar, Ashok Nagar, Bengaluru, Karnataka 560025, Tel: 80491 48000, www.ritzcarlton.com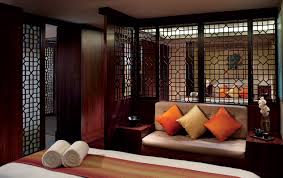 This chain does exactly what it says on the box: it offers great value for money Thai massages in nice, clean and easily accessible spaces all over the city. The staff is very courteous and knowledgeable and They also have a great Happy Hour membership option from Monday to Friday between 11 AM and 4 PM if you need to kill time before school pickup or escape during lunch hour.
VINE TIP: their foot massages are to die for- try the Four Element Aroma foot massage
The Thai Spa, 4 locations throughout Bangalore including Indiranagar, Phoenix Marketcity, Manyata Tech Park, and Vega City Mall, www.thethaisspa.com, find the spa menu here
---