Valentine's day is around the corner, and if you are anything like us, you must be bored of the usual cheesy gifts and are looking for something that is unique and says LOVE in equal parts! Luckily for you, we have searched what the city has to offer to make your Valentine's special and memorable.
---
CUSTOMISED

GIFTS
---
If you love handmade gifts and adore the idea of a memory box then get in touch with Paridhi on Instagram. She creates stunning memory boxes, adding mini details based on your personal story. Every piece is completely customized so this could take about a week to make and ship. She has also launched pastel platters that are great if you don't want to give anything mushy to your significant other.
IDEAL FOR:

The crafts lover
PRICES RANGE FROM:

2,500 -5,500 INR depending on the customisation
DELIVERY TIME:
1-2 weeks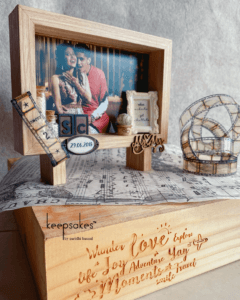 LOVE LETTERS by Yakshi
Nibs and Tools's Yakshi is a seasoned calligrapher who creates magic on paper with her beautiful penmanship. For Valentine's, you can give your Bridgerton-fan partner (or a friend) her beautifully penned letters that are customizable. Or you could get your wedding vows written and framed – perfect for an anniversary gift too! You can choose from letters on handmade paper, acrylic plaque or Parisian style postcard; all come with a gorgeous envelope and wax seal (at an additional charge of Rs. 180/-)
IDEAL FOR:
Old-school romance fans and vintage calligraphy lovers
PRICES RANGE FROM:
starting from 500 INR
WHERE TO ORDER:
DM
on Instagram
DELIVERY TIME:
2-4 days, shipping charges to Bangalore is Rs. 120/-

Valentine's Day gifts don't have to be just for your partner-they can be for your friends too. And if they are anything like us, they are probably stationery hoarders! Going Postal is a women-led stationery business in Mumbai that has come with these super cute stationery boxes that are NOT red and cheesy, but still say 'love you!' Their Cupid Box comes with a bunch of stationery stuff, including a customized acrylic plaque. And no one can have enough stationery, right?
IDEAL FOR:
Stationery lovers and girlfriends
PRICES RANGE FROM:
starts at Rs. 550/-
WHERE TO ORDER:
DM
on Instagram
DELIVERY TIME:
3-4 days, Rs. 100 shipping charges
NOTE: They stop taking orders after 12th February
Bring back the charm of handwritten letters using customized stationery from Dots and Doodles. They will work as a Valentine's gift for your parents, or even for yourself! The brand also offers a host of other options like silk scarves (great for girlfriends), customised envelope sets (perfect for Indian parents who make you run to stores to get envelopes during the wedding season) and love vouchers (customizable and ideal for boyfriends/husbands).
PRICES RANGE FROM:
starts at Rs. 599/-
WHERE TO ORDER:
Check the Valentine's store at
Dots and Doodles
DELIVERY TIME:
depends on product ordered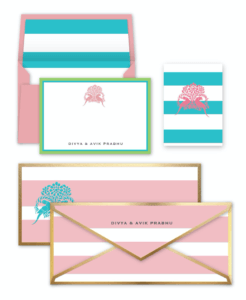 ---
EXPERIENCES
---
A HIKING ADVENTURE by Unventured
If you read our articles regularly, you know that Unventured is a Vine favorite! Break the work-from-home fatigue with a bicycle tour to explore the nature around Bengaluru. The tour guides are extremely well-informed and there are many options to choose from. All safety and hygiene protocols are taken care of, so you can plan a family tour as well! Plus, the 14th is on a Sunday this time-so all the more reason to have a fun-filled weekend!
IDEAL FOR:
Fitness/nature lovers
PRICES RANGE FROM:
Available upon request
WHERE TO BOOK:
You can select your tour and book on their
website
BOOKING TIME:
Best to book 4-5 days in advance.
A PAMPERING SESSION at Blown
In the mood to celebrate a Galentine's Day this year? Head over to Blown for a day of mani-pedi services and unwind with a specially curated cocktails menu that includes some tasteful imported wine! It's one of the first salon-cum-bar in the city so you can even treat yourself to a relaxed day (god knows we all NEED that!). Hair care or nail extensions, invigorating manicures or acrylic nail extensions-all while sipping some classic wines-we cannot recommend this place enough!
They are offering pampering sessions for couples as well.
IDEAL FOR:
Anyone who likes to be pampered!
PRICES RANGE FROM:
contact the salon for prices
WHERE TO BOOK: Call them on +91-8043703783 (Vittal Mallya Road) or +91-8043005844 (New BEL Road) for prior appointments
LOCATION

:

Vittal Mallya Road, New BEL Road
BOOKING TIME:
Best to book 2 days in advance
SALON SERVICES at Uutopia
(yes, that's with double U)
Another Vine favorite, Utopia offers some world-class salon services for men and women, but our favourite are the nail services. They are running a Valentine's offer of Buy 1 Get 1 free across all salon services from 5th-20th February- so you may find us lounging there in the coming days! They also have a cafe and are pet-friendly, so really do you have any reason to not head there?
LOCATION:
Whitefield, behind Palm Meadows
IDEAL FOR:
Nails and massage services, and a perfect day out in the quiet
WHERE TO BOOK: Call or Whatsapp on 96589 65863 for booking, instagram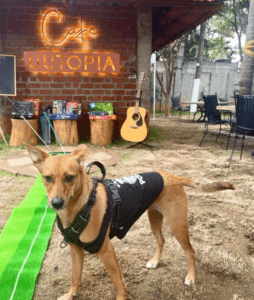 ---
STRICTLY FOR ADULTS
---
INTIMATE ACCESSORIES from Love Treats
If you have been looking for a decent store in India that offers quality adult/sex toys then check out Bangalore-based Love Treats. They offer tasteful pleasure toys for men, women and couples, so if you are in the mood to celebrate this V-Day in 50 shades of Grey style, then this could be the perfect gifting site. Best bit is that the shipping is 100% discreet-so judgemental looks from the building guard or elders either! Our suggestion will be the Valentine's gift set, which comes packed with 2 toys, water-based lube and an aromatic candle.
IDEAL FOR:
Adults (you can think of gifting it to yourself too)
PRICES RANGE FROM:

visit the website
for more details
WHERE TO ORDER:
Check their website
here
DELIVERY TIME:
3-4 days, free shipping
NAUGHTY BOARD GAMES from Oye Happy
Oye Happy is an India-based gift site that has a whole range of kinky gifts, including board games like 'Bitten and Smitten' and 'Check and Mate'. These are specially created for couples in intimate relationships so these will be great if you are looking to add some variety to your sex life.
IDEAL FOR:
Anyone in an intimate relationship
PRICES RANGE FROM:
starts from 799
WHERE TO ORDER:
Check their website
here
DELIVERY TIME:
2-4 days, next-day delivery available on selected pin codes. Free shipping over Rs. 1000
---
THE EVERGREEN GIFTS OF LOVE
---
Nothing can be more classic than a bouquet for red roses to make someone smile. Shades of Spring goes a step further and offers a curated bouquet of flowers that include lilies, carnations and so much more. You can also choose their Valentine's Special,like the Farmgirl Basket combo, that includes the freshest flora with chocolates, candle and a card.
IDEAL FOR:
Flower lovers
PRICES RANGE FROM:
combo prices start at Rs. 1,999/-
WHERE TO ORDER:
Order directly on
their website
DELIVERY TIME:
same day and next day delivery available, free shipping across Bangalore
AN ARTISINAL BOUQUET from The Flora
One of the 10008 reasons why we love Bangalore is the never-ending floral services in the city. The Flora is another Vine favorite brand and why wouldn't it be- the service is top-notch, the blooms stay fresh for over a week, and they come with a handwritten note! Our pick for this Valentine's is the Blush Blush bouquet that's made from Holland tulips.
IDEAL FOR:
the women in your life
PRICES RANGE FROM: check the website for more details
WHERE TO ORDER:
Order on
their website
or Whatsapp on 9663699369
DELIVERY TIME:
Best if ordered 1 day prior
Cococart stores all kinds of imported chocolates, so whether you need them for a special someone, or to treat yourself-you can get them pronto. You can order online, or visit their brick store in HSR-think of it as Willy Wonka in Namma Bengaluru! Godiva, Neuhaus, Lindt-you name it, they have it! They also have a great collection of flavoured coffee beans from Godiva, and hot cocoa from Coco. They currently have a sale on their online store till 15th February.
IDEAL FOR:
Chocoholics
PRICES RANGE FROM:
vary from product to product
WHERE TO ORDER:
Visit their store in HSR or
order online
DELIVERY TIME: up to 2 days, Rs. 50 delivery charges
SWEET TREATS from Smoor
How can we talk about chocolates and not mention Smoor! They never disappoint us with their creations, and this time their Valentine's Special collection has our heart (pun intended). From heart-shaped macarons to themed cupcakes, they have everything for everyone. But our favorite?
The Valentine's Day Chocolate Bouquet
.
IDEAL FOR:
Anyone with a sweet tooth
PRICES RANGE FROM:
starts at Rs. 320
WHERE TO ORDER: Order online (delivery available from 7th Feb) or visit their store
DELIVERY TIME:
2-4 days