If you are looking for fun, a party or simply a chilled Sunday with friends and family, brunches have it all!
Bangalore brunches are a popular affair with delicious cuisines spanning from all around the world, from Asian to Western influences and of course local yummy Indian food on offer! These include live stations, saucy BBQs, and sizzling hot grills. The music sets the tone with live bands and singers playing a range of music, entertaining the lively crowds. Bottomless drinks are replenished throughout the brunch, so what are you waiting for? Go and check one of these out. Here is our guide to the top 5 brunches in Bangalore: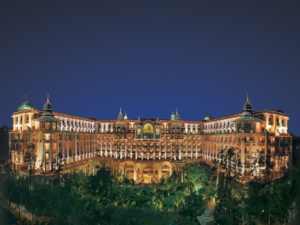 If your looking for a fun, party brunch then look no further because Citrus at Leela has it all! It's huge spread of cuisines, with live cooking stations, ranging from mouthwatering sushi, yummy pizzas, fresh fish, to sizzling bbq's satisfies all pallets. For those looking for a more healthier option, the selection of salads are vast and the array of cheeses definitely leave you wanting more. Of course, not forgetting here the local authentic Indian food where the lamb biryani is a must. Bottomless drinks are served, beers, wines, with an option of the champagne package. Amazing entertainment by the band, keep the crowds on their toes, dancing away. A children's play area allows families to take a break, sit back and enjoy their drinks and food.
TIMING: 12:00 PM- 4:00 PM
Adults (with alcohol):

INR 3,200+ 18% GST

Adults (without alcohol):

INR 2,700+ 18% GST


Children below the age of 6yrs:

No charge


6yrs to 12yrs:

INR 1,500+ 18% GST


12yrs and above:

Same as for adults i.e. INR 2,700+ 18% GST

The Leela Palace, HAL 2nd Stage, Kodihalli, 560008, www.theleela.com
For those of you looking for a more chilled and relaxed vibe then head to Mynt at Taj West End. Set in the lush greens of the outdoor, this brunch has a more homely feel and feels very much like being in an English summer garden. The food spread, whilst much smaller than some other brunches, offers a great combination of Mediterranean, South Indian, Italian and Lebanese. But the most exciting part of the brunch has to be the unlimited Moet Chandon on tap. The service is impeccable and the staff is not shy at filling your glasses when only half empty, keeping that Sunday momentum going. The band compliments the atmosphere, by playing calm, laid back music, and children are made to feel special with cute little burgers and a separate sweets counter. So go on, get to the Taj, put your feet up, relax, sunglasses on and sip on a glass of Moet champagne.
TIMINGS: 12:30 PM- 3:30 PM
Adults (with champagne):

2,950 INR+Tax


Adults (without alcohol):

1,750 INR+Tax


Children below the age of 5yrs:

No charge


5yrs to 12yrs:

1,300 INR+Tax


12yrs and above:

1,750 INR+Tax

Taj West End, 25 Race Course Road, Sampangi Rama Nagar, High Grounds, 560001, taj.tajhotels.com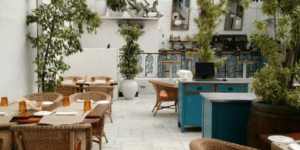 The ambiance of this place sets the tone for a perfect, chilled, Sunday brunch. With a beautiful outdoor area, Olive beach boasts a slightly more European feel to the restaurant. You can smell the fresh flavors of the Mediterranean cuisine that is on offer, from sizzling fresh fish to delicious homemade dips to tantalise your taste buds. Dishes are unlimited and made fresh to order so will arrive sizzling hot! If you are feeling thirsty then the juicy cocktails and sangrias poured by the delightful staff will not leave you disappointed. The relaxing music simply adds to this impeccable Sunday vibe which you won't want to leave!
TIMINGS: 12:00 PM- 4:00 PM
Adults (with alcohol):

3,250 INR

Olive Beach, 16 Wood Street, Ashok Nagar, 560025, www.olivebarandkitchen.com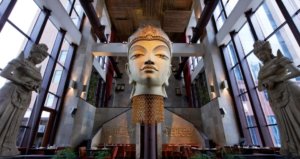 If you are looking for a 'PARTY' vibe, then the Shiro Sunday Asian brunch is right up your street! What is noticeable when you walk into this venue, is the huge Buddha statue set in the middle of the restaurant that completely blows you away, simply AMAZING! Catering towards the younger market of Bangalore, this brunch has a great atmosphere with free flow cocktails and sangrias that keep the party going. A delightful spread of fresh Asian influences from Japan, Bali, and China leave the taste buds wanting more. There is a huge selection of delicious sushi to choose from, along with saucy noodles and steamed dumplings.
TIMINGS: 12:30 PM- 4:00 PM
Adults (with alcohol):

2,599 INR

Shiro, 222 3rd Floor, UB City, Vittal Mallya Rd, 560001, www.ubcitybangalore.in

One of the newer brunches in town, the 1Q1 Exotic Brunch has a lot to offer. With a huge plasma screen, a resident DJ that plays upbeat music and amazing, unique Asian cuisine, 1Q1 is a place to certainly check out! Brunch begins with free-flowing Asian influenced cocktails, sparkling wines or simply delicious homemade Pimms. Live Dimsum and sushi counters appease the crowds with a selection of succulent meats and vegetables to choose from the grill. As the afternoon progresses you might want to get into your dancing shoes to get that party started!
Adults (with alcohol):

INR 2,500+Tax


Adults (without alcohol):

INR 1,900+Tax


Children below the age of 6yrs:

No charge


6yrs to 12yrs:

INR 1,250+Tax


12yrs and above:

INR 1,900+Tax

1Q1, No. 1 Express Building, Queen's Road, Vasanth Nagar, 560001, 1q1.in
---