One of the most binged series on Netflix last year was The Home Edit. A series where a group of women organized the rooms of a celebrity and a normal person with equal passion, while the whole world was homebound and couldn't take our eyes off the show. So, if home organization is one of your resolutions for 2021 but you can't really hire The Home Edit team (don't think they take overseas assignments yet), this article will help! We are listing home organization products inspired from the hit series that you can find online and in stores here in Bangalore.
---
THE DOCUMENT DRAMA
---
One of the pains of adulting is taking care of the uncountable documents. And the larger the family, the bigger the storage issue. This is a beast that should be tamed quickly so if you have the trouble of never finding a document when you need it, make your document storage a priority.
Here are a few tips to help you out:
Get weightless boxes to divide your documents by member -if you are a family of more than four. Now and Zen has some colorful options that are made of clear plastic so that you can see what is stored.
Only keep your frequently used documents (like bank papers, ID cards, and latest hospital records) in a shelf where you can see them. Keep separate folders for your IDs, warranties and bills, and utility bills. Since these will be visible, you can choose colorful folders like the ones from Gift of Love. They will be a great addition to children's rooms or in your creative office.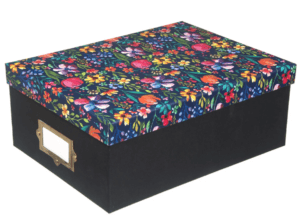 All your other documents (old records, certificates, memorabilia, etc) can be put in a box and stored far away from sight. But make sure you label them accordingly. Instead of a cardboard box that might invite pests, choose a good grade plastic container that can last for decades. If you have a garage or extra space, you can also go for a storage cabinet like this one from Cello that is closed and has wheels for easy transportation.
---
LABEL THEM WHEN YOU CAN
---
One of the things that caught my attention were the gorgeous labels The Home Edit team used in the pantry. And since most Indian kitchens do not have a separate pantry room, the storage system needs to be more organized. Organise with Ease is an Indian organization brand that has some amazing products suited for the Indian home. They have labels in English as well as Hindi, so if you want to label your food items that your Hindi-speaking staff can access with ease, then definitely try these. Try getting labels in transparent stickers-they will make your jars look classy and uniformed. You can also buy self-adhesive labels from Itsy Bitsy for labeling your document boxes.
---
KITCHEN
---
One of the most underrated and overused rooms of any house is the kitchen. While the closed cabinets let you get away with unorganized shelves most of the days, it gets frustrating when you purchase extra lentils, only to realize that you already had 2 kgs of it stored away. If you are searching for glass bell jars to neatly store the grains and pulses, then check Home Centre. They have some options online as well but if you can visit the stores then do that. Just make sure that the jars have airtight lids and are not too heavy, you don't want excess weight on your shelves.
For plateware that looks great on Instagram and is made of sustainable material, check out Bamboo Pecker. They have beautiful bowls made of coconut shells, fruit storage made of spun bamboo, and even some great looking patio furniture.
Another must-have for Indian Kitchens is a Lazy Susan. It is a tray that can be rotated for easy access to things. Invented in the 18th century, they are a great addition to dining tables to store all your condiments, as well as on a top-shelf when you can't access the things stored at the back. Jaypore and Ellementry has some beautiful wooden turntables that would look great on a black countertop. You can also check Amazon for lightweight options that would be ideal for storage cabinets.
If you want the exact acrylic turntable with dividers like the show had, well then here is the good news. The Container Store (the place where the team would get all the "product" from) delivers to India as well, although the shipping and customs charges alone are 3k plus.
If you like to carry your own bag for vegetable shopping, then try the locally manufactured ones by Wild Ideas. The profit from every purchase goes to the rural women who make these bags by hand. You choose sustainability, look chic and support women all in one go. It's a win-win-win.
---
ROOM VROOM BROOM
---
Your room must look clean and organized because that is where you unwind and rest. If you are tired of looking at your cluttered dressing table and hate rummaging through it to find your jewelry, then get a glass tray for your side table like the one pictured from The Dekor Cart. You can easily see what is in it and it looks so pretty that you may be motivated to keep it that way by not overcrowding it.
If you like keeping your favorite books in your room they try these metallic baskets by Propshop24 that look minimalistic and less cluttered. You can also use them for stacking your towels or storage bags in the kitchen.
THE VINE TIPS:
-Try to keep uniformity in your room by using similar looking storage items.
-Add a pop of color through weaved baskets or vintage-looking boxes. You can find them on Amazon or visit Miniso in Forum Shantiniketan, Whitefield, for economic and quality storage products.
---
RAINBOWING YOUR BOOKS
---
One of the highlights of the show was them rearranging books by color. Personally, I thought I would not like it because I prefer my books arranged genre-wise or club books from the same author together. Still, I was bored one night (thanks to 6 months of being homebound) and decided to give it a try. The result? I really like it!
THE VINE TIPS:
-You need sufficient place to space out the books, the floor is the best option.
-While unloading your bookshelf, try to group similar colored books together. Keep books with black and dark blue spines in one category
-This task easily takes up to an hour (depending on your collection) so find a free night to take this up.
This is how my shelf looked before and after the rearrangement: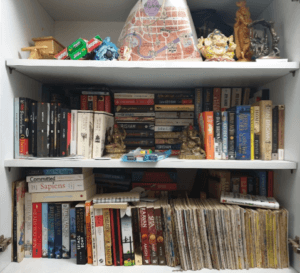 Before
During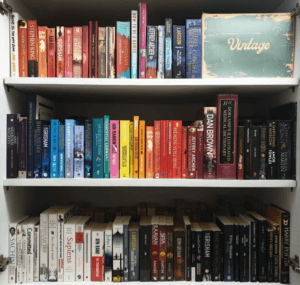 After
---
THE OPPOSITE OF DIY
---
We get it, sometimes it's just easier to bring in a professional. And thanks to the recent popularity of Marie Kondo, Hygge and The Home Edit, there are actual professionals in this field! Clutter Management Companies are great to hire for a seamless experience for services such decluttering and organizing whole rooms and areas such as pantries and closets, or even moving homes completely! Due to the Covid period that we're living through, online consultations are also available and can help you get organizing before they even can come. Check out full-range services such as Organise with Ease and The Joy Factor (
officially certified to offer The

KonMari Method™). If you want to focus only on your wardrobe, then why not have an actual stylist help you decide which clothes, shoes and accessories to keep. Kay Reynolds offers closet cleanses which we've even tried out (read about it here).
THE VINE TIP: check out the digital detox package from The Joy Factor. Guarantee every one of us needs to tidy our virtual worlds!
Have you watched The Home Edit? If yes, then which was your favorite episode? And if not, then go watch it! It's perfect for lazy afternoons and might even teach you a thing or two about home organization.