Disclaimer: All dates and info in this article are as per the knowledge from April 2019 and should only be used as a guided reference.
This is India- things are subject to change without any notice– so verify yourself before ordering or booking.
---
To bust all the questions around this topic, I have flown to IKEA Hyderabad from Bangalore and will share my experiences, tips, and tricks.
IKEA is expanding in India with its first store opening in Hyderabad last year (2018). Mumbai, Bangalore, and Delhi are next to follow.
The latest info says that IKEA Bangalore is likely to open in mid-2020 in the northern part of the city (unverified).
For those who can't deal without their favorite Swedish furniture and want to pay a visit to Hyderabad IKEA, this is how it works.

IKEA HYDERABAD– WHAT IS IT LIKE?
I have to admit – you feel like roaming around in Europe if you visit the IKEA store in Hyderabad. It looks and feels the exact same.
The collection of products is very similar with a few adjustments, e.g. the bedsheets sizings are Indian standard and not EU standard.

Everything can be found online and you can even check if it is in stock.

Food-wise they have a lovely restaurant with the famous salmon, but also local specialties such as Hyderabadi Biryani (see restaurant menu here)

At the takeaway bistro, you will find the soft-serve ice cream, Swedish chicken balls and a veg option, no hot dogs and doughnuts but an amazing collection of freshly baked Fikas, the Swedish pastries.

Like all IKEA stores there is also a SMÅLAND, the free, supervised kids play area from 10 AM- 9 PM for children 94 cms- 137 cms.
IKEA HITEC City, Raidurg, Serilingampally, Mandal, Survey no. 83/1, Plot No.25, 26, Part 29, Panmaqtha, Rangareddy, Hyderabad,
500032, Telangana, India. Get directions Store opening hours: 10:00 to 23:00 (daily) Tel: 1800 419 45 32

PRICES
Prices are similar to Europe – a bit dependent on the currency. Check the prices online.
The price in the largest font is the price you pay including tax. The higher MRP price below is only applicable for resellers.

DELIVERY
IKEA does not deliver to Bangalore, however, next to the delivery desk there is a desk of a third party company Xpeed Logistics that can ship your goods to Bangalore (the green arrow is pointing to the desk).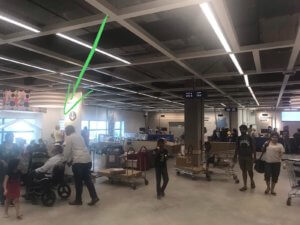 PRICING
Currently, they charge Rs. 1,500 for first 50 KG (minimum) and then Rs. 19 per KG after that. They will make an estimation of the goods.
It gets shipped to your home address in Bangalore within 7 days.
To date, it is not possible to order from IKEA online and get it delivered at the warehouse of the third party. The third-party warehouse is not in scope for delivery in Hyderabad.T
The IKEA Hyderabad delivery range is expanding though, so this might change in the near future – saving you the trip to Hyderabad.
For smaller items – like accessories – you can also check Amazon.in – they resell quite a few IKEA items but at a higher price than IKEA.
BROKEN/DAMAGED/LATE ITEMS
As with any shipping and delivery experience in India, there is the risk that items may be broken in transit/ loading/ unloading. Xpeed advises against shipping Glass Items and Crockery for this reason but there have been people who have received other damaged items, so do remember that the delivery company is not part of IKEA and incidents may occur. Late delivery (unheard of here!) may of course also occur 🙂 Keep your expectations realistic.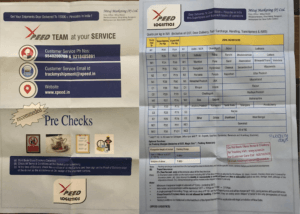 *Apparently the number listed on this flyer for Xpeed Logistics is not correct, check their website for more updated info or try this number for Arvind +91 99899 61891.
RENT A TRUCK
Another option used by some Bangalorean expats who were desperate for Nordic products in their homes is to rent a truck and drive it back from Hyderabad. Or had their driver do it, or hired someone to do it. This ensures that there is greater care in the handling of your items (maybe) and the price may work out to be lower depending on the volume of items.
HOW TO GET THERE
FLY
Many operators fly from Bangalore to Hyderabad numerous times per day– return prices range from Rs. 4,000 – Rs. 12,000.
We took the 8:15 AM flight to Hyderabad and a 7:25 PM flight back to Bangalore.
Hold luggage is what you need for smaller items. Included per airline.
RIDE
You could also drive or take a bus, around 12 hours I believe.
THE VINE TIP: Don't leave without buying Cinnamon Buns – they are SO GOOD!
Also, make a shopping list in the app and take it to the store, it will tell you exactly where to find what and whether it is still in stock.

MUST BUY ITEMS FOR THOSE LIVING IN BANGALORE
We asked Vine Team Members and women living in Bangalore to see what their must-buy IKEA items were. here's what they said:
KITCHEN
Kitchen Utensils

Dishwashing Brushes

Kitchen Clips

Dish Towels

Bowls

Kitchen Storage (pasta jars, spice jars, plastic containers)

Cutting Boards

Bakeware Items (spatulas, tins)

Freezer Bags, Ice Making Bags

Garlic Press
DECOR
Frames

Small Storage Boxes

Napkins (cloth and paper)

Candles and Tea Lights

Bedding + Towels

Area Rugs
KIDS
Kids Plastic Plates + Bowls

Kid's Toys

Baby Safety Products

Kid's Duvet Covers
OTHER
Check out all the products available at the Hyderabad store here www.ikea.com
Ha de så bra! (have a good time in Swedish).

---
All images from author