I TRAVELLED:

with my family with kids
TYPE OF TRAVEL:

Child-friendly, Luxury, Safari, Beach
FOR:

 8 nights
DATES:

April 2023
PRICE POINT:

 $$
Sri Lanka has always been a favorite holiday spot for those of us living in Bangalore, a quick flight to a tropical destination where you can find jungle, beach, tea plantations, heritage sights, amazing food and everything in between. Whether you want to save, spend or splurge, there is something for every budget here! And this family-friendly itinerary can not make it any easier for you to plan your next trip to Sri Lanka!
---
GETTING THERE
---
We took Sri Lankan Airlines from Bangalore to Colombo and back. It's a quick hour and half flight.
Visas are required for adults and kids over 12 year olds and can be done online in advance here (85 USD each).
---
GOOD TO KNOW
---
The most ideal time to visit Sri Lanka differs depending on where you go, but generally the best time for the west and south coasts as well as the Cultural Triangle is between December and April, while on the east coast it's from May to October which makes Sri Lanka a year-round destination!
During our time here, we used Airtel SIM cards which were purchased on arrival and Ubers were easy to use for short distance transport.
---
ITINERARY
---
DAY 1
We stayed the first night in Colombo before heading to Kandy the next day. The hotel is located by Galle Face Green, the city's biggest seaside promenade. Another must-do hotel if you're willing to dish out is the Amangalla hotel located within the UNESCO world heritage site, the Galle Fort.
WHERE TO EAT
We had lunch at Nihonbashi, a beautiful Japanese restaurant across the road. For dinner we went to a cool little cocktail bar called the Hideout Lounge.
HOW TO GET TO KANDY
We took the 3 PM train from Colombo Fort Railway station to Kandy (approx. 3 hours). Tickets were easily booked online and we collected the tickets at the station. Fresh savoury bakes (a little spicy), water and juice available on the train. We booked an air-conditioned carriage.
DAY 2 IN KANDY
2 nights @ Lakewood Residence, Kandy (Family Room) – 3 Star
ELEPHANT ORPHANAGE
We drove about one hour to the Pinnawala Elephant Orphanage. We watched the elephants bathe in the river and the kids even washed the elephants.
VINE PRO TIP: Bring clothes that kids can wear into the river because we had to buy cheap clothes for them to go in the river as we weren't prepared!!
LUNCH


We stopped for lunch in a teeny tiny restaurant called Scooby's Café and Restaurant, which our driver's brother owned. The food was delicious, but was not Sri Lankan food!

Scooby's Cafe and Restaurant, 41 Ehelepola Kumarihami Mawatha, Bogambara 20000, Sri Lanka
BIG BUDDHA


We drove up to the Big Buddha for some beautiful views.
DINNER


We enjoyed Sri Lankan food at a sunset dinner at the beautiful Theva Cuisine located at the boutique hotel Theva.
DAY 3 IN YALA
THE DRIVE TO YALA
An early morning start at 6:15 AM, we checked out of the hotel and departed by car heading for Yala National Park (an approx. 6 hour drive). We stopped for breakfast at Nuwara Eliya, it was very cold so we did not stop long. Along the way we stopped again for coffee in Ella, a cute surfy village, where we did a spot of shopping!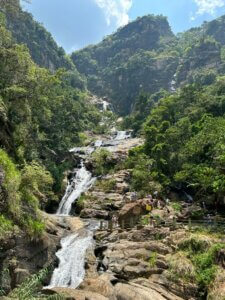 We arrived in time for a swim and high tea at the beautiful Wild Coast Tented Lodge – Relais & Chateaux. The master bedroom cocoon has an outside walkway to an adjoining room for the kids. Cocktail hour was on the beach, then dinner.
DAY 4
YALA NATIONAL PARK
We had an early start off at 5:30 AM for our safari. We coasted past all the jeeps lined up to get into the national park, which was one of the that is one of the perks of staying at the Wild Coast Tented Lodge!! Our guide Keith was incredible, he brought even the smallest of creatures to life, for all of us. We arrived back around 9:30 AM for a swim and breakfast. New Year celebrations of games were organised by the hotel and more swimming and we lazed around until lunch enjoying the property. We checked out and departed around 2 PM for a 1-hour drive to
DAY 5 IN WELIGAMA

The Marriott is a very busy resort with hundreds of surfers in the ocean, and the room was great with a lovely balcony and view.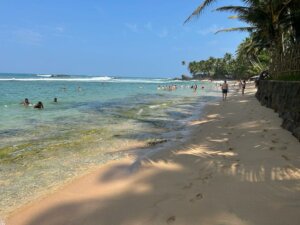 WHERE TO EAT
We dined next door at Sea Salt Society with Gelato for dessert from the Isle of Gelato. For breakfast we crossed the road to Nomad for a lush, healthy feed. We departed Weligama around noon for Unawatuna.
DAY 6/7 IN UNAWATUNA
2 nights @ Tartaruga Hotel and Restaurant, 3 Star
Perfect little place on the beach with a little pool, where we stayed in adjoining rooms. The boys went scuba diving at a very professional dive centre along the beach. There are many! We swam with turtles on the beach at Wijaya beach followed by oysters and sashimi.
WHERE TO EAT
As it was New Years, a lot of places were shut but there definitely looked like a good choice of restaurants available. We took a 15-minute drive into Galle for dinner, fine dining meal at AQUA Forte, a fine-ding Italian restaurant (the kids were able to order a la carte).
DAY 8 IN COLOMBO
For the final night, we returned to The Galle Face Hotel in Colombo.
WHERE TO EAT
For dinner on our last evening we began with starters at Ministry of Crab followed by very authentic Japanese at Ginza Hohsen. We walked back along Galle Face Green with all the locals and night street food stalls.
The day of our flight back, as our flight was not until 6:50PM and it was too hot outside, we decided to do Sunday brunch at The Kingsbury Colombo Hotel. An absolutely beautiful spread!
---