I am lucky to have the opportunity from my employer to work in Bangalore. As I had to sign the contract before I even visited India, taking this job was a big jump into the deep unknown. However, it wasn't completely out of the blue. My husband and I love traveling and we always had the desire to spend a part of our career abroad. Abroad meaning: non-western and out of our comfort zone, with the ultimate mission of finding out if we could make a place so different from our home feel like "home". To be perfectly honest, India did not even cross our minds whilst dreaming about this opportunity but as we are both IT professionals, Bangalore was a logical option.
---
EXPAT LIFE BUT NO EXPAT WIFE
Interestingly enough, I was the one to get the expat assignment, which resulted in my husband joining on a spouse visa, to quite the surprise of most people we encountered during the application process. In a country where men are usually the expats and women are the trailing spouses, I was surprised with the tolerance I received. In India, a lot of young women work. Although that tends to change around baby time, I have more female colleagues in India than in my job in the Netherlands. As a working foreign woman, you will quickly find that most expat-wife activities are planned during office hours. Hence, I was happy to meet ladies from The Vine that are also busy working—voluntary or as foreign professionals for a company. In general, Indian offices (with special kudos to my company) are very women-friendly. I feel free to share my thoughts and so do my female colleagues around me. This surprised me in a positive way and marks how modern a city like Bangalore is when it comes to values and emancipation. After adjusting to the Indian – English language, I have also never felt the language to be a problem and my colleagues quickly switch from Kanada/Hindi/Telegu to English whenever I join the conversation.
BREAKS BETWEEN BREAKS
While I was pleasantly surprised by the position of women in the office, other prejudices are true: breaks are as holy as cows in India. Breaks are considered an important part of socializing with your colleagues. I'm by no means a fan of the office lunches that some of our European colleagues consume behind their laptops, however, India is another extreme when it comes to breaks away from your desk. Breakfast and lunch are both large plates, often eaten by hand, which involve some practical complications; they can't be finished fast or in any other place than the cafeteria. Colleagues love to share food they brought from home, which makes it a true feast and tapas of variety of dishes every single meal. It's not just breakfast and lunch: coffee breaks are another common intermezzo as drinking coffee at your desk is not allowed (due to the risk of spilling). If you're looking to improve efficiency – here are some tips: drink coffee at your desk and allow breakfast (smoothies) to be consumed in the company buses.
OFFICE POLITICS
Myself being a very honest Dutch person, to some considered rather blunt, adjusting to Indian work politics has been quite a challenge for me. Indians inherited their discretion from the British where you are not always quite sure what they mean. 'No' as an answer is rather rare, although a lack of 'no' doesn't automatically mean a commitment like 'yes'. I found there is a lot of meaning in the gesture that is best described as a horizontal nod. It can kind of mean 'okay', but without clear ownership and any timelines of when it will be completed. After becoming accustomed to the meanings of no, the nod, and yes, I find myself nodding all the time too and definitely stressing a bit less for previously perceived hard deadlines.
Office politics also come in play with whom you know and who you can approach for what. Hierarchy is strictly valued in India (likely due to the inheritance of the caste system). I have found myself in some awkward situations, where I have presumably talked to someone too senior. My slogan of 'ask for forgiveness, rather than permission' is not always working out in India. Having said that, once you
know the lay of the land,

it is a strong network that you can leverage for all sorts of advice and help. I really feel my colleagues have my back with certain situations here and are always willing to help. The most practical example is, phone calls in Hindi. In that case, I stand up at my desk, shout "Hindi on the phone", and shortly a colleague will reach out to take over the conversation.
THE ART OF CHASING AND THE POSSIBLE
As 'taking ownership' has a different meaning here in India, I find myself chasing after actions rather frequently. For me, a deadline is still a deadline and half-finished is unfinished. I'm in a constant limbo of balancing between becoming a bit more flexible myself and trying to get my colleagues to understand the concept of expectation management. On the other hand, with things being rather fluid here – it opens a wide range of last-minute options and possibilities. For one of the events I was organizing, I required last-minute decoration, a banner, cupcakes, and posters printed. The order was confirmed Friday evening, they worked it on Saturday and installed it in my office on Monday. Try that elsewhere.
WHAT TO WEAR?!?
I would describe the style in most Indian offices as semi-casual. Most colleagues (in IT especially) are in calls the whole day with others across the world and usually, don't receive external visitors. Coming from my company's headquarters in the Netherlands, my office wardrobe was full of business dresses, suits, and heels in all colors. Although respected, short dresses or skirts above the knee are a bit of a no-go in Indian offices. At the same time, wearing (winter) pantaloons is not that comfy in this hot weather. So that left me in true need of shopping.
I found myself brave enough to walk into an Indian clothing shop where I tried on my first kurta. I loved the fabric, patterns, and colors and I have to say, they suited me quite well. I decided to buy one and waited for the moment to wear it for the first time. It took me two weeks to work up the guts to wear it to the office for the first time. Most colleagues didn't even mention it, but those who did were very positive. To be honest, kurtas are super comfy as you wear them with leggings underneath. With a comfortable fit while still feeling "dressed" I would be silly not to wear these beautiful pajamas on a daily basis. My collection soon started to grow. To date, I still wear heels under my kurta. Flipflops are one step too far for me to wear to the office. My favorites for office clothing include Myntra.com, Anokhi, W, Project Eve, Ajio, Koovs, FabIndia, Shein, Fablestreet, and Turnblack.
Vine Tip: If you prefer dresses over kurtas like me, I often get my kurtas stitched at the sides so they are fully closed until just below my knees. This allows you to skip wearing leggings underneath.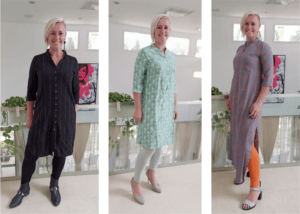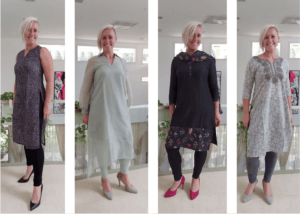 BLEND INdia.
All in all, I wouldn't want to miss working in India for anything in the world. It brings me close to so many beautiful cultures, habits, and friends. With my assignment officially being 2 years, I'm working on extending it with another year to stay for 3 years in total.
The way things work here is understood much better when you are surrounded by the circumstances of Bangalore. Time is relative, as the traffic and rain are very unpredictable. Meals are long and extensive, as they include so many separate dishes and all is shared amongst colleagues. You never really die when not making a deadline. They know that here, the rest of the world has yet to find out.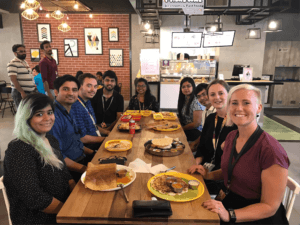 ---
Main photo and all pictures courtesy of the author