Although Bangalore is known for its' year-round decent weather, there are a few months a year that you are desperate for some fresh, cooler air. There are quite a few hill stations 'close' to Bangalore. In this article, I will share my experiences visiting a couple of hill stations in the past months.
GOOD TO KNOW
As a general tip: if you fancy an after-hike beer or glass of wine, bring some from Bangalore as alcohol is limited or not available in most places.
---
COORG
---
I TRAVELED:

with a group of friends
TYPE OF TRAVEL:

adventurous, budget, hiking, food
FOR:

2 days
DATES:

December 2018
PRICE POINT:

$-$$
Situated in the beautiful hills west of Bangalore you will find Coorg. Coorg, also called Kodagu, is the most well-known hill station of Karnataka. It is recognized across India for the quality of its coffee and honey. The surroundings are beautiful: lush, green hills which are often shrouded in mist in the morning. Various waterfalls and beautiful flowers make this place is an absolute gem. Explore the area walking, hiking, running or even river rafting for the real adventurist. If you fancy adding in some culture don't forget to stop by the Golden Temple, only a 30-minute detour on your way to or from Bangalore.
Namdroling Monastery/ Golden Temple, Arlikumari, Bylakuppe, Karnataka 571104, www.namdroling.org
HOW TO GET THERE
Coorg is a 5 to 7-hour drive from Bangalore. Perfect to do an overnight with a night bus or a driver. You will leave late on Friday and enjoy the fresh mountain air in the morning once you arrive.
Vine Tip: don't leave without buying some fresh coffee and the famous Coorg Honey
WHERE TO STAY
There are a wide variety of options for every budget, from lowkey homestays to full-blown resort experiences. For groups, there are some great family houses on Airbnb.
Homestay: Honey Valley (₹ 2,100 double per night), basic washroom, beautiful surrounding amazing food and home-made fruit wine, honey, coffee and chocolate.
Fancy: Welcome Heritage Ayatana (₹ 15,700 double per night) with their own private waterfall or The Tamara resort (₹ 27,000 double per night) both beautiful fancy resorts. People also love Evolve Back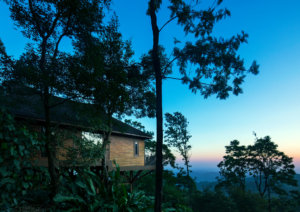 The Tamara Coorg
The Tamara Coorg, Kabbinakad Estate, Yevakapadi, Napoklu Nad Madikeri, Karnataka 571212,
Tel: 080 7107 7700
, www.thetamara.com
WHEN TO GO
The climate is similar to Bangalore, usually only a few degrees chillier and wetter, hence always bring rain clothes with you. During or right after the wet season, the waterfalls will have more water.
---
OOTY
---
I TRAVELED:

with my husband and dog
TYPE OF TRAVEL:

adventurous, budget, hiking, food
FOR:

2 days
DATES:

May 2019
PRICE POINT:

$-$$
In need of some fresh mountain air? Looking to enjoy some lush green hills, lakes and hike around the tea plantations? Visit Ooty in Tamil Nadu.
Situated in Tamil Nadu, Ooty lies even higher than Bangalore. Due to the elevation and landscape, it is always a bit colder than Bangalore.
This makes it the perfect escape during the hot months (April to August) in Bangalore. Ooty is surrounded by green hills, forest, and lots of sheep. With her cooler climate, Ooty is well known for the production of tea, cacao, vegetables and flowers.
HOW TO GET THERE
We decided to leave Bangalore at 7:30 PM on Friday evening and make our way down to Ooty. Ensure that your driver is good at night driving and does not fall asleep to ensure your own safety. The road conditions are decent up until you get nearer to Ooty, so it's possible to sleep 6 hours of the 8-hour drive. When you do get close to Ooty (about 1 to 1,5 hour out), it is only hairpin turns from there.
There are 3 different routes you can take to get there:
1. Via Mysore and Bandipur National Park (note that the national park closes when the sun is down so you need to plan accordingly)
2. Via Kanakapura and Chamagajanagar, this is the route we took overnight and provides a safe and well-maintained roads that allows you to sleep
3. Via Salem and Tirupur, haven't tried this one but this one is recommended by Google
Vine Tip: Do not leave without paying a visit to Moddys. Their hot chocolate milk is to die for and attached to the outside food outlet there is a decent shop selling all varieties of chocolate. Make sure you bring some of the fudge, dark hazelnut and fruit and nuts home. The addiction that you build here can be very well maintained in Bangalore as Moddys delivers daily to Bangalore. (I wish I didn't know).
Moddys, 144, Garden Road ,Opp Lawley Institute, Ooty, Tamil Nadu 643001
WHERE TO STAY
There are a variety of places to stay, in the city or outside and options to meet every budget. As we were traveling with our dog, the hotel options were limited. We stayed at Zostel, a nice hostel chain that can be found throughout India.
The hostel offered dorms as well as private rooms with bathroom en-suite. (₹ 2,500.) That luxury in combination with the young hostel crowd turned out to be a perfect combination for us.
If you are looking for something fancier, I would recommend the Savoy Ooty (₹11,400). Want to be in the middle of nature, check out the Accord Highland Hotel (₹ 7,320).
Zostel Ooty
Zostel, 217, Dasaprakash Road, Minerva House, Opp. Nizam School, Behind Mahindra Club Derby Garden, Ooty, Tamil Nadu 643001, www.zostel.com
Savoy Ooty, 77, Sylks Rd, Monterosa Colony, Ooty, Tamil Nadu 643001, www.seleqtionshotels.com
Accord Highland Hotel, 4/278, Kotagiri Road Doddabetta Junction, The Nilgiris, Major District Road 994, Ooty, Tamil Nadu 643001, www.theaccordhotels.com
WHAT TO DO
Since the tourist boom, the city of Ooty is not where you necessarily want to spend your time. Go out and explore the following attractions.
Pine Forest and Lake: the smell of pine trees reminds all of us of our childhoods. Walk a bit further onto the lakeshore for a peaceful moment, as the lakeshore closest to the parking lot can get quite crowded and noisy.
Ooty Toy Train: we did not end up taking this train but it is supposed to be a scenic ride. The train brings you down through the valley across beautiful vistas and tea plantations. Make sure you book ahead if you want 1st class tickets or prepare to queue up in the morning to get your afternoon tickets. A tip from an expert is to either try to take the train the other way around or take only part of the train ride (there is 1 stop in the middle so you can take leg 1, leg 2 up-down or down-up). Check out the website for more information

Hike: we opted for a medium-long hike on Sunday morning. The good thing about Ooty is that it does not get that hot, so there is no need to leave before sunrise to have some enjoyable hiking weather. We left Ooty at 9:30 AM, so enough time for a nice Sunday morning breakfast. Our guide Antony (highly recommended! Details below) brought us to the start of the hike which literally looks like New Zealand. Only sheep and hills. From there we walked through tea plantations, local villages and had a banana leaf thali for lunch. With some new energy, we hiked up a hill that was the highest point of the surroundings. The panoramic view was breathtaking. We arrived back in Ooty at 3:00 PM. The hike was 13.5 km and hilly, satisfying yet absolutely do-able
Hike Guide Antony, Tel: 9486 50114
Chocolate Museum, Indunagar, Ootacamund, Nilgiris NH-67, Coimbatore Ooty Pykara Gudalur Highway, Ooty, 643001
The Tea Factory and Tea Museum, Dodabetta Road, Mel Koddapmund, Ooty, Tamil Nadu 643002, www.teamuseumindia.com
The Botanic Garden: actually a very well maintained park so rather unique in India. Enjoy the beautiful flowers and don't forget to go uphill. The further you get into the garden the quieter it gets and you can enjoy real serenity.
The Botanic Garden, Vannarapettai, Ooty, Tamil Nadu 643002
On our way back we choose the Bandipur Route and managed to sneak in the 17:30 PM safari. Bandipur National Park is literally on the way and a nice stop to break the trip back.
With Sunday traffic in Bangalore, we managed to be back at home 5 hours after departing from Bandipur.
Bandipur National Park, NH 67, Hangala Village, Gundlupet Taluk, Bandipur, Karnataka 571126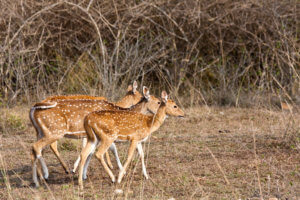 WHERE TO EAT
Place to Bee does some decent food that is all homegrown and mainly organic. Their focaccia is super and you can really taste that their garden salad is actually fresh from the garden.
Sound too healthy? Go for one of their wood oven-fired pizzas. Nothing complicated but just really good.
Place to Bee, 176/A, Club Rd, Near Hill Bunk, Ooty, Tamil Nadu 643001, lastforest.in

---
KODAIKANAL
---
I TRAVELED:

with a group of friends and my dog
TYPE OF TRAVEL:

adventurous, budget, hiking, food
FOR:

2 days
DATES:

June 2019
PRICE POINT:

$-$$
Kodaikanal is another beautiful hill station surrounded by wild jungle life full of beautiful flowers and waterfalls. On the ride there, the views you get from the hairpin curves are amazing and on a bright day, the view to the plains is stunning. The higher you climb, the cooler it gets, and once at the top, the bright sun takes turns with misty clouds, which gives it a very decent temperature.
HOW TO GET THERE
We decided to leave Bangalore at 11:30 PM on Friday evening and make our way down to Kodaikanal. Again, make sure that your driver is careful and can handle night driving and won't fall asleep at the wheel. Road conditions are decent so we slept the whole ride. The ride takes between 8 to 10 hours.
Vine Tip: If the sky is clear, you can do some lovely star gazing at night. Also, waking up for sunrise will give you a mystical view of clouds disappearing from the valleys.
Vine Tip for driving overnight: you can get sleeping pills (Valium) very easily at the pharmacy here. It won't drug you out but just enough to sleep through the night and enjoy the max of your next day.
WHERE TO STAY
We stayed in the amazing Hydrangea Villa. It's a family house with 4 double en-suite rooms. With additional mattresses available it can host up to 12 people (₹ 12,500 a night / whole house). The housekeepers turned out to be great cooks too and provided us with a lovely South Indian breakfast as well as a generous BBQ for dinner.
Whether it is for a drink or room overlooking the lake, I would recommend The Carlton (₹10,000). The Tamara has the most exclusive and expensive option in Kodaikanal.
Hydrangea Villa
Hydrangea Villa, Kurinje Temple Road, Kodaikanal, Tamil Nadu, India 624101, hydrangea-villa.hotelsintamilnadu.com, Facebook Page
The Carlton, Lake Rd, Kodaikanal, Tamil Nadu 624101, www.carlton-kodaikanal.com
The Tamara, #22, La Providence, St Mary's Rd, Kodaikanal, Tamil Nadu 624101, www.thetamara.com
WHAT TO DO
Kodaikanal is known for its outdoor activity.
Cycle or Run around the Kodaikanal Lake; 4km circumference you can rent a bike and enjoy a bicycle ride or put on your running shoes for a fresh morning run. Boat ride on the lake; either by 2-4 person paddle boats or in a small tour boat.

Coakers Walk; is a beautiful walk in the city center where you have the best vista over the mountain range
Coakers Walk
Hike to Dolphin Nose and Echo Rock, which can both be visited on a lovely 1.5-hour hike (to and from). It's a lot of steps but an amazing view. A guide is not required because there are usually many people on the trail, but if you do want one, VJ is a guide I can recommend (details below)
Guide VJ, Tel: 99655 24279
Vattakanal Waterfalls and the Tiger Cave; on the same route as Dolphin's Nose you will cross a broken fence to hike your way down the waterfalls. A guide is strongly recommended for this part

Bryant Park; the botanical garden

Berijam Lake is 25 km out of Kodai. We didn't have time to visit but it's on my list for next time
WHERE TO EAT
There is a wide variety of local Indian food available. For a good coffee head to Cafe Cariappa. Cloud Street Cafe and Muncheez have a western menu. The fanciest place in town is Flavours, Le Poshe by Sparsa. Don't leave without trying the fried green peppers. They're not spicy and combined with some coconut chutney, it is super yummy!
Muncheez
Cafe Cariappa, Shop No.3, 1st Floor, J's Heritage Complex, PT Road, Next to Royal Tibetan Restaurant, Kodaikanal, Tamil Nadu 624101, cafecariappa.com
Cloud Street, 1st Floor, Opposite Govt. Tourist Office, P.T. Road, Sunday Market Road, Kodaikanal, Tamil Nadu 624101, www.cloudstreetcafe.com
Muncheez, Poet Tyagaraja Road, Kodaikanal, Tamil Nadu 624101, muncheez.business.site
Flavours, Le Poshe by Sparsa, No.25, Sivanadi Road, Kodaikanal, Tamil Nadu 624101, www.leposhehotel.com

---
Main photo by Viktoria, all other photos courtesy of Floor