There's no better place to cloth diaper than India. This isn't an opinion. It's a fact. 

---
WHY YOU SHOULD CLOTH DIAPER IN INDIA
---
India, Bangalore especially, has the perfect climate for air drying diapers, well, except during the monsoons. We have amazing help here, who truly share the load. But most importantly, we have health faucets – or bum pistol showers, as I've heard some people call them – in our bathrooms, which makes pre-cleaning a whole lot easier. 
Indian cloth diaper designs and functionality have taken a huge leap in the last three to four years. The fit has improved. The quality and materials used make them more breathable. The snaps and adjustments make the diapers grow with Baby and the quality rarely leaves marks on delicate skin.
That being said, not all cloth diapers were made equal. This is a good thing because you have brands that offer daytime diapers in categories that last anywhere between 1.5 and 6* hours that aren't as bulky, to heavy duty night diapers which last upto 12 hours*. 
Getting started can be exciting but also intimidating because of the sheer number of brands and sub-categories! So here's an attempt at simplifying your journey based on trials and errors from our own. 
---
FAVOURITE BRANDS
---
THE VINE FAVE- BUMPADUM 
Bumpadum has the cutest designs and the softest inner liner which is dry-feel, ensuring your baby is comfortable at all times. They have a good range of sub-categories – the newborn and free size night and day diaper to medium to heavy padding options. Among all the inserts we've tried, theirs are the best so it's never a bad idea to load up on extras because they can be mixed and matched with other diaper brands too.

WEIGHT RANGE:

 5-7 kg
PROS:
If your baby isn't a heavy wetter, the classic pocket day diaper is great value for money. It fits well, is snug in just the right places and leaves the area dry even after 2-3 hours. 
CONS: 
Let's say the baby is having a heavy wetting day – it's known to happen – this diaper will not suffice. This is easily fixable in smaller babies by adjusting the snaps and adding an extra insert outside the pocket. With bigger babies, getting the fit perfect can be a bit tricky, especially if you've gotten stuck with a wriggly baby.  

WEIGHT RANGE:
5-7 kgs 
PROS: 
This diaper is more suited to wriggly babies (heavy and light wetters alike) because the side snaps make it quicker to put it on. The daytime soaker, made of cotton terry with a laminated layer at the back, means you can go longer between diaper changes. 
CONS: 
Again, it takes some trial and error to get this on perfectly. Done right, you're good for a few hours. Done wrong, you risk leakage and marks left on the baby's body. But practice makes perfect, right? 

WEIGHT RANGE:

 
5-17 kgs
PROS: 
Bumpadum is among the only diaper brands which has a promising all-night diaper aimed especially for heavy wetters. The 4Night prefold, which has 4 cotton panels – one of which has an extra-dry panel, another with a high absorbency wet zone – does it's job fairly well and while middle of the night changes aren't uncommon, they're no more frequent than regular disposable diapers that promise 12 hour absorption. 
CONS: 
Bigger and bulkier than the day time diapers, but hey, they need to be if you want them to go all night, right? Just to be on the safe side, add a dry feel sheet under the bed covers. 

WEIGHT RANGE:

 
2-8 kgs
PROS: 
These diapers have all the same features as the ones for bigger babies – great material, designs and insets – but designed for newborns. They also come in adjustable sizes and promise high absorbency that last up to 5 hours. 
CONS:
Most newborns are ridiculously heavy wetters. You might as well wait until they hit the 5kg mark and start using the bigger designs. 
CLOSE SECOND- SUPERBOTTOMS
Superbottoms is among the most successful cloth diaper brands in India. Over the years, they have gone from just designing diapers to providing end-to-end solutions such as cleaning, washing and travel accessories. They also have the softest cotton clothes and swaddles for babies which are perfect for the hotter months. The diapers are on the bulkier bottom side when compared to Bumpadum, but that has its perks…
WEIGHT RANGE:

 
7-17kg
PROS: 
Yes this diaper is on the bulkier side but that's for a very good reason – it has not one, but two soakers – a booster pad (sold separately) which can go inside the diaper's inner pocket and a dry feel magic pad, both made of organic cotton, which can be placed and changed at least twice if there's no poop. 
CONS: 
Unfortunately, the bulky bum look might not appeal to a lot of parents, especially when baby's dressed in something snug like cute, fitting tights.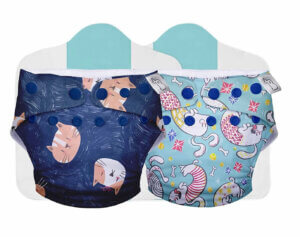 WEIGHT RANGE:

 
Babies below 7kg 
PROS: 
The outer material of these diapers is soft as fleece and so smooth – most other diapers have a regular, smooth waterproof outer – probably made from PU (thermoplastic polyurethane) or PUL (polyurethane laminate). I wish Superbottoms made all their diapers with this material. The colours and designs are super cute and on a hot day can be worn with just a tee or a dress and still look very stylish.
CONS: 
Baby will outgrow this quicker than you sneeze. Before you know it, those skinny little legs are chubbying up and the newborn diapers will be leaving marks along their thighs. 
THIRD BUT PROVEN TO BE DURABLE- BUMBERRY 
Bumberry is one of the first few brands that entered the market so they have a lot of experience in this area. They may not have grown as much as Superbottoms but that isn't to say that they don't understand their niche well. They have, over the years, gone from simple diaper covers and inserts to providing a wide range of designs of which we have a few favourites. 
https://bumberry.com

WEIGHT RANGE:

 
3-7kgs
PROS: 
This is an all-in-one diaper for newborns and is designed like a langot (a traditional Indian cloth diaper with a single layer of cloth, that used to be worn at home). But unlike the langot, this diaper has a waterproof outer layer to minimise leaks and a good, comfortable padding letting it last a few hours between play and feeds. 
CONS: 
All babies grow differently. If your baby gets wider (as many of them tend to do) the front and back panels won't overlap, going around the entire waist after the second or third month. 

WEIGHT RANGE:

 
7-15 kgs
PROS: 
The difference between the brand's Pocket Diaper and Pocket Diaper 2.0, is the snaps and the latter's more evolved, stylish design. But as a parent who has used the pocket diaper for 2 children over 7 years, I can vouch for the durability aspect of old design as well. 
CONS: 
The microfiber inset this diaper comes with doesn't have the same longevity as the cover. It starts to look worn and loses its softness over time. 

WEIGHT RANGE:

 
Flexible unless stated otherwise 
PROS: 
This brand has amazing insert options for every kind of parent. For parents who prefer natural materials, have bamboo, made from natural fibres for babies with sensitive skin and hemp – a mix of hemp and cotton fleece, when you read the fine print – which has higher absorbance. Parents who value extra long hours between changes can opt for the Extra Long Wet Free Insert (perfect for the Pocket Diapers) and the extra long cotton insert which lasts up to 8 hours. 
CONS: 
Some of the pads don't age well but that's more about the looks than functionality. 
---
ITEMS

YOU MAY WANT FOR HOME + DIAPER BAG
---

One of the biggest concerns that most parents have before cloth diapering in India is what will regular detergent do to their baby's bottoms? While regular detergent (such as Surf Excel) works too, it's good to know that we now have a special solution created especially for cloth diapers and baby clothes. Superbottoms' detergent sheets promise a thorough, yet gentle wash that leaves no residue on the cloth and is SLS and toxin free in addition to being dermatologically tested. 
WATERPROOF CLOTH BAG AVAILABLE AT BOTH SUPERBOTTOMS AND BUMPADUM
Take it to a luncheon. Take it to the beach. These cute bags deliver on their promise to keep the moisture in no matter where you travel. The bigger pocket is spacious enough for a few diapers, wipes and a compact changing sheet. The smaller compartment is good to store a used diaper (covered in a layer of paper or cloth though, because waterproof doesn't mean odour-proof). 


These mats come in various sizes and have a soft, quick drying and waterproof top layer which makes them perfect to use them as an added layer of protection for your mattress (Size L) or carry in your diaper bag (Sizes S-M). They also come in really nice, bright colours and are easy to maintain (Just don't tumble dry them even if you're desperate because… Just don't, ok?) 



---
DIAPERING 101
---

When can I start cloth diapering?
From when the second baby is born! Lol! 
What's the best way to handle the washing routine?
Use the health faucet (bum gun) to rinse off the poop and then store the rinsed inner and outer in a sealed bucket for when you've accumulated enough for a proper load. Did you know that exclusively breastfed babies have water soluble poop, so you technically can run the wash with poop and all, without pre-rinsing (haha). Once you've got a load of diapers ready you can just pop them into the wash with laundry soap. I usually wash them along with the towels used for cleaning. The diaper brands recommend Surf Excel as others can leave build-up that causes the diapers to not be as absorbent. Definitely don't use fabric softener with cloth diapers as it will make them not absorbent. Line dry in the sun. If it's the rainy season and you have a dryer, you can stick the inserts into the dryer. The diapers generally dry quite quickly even in the shade. 
How many cloth diapers do I need in stock? 
You need to have enough for at least 6 a day. Covers, if not soiled, can be reused without having to wash so you can stock up on more inserts than shells to be safe. 
Is it possible to switch exclusively to cloth diapers? 
Yes! It's even possible to travel while exclusively cloth diapering if you bring the wet bag along and have access to a washing machine on your trip. Handwashing diapers is an option if you're comfortable with that while traveling, but not many of us are.
What's the best nappy rash cream to use? 
Certain types of nappy rash cream can make cloth diapers less absorbent. Cloth diapering brands recommend a layer of coconut oil on the baby's bum to prevent rashes and also uses a microfiber cloth layer between the diaper insert and the baby's skin.
* Cloth diapers in any category work or don't for the promised time based entirely on the baby's wetting pattern. It takes a bit of trial and error to figure out which brand and category work for you. So hang in there.  
---
Written by – Afsha Khan Jayapal with inputs and edits from Chelsea J.