Christmas is just around the corner so we've put together a curated list of unique Christmas Gifts to help you delight all your loved ones- even the super picky ones! We know that they definitely won't be receiving double of these special pieces because we've asked an amazing panel to give us their top picks for the holiday season! Shop our ultimate Christmas list below!
---
FASHION + BEAUTY
---
BY PRACHI MUNGALI BELWAL OF
IMAGE TARASHA
Prachi is an Image Consultant and the founder of Image Tarasha, a styling company that is known for personal styling, celebrity dressing, wardrobe makeovers and brand consulting. Her passion for fashion and creativity made her give up her job as a business consultant and started out as an apprentice to a well-known celebrity makeup artist about a decade ago. It is here where she picked up her styling skills and got valuable insights into this industry. Ever since, she has carved a niche for herself and is out there to help anyone that desires to create the right impression, whether it is an individual or a brand. When she is not working, she likes interacting with people or gaining inspiration from the works of other artists. Life is after all about endless learning and getting enriched along the way.
Check Prachi out on Instagram and Facebook
FOR THE FASHIONISTA WHO WANTS TO ROCK THE PARTY
If she is someone that is trendy, loves fashion and can let her hair down, then this is an ideal gift for her! The exaggerated sleeves have made a huge splash this season. So watch her wear her style on her sleeve and bring in the New Year!
PRICE:

Rs. 10,000/- when you use the code ImageTarasha26 in store, valid until December 31st.
More styles available at The Coveted
FOR HER STYLISH CORPORATE WARDROBE
Let her have fun with creating multiple styles with this piece. Wear it over a dress, or denim, or a jumpsuit; a Trench is the ultimate piece to complete the look. This Military green gilet with a heavy cable knit at the back, embellished with handmade salmon floral accents, makes for the perfect winter layering.
PRICE:

Rs. 7,500/-
The most versatile piece of clothing, a gift you can't go wrong with. This will take her from her desk to dinner to the airport. It's a style staple for every wardrobe. This stylish reversible stole is made with 75% Cashmere woven with 25% metallic yarn. It's stylish and sedate at the same time. Size: 70x200cms, also available in teal & brown.
PRICE:

Rs. 3,900/-
By MINKSSE to buy call: 99451 84296
FOR THE COMFORTABLE TRENDY GIRL
A thoughtful gift to look good and stay warm on those chilly evenings. Long overlay fun jacket with handmade floral accents.
PRICE:

Rs.10,000/-
FOR THE ORGANIC LIFE LOVER
A perfect gift for the makeup-loving nature lover. These bespoke lipsticks are organic, cruelty-free & vegan and empower a woman to customize it into any color, texture, and aroma.
PRICE:

Rs. 2,700/-
FOR THE CONTEMPORARY JEWELRY LOVER
This shaded brown onyx choker with a coral pendant is for the connoisseur of jewelry. These collectibles are beautifully handcrafted pieces, unique and pure.
PRICE:

Rs. 3,000/-
By Style Aura to buy call: 98867 49885
FOR THE CLASSIC BEAUTY
You can never go wrong with pearls. These classics, the white baroque pearls with gold pleated phulkari. A lovely addition to any true jewelry lover's collection.
PRICE

:

Rs. 4,000/-
By Style Aura to buy call: 98867 49885
---
HOME
---
Vinithra gave up her investment banking career of 11 years when she became a new mom and started Weespaces out of her passion for design and interiors! What started as a kids design business almost 6 years back went on to grow into a full-service design firm.
At Weespaces we pride ourselves in creating the boutique design experience for the modern family! In creating truly personal and curated spaces, being affordable and bringing chic design solutions to our clients!
FOR THE JUNGALICIOUS/PLANT LOVING HOME
Know that someone whose home has more plants than you can count? Well here's something that makes for a great holiday gift for the homeowner!
This simple yet modern planter in a neutral white and warm wood is the perfect addition to any plant loving home! It's sleek, adds height and lets your green shine!
PRICE:

Available in glossy white Rs. 3,499 and matte black Rs. 3,999
By Harla Arts please use code WEE15 for a discount of 15% on all purchases!!
Order via Instagram @harlaarts or on 63042 59171
FOR THE ART LOVING HOME
An art lover would be able to appreciate this surreal aerial shot of the city palace in Udaipur. Captured beautifully, in beautiful colors this is a photograph that can work in any space and is also a lovely keepsake of India.
PRICE:

Rs. 5,150
FOR THE HOME WITH THAT SPEAKEASY VIBE
The home where people walk in, sit down with a drink and never want to leave…. cozy, warm and inviting with hints of vintage accents!
The deep rich hue of these purple/ wine colored vases adds that perfect hint of vintage to a home bar or a living room!
PRICE:

Small – Rs. 1,999 and Large – Rs. 3,499
FOR THE BOHO CHIC HOME
A home that's casual chic and relaxed….loving natural elements, texture and the organic look will dig the bohemian touches of this lovely macramé table runner. The perfect addition to a bohemian-inspired tablescape, these beautiful runners are handmade and in soft ivory form the best neutral textured backdrop for the holiday color and bling!
PRICE:

starting from Rs. 5,400
By Copper Fringe please use code WEE10 for a discount of 10% on all purchases!
Punchy and vibrant with tassels that add the perfect boho hint, this throw is great for bringing in color and warmth this holiday season!
PRICE:

Rs. 1,799
FOR THE CLASSIC UNDERSTATED HOME
Classic homes that are timeless and elegant, decked for the holidays will find this beautifully handcrafted tray a stunning addition! Wood coated with bold enamel and leather handles, it makes for the most beautiful and versatile piece that can go from coffee table to home bar to dining table. Available in 10 beautiful colors!
PRICE:

Rs. 4,800
FOR THE PARTY HOUSE
Decking the halls for the holidays and getting ready to entertain means a classic pair of cocktail/ martini glasses with festive gold polka dots would be the most amazing addition! Sparkling cosmos or a classic martini, this holiday gift can never go out of style!
PRICE:

Set of 2 – Rs. 1,790
Akhil is a lifestyle blogger with almost twenty thousand followers watching his every move. The guy to know, this influencer lives for luxury and food- he reviews restaurants throughout the city and considers himself a fine dining enthusiast. He is the first to be at a new launch or opening and is always on the hunt for new and unique spaces in the city from dining, shopping or lifestyle. He strives to project the best of Bangalore through his Instagram pics!
Follow Akhil on Instagram, Facebook, and his blog
FOR THE PERSON WHO ALWAYS NEEDS TO HAVE THE LATEST PHONE
New season, new phone. The new Google Pixel 3 is definitely on the hot list and makes a great gift for that special person who loves to update their phone to the latest and greatest!
PRICE:

Rs. 65,601

Buy it here with delivery by Saturday, December 22nd
FOR THE OLD-SCHOOL NOTE TAKER
The
Rocketbook Wave Smart Notebook

is the first re-usable smart notebook- and the perfect gift for that person we all know that just would rather take notes in writing rather than on his or her phone/tablet/computer (we totally get you…). All they need to do is pop the notebook in the microwave to erase and start filling it right up again! They will be able to sync all of their notes and doodles to their Google Docs, Icloud, Dropbox, Evernote and more!
PRICE:

Rs. 3,294

Buy it here and get it between Monday 24th -27th with Global Store Priority Delivery
FOR THE ALWAYS-ON-THE-GO COFFEE LOVER
Do you know someone who loves their coffee and is constantly on the go? What better gift than the coolest coffee gadget around- the Nescafé É Smart Coffee Maker + Travel Mug. A coffee maker that is also a travel mug! They'll be able to program their favorite type of coffee with the touch of a button on their phone and then simply grab the cup and go!
PRICE:

Rs. 6,499

Buy it here and get it by tomorrow December 21st
FOR THE AVID IPHONE PHOTOGRAPHER
Time to help your loved one step up their Instagram pics with the addition of the Sandmarc iPhone Lens. These lenses attach to an iPhone and take some seriously impressive phone shots- no need for hours of editing, literally ready to post. Choose from the Fisheye, Wide, Macro, Telephoto and Cinema Lenses.
PRICE:

Rs. 9,000 onwards depending on lens and iPhone type

Buy it here and get it by December 26th (yes, we know that's after Christmas but it's so cool maybe it's worth the wait)
FOR THE FORGETFUL GUY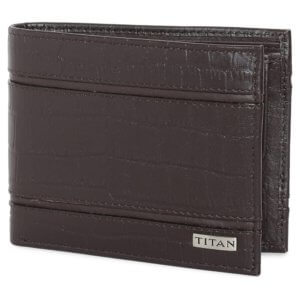 The Titan Radar- Bluetooth Enabled Leather Wallet is the must-get gift for that guy that you know who, occasionally (six times now) leaves his wallet behind. No more rushing around looking for it, the smart chip embedded in the stylish wallet will alert him every time he moves more than 30 feet away from his wallet while he is out.
Anitha Kholay, a Rally driver, a model, an actress, an entrepreneur, a fashion designer & a stylist. The persona takes on different hues be it on the ramp or on the race track. Winner of Miss Bangalore crown in 1998. There's a lot going on in this race rally drivers life and it's only seeing an upswing. The sky is the limit for Anitha Kholay, who has many feathers in her cap. She was also declared the FASTEST WOMAN RACER IN BANGALORE.
Anitha likes to test her limits. Anitha doesn't like to rest on her laurels. When she's not on the racing track, you will find her taking her design acumen to task. She's also a leading fashion designer and is the official designer for the IPL (Indian Premier League) cheerleaders uniforms, since 2009 as well as the umpire uniforms. She is best known for her fashion-forward styling in both Women's and Men's wear which is a mix of luxury and urban chic garments with paradoxical textiles and signature styles.
Follow Anitha on Facebook, Instagram, and www.anithakholay.com
My husband and I both are race car fanatics and we just love gifting each other Swanky Cars and we find a perfect occasion to do that. It can be our birthdays, our anniversaries or we just wait for Christmas which is the perfect season to spread joy. Our children wait for this time of the year too. Some of the gifts I would pick for a loved one can either be a Smartphone, a Signature Fragrance or Glassware for the bar (I'd go with crystal). A perfect gift this season I can think of is definitely a Google Home because we are all spoilt rotten with technology.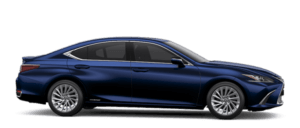 Looking for an amazing present for that extra special someone? Take a page out of Anitha's book and search no further, we've got the perfect gift for you. The Lexus ES300H will make this Christmas one for the books!
PRICE:

from Rs. 59,13,000

Lexus Bangalore, SKAV909, No: 9/1, Richmond Circle, 560001, Tel: 1800 300 53987

The year's best SmartPhone, Samsung Galaxy A9 makes for a great present for both adults or teens with 5.8-inch and 6.2-inch infinity display, Dual Aperture camera, AR emojis and more.
PRICE:

Rs. 57,900
The hottest fragrance of the season, Burberry Her Eau de Parfum was only released in September of this year, this is the first scent since Burberry unveiled their new logo and monogram. This red berry accord mixed with white woody notes is the perfect gift for a special woman in your life be it your mother, best friend, or partner. But you won't find this in Bangalore quite yet, pick this up abroad on your way back into town or on your way to your destination Christmas holiday.
PRICE:

approx. Rs. 8,540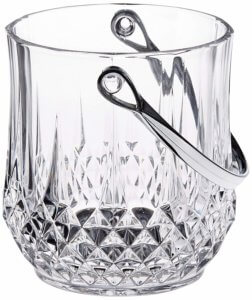 This lovely Cristal D'Arques Longchamp Ice Bucket makes the perfect addition to anyone's bar. A lovely piece which goes well together with a set of crystal glasses.
PRICE:

Rs. 2,051
Google Home is literally the gift that can do it all. There is no better present than giving someone their own personal voice assistant- call friends, play music, ask questions, control other smart devices… and more!
PRICE:

Rs. 9,999

Buy it here with delivery by December 23rd
Model and Designer Kovid Mittal won Mr. Youth Bangalore in 2011 when he was studying mechanical engineering and parallelly studying fashion designing. He won two sub titles as Mr. Photogenic in 2011 as well.
He has done more than 500 shoots for various brands like Relaxo footwear, Sil Jam with Juhi Chawla, Kingfisher and many more. He has been on all three sides of garment manufacturing..that is, the designer who creates it..the model who wears it..and the audience who aspires to wear them. So bringing all this experience under one roof he has launched my own clothing line under his label, Kovid Mittal. He has designed for more than 50 weddings for both bridal/ groom wear.
Follow Kovid on Instagram, Facebook, and his website
FOR THE SHOWSTOPPING MAN
To make a style statement any time of the year, step into label Kovid Mittal. The fabrics used are antimicrobial and can be worn throughout the year and is a very experimental yet wearable line. For the man in your life who isn't afraid to be eye-catching.
PRICE:

from Rs. 5,000 onwards

Kovid Mittal, Jalvayu Heights, Watch Factory Rd, Phase -1, Peenya, Bengaluru, 560022, Tel: 99801 25900, kovidtheone.wixsite.com

FOR MR. FANCY FOOTWEAR
Why not splurge and get him a pair of handmade shoes for any occasion by Kovid Mittal? He'll be sure to stand out whether he's in a suit, on the dance floor or in casual wear.
PRICE:

from Rs. 6,000 onwards

Kovid Mittal, Jalvayu Heights, Watch Factory Rd, Phase -1, Peenya, Bengaluru, 560022, Tel: 99801 25900, kovidtheone.wixsite.com
FOR THE MAN WITH THE LUSCIOUS LOCKS
These days men face a lot of hair loss issues due to water, nutritional deficiency or hereditary disorder. Worry no more with the homemade organic Hair Regrowth Oil by Mrs. Raji which promises to regrow hair and thicken the existing hair follicles. Perfect for that guy in your life who loves to take care of his locks.
PRICE:

Rs. 4,000 *Lasts 30 to 45 days depending on the length of hair

To buy contact 99801 25900
FOR THE MATCHING COUPLE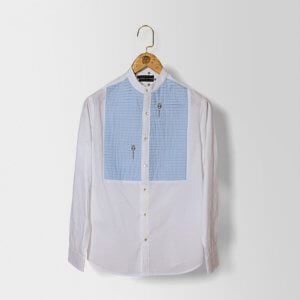 For her: A midi dress, cut from white lace, with a bib of pleated georgette adorned with steampunk jewel beetles in flight. This feminine design sits at the waist, and the pleated skirt has a delicate eyelash-lace scalloped hem.
For him: The immaculately tailored Nezah cut in handspun cotton is the perfect evening shirt. Hand embroidered daggers deck this pleated bib front mandarin collared beauty.
PRICE:

Dress- Rs. 8,500, Shirt- 4,999
---