These days we are all on different pages when it comes to nutrition. Be it for religious reasons, personal values, allergies, medical conditions, or individual fitness goals we all tend to eat very, very differently. I myself as a traveled expat foodie on our fourth assignment will generally claim to be quite adventurous when it comes to exploring new foods and cuisines.
Vegan has become super popular in recent years and yes I've known about Copper and Cloves and had internally labeled it as a yummy "salad place". I know "salad place" sounds rather unexciting to most of you but I dare you to take a closer look at what C&C are rolling out of their fabulous kitchen. You'll find their little bistro at The Organic World in Indiranagar or you can also directly order and now even have it as a subscription to your home, your office but let me lay it out a little bit more.
---
ORDERING
---
A few of us on the Vine team were invited to try a week of subscription goodness. C&C offers full board, half board or single meals, a full week, alternating days, wherever and at whatever time you need it. This sort of flexibility was right down my alley and just so easy to start and make it work. The first contact with the founder Sarah was fairly fast and easy, exploring my likes /dislikes, potential allergies and what would be my idea or expectation when it comes to healthy, plant-based food. Times, availability and delivery location(s). It's a small but super efficient team and the goal is clear: they want you to eat like a queen or king, well balanced, healthy and that shows in every small and big aspect around that subscription and in their work.
---
THE REVIEW
---
In the following week, I tried all kinds of dishes for breakfast, lunch, snacks and dinners and to my surprise, there weren't any grievances. Food was insanely tasty, fresh and arrived in excellent condition. I felt well-fed, fit, nourished, super pleased about eating all the right things and extremely stoked about how good healthy sustainable plant-based eating could look and taste. They just make it so easy, the food is there when and where it is needed in time – fail free.  The most unexpected thing that week was my meat-loving husband. After forking down one of my subscription bowls (quinoa jackfruit stew) he somehow made it his mission to steal my meals and became a full-fledged C&C fan himself. Well worth it –  I had my moments where I felt like actually grabbing my phone to serenade the chef because it was just soooooo good (all I say is tangy germanic potato kale salad). I loved how diligently Sarah and her team worked around my needs and busy erratic schedule and that after this initial call I just could stop worrying about what's for dinner/lunch and leave it to them to determine. I knew the food would be there and it would be good. What else to ask for!
---
THE FOOD WE TRIED
---
CACAO SMOOTHIE BOWL + OAT MYLK COLD BREW COFFEE 
If I could have breakfast every morning it would be this. Though it seems like a "sweet" breakfast, it actually wasn't because the only "sweet" ingredients in the bowl was the frozen banana and date. The raw cacao powder, peanut butter, pinch of salt, spinach, hemp protein powder, hemp hearts, oat mylk mix was absolutely delicious. The texture was like a chocolate pudding without all the sugar! The granola on the top was the perfect addition to give it that extra bit of "crunch". As a mom to a newborn without a good eating schedule yet, I actually ended up eating this after my lunch as a dessert. The cold brew coffee got stashed in the fridge until the next morning and was a great boost of caffeine for my busy day. I must admit, I'm not a coffee person, but this was absolutely delicious – Chelsea
Raw cacao powder, homemade peanut butter, cold brew coffee, frozen banana, pinch of salt, handful of frozen spinach, a date, hemp protein powder and hemp hearts, blended with ice and oat mylk. Topped with homemade spiced granola and pomegranate seeds a breakfast for champions and it kept us going all morning – Jana

SUMMER VIBES SALAD
This redefines what anyone would think a salad is because it was perfectly filling. The marinated red capsicum, chana, cowpeas, crispy roast paprika chana, chopped coriander vegan feta, roasted cherry tomatoes were topped with a tangy EVOO, ACV, and herb dressing. The best part about this salad, besides how tasty and healthy it was, was that my toddler enjoyed picking all the beans out and eating them too. Nothing can put a smile on a mom's face more than seeing their child enjoy eating something healthy! Again, as my crazy schedule went that day, I ended up saving this and eating it for dinner instead of lunch. It was super filling and I didn't go for my usual after-dinner dessert because I felt satisfied! – Chelsea

ASIAN BUDDHA BOWL
This was my favorite. The mix of flavor with the broccoli, marinated tofu (and I'm usually not a tofu fan), brown rice, kale, miso dressing, roast paprika chana, pickled red chili, kimchi, peanut butter-ginger-soy sauce was so unique and delicious. And again, my son was picking out the tofu in this and eating it which is a win-win situation, healthy meal for mama and toddler – Chelsea

ENERGY BALLS
These were sent as a post-lunch power snack, but I gobbled them up as a dessert after my lunch. The base is dates, nuts, and coconut and they come in a variety of flavors like coffee, cacao, peanut butter, etc. They're delicious and I like that not even jaggery is added, only the natural sugars of the dates serve as a base to satisfy your sweet tooth-Chelsea
CHOCOLATE & WALNUT BANANA BREAD, DOUBLE CHOCOLATE BROWNIE, STRAWBERRY TART, MASON & CO. CHOCOLATE TART
I shared these desserts with my husband and my toddler and they both settled on the Chocolate & Walnut Banana Bread as their favorite. The other desserts they claimed tasted "too healthy". I personally like the wholesome desserts and gobbled up the tarts before they melted (they arrived frozen to maintain their consistency). The brownie is great for dark chocolate lovers like me as it's not a sweet brownie, but a bit bitter as cacao is in its natural form – Chelsea

GERMANIC POTATO SALAD
Steamed potatoes, vegan feta (tofu-based), capers, extra virgin olive oil, lemon, dill, mint, onion, tomato, apple cider vinegar, kale and peashoot dinner – tangy and our family's favorite. We Germans love us a good potato salad kudos to the kitchen this one will be a staple in our house now – Jana
THE VINE TIP: this was native German events manager Jana's favorite, and Germans know their potatoes. So a must-try!

PERSIAN BOWL
Herby jackfruit stew, Hummus, herby millet, vegan feta (tofu-based), and scrunched kale transformed the hardcore meat-loving parts of the family into believers that vegan cuisine is a definite option for future meal planning – Jana

---
ORDER C+C
---
Order Copper + Cloves here! 
Find them here: Instagram, Website
---
OUR VINE TEAM TESTERS
---
Chelsea J.

– Chelsea moved to Bangalore in 2017 after more than a decade of living in Europe, Jordan, and even a small stint in Ghana. Originally from California, she's settled in India with her husband and toddler for the long-run! Being business owners, there's no exit strategy in sight so she's making the most of it by socializing, writing, and eating a lot of hummus at one of their businesses based out of Bangalore: Habibi Falafel.
Jana H –  

–

 German born maximalist, agile enthusiast, foodie and queenager "Live by design not default."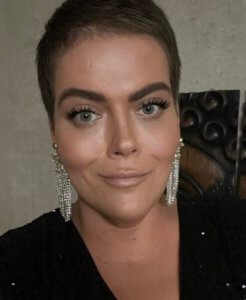 ---
All photos from the reviewers and courtesy of Copper + Cloves