If you are in Bangalore, you are probably harboring slight (or not so slight) resentment for every one of your friends posting Insta stories from European beaches, cute little cafes and gorgeous hiking trails. The reality of a Bangalorean 2020 has been a series of lockdowns and a sense of apprehension once we were finally allowed to venture out of our houses. Now that monsoon season is upon us, it is the perfect time to explore safe, socially distant locations in nature around Bangalore!
Coorg is prone to floods so check with your accommodation if travel is possible!
COORG
A few weeks ago six of us decided to book a trip to Coorg, one of our favorite weekend escape destinations. We went with friends who we know have great COVID-19 habits; as in have lived as hermits just as me and my husband have for the past six months. Almost all of the properties in Coorg are now open, which includes luxury favorites like Evolve Back and The Tamara, but we wanted to experience Coorgi estate life in its purest form. We booked the entire Woshully bungalow, part of the Tata Coffee Estates via Ama Stays and Trails. Woshully is one of the oldest heritage bungalows in the Tata portfolio, at almost 200 years old. The officials of the Raj used it during their "out of station" vacations and it has maintained its old charm to this day. The bungalow can be rented whole or by room and sleeps nine people max. If you rent out the whole bungalow you can bring your doggies, which is quite rare for homestays in Coorg!
Ama Stays and Trails, Tata Coffee Ltd, Woshully Estate, Pollibetta

We arrived on Friday around lunchtime after a relatively easy 4 and a half hour drive and were welcomed by stringent health and hygiene protocols, which really put my very pregnant mind at ease. You will be requested to send your IDs in advance, so the check-in process is streamlined and with minimum contact. Our luggage was sanitized before being placed into rooms and the staff, which from that moment on made sure our stay was absolutely fantastic, welcomed us warmly with some local coffee with jaggery.
It is hard to strike a balance between great, attentive service and not feeling like the staff is always in your face and Woshully does just that. From the moment we sat down for lunch till the moment we left two days later we pretty much ate. The food is all homemade and each meal is a feast of local flavors. Don't worry about the spice levels- the cook is happy to dial it up or down according to your preference! If you eat meat, you will love the pandi curry, traditional Coorgi pork curry with a lot of pepper. We also had a curry made of local mushrooms the cook has foraged on the estate, puris, peppery chicken, amazing dal and so much more.
The rooms are very comfortable with en suite bathrooms and TVs in each room. There is a common area and a games room, but the highlight is the massive front porch overlooking the coffee estate and the garden. This area is infamous for wild elephants that come close to the houses and trample people, so you are not allowed to venture out of the property on your own. If you are looking for a really active holiday, this is probably not the best place for you. If you are happy lounging around in fresh air, playing badminton and cards, eating, drinking and just generally chilling with friends and family, you will love it here. The Wi-Fi is not reliable and the connection is spotty, so I would not suggest it for a work from home(stay) kind of a trip.
The Vine Pro Tip: there is no alcohol in the bungalow but you can bring your own, so make sure you stock up before leaving.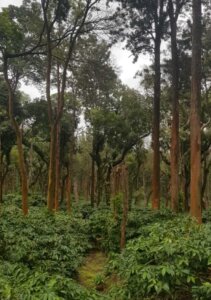 We were lucky that one of our friends has a family with ties to Coorg for over two centuries and had graciously invited us over for lunch at his uncle and aunt's homestay, Java Mane. Java Mane is another heritage bungalow that has stood there for over 150 years and it is on its own private island! It is truly a slice of heaven. The homestay comfortably sleeps six people and has two bathrooms and it has been modernized just enough to be super comfortable without losing its charm. Here, you will not miss having a TV or Netflix. The reception is much better here so if you fancy working with a view of a lake and a cold beer, Java Mane might be just what the doctor ordered! The food was phenomenal and the hospitality of both the owners and the staff that takes care of the property will make you not want to leave, ever.
Java Mane, Garandoor Village, Suntikoppa
THINGS TO (SAFELY) DO IN COORG
Bird watching:

Coorg is famous for its birdlife. Get up early enough and you will be rewarded by some amazing bird watching opportunities.
Coffee estate trails:

learn about different types of coffee and what a plantation life is all about.
Tibetan colony:

the second largest Tibetan colony in India is in Coorg! It is said it is frequently visited by Richard Gere and Goldie Hawn.
Golf:

there is a small golf course for use by guests at any of the Tata bungalows.
Bonfire nights

: almost all homestays will be happy to prepare a bonfire for you to chill around if the weather permits.
Jeep rides:

some estates have jeeps you can take out for a ride around the estate.
Eat and drink:

this is the Coorgi way. Snack, drink beer, catch up with friends, eat pandi curry, nap and repeat. We can all use a bit of doing nothing but connecting with each other.
GETTING THERE
There are two main ways of reaching Coorg from Bangalore, either via Mysore highway (no toll gates) or via NH75, which has tollgates and is better maintained. It always takes us an average of 5 hours to reach Coorg regardless of where are staying, with a stop for breakfast or coffee. There are plenty of dhabas on the way to stop by for a dosa and plenty of Coffee Days with good restrooms. If you are taking your driver, check with the homestay in advance, but most often accommodation and meals at a nominal cost.
The Vine Pro Tip: if you are taking the Mysore highway, stop at Channapatna on the way. Channapatna is famous for their wooden toys that make a beautiful gift for friends here and back home alike!
---
Main photo by Deepak Srinivasan