With the pools re-opening here in Bangalore and with domestic travel well and truly back on the agenda it's time to think about beachwear, and I for one am EXTREMELY excited about that!
We, of course need to continue to practice safe social measures but that is not going to stand in the way of me, a flattering swimsuit and a cocktail… If you are of the same sentiment, then please do read on and enjoy.
I spent my teenage years thinking fluorescent string bikinis were the only way to make a statement on the beach. I've since learnt that cut, finish and colour is as important on a suit as it is on a good swimsuit. A well-made swimsuit will last you a lifetime, so treat it as you would your nicest underwear.
Having been a huge Hunza-G (look it up if you haven't heard of it, think Cindy Crawford circa 1993) aficionado for the past few years, I am excited about discovering these great Indian brands that are not only styled to perfection but are also following huge ethical initiatives to make sure they are sourcing their materials from sustainable sources and are offering jobs to local artisans.
---
WHICH STYLES SUIT DIFFERENT BODY SHAPES
---

SMALL BOOBS: Embellishments, ruffles and back cut-out swimsuits and bikinis are you best friend!
BIG BOOBS: Good support is key, a stringy triangle cut bikini isn't going to cut it unless you want to opt for the Kardashian favorite under-boob look J Double stiched bands and even under wiring are key.
BROAD SHOULDERS:

Solid coloured swimsuits and V-Neck detailing is super flattering here.
LACK OF BUM: Bright colours and banning full coverage bottoms!
LOTS OF BUM: You are very ON-TREND right now, flaunt it and make sure you size properly to avoid an uncomfortable wedgy!
ATHLETIC: Gathering, ruffles and sweetheart lined bandeaus are perfect.
LOVE HANDLES: High-waisted bikini to give an hour glass illusion BUT do ensure you have a good quality thick stretchy fabric to avoid the dreaded overspill!
SHORT TORSO: Low-rise bottoms and halter-necks to lift the bust will help your torso appear longer.
SHORT LEGS: High cut will offer the illusion of longer legs.
TUMMY POUCH: (Thanks kids!) Full piece with runching and a low cut bust.
PREGNANT:

Flaunt it, a supportive bikini would be my go-to!
Of course, if goes without saying, these are just some helpful styling tips. I'll let you into a little secret… you can wear whatever you like around the pool/beach. The people who are always having the most fun are the ones who don't care about their tummy overhang or dimpled thighs so just pack something that makes you feel FABULOUS!
I've also added some tips on accessories at the end of the article. I strongly believe that a good headband/scarf, beach bag and pair of sunglasses can elevate your swimwear drastically.
---
VINE FAVORITE SWIMWEAR/RESORTWEAR BRANDS
---
These are some of my favourite swimwear/resortwear brands which have been designed and made in India:
This brand is very exciting. Not only is their aesthetic extremely fashion-forward but they are building a well-regarded international following – no easy feat! Snap up one (or two) of their pieces if you really want to stand out on the beach and at the 5 PM cocktail hour!

Don't be fooled by the name, this site has some seriously cool swimwear. Good fit is their USP and they have a great customer service ethos. The style you will find here is well-cut, flattering and fashion-forward. I personally love their resortwear and head-ties too.

The summerhouse use nylon waste harvested from the ocean to transform it into some beautiful swimwear. Now that's a movement I can get behind! Most of their pieces are reversible too which means you don't need to pack lots of different swimwear for a weekend trip! I love their paired back stylish aesthetic.

This is boho luxe at its finest. Their seasonal collections are vibrant and beautiful. I am obsessed with the T91 collection in support of the Tiger Conservation effort in the Rathambhore National Park, think blush pink with tiger prints. Heavenly!
This is the go-to place to satisfy your swimwear needs! They have a huge array of different brands styles and prices as well as stocking swimming accessories and kids wear.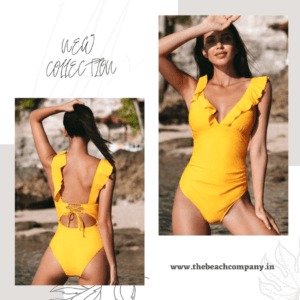 It also goes without saying that H&M and M&S (Mark & Spencer) have a great range of swimwear and are well stocked in Bangalore malls. I love the H&M seasonal prints and feel that their swimwear quality has vastly improved over the past few seasons. M&S offers a really handy stock of comfortable basics that we all need!
---
HOW TO COMPLETE YOUR BEACH LOOK
---
Now, I know some people believe less is more… But I don't agree. For me, chunky gold rings, statement sunglasses and gorgeous cover ups elevate your swimwear from nice to NICCCCCEEEEE!
Here are some of my fave places to shop:

---
WHERE TO GET A BIKINI WAX
---
Oh, and don't forget a good bikini wax (unless you're going for the 80s vibe, if so, OWN IT!)
---
Main photo courtesy of Flirtatious