---
OBJECTIVE
---
We wish to give back to the local community and help facilitate the need to educate people and contain the spread of COVID-19.
Our focus is on masks and the need to create AWARENESS, ADVOCATE and ACT on ensuring #masks4all.
AWARENESS: DIY masks
ADVOCACY: Mandating masks
ACTION: Consulting on masks production and distribution
---
TYPES OF MASKS
---
3-

LAYER

PROTECTIVE MASK

(RECOMMENDED MODEL)
These re-usable three-layer masks are sturdy, bleachable and washable at high temperatures. They have been recommended in Germany to be worn by cancer patients and other immune-suppressive patients, their caretakers and social service workers who do not have access to other masks.
Click here for instructions in different languages!
SIZING GUIDE
OTHER MASK TYPES
See more in-depth info in our FAQ here
Disclaimer: These masks are not intended to replace N95 or surgical masks. They do not have proper medical respiratory protection nor medical certification. They should not be used by healthcare workers who are in close vicinity of COVID-19 patients but will protect against large droplets and prevent people from touching their faces while outside. They may, however, increase the lifespan of a surgical or N95 mask if worn over it.
---
HOW TO CORRECTLY WEAR

ANY

FACE MASK
---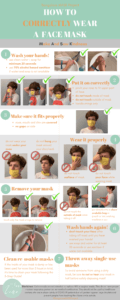 See other languages below
TAMIL – Coming soon!
---
HOW TO CLEAN + STORE A FACE MASK
---
See other languages below
TAMIL – Coming soon!
---
VIDEO INSTRUCTIONS
---
3-LAYER PROTECTIVE MASK
EASY NO-SEW PROTECTIVE MASK
ANTI-VIRUS FACE SHIELD
HOW TO CORRECTLY WEAR A FACE MASK
HOW TO CLEAN + STORE A FACE MASK
---
FAQ
---
Check all of our FAQ here
---
SOURCES
---
3-Layer Model
The original models were found in a pandemic plan of the city of Essen, Germany.
They've since taken this plan and model and updated it in context towards Covid-19.
Hygiene
Andrew Cole
Specialist services supply company to Pharmaceutical and Biotech industries who advised us on disinfecting and hygiene procedures
Dr. Sonal Agrawal
Bangalore based doctor endorsing the project
India PSA
WHO
The World Health Organizations guidelines on how to put on, take off and dispose of facemasks
CDC
The Center for Disease Control and Prevention recommendations on wearing facemasks to slow the spread of Covid-19
---
PRESS
---
See all of our recent press here!
---
GET INVOLVED
---
Want to get involved? Pass these around your community to enable your own production unit in your neighborhood!
CONTACT US
+91 91083 81989
+91 73383 80671 (WhatsApp Only)
JOIN THE FACEBOOK GROUP
TAG US
Tag us and we'll feature your #maskmasterpieces!
#bangaloreMASKproject
and @thevineblr @cloudnumber22
---
HOW DID THE BANGALORE MASK PROJECT START?
---
An initiative started by The Vine Bangalore's own Event Manager, Jana. Amidst the craziness and uncertainty of the last few day's lockdown announcements, she saw a similar project discussed by local hospitals back in her hometown in Germany and realized this was exactly what a city like Bangalore and other places in India needs.
Jana quickly involved our Vine team members. She got on her sewing machine and we created simple and easy to understand instructions for three different types of masks. The Mask Project WhatsApp was then created to gather people all over Bangalore into one place who could sew, staple, or just donate supplies. We are currently working on getting the instructions translated into both local as well as other languages.
Do you know how to sew? Don't have a clue how to sew but own a stapler? Literally only have a water bottle and a pair of scissors on hand? There is an easy option for everyone! We need everyone to share this with their community to help provide masks for everyone in Bangalore!
---
TRANSLATIONS OF INSTRUCTIONS CAN BE FOUND HERE
---
Thank you to all our translators!