I've been obsessed with skincare for as long as I can remember. As much as I love my actives like Vitamin C, Retinol and fermented K-Beauty products – if there was ever a product I'd hold onto with dear life, if stranded on a desert island, it would have to be Sunscreen. Everything else in your skincare routine is void if your morning routine doesn't include Sunscreen.
---
WHY SUNSCREEN IS THE MOST IMPORTANT PART OF YOUR ROUTINE
---
SKIN BURNS
Skin burns can happen without the use of sunscreen. Skin of color takes slightly longer to get there as melanin absorbs twice as much UV radiation than paler skin. Skin of color can have a natural SPF of up to 13 but can mean some become lazy about applying sunscreen and ultimately causing more sun damage to the skin.
SKIN AGING
UV-A rays are responsible for skin aging. Sunscreen prevents photo-aging by not enabling the breakdown of collagen and studies show that those below age 55 who apply sunscreen regularly have a 24 percent less chance of developing signs of aging than those who don't.
MANAGING SKIN TONE
Sunscreen helps prevents hyperpigmentation, melasma, and sunspots while also aiding your actives like Vitamin C and Retinol. It is advised to wear sunscreen even indoors if you are using a topical retinoid.
SKIN CANCER
It is a myth that skin of color isn't at risk of skin cancer. Although lighter skin tones are more likely to get cancer, there is evidence to show more skin cancer deaths in communities of darker skin as the cancer is often detected at later stages. Increasing awareness of sunscreen and routine skin checks for all skin types is important for skin cancer prevention.
---
WHICH TYPE OF SUNSCREEN IS BEST FOR YOU?
---

Simply put, the one you would wear every day, religiously reapply and has a minimum of SPF 30 and is broad-spectrum. I prefer one that is fragrance-free and essential oil-free but if your skin can handle oil and fragrance, then go for it!
---
TYPES OF SUNSCREEN
---
There are 3 types of sunscreens: Chemical Sunscreens, Physical sunscreens and Hybrid (mix of physical and chemical filters)
For you to understand this, flip the sunscreen bottle and read the entire ingredient list. Remember – not everything formulated on the stand or dermatologically tested is good for your skin. This way you can even weed out products with certain ingredients that can be irritant to your skin.
CHEMICAL SUNSCREENS
These work by absorbing the UV rays and converting them into heat and thus dissipating them from the body. These are smoother in application and usually don't leave any white residue/cast on the skin. Common chemical filters are Oxybenzone, Avobenzone, Octisalte, Octocrylene, Oxtinoxate and Homosalate. They need to be applied 20 minutes BEFORE stepping out in the sun.
Example of a chemical Sunscreen :
PHYSICAL/MINERAL SUNSCREENS
These work by blocking the UV rays from the get-go. I'm yet to find a mineral sunscreen that I truly love for my ethnic skin tone. This type of sunscreen gets to work the minute you apply it to your skin and contain either zinc oxide or titanium dioxide or sometimes both.
Example of a physical sunscreen:
HYBRID SUNSCREENS
These filters act both like chemical and physical sunscreens. They are my favourite type of sunscreens. Look for ingredients like Tinosorb S, Tinosorb M , Uvinul A Plus , Mexoryl SX.
Example of a Hybrid Sunscreen:

---
SUNSCREEN FILTERS: THE GOOD, THE NOT BAD AND THE UGLY
---

But first, what are sunscreen filters?
Filters are the active ingredients in sunscreens that help stop UV rays from coming through to the skin. UV filters by definition are compounds, mixtures or materials that block or absorb Ultraviolet light. Some do a better job than others at blocking or absorbing without compromising on the health of the skin itself.
THE GOOD FILTERS
1) Tinosorb S
INCI (International Nomenclature Cosmetic Ingredient): Bis-Ethylhexyloxyphenol Methoxyphenyl Triazine
Easily my favorite filter. Complete broad-spectrum protection against both UVA and UVB rays and eliminates free radicals. It isn't absorbed by the body and there is little to no risk of irritation.
2) Tinosorb M
INCI: Methylene Bis-Benzotriazolyl Tetramethylbutylphenol (nano)
Doesn't absorb through the skin. Protects both UVA and UVB. Very stable and doesn't form any free radicals. Unlikely to cause any skin irritation. It also doesn't cause hormonal imbalance as many chemical filters do.
3) Uvinul A Plus
INCI: Diethylamino Hydroxybenzoyl Hexyl Benzoate
UVA filter. Needs more research. Stable, doesn't absorb into the bloodstream and not likely to cause any irritation.
4) Mexoryl XL
INCI: Drometrizole Trisiloxane
Super! Broad-spectrum protection against both UVA and UVB. Also happens to the first photostable filter. Big thumbs up for this one.
THE 'NOT BAD' FILTERS
1) Zinc Oxide and Titanium Dioxide (nano)
This might come as a shock as most sunscreens catered to children contain this filter. Plus all "natural/green" sunscreens seem to have these mineral filters. Zinc Oxide is the more superior one with full UVA and UVB protection and rarely causes any allergic reaction. However, they both leave a terrible white cast. Manufacturers now break them down into nanoparticles making them more transparent. The downside to this is that they have greater skin penetration and a higher risk of inhaling them. Most manufacturers don't mention it if it's nano, but if it's a translucent mineral sunscreen be sure it's nano. They also happen to be photocatalysts, which means that they can form free radicals as soon as they come in contact with the sun. Free radicals are damaging to both your skin and DNA. However, this problem can be solved if the manufacturer uses coated Zinc Oxide and Titanium particles. Look for these on the packaging or check with the manufacturer.
These filters are popular in the U.S (especially for sensitive skin and kids) because the FDA is decades behind in approving new filters unlike in Asia and Europe.
2) Octisalate
INCI: Ethylhexyl Salicylate
Best combined with other filters to improve stability as it only protects against UVB. Doesn't absorb into skin or cause skin irritation.
THE UGLY (BEST AVOIDED) FILTERS
1) Oxybenzone (no idea why it's still FDA approved)
Avobenzone, Homosalate, Octinoxate, Octocrylene, Sulisobenzone
They all absorb into skin, are hormone disruptive, unstable and cause free radicals to form. They can also cause skin and eye irritation. Oxybenzone is extremely environmentally harmful especially to coral reefs breaking tonnes of them down.
---
HOW TO CHOOSE SUNSCREEN FOR YOUR SKIN TYPE
---
With so many varieties available, sunscreen aisles can be daunting. Try looking for an elegant application, effectiveness and something that also addresses your skin concerns. Look for broad-spectrum SPF to ensure protection from both UV-A (responsible for aging) and UV-B (responsible for burns) rays. Also, double-check the expiry date as sunscreens are classified as a drug and can be deemed ineffective post expiry dates.
Oily Skin:

If you have overactive sebaceous glands, you'll prefer a matte finish sunscreen that doesn't add to your already shiny face. Chemical or hybrid sunscreens are your best bet. They aren't heavy or greasy and have a more elegant application and sink into skin quickly.
Dry Skin:

Dry skin is looking for hydration so look for a moisturizer with sunscreen or a cream-based sunscreen. Both chemical and mineral filters work well for this.
Sensitive Skin:

If you have this skin type you know that you have very reactive skin. You should stick to mineral sunscreens as they are milder. The downside to this is that I've yet to find a mineral sunscreen that I personally am really happy with.
Acne-Prone Skin:

This is a tricky one. Most literature online will tell you to use a mineral sunscreen that is non-comedogenic which means it is formulated so that it doesn't clog your pores. As I have acne-prone skin at the moment (hello adult acne!!) I have tried over 30 sunscreens and the ones I love are chemical or hybrid sunscreens. For acne-prone, it's a bit of trial and error, unfortunately.
Well Balanced Skin:

Just know I hate you guys. I had this skin type and I miss it sooo much. Choose whatever you'd like with a minimum SPF 30 or highter and a PA rating of PA+++.
---
HOW TO USE SUNSCREEN
---

-As a rule of thumb one needs to apply 1/2 teaspoon of sunscreen to your face and neck for optimal protection
-Apply it 20 minutes after your moisturiser and 20 minutes before heading out
-Wear it indoors if by a window and outdoors even when it's cloudy
-It helps if you have antioxidants like vitamins C, vitamin E, Green tea, glutathione, ferulic acid to name a few, in your morning skincare routine
-Reapply diligently every 2-3 hours if outdoors or by a window especially if you're wearing chemical sunscreens as they break down by UV exposure, leaving your skin exposed
-Apply it in layers. Let the first layer absorb and then apply the 2nd layer
-More is less in the sunscreen world
-Avoid the sun at its' peak and wear a hat and sunglasses
-DO NOT use a spray as there is always the risk of inhaling it plus the application is uneven and one doesn't get enough product out. If you must, use it to reapply and not as your primary application
-Wear a lip balm with SPF 30. Pigmentation on your lips is very avoidable with some sunscreen
From my own personal experience, Tinted Sunscreens can also be a good option as they contain iron oxide for additional UVA protection, thereby helping with hyperpigmentation and reduce relapses of melasma. These are also particularly effective against blue light.
---
CERTIFICATION + RATINGS
---
Every country has its own method of certification and ratings of sunscreen. Regulations for sunscreen products vary significantly from country to country. I had a very in-depth conversation with Skincare Specialist Rubina Guleria on this subject. She advises looking for a Boots 5 Star rating (UK rating system) for sunscreen. She is very stringent with her sunscreen and doesn't mind alcohol in the ingredient list as long as the sunscreen has a high and verified SPF rating.
According to Rubina, Australia and the EU also have very well-regulated sunscreen and it's also important to look for ones that have been independently tested.
Rubina Guleria, Instagram
---
FAVE SUNSCREENS
---
Some of my favourites:
1) Avene Cream SPF 50 (fragrance-free)
I skip the moisturiser when I use this as I have oily skin – great protection and elegant application
2) Cetaphil Kids SPF 50
All the right filters and safe for kids as well as adults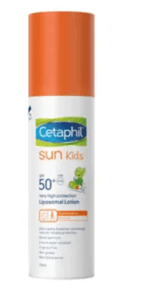 3) Colorescience Faceshield SPF 50
Packed with Antioxidants and niacinamide and glycerin. Also has iron oxides for additional protection
4) Missha
One of my favourites if you can get your hands on it – contains alcohol but doesn't bother me
5) COOLA SPF 30 Face Mineral Sunscreen Unscented Matte Tint
Has Micronised zinc and titanium, applies like a primer, works great under makeup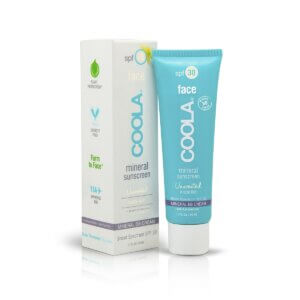 6) Australian Gold Botanical Sunscreen Tinted Face Mineral Lotion SPF 50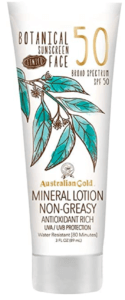 7) Bioderma Photoderm Max Aquafluide SPF 50+ Teinte Claire
This has a fluid texture and a slight tint with good sun protection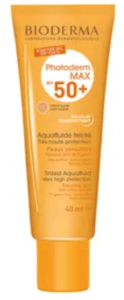 8) Avene Day Protector UV EX SPF30 PA+++ Cream
Easy to apply and reapply
9) Biore Uv Aqua Rich Watery Gel Sunscreen Spf 50+ Pa++++
I have a love-hate relationship with this one. It has denatured alcohol pretty high up on the list and a super tiny amount of fragrance. Biore makes fragrance-free options and I'm hoping they reach the Indian market in the near future. The alcohol doesn't bother me since I have oily skin and this one sinks straight in and feels like nothing. Find it here
10) La Roche-Posay Anthelios Dermo-Pediatrics Lotion SPF 50 for Kids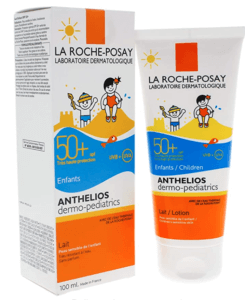 Choose a sunscreen you love and are sure to reapply. Ultimately a sunscreen with not-so-great filters is better than no sunscreen at all. Aide your sunscreen by shading your skin with a hat and UV protective clothing and sunglasses. Don't depend completely on sunscreen if you're unlikely to reapply.
---