---
BANGALORE BREAKFAST SCENE
---
Bangalore is the city of brunches, great dinner places, and street food stalls, but is it a city of breakfasts? One of the things I really have missed from my Dubai days is the ability to walk into one of the hundreds of Instagramable cafes and tuck into an all-day brekkie whenever my heart feels like eggs benedict- and my heart feels like eggs benedict very often. Once again, I ate my way around town to bring you this ultimate list of breakfasts to try!
Maybe you think just because fluffy stacks of pancakes are not available on every corner Bangalore does not have a breakfast culture but you are oh so wrong. Breakfast is a big thing in South India and we take it very seriously! I like Madurai Idli Shop for its convenience, speed, and flavor. There is usually an upstairs area where you can order from a waiter but don't bother, do it the way locals do it. You order from a cashier desk from the menu full of fluffy idli delights and take your ticket to another counter where the food is being prepared. Eat standing up with your fingers and don't ever let me see you eat idlis or dosas with cutlery! I love their podi idlis and their chili cheese dosa just might be my second favorite dosa in the city- right after my mother in law's.
6 locations in Bangalore: Indiranagar, Koramangala, Domlur, Mahadevpura, Marathahalli, Sarjapur Road, maduraiidlyshop.com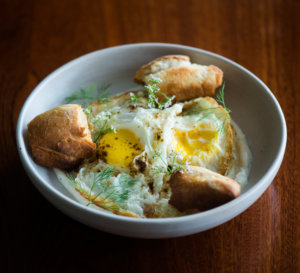 On a totally opposite end of the spectrum is the Sly Granny Breakfast Club. Go with a group of people who love food as much as you do because the menu is extensive and everything is just too good. Their breakfast buns with broccoli are so good even my meat-loving husband devoured them and the eggs are some of the best in the city. Leave some space for the pancakes because they are just perfect small clouds of happiness. The Breakfast Club takes place only on the weekends from 9 AM to 1 PM, which makes it a great alternative to a brunch. The only downside is they do not serve alcohol but if you ask very nicely your orange juice just might turn into a mimosa.
Sly Granny, 3rd Floor, # 618, Above Chicco, 12th Main Rd, Indiranagar, 560038, Tel: 80485 36712, Facebook Page

This casual café on top of Goethe Institute has amazing cakes so I knew their breakfast must be great as well! I went for the sweet but fell in love with the savory. In some parts of town getting pork bacon and sausages is a bit of a mission so when I feel like a proper meaty brekkie is needed, usually after having too much fun doing research for The Vine up and down Indiranagar, Café Max is my go-to. The prices are great for the portion sizes and the selection is great for both meat lovers and those who love their breakfast on the sweet side.
Cafe Max, Max Mueller Bhawan, 716, Chinmaya Mission Hospital Rd, Defence Colony, Indiranagar, 560038, Tel: 80412 00469, Facebook Page
A firm expat and ladies who lunch favorite and also one of the few places that serve breakfast all day! I love their egg dishes and fresh juices. The great thing about it being an all day breakfast spot is whoever you go to will find things to love from their extensive menu. The Lavelle Road location is perfect for its people watching and the dangerous proximity of Nicobar and Good Earth. I always take my mom there when she gets tired of Indian flavors; it's the perfect spot for some girly catch-ups!
3 locations in Bangalore: Indiranagar, Lavelle Road, Forum Shantiniketan Mall, smokehousedeli.in
You will often catch The Vine team brainstorming at Yogisthaan over their fresh juices and healthy breakfast options such as Homemade Granola, Oat Porridge, Mom Made Muesli, and Parathas. We love it because of how lush and peaceful the garden is and how guilt-free their food is. It is also a socially impactful café that supports boys from low-income societies. From the moment you take your shoes off at the door to the first sip of their great tea selection, it feels like a yoga class and a lesson in simplicity. A word of advice: do not go if you are in a rush as they serve food fresh from the oven, home-style. Yogisthaan is a great café to work from as well, or just bring a book and forget you are in the middle of one of the fastest growing cities in Asia. They opened a second location in Koramangala, which hosts farmers markets as well.
VINE TIP:

Try their delicious Signature Hash Browns with mozzarella, red and yellow pepper, spinach and herbs served with yogurt dressing!

89, 11th Cross Road, 60 Feet Road, Stage, Near BDA Complex, Stage 1, Indiranagar, 560038, Tel: 80409 14888

C11, Sarjapur Main Rd, Santhosapuram, Koramangala 2nd Block, Koramangala, 560034, Tel: 80680 00888
Our partner for the first 'The Vine Breakfast Meetup', Fresh Pressery has just launched their healthy breakfast. We are longtime fans of their juices and detox packages (hello post-holiday cleanse!) so we are super excited to bring everything that makes The Vine great online, offline in their Koramangala café. Expect healthy Pancakes, Crepes, Eggs, Superfood Granola Bowls, Overnight Oats with Banana Bread, Chia Seed Pudding, Granola Bars and of course their famous juices (we love the Yellow Hydration and Green Flush!).
Fresh Pressery Cafe, 98/A, 17th B Main, Opposite China Pearl, KHB Block Koramangala, 5th Block, Koramangala, 560034, Tel: 80417 24989, www.freshpressery.com
IF YOU WOULD LIKE TO JOIN US AT
THE VINE X FRESH PRESSERY
HAPPY BREAKFAST EVENT
SUNDAY NOVEMBER 18TH FROM 10:00 AM
PLEASE CONTACT US
HERE
---
Main photo from, Photo #1 courtesy of MIS, Photo #2 courtesy of Sly Granny, Photo #3 courtesy of Yogisthaan, Photo #4 courtesy of Tena Pick, Photo #5 courtesy Smoke House Deli, Photo #6 courtesy of Fresh Pressery