A lot of us miss non-Indian Asian food here in Bangalore- we're talking about a Thai Green Curry that doesn't have any resemblance to a Chicken Tikka Masala. Sometimes South East Asian food can really be a comfort, and there are definitely days when we need that. Here are some of our faves!
The Fatty Bao is a fan favorite and for good reasons. With small bites of delicious new-Asian style food in a colorful and boho environment, we rarely find a dish we don't like. The Baos are hands-down the best in the city and pair nicely with their selection of creative designer cocktails. Whether you're in the mood for sushi, ramen, dumplings, curry or rice dish, we guarantee they will all have an innovative spin to them that you may not have seen before.
VINE TIP: Children below ten are not welcome in the evenings so plan a nice family lunch here instead, or else make it a lovely adult night out (we all could use more of those)
The Fatty Bao, 610, 12th A Main Road, 80 feet Road, 7th Cross, HAL 2nd Stage, Indiranagar, 560008, Tel: 80441 14499, www.olivebarandkitchen.com

With a menu designed in Singapore and made in India, we love the hearty south-east Asian dishes found at Nasi and Mee. The name itself means, "Noodles and Rice" in Bahasa and "Noodles" in Cantonese and the food is modeled from the street stalls and hawkers of Singapore, Malaysia, Indonesia, and Thailand. This Asian canteen feels like being in some cool and colorful industrial cafe. Lovely noodle dishes include Pad Thai, Mamak Mee Goreng, Mee Laksa Soup and more- and be sure to try out a grilled meat or fish dish as well!
VINE TIP: Their Koramangala location serves up a South-East Asian breakfast feast from 8:00 AM -11: 00 AM with dishes such as Pandan Coconut Pancakes and Thai Style Eggs Benedict (Tom Yum Hollandaise anyone?)
Nasi and Mee, Inside VR Mall, Whitefield Rd, Devasandra Industrial Estate, Mahadevapura, 560048, Tel: 80465 24085
974, 4th Cross, 80ft Main Road, 4th Block, Koramangala, 560034, Tel: 80415 13456
Located on the 21st floor, this stylish, and sophisticated looking spot has stunning panoramic views of the city. The interior design is very modern, and the mood lighting adds to the great ambiance and fun vibe of this place. The DJ plays a range of uplifting funky beats from house to dance music. While the prices are on the higher end here, the food is spectacular. The Pan Asian menu is extensive, from some of the best Sushi in town to a variety of Dim Sum to choose from. The chefs are more than amenable to cater for those with allergies, understanding their requirements, which is very reassuring. There is a good range of beers and creative cocktails, especially for all you gin lovers! There are also local and international wines, and they even serve Prosecco by the glass- winner!
VINE TIP: This popular hotspot begins getting busy later on in the night, and as it does the atmosphere becomes electric! So be sure to book your table in advance and get your groove on!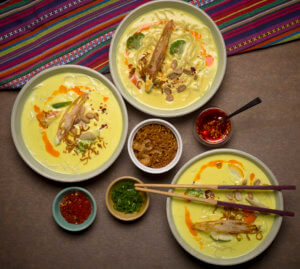 Burma Burma's mantra is "Because Food is Happiness and Happiness is Food." Biting into any dish at this Burmese restaurant and tea room will definitely make you happy. Not only is the food very authentic and lovingly prepared from treasured family recipes, but the fresh ingredients coupled with the rich tastes make every bite a treat! The menu offers Khow Sueys, Rice dishes, traditional Steamed Buns and Curries and so far we haven't found a dish we didn't like. Try their selection of Burmese deserts such as the Creamy Avocado Ice Cream with Honey Caviar for a light yet creamy finish or go for the daring Durian ice cream (our friend swears it isn't too strong). We should note that Burma Burma serves only vegetarian food (but offers plates featuring mock meat ingredients) and does not serve alcohol.
VINE TIP: They don't take bookings for dinner so make sure to come early to avoid a long wait or head to a nearby restaurant for a drink as you wait!
Burma Burma
,
607, 12th Main Road, 7th Cross, HAL 2nd Stage, Indiranagar, HAL 2nd Stage, 560038, Tel: 80430 08120, burmaburma.in
How can anyone not love Vietnamese food?? And while authentic Vietnamese is rare to find in this city, this is definitely a gem. We love the open, lush, green inside/outside feel to the restaurant decor but the real star is the food. Vibrant and fresh flavors jump out in every bite especially the Fresh Rice Paper Rolls, Phos, and Stir-Fries. With a large selection of vegetarian dishes meant to delight even the biggest of meat eaters, there is something for everyone!
Phobidden Fruit,
965, 12th Main Road, HAL 2nd Stage, Indiranagar, 560038, Tel: 80412 55175, Facebook Page
Thai Chef Rungtiwa will make you feel like you're sitting in Bangkok with the amazingly authentic Thai food at InAzia. We can't get enough of the Green Chicken Curry and Lamb Massaman Curry- each made with fresh ingredients and bursting with flavor. The menu is primarily based on Chinese and Thai dishes and also includes a Dim Sum menu. The dark wooden and sultry interior gives this restaurant an upscale feel, and while the prices are on the higher side, the food delivers.
VINE TIP: host a group of friends or family in one of their large private rooms, you can even do Karaoke!
InAzia,
Inside Sheraton Grand Bengaluru, Prestige Shantiniketan Hoodi Whitefield Rd Opposite Manipal, Thigalarapalya, Whitefield, 560048, Tel: 80451 28755, www.marriott.com
Walk into Shiro and try not to notice the enormous Buddha in the center. No really, it'll be tough not to in the towering interior of this chic Japanese Asian Fusion restaurant. The high ceilings, lavish decor, and outdoor terrace combine with an eclectic menu of Japanese, Thai, Chinese and Vietnamese to bring you an amazing dining experience. Complete with live teriyaki tables where chefs will entertainingly cook for you in the Benihana style (think shrimp being tossed into your mouth), there is something for everyone at this stylish spot.
VINE TIP: come sundown, this place transforms into a luxury lounge with mellow lighting, music and a good-looking crowd
Shiro,
222, 3rd Floor, "Comet",UB City, Vittal Mallya Rd, 560001, Tel: 80417 38864, www.jsmcorp.in
Being inside Misu is like being in a room full of mirrors but in the coolest way possible. Paneled mirrored walls and doors; large mirrors even hang from the ceiling adding to the industrially designed restaurant. The food menu features a mix of pan-Asian dishes with everything from Vietnamese fresh rolls and bowls of Pho, Dim Sum and Baos, Thai Curries, fusion Sushi Rolls and Chinese dishes. The aim at Misu is 'to make Asian food fun and accessible to all.' Try one of the lovely ice teas in flavors like Lemongrass, Watermelon, Sweet Sangria, and Jasmine or if you are looking for something stronger go for one of their Ice Tea Cocktails!
The new Chinese kid on the block, Cantan – the Chinese Bar House serves up regional Chinese cuisine with a contemporary twist in an incredibly cool dining space. This is not the normal Pan Asian you easily find everywhere in Bangalore these days- Cantan draws from the Guangzhou, Hunan, Shanghai and Sichuan regions with some added refinement and fun from Executive Chef Prashanth. You'll find a Dim Sum menu, an uncomplicated vegetable, Meat, Seafood and Poultry section as well as noodles and rice dishes (try the Lobster Sticky Fried Rice). We love the pan-fried Spicy Beef and Coriander Dumpling, Smoked Tuna Cold Spring Rolls and especially the Shanghai Fried Fish. Don't forget about the well-crafted cocktails here as they're worth mentioning on their own! You'll discover cool ingredients such as oriental blossom tea syrup and rice wine vinegar in delicious and Instagram worthy drinks.
Cantan, 1st & 2nd Floor, 25/4 Lavelle Road, (Opposite Harley-Davidson Showroom), 560001, Tel: 08048669269/ 08048669267, www.cantan.in
---
Main Photo by Sharon Chen, Photo #1 courtesy of Nasi and Mee, Photo #2 courtesy of Kazé, Photo #3 courtesy of Burma Burma, Photo #4 by @foodswithshayne, Photo #5 courtesy of the Sheraton Grand Bengaluru, Photo #6 courtesy of Shiro, Photo #7 courtesy of Misu, Photo #8 courtesy of Cantan