Visiting Shanti Bhavan is like visiting the future of India as it should be. I left filled with hope for the world and deeply inspired by these kids and the incredible mission of this school.
If you've seen the documentary "Daughters of Destiny," you're probably already inspired. If you haven't seen it yet, it's available on Netflix and you should watch it immediately!
Shanti Bhavan was founded in 1997 by Abraham George, a successful Indian-born businessman with an incredible vision of how to radically interrupt the cycle of generational poverty that stifles over 25% of the Indian population. He looked at what he was able to offer his own children – a safe and loving home along with educational and extra-curricular advantages – and imagined offering that to children who would never otherwise have it. The children of Shanti Bhavan come to the school at 3 ½ – 4 years old, visiting their families only for holidays. All of their physical needs are met (safety, shelter, nutritious meals, clothing, and needed health care); they are nurtured by housemothers and faculty that appreciate them as individuals; and they receive a world-class education that covers not just academics, but also leadership and critical thinking skills along with dance, music, and art. The support does not stop with graduation from high school, but continues through university and even graduate degrees, providing ongoing education and mentoring for as long as it's needed. These children of the poorest of the poor, the so-called "untouchables," can become leaders in their communities and in their nation, helping India move toward a society where everyone's potential is recognized, valued, and realized. Dr. George expects that every child he helps will be able to impact the lives of 1,000 more children during their lifetime.
My journey to the school started early in the morning as I headed to Koramangala, a neighborhood in South Bangalore. There I met up with others from the Five Oceans Club and got on the bus for the 1 ½ hour drive to the school on the border of Tamil Nadu. The other 20 or so participants on our social awareness tour included people from India, the UK, Sweden, and the US, many of whom brought their children. Some had seen the documentary, some had read The Elephant Chaser's Daughter which was written by a graduate of the school, and some had just read a blurb about the trip and decided to go. We were all eager to learn more and to particularly figure out how we might be able to be a part of this exciting vision.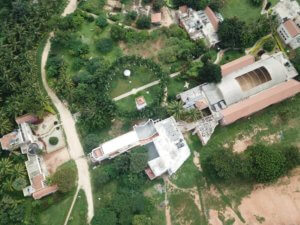 Arriving at the school, we were greeted by some of the most poised 11th graders I've ever met, who served as guides for our tour. They shook hands and introduced themselves with confidence, they smiled and asked questions, they articulately responded to any query. As John and Nandini took my group of 6 around the school, children in each classroom happily greeted us (the only exception were the 10th graders, studying hard for exams, with books piled high on their desks and little time for visitors beyond a quick smile and a wave). Saturday classes are just half the day with free time in the afternoon, so our morning tour caught them all in class. We also saw the computer lab, the chemistry and biology labs, the libraries, the dorms, the cafeteria, the lovely grounds, and the non-denominational prayer room.
The daily assembly was a highlight that started with a prayer for the teachers, a prayer for the students and singing the school song about all the things these children can become. I was impressed to see a 4th-grade girl get up to speak to that day's virtue: Gratitude. She stood up straight and spoke loudly and clearly to a room full of her peers, her teachers, and a bunch of strangers. She was followed by four high school students presenting stories from that day's news. Not only did they have to speak without notes about current events, but they had to be prepared for questions from anyone in the room, many of their peers posing probing and thoughtful queries. Assembly closed after two beautiful songs by the school chorus.
Before lunch, we sat down with Dr. George and his son Ajit, now the full-time Director of Operations for the school. Both are passionate about Shanti Bhavan and its children. Dr. George considers every one of the SB students to be his own children, and treats them as such, acknowledging that they probably get more of his attention than his own sons received. This point is backed up by a laughing Ajit who says that he wishes he'd gone to Shanti Bhavan. Both stress that Shanti Bhavan is not run by money, but by love. They hope to soon break ground on a second school in Karnataka, with a long-term vision of multiple schools across India to increase the impact of their efforts.
During lunch, I had the chance to speak with two Australian couples that have been volunteering at Shanti Bhavan for many years. One couple came for the first time eight years ago, after retirement, intending to go somewhere else the following year. They've returned now every year for the last eight, explaining that "these kids have gentle claws" that pull them back. The other couple has been joining them for a month each year for the last four years. They love their time at Shanti Bhavan, however tiring it may be, and fully intend to keep coming.
The work of Shanti Bhavan is already making a difference with graduates now working for prestigious organizations, making more in their first few years of work than their parents would earn in a lifetime. They support the education of younger siblings, provide stable housing and medical care for their parents, and are already beginning to take steps to improve their communities while still in their early twenties. Their potential impact is unlimited.
But you know what is limited? Money. While Dr. George was able to start this school with his own money earned as a successful businessman in the US, the 2008 crash and a devastating scam have long since exhausted those funds. The school now survives through donations which must be constantly sought. Donations to Shanti Bhavan are not lost to administrative costs but go straight into the care and education of the children of this incredible organization.
---
HOW YOU CAN GET INVOLVED
---
Please consider contributing to this beautiful vision for India. Of course, money is not the only way to contribute. Please consider these other ways to get involved: