I TRAVELLED:

with my family with kids
TYPE OF TRAVEL:

Child-friendly, luxury, adventure
FOR:

 3 nights
DATES:

January 2023
PRICE POINT:

 $$
One of the best things about living in Bangalore is the possibility of so many road trips to the most amazing places. Thanks to the Instagram algorithm, we came across the newly opened Taj in stunning Wayanad. We took advantage of having family in town and pack

ed

up our trusted Innova for a three-day trip to Kerala. While we love our lux accommodations, we also love our roadside restaurants and adventures in nature, and this trip was a perfect mix of the three!
---
GETTING THERE
---
Even though
Wayanad
is only some 300kms away from Bangalore, those 300kms easily turn into eight hours on the road. We decided to drive because we had time and we wanted to have our car once in
Wayanad
to be able to go around easily with a toddler and a car seat. We left Bangalore around 7.30 in the morning on Friday, timing our trip to make sure we make it to Mysore in time for the opening of
Sapa bakery
. Since its opening, Sapa has been reason enough to make the trek to Mysore for its baked goods, sandwiches and the most amazing cakes, and travelling with a 2-year-old meant we had to stop anyhow so why not make the best of it! Sapa is closed on Mondays and opens at noon on other days, so make sure to plan accordingly! They have the most beautiful terrace but it gets very full very fast. You have to try their pasta and the best pulled-pork sandwich in India.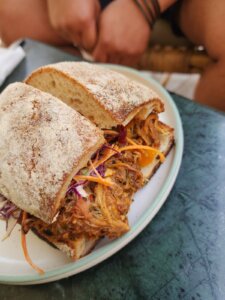 After lunch, we continued on our way to Kerala. The road takes you through a tiger reserve and quaint little villages, making for a nice coconut water stop before reaching your final destination.
On our way back, we had lunch at
Poojari
Fish Land
. As the name says, go for anything fish on the menu and you won't regret it. We had ghee roast everything. They also have high chairs, making it one of the few highway places that are really kid and baby friendly.
---
WHERE TO STAY 
---
There are a lot of guest houses and boutique hotels in Wayanad, but we decided to stay at the newly opened
Taj Wayanad Resort and Spa
. The property is truly stunning- the pics don't do it justice! We booked the premium cottages because it's always nice to have a little space to hang out after the baby goes to bed and I can safely say this was one of the most comfortable beds I have ever slept in and the shower was an experience in itself! If you are traveling with a toddler, bring your own pack n play because the "crib" they had on-site when we went was a Moses basket for a new-born so we ended up sleeping with tiny toddler feet stuck in our ribs for three nights. The hotel also doesn't yet have high chairs, and probably more importantly doesn't yet have a liquor license so BYOB.

There are three restaurants on the premise, a massive infinity pool overlooking the waterfront and a beautiful yoga pavilion. There is also a standardly great Taj spa and a well-equipped gym if that's your jam. By the pool is a little games room and a kids centre with basic toys and book. My

kid was more than happy exploring the waterfront and playing in the pool, so we didn't really use the kids centre. The property is large and you can get around by using the golf carts.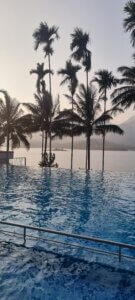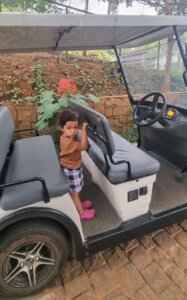 ---
WHAT TO DO  
---
Our lives still revolve around nap times, so we planned our stay accordingly, with activities in the morning and pool time and chilling in the afternoons.
A really nice, kid-friendly trip is to the

Kallar

Meenmutti

Waterfalls

. There is ample parking and locals will try and get you to park on their plot so they can sell you chai and local chocolates and pickles. Don't fight it, park and buy because it's really delicious. After buying a ticket from the forest department, you have a 200-meter walk to the beginning of the waterfalls. Once you hit the bottom you have a 30-minute trek across the rocky terrain which you navigate by holding onto a rope. It's just challenging enough to still be fun and you will be rewarded by some really nice views. You can dip your feet into the waterfall as well. On your way back, make a slight detour and have a banana leaf meal at the

1980s Nostalgic Restaurant

. The food is delicious and the restaurant is really cute and homely. There is no menu, the waiter will tell you what they have available. Since you are in Kerala, parottas are a must!

Wayanad is home to the 2
nd

largest dam in Asia and the largest dam in India, the Banasurasagar Dam. The dam offers boat rides, (a very short) zipline and some great views. It also has some very random offerings like fish pedicures and house of horrors, but all in all it is worth visiting for the vibes and views if for nothing else. Try and go as early as possible as it is a very popular attraction, especially on the weekends.
After the damn, we stopped at the

Lunch Box Homely Restaurant

, which really is super homely and run by a mother-son duo. I will say this might not be for those whose tummies are not 100% used to India! The food was delicious, spicy, served on a banana leaf and super affordable, and what more can you ask for! We made a pit stop at the

Banasura Ayurvedic and Spice Garden

, which while being quite a tourist trap was also really interesting to our toddler who got to try all the plants, spices and chocolates. We bought some famous Kerala pepper and cinnamon.

We also wanted to see the famous Edakkal caves, but that seemed a bit intense with a toddler, so we left that and some more demanding treks for next time. Wherever you decide to stay, local staff will be more than happy to assist you with planning your trip based on your activity levels!
---
GOOD TO KNOW
---
Wayanad in January was hot during the day and fresh and foggy in the mornings, so pack accordingly! Since there is a lot of outdoorsy stuff to do, I packed mostly leggings, sports tops and layers, good walking shoes, and a pair of my trusted Birks for around the resort. There are plenty of small shops in Wayanad if you run out of baby supplies like wet wipes and diapers.
---
Main photo by Taj Wayanad, all other photos courtesy of the author