I TRAVELLED:

with my family with kids
TYPE OF TRAVEL:

child-friendly, winter, city, skiing, family
FOR:

4 days
DATES:

July 2019
PRICE POINT:

$$-$$$
---
SOUTH ISLAND, NEW ZEALAND
---
Well, welcome to paradise.
I am a little biased as I am a born and bred Kiwi, and will always call New Zealand home.
Despite living offshore in 4 countries in my life, I or my husband hadn't been to Queenstown – which is in the South Island of New Zealand. Sacrilege really, however in July 2019 we decided on a trip back home to go and visit.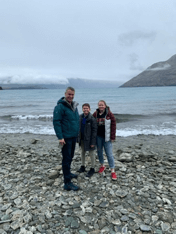 The family wrapped up at the lake in Queenstown
There are direct flights from most Australian larger east coast cities, and direct flights from Auckland, Wellington, Christchurch, and Dunedin.
You could also road trip it in a car – all year round the roads are "mostly" accessible (unless a southerly snowstorm hits and you'll be stuck for a few days until it's cleared)
---
ITINERARY
---
We jammed as much as we could into four days, arriving day 1 fairly early into a frosty Queenstown.
DAY 1: Queenstown to Glenorchy for a day trip, back to Queenstown and then to Wanaka
DAY 2: Wanaka for some skiing
DAY 3: Alexandra, a stop at the vineyards and bungy then back to Queenstown
DAY 4: Te Anau for a boat cruise then back to Queenstown
DAYS 1: QUEENSTOWN
Queenstown CBD and drove one hour to Glenorchy – a quaint little village at the end of the lake, having lunch at a gorgeous pub having steak and cheese pies with a cheeky Sauvignon Blanc, we chatted to a man fishing at the end of the jetty and then meandered back along the winding road, back to Queenstown and up and over the Crown Range and drove to Wanaka (which was a total of 2 hours).
Homemade Steak and Cheese pie – YUM
The jetty at Glenorchy
Driving over the Crown Range ascends pretty quickly and you are met with some spectacular views, with planes coming into land at eye level which is pretty neat. You pass the famous Cardrona pub, which is renowned for its amazing food and great hospitality.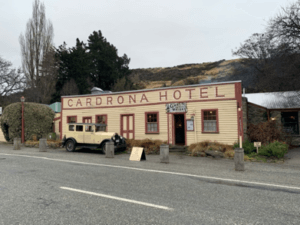 Cardrona Hotel, 2312 Cardrona Valley Road, Rd. 2, Wanaka, +64 3 443 8153, cardronahotel.co.nz
DAY 2: WANAKA
Wanaka – wow. Definitely the place we want to retire to.
We stayed with a family who had the Junior World Snowboarding Champion with them (Eliot Danzer) and their daughter is the number 7 freestyle world champ skier. They wanted to take us "up the mountain". My daughter and husband have skied before, but my son and I haven't set foot on a skifield before, but we thought we would give it a go since you know, when in Rome. They had all the ski gear we needed to wear which saved us a lot of hassle. So we packed a lunch and headed up.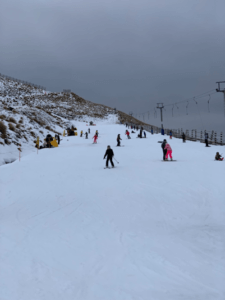 The interesting thing is, behind the Cardrona hotel is the Cardrona Skifield which is suited for beginners (aka me) however the better snow was up at Treble Cone, which is known as the place to go for experienced skiers and there are beginner slopes up in Treble Cone.
Cardona Skifield, www.cardrona.com
Treble Cone, www.treblecone.com
Entrance to Treble Cone
As the snow was light, the drive up wasn't so hairy. The Treble Cone road isn't sealed its gravel. The other roads to the other ski fields in the Queenstown area are all sealed. So we got the roughest trip for the better skiing. Here are some views:
The view from the base of the skifield
DAY 3: ALEXANDRA
We slept in a little, our aching bones LOL, and then headed to see a dear friend in Alexandra. It was about a one hour drive from Wanaka. You pass the Clyde Dam – one of New Zealand's hydroelectric power sources. Again, lovely scenery, and cafes and amazing coffee at almost every corner.
On the way back we came the long way round and went past some great vineyards – famous for their Pinot Gris and Pinot Noirs (Gibbston Valley), and the AJ Hackett Bungy jumping platform is there. I did a zipline ride with my son and opted to skip the bungy this time LOL.
AJ Hackett Bungy, +64 3 450 1300, [email protected], www.bungy.co.nz
We then went back to Queenstown and settled in at our friends' house who took us to the Famous "Ferg Burger" takeaway shop in the CBD. The burger shop is open for like 20 hours every single day of the year. The burgers aren't expensive, but they are good, and they have a great selection of flavours.
**Handy hint, instead of queuing for your burger – which all the tourists do; is to call and prebook your burgers and collect them from the window to avoid all that waiting**
The city is pretty small, and our friends recommended we take our burgers and go and sit in the boat on the wharf that can provide you with drinks, alcoholic and non-alcoholic BUT you have to bring food to eat while you drink. It's a win-win for everyone – and we sat up top, under heaters enjoying our burgers and wine!
FergBurger, fergburger.com
Plenty in there, simple but tasty
The boat we ate our burgers in, the bar is on the first floor
DAY 4: TE ANAU
We got up at the crack and headed to Te Anau/Milford Sound. This is a place out of fairytales and we always saw amazing pictures of it. Being there in person didn't disappoint.
We prebooked a 1.5-hour boat cruise around the sound which included lunch (through a local travel agency – they are abundant in the CBD so you don't have to go far to find one) and we made the decision to drive there and back on the same day. If you aren't big drivers, I'd recommend staying in Te Anau. Our kids are used to roadies, and we enjoy it with good music and stops for snacks, toilet and photo opportunities as we go.

Our friend we stayed with is a travel agent and told us where to stop en-route – as most of the photo opportunities are on the left-hand side of the road as you go to Te Anau.
Here are some pics of the scenery on the way there, and of course on the water. The waterfalls and the deepwater are spectacular and the boats aren't too crowded.
We were lucky to encounter a pod of dolphins who are often curious and they scoot along the boats for some company.
We got back to Queenstown around 8 PM – it's about a 4 hour drive each way from Queenstown to Te Anau.
**Note to travellers** When you pull over – you are most likely to be visited by the New Zealand Native Parrot called the Kea. They are cheeky and not too scared of much. They will come and land on your vehicle roof. People are tempted to feed them, but it is best not to, they don't eat the food we eat and they are more interested in pecking at your window wipers or the shiny metal on your car. They are beautiful, however, so I hope you get to meet one, or two.
A kea – NZ parrot
---
WHERE TO STAY
---
We managed to stay with friends, but there is a range of accommodation to suit every budget.
---
WHAT TO DO
---
Well, as one of New Zealand's top tourist destinations, what isn't there to do. (Unlike my preconceived belief of only worthy to visit it in winter). The Queenstown area is an all year round destination, offering up Hiking, Mountain Biking, Skiing (seasonal), Luging, Rafting, Fishing, Scenic Boat trips, Helicopter flights, Parasailing and pretty much any outdoor activity you can think of.
Wineries are in abundance just out of Queenstown, as is gold panning, motor race tracks, golf, and Milford Sound isn't too far away.
The environment where you do this is simply breath-taking. If you want to see the mountains, this is the place. Very much like European mountain destinations, its clean, green and very good for the soul.
---
GOOD TO KNOW
---
You need a week there. (We jammed a lot in, in four days)

Wintertime its cold, but a lot warmer than Europe – it gets down to about -8 Celsius on the very worst days and that's usually a frosty morning in the middle of winter, and after that, you are greeted with a glorious blue sky. If you go in winter, buy some thermals, and you need a woolen hat – in the shade, it's a lot cooler than the temperature gauge tells you.

In summer it reaches up to 30-35 degrees Celsius. If you go in summer, pack sunscreen.

They have a Queenstown winter festival and they also have a Veuve Champagne festival (gutted we missed it haha)

Some may say it's expensive, however, I'd say it's actually cheaper than the likes of Oman and UAE, even Singapore.

The food around all of New Zealand is fabulous and you don't have to spend a fortune for quality.
---
Main Photo from HuiMin, Other photos courtesy of the author