I TRAVELED:

with my husband and dog
TYPE OF TRAVEL:

adventurous, budget, relaxing, food, art, history
FOR

: 2 days
DATES:

January 2019
PRICE POINT:

$-$$
---
COLONIAL + CUTE PONDY
---
Looking for a nice sea breeze and a laid-back town to stroll around in? Visit cute and colonial Pondicherry.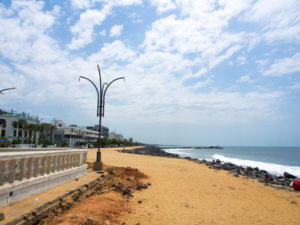 Pondicherry was the headquarters of the French East India Company, which is clearly visible in the colonial atmosphere in the town. It is a beautiful town with some amazing colonial architecture, good French-inspired restaurants, and – given that it's on the coast – there is always the refreshing sea breeze. The central part of town is small and you can easily wander around the streets from café to café. There is a nice central park as well and a few very decent cathedrals and temples (such Basilica of the Sacred Heart of Jesus andthe VaradarajaPerumal Temple). For those who love shopping, there are some lovely concept stores and art boutiques to be found across the city center. Make sure that you make your way to the seaside boulevard around sunset time. It's bustling with youngsters posing for selfies, playing kids, plenty of friendly street dogs and an overall nice atmosphere. It reminded me of the boulevard in Havana Cuba.

---
HOW TO GET THERE
---
Pondicherry is situated on the East coast of India, about two and a half hour south of Chennai. It is reachable from Bangalore in about 7 hours by car, ideal for overnight driving.
If you don't like driving there's a direct flight from Bangalore too, or you get on the train traveling via Chennai.
---
WHERE TO STAY
---
You have a wide variety of hotels available that suit all budgets and requirements. Top notch, beautiful colonial hotels include La Villa (so you can roll from the fantastic dinner right into bed) or Palais de Mahe (CGH Earth) count on Rs. 14,000 a night. We stayed more budget in Mel Ville, the owners are super friendly, and they allowed us to bring our dog. However, the room is basic and nothing fancy (Rs. 6,000 a night). Want to stay close to the beach… opt for Kadal The Beach House.
La Villa, 11, Surcouf St, White Town, Puducherry, 605001, Tel: 0413 233 8555, www.lavillapondicherry.com
Palais de Mahe, 4, Bussy St, White Town, Puducherry, 605001, Tel: 0484 426 1711, www.cghearth.com
Mel Ville, 1 A Zamindar Garden, Sardar Vallabhai Patel Salai, Puducherry, 605001, Tel: 09 8940 91115, www.melvillepondy.com
Kadal The Beach House, 33, Old Chennai road, Serenity Beach, Kottakuppam, Puducherry, 605014, Tel: 099522 50500, kadal-the-beach-house.business.site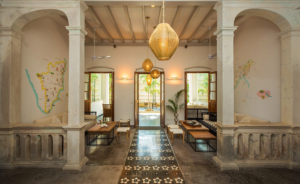 La Villa
---
Pondicherry itself, unfortunately, does not have a beach (the seaside are mainly rocks to break incoming high waves). Luckily, there are a few nice beaches close by. Don't expect Thailand-style white beaches, but 2 of them, in particular, stood out for me. Paradise beach is Pondicherry's closest option for a bikini-beach where you can enjoy sunbathing. However, it is not super clean and you'll find the beaches being very rocky. My personal favorite is Auroville beach. This is not a bikini beach and again, not that clean, but lovely for a walk along the seashore. The beach is busy with fishermen assessing their catch of the day and women with mini pop-up kitchens will cook you delicious fresh seafood. Combine this with a fresh coconut and you'll have a picturesque shot of how good life looks like.
Nearby the beach, the town of Auroville in itself is worth a visit too. The town is a huge complex where people live together. At times, it can feel a bit cult-like, but there's a very laid back, relaxed atmosphere in the air that's worth experiencing. If nothing else, a visit to the Auroville Bakery alone is worth a visit. I've told you about the French influence and luckily, yes, they left their croissant, baguette and cookie recipes here
❤

!
We explored the city by a lovely bike tour organized by Sita Cultural Center. I recommend you join the morning tour (leaving at 7) as it tends to get hot (really hot) throughout the day. The cycle tour will bring you to different quarters, the most beautiful churches and guides you through the amazing food market. You'll end the tour in the backyard of the cultural center where you get your well- deserved lovely French or Indian breakfast – another reason to join the early morning tour.
Auroville Bakery, Douceur, Kuilapalayam Main Rd, Auroville, Tamil Nadu 605101, www.auroville.org
Sita Cultural Center, No-22, Kandappa Mudaliar St, MG Road Area, Puducherry, 605001, www.pondicherry-arts.com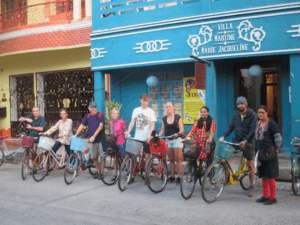 ---
WHERE TO EAT
---
Pondicherry is a feast for the foodies amongst us. The seafood is not to be missed and – remarkably – pork curry is also amongst the local delicacies.
French bakeries can be found all over town for nice bread, croissants and coffees. Amongst my personal favorites is Café des Arts, this lovely place with onsite store serves a varied menu. Light options are available for those on a diet or that want to save room for dinner. For fancy French cuisine in a beautifully situated courtyard head to La Villa or Le Dupleix. Reservations are required for both. For the best local fish, head to beautiful sit-down restaurant Villa Shanti or find some freshly fried shrimps on the Auroville beach.
Two things are certain in Pondy: you won't be rushed, and you definitely won't get hungry! Enjoy it!
Cafe des Arts,10, Suffren St, White Town, Puducherry, 605001, Zomato
La Villa, 11, Surcouf St, White Town, Puducherry, 605001, Tel: 0413 233 8555, www.lavillapondicherry.com
Le Dupleix, 5, Caserne Street, White Town, Puducherry, 605001, Tel: 0413 222 6001, www.sarovarhotels.com
Villa Shanti, 14 rue, Suffren St, White Town, Puducherry, 605001, www.lavillashanti.com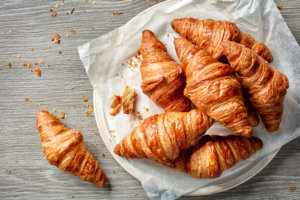 ---
GOOD TO KNOW
---
The best time to visit is generally from October to March to avoid the summer months when the temperatures are hot (over 30 degrees celcu

Puducherry or Pondicherry? Both are correct, Puducherry is just the local (and original) name and Pondicherry is the name that the French called it. Same as Bombay vs. Mumbai.

Languages spoken here are mainly English and French but also Tamil, Telugu, and Malayalem. You should be pretty fine getting around in English

Pondicherry is considered very safe! As with any city, just exercise normal common sense
---
Main photo by amlanmathur, Other photos courtesy of Florentina Peels