The organic food scene in Bangalore is growing year by year. With good reason!
Sadly India has adopted widespread use of harmful pesticides – most of which are used incorrectly (i.e., in large, unsafe quantities) and many of them are Class 1 pesticides which have long been banned in the EU and other countries due to their high levels of toxicity. Luckily there is a growing movement towards moving back to organic growing methods – from small-scale farmers and artisans to earth-conscious ex-corporate locals stepping in to reclaim the land.
If you're not already buying organic why not try it out? Organic food will offer you a host of nutritional benefits such as a higher count of vitamins, minerals, antioxidants, and fatty acids – and most importantly are free from dangerous poisons which are known to cause cancer, neurological problems, asthma, allergies, birth defects, etc. the list goes on! Plus by browsing in your local organic shop, you may discover some new foods indigenous to India – like the array of highly nutritious millet varieties (high in calcium, fibre, and protein) or amla (great for vitamin C and antioxidants).
Luckily, choosing organic won't create a dent in your wallet, and given the benefits, it will offer your family it's well worth the extra rupees!
Here in Whitefield, we are fortunate enough to be in close proximity to a number of organic shops and online stores offering fresh, organic produce such as fruit and veg, kitchen cupboard staples, beauty care products, and household goods. Here are just a few options…
---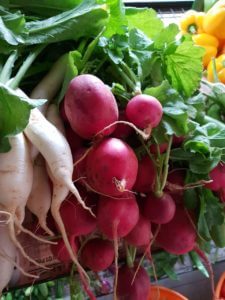 Nisarga Shoppe Vegetables
Nisarga is your one-stop shop for all your household needs. You can stock up on your weekly fruit and veg (Tuesday and Friday) and fill your cupboards with everything you need from rice, cereal, flour, snacks, sugar, to household cleaning products and all your beauty and cosmetic needs. Nisarga (and Lumiere) also offer Akshayakalpa organic dairy products (butter, milk, cheese, etc.).
MARKET DAYS:

Tuesday and Friday
ONLINE SHOPPING:

Yes. You can also order by Whatsapp
Lumiere Shop
Lumiere are farm to table shops who source the majority of their products from their farm (including their own eggs) located on the outskirts of Bangalore. Lumiere also has their bakery selling a variety of organic baked goods such as bread and cookies.
MARKET DAYS:

Tuesday and Saturday
ONLINE SHOPPING:

Yes. You can also order via their app on Android phones

Lumiere, No 152/142/1 Ground Floor Near Shoba Rose Apartments, Varthur Main Road, Whitefield,

shop.lumiere.co.in,

Tel: 93419 33314

Marathahalli, 27/7, Sri Kote Ashirvad Towers, Outer Ring Road, Doddanekundi, Marathahalli, – 37, Tel: 93436 33314

Sarjapur Rd, Near Wipro Head Qrtrs, Opp salarpuria Sancity,
Kaikondrahalli, – 35, Tel: 93432 33314

Regent Club, 1st Floor, Regent Club, Brigade Metropolis, Garudachar Palya Road, – 48, Tel: 93431 33314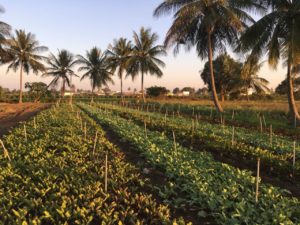 One of Healthy Buddha's Farms
Healthy Buddha is an e-store offering farm fresh produce and non-perishables from the company's selected organic partners. They even have their own farms and handpick items from their handpicked organic network. You're even able to visit their farms to see their processes and check out their occasional farmer's markets happening in town.
MARKET DAYS:

Delivery days of fresh produce varies depending on your location, North, Central, South and select areas in West: Wednesday, Friday and Sunday, East: 6 days a week
ONLINE SHOPPING:

Yes – all orders are done online
Happy Healthy Me Products
Happy Healthy Me is a new kid on the block here in Whitefield. Expanding from their Indiranagar branch they offer a selection of hand-picked Indian organic staples, fruit, veg and household goods. Cooked on site in their Indiranagar cafe they also sell many handmade goodies like granola bars, chia puddings, and homemade coconut milk. The owners and in-house nutritionist and chef also host some extremely informative and interesting workshops from cooking with millets to superfoods for super kids. Well worth checking out!
MARKET DAYS:

Wednesday & Saturday
ONLINE SHOPPING:

Yes

Happy Healthy Me, 66/1 Hobli, Varthur Main Road, Siddapura Village, Whitefield – near Palm Meadows in the new shopping center where Croma and Starbucks are located, Tel: 80497 17771

AND

660, 12th Main, 1st Cross, HAL 2nd Stage, Indiranagar, 560038, Tel: 80412 48881
Where ever you live in Bangalore, there is undoubtedly an organic store nearby or an online store delivering to your area. Please share your favorite organic store with us in the comments below. Happy shopping!
---