When you come to Bangalore, don't forget to pack your ears. No, really, you will want to do a whole lot of extra listening in Bangalore. The music scene here serves up a variety that could seem overwhelming to the untrained ear. Bangalore has a great history of colonial past and becoming a silicon valley pushed the envelope for musical talents from all over the country to pour into the city. Any regular music band in the city has at least one member who is a coder on the weekdays and jamming away on the weekends. That is because of the music scene in the city that enables all closeted musicians to break open, age no bar.
While the regular haunts of Bangalore, read the pubs and live music venues, are hosting some of the best talents from the world, there are some unsung heroes, the ones that are introducing experiential music to their audience. This list is a combination of pubs as well as musical experiences we think will catch your music fancy.
A quintessential part of growing up in old Bangalore is the memory of ajjis (grandmother in Kannada) and other family members engaging with a tight room of audience squatting on a red-oxide floor. The usual suspects are at play, Mohana raga, Kalyani raga, and their brothers and sisters make for an afternoon of soulful listening.
If you want to experience the culture and not just music, the Living room Kutcheri is where you must be. Conceived by Gurupriya Atreya, these living room concerts are a great way to introduce yourself to the beauty of immersing yourself in the performance. Brilliant artists perform at this event that happens on one of the Saturday evenings of every month. All you need to do is drop them an email at

[email protected]

and RSVP. These kutcheries (performances in Kannada) are totally free.
The Living Room Kutcheri, No. 45/7, Ground Floor, Vinayaka Complex, Near Public Utility Building, Residency Road, 560025, Tel: 080 4091 2024, Facebook Page

While it is great to go sip on a mimosa and listen to your favourite band, if you're someone who likes to experience Indian music, IME is for you. This is India's only interactive music museum and has permanent and periodic fixtures that help visitors explore sounds and how they're made. They also conduct regular performances by artists new and well-known. Currently they boat 10 exhibits that talk about the history of Indian Music, IME is indeed an experience. To find out more about the visit their website here.
The Indian Music Experience, Brigade Millennium Avenue, Opp.Wood Rose Club, JP Nagar 7th Phase, 560078, indianmusicexperience.org

Though mostly known for its yearly Fete de la Musique (World Music Day), a monsoon festival, which is a convergence of artists from across genres and countries, the French organization regularly hosts artists, music, dance and theater alike. A great place to experience the 'East meets West', watch out for their regular updates on their website about upcoming events. While a lot of events are free of cost, some of them are paid ones, which would still be easy on the pocket. Different examples of performances include Piano Concerts to Singers to Guitar Performances. Follow all the upcoming events here.
Alliance Francaise, Millers Tank Bund Road, Vasanth Nagar, 560052, Tel: 080 4080 8181, bangalore.afindia.org/events
When any seasoned music enthusiast of Bangalore is asked about a place to grab a mug or share some grub while listening to good music, Windmills is a name that tops the list. This Jazz Theatre frequently host bands from across the country and are up there on any musician's list of performances including all genres of music. Great food and freshly crafted beer never harmed anyone and are a great addition to the auditory pleasure that this place offers. Situated next to the L&T office in Whitefield, it is a great place for anyone who is not willing to make a trip all the way into the city. We would definitely suggest that you visit on a day that a band of your choice is playing.
Windmills Craftworks, 331, Road 5B, Epip Zone Whitefield, Landmarks – Next to L&T Infotech, 560048, Tel: 88802 33322, windmillscraftworks.com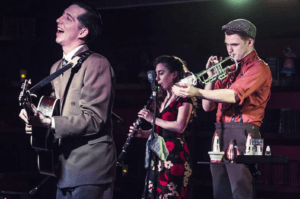 If you're in for a textbook experience of a concert without having to drive outside the city, Gilly's is your destination. Having hosted named bands, Gilly's is a great place with ample space and decent food and drinks. The spectacular set up of the stage and the floor that has about 500 standing capacity, is a great place to catch your favorite band when they're in town the next time. Be sure to not expect much in terms of service and food but the kind of bands they snag for performances pretty much make up for that.
Gilly's Fandom, 1st Floor of Gillys Redefined, #413, 100 Feet Road, 4th Block, Koramangala,560034, Tel: 96064 43393, Facebook Page
While the bars in Indiranagar and other parts of central also host great bands often (see below), these off-beat musical experiences will bring you closer to the pulse of the cosmopolitan nature of the regular musical person in namma Bengaluru with so much to do on an overcast monsoon weekend in Bangalore, here's to a great day of music.
BFLAT
776, 2nd Floor, 100 Feet Road, HAL 2nd Stage, Near Axis Bank, Indiranagar, 560038, Facebook Page
THE HUMMING TREE
949, 3rd Floor, 12th Main Road, HAL 2nd Stage, Near Icici Bank, Indiranagar, 560038, thehummingtree.com
BLUE FROG
No. 3, MSR West Park, Church Street, Ashok Nagar, 560001, bengalurubluefrog.club
HARD ROCK CAFE
40 St. Marks Road, 560001, Facebook Page
---