The Vine brings you the up to date selection of the best new places in the city to eat and drink at for Fall 2019!
Located just above Bombay Brasserie on 12th Main, Punkah House serves what might be the most sophisticated, well thought out food in Bangalore at the moment. The décor immediately transports you to old Bangalore, the service is great and the music suits the ambiance, which is a rare occurrence in Bangalore. The food is Pan-Asian, but don't roll your eyes just yet! It is curated, tasty, experimental and modern, while pulling inspiration from the history of India, Myanmar, Chinese communities in Kolkata and much more. This is a newcomer that we can foresee a bright future for! Ideal for a date night sans kids, Punkah House also has an incredible cocktail selection. Try the single malt and Absinth cocktail for some real grown-up indulgence.
THE VINE TIP: Their pulled jackfruit is a pure delight for both vegetarians and meat lovers alike! We've never had anything like it.
Punkah House, 2989/B, 12th Main Road, Indiranagar, HAL 2nd Stage, 560008, Zomato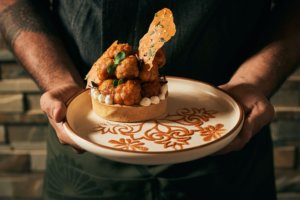 Does 12th Main need another rooftop bar? As it turns out, the answer is yes. Daddy is a massive restaurant slash bar that is on a fast track to becoming Bangalore's it crowd favorite spot. While the restaurant is good, the rooftop is where it's at. Daddy's has found that sweet spot between being fancy while being totally affordable which always makes for the most fun places. The bar food is good as well, try their daal stuffed kulchas and chicken lollipops to soak up the fun! They have mastered the Instagramable décor, making it the perfect spot for your next girls night out. One pet peeve absolutely everyone has in Bangalore is 300 people working at a bar and yet no one is there where you need them. Daddy's is getting there with the service, it actually gets better every time.
THE VINE TIP: They don't take reservations for the terrace after 7.30 PM so plan to come early or just chill by the bar and people watch!
Daddy, 594, 12th Main Road, HAL 2nd Stage, Opposite Gilma Showroom, Indiranagar, 560008, Facebook Page
The gods of sushi have finally heard and answered my prayers! This is not a drill: Bangalore has a sushi delivery service and it is amazing! Sushimen was started by two Bangalore entrepreneurs who rightfully identified a huge gap in the market. Their fish comes from Japan, Norway, Vietnam and locally and it is really super fresh (dare I say fresher than in some hotel restaurants I have eaten at). They also offer great lunch deals and partner with Kobo Fermentary to bring you that good booch with your meal. Sushimen partner only with Dunzo to ensure the freshness and the quality of delivery.
THE VINE TIP: They also do great veg sushi! Try their peanut butter rolls for a surprisingly yummy bite!
Sushimen, tel: +91 96066 19606, online at sushimen.in, [email protected]
This Chinese bar and restaurant is not new-new (it opened just before summer), but it is one of the freshest addition to the Bangalore dining scene. Located on Lavelle Road, Cantan is stunning and the food and the cocktails match the beauty of the interiors. Cantan is popular with ladies who lunch, families, couples, expats and locals alike and it makes for the perfect night on the town. We especially love the service: it's one of the few places that chills the white wine to the right temperature, as well as removing items from the menu if they don't sell well to ensure the ingredients are actually fresh. They do a great mix of Chinese classic favorites like great dim sum and noodles along with a modern take on classics such as spring rolls (served cold with a tuna filling). They also have a great selection of cocktails, with the plummy Cantan XO being our favorite.
THE VINE TIP: I
f you want the Peking Duck, ask for it while making the booking! It is a popular dish and gets sold out occasionally.
Cantan, 25/4, 1st & 2nd Floor, Opposite Harley Davidson, Lavelle Road, cantan.in
Champaca is what my dream café looks like. It is an independent library, bookstore and a healthy café tucked away in the quiet road off Cunningham Road on a terrace of a beautiful bungalow. Champaca might be the most peaceful place for a working day for freelancers, entrepreneurs and writers or for anyone looking for a few hours tucked away with a book. Best part? Their menu was curated by Copper and Cloves, which means you can expect all of your favorites like nourishing salads and heart-warming soups that go so well with the location. They are closed on Mondays and open all other days! They also have a little children's nook so your little ones can get their love for reading on while you sip on some fresh lemonade (which is yummy) and enjoy the amazing Bangalore weather.
THE VINE TIP:
Try the dark chocolate and walnut cookies, they are out of this world.
Champaca, 7/1, Edward Road, Cunningham Road, www.champaca.in
Ulsoor gets a new neighborhood favorite, and boy did we need it! Located in Lido Mall, where a very sad TGIF used to be, The Bangalore Street Club is a space that is between a food court, a bar, a restaurant and a working spot. It plays into modern multifunctional spaces that are becoming more and more popular and it looks really great. There are food counters dotted around the place offering Indian regional delights like kebabs and biryani. There is also a small section that sells spices and pulses. The Bangalore Street Club is a great casual option before or after catching a movie and it is an interesting concept that I am sure will have many fans in the neighborhood.
THE VINE TIP: T
ry their keema pav, it is absolutely delicious.
The Bangalore Street Club, First Floor, Lido Mall, 1/4 Swami Vivekananda Road, Off, MG Road, 560008, Facebook Page
Things can change quickly here in Bangalore. If you ever read anything on The Vine that you feel is no longer relevant (business closed down or changed) please do let us know here. Thanks!
---