I TRAVELLED:

with my family with a 5-year old kid
TYPE OF TRAVEL:

luxury, relaxing, beach, family, child-friendly
FOR:

9 days
DATES:

July 10-19 2019
PRICE POINT:

$$$
Koh Samui is the second largest Thai island and attracts a broad range of travelers from backpackers looking for charming beach huts, families wanting daily excursions and fun on the beach, to luxury hunters desiring villas and bungalows to spend some spa time. Palm tree-lined beaches, white sand, clear blue waters, fresh seafood and friendly people- you won't want to leave! My husband and I have both traveled here alone but never as a family and thought coming here during the quieter July month would be perfect for us to all experience!

We flew from Bangalore to Koh Samui via Bangkok using Thai and Bangkok Airways (Indigo and AirAsia also fly there). After around a 4 hour flight to Bangkok, the flight to Samui is only about 50 minutes. July is not exactly high season due to the rain but during our 9 days, we only experienced short bouts of rain a day if even. The clouds would appear and a short rainfall would occur and then it would be back to normal. Koh Samui Airport is a small little outdoor airport with only one baggage belt in the domestic terminal. Once you collect your bags you'll find numerous ATM machines to pull out cash, a taxi service as well as desks of all the large hotels and resorts. We booked a car with AOT (we always use them in Bangkok as well for all types of cars) directly at the airport to our hotel. You can also pre-order with them online. We paid 500 Baht for an ISUZU SUV from the airport to our hotel at The Six Senses which was a short 15 minutes away. Taxis were also available.
---
WHERE TO STAY
---
As we always like to do on longer trips, we chose to stay at a few different hotels and resorts during our time in Samui. This way we can experience not only different types of hotels and resorts but also different areas.
We spent our first 3 nights at Six Senses Samui at the very Northeastern tip of the island. The vibe here is very quiet and relaxing is this tranquil and natural environment. This eco-friendly resort has 66 villas (59 of them have their own private pool) with views of the Gulf of Thailand and surrounding islands on either side. We loved the personalized service expected at a Six Senses, movie theater under the stars, free ice cream every afternoon from 3-5 PM, private beach and amazing infinity pool overlooking the water. The daily activities were also super interesting and included daily complimentary 15-minute massages, fitness classes such as yoga and stretching and arts. For children, my five-year-old loved doing Muay Thai, Yoga for Kids in the open air, beach-side yoga sala, Napkin Folding and learning how to give massages in the best kids activity ever created, "How to Massage Your Parents". He also enjoyed visiting the hotels very own farm and getting the chance to feed the goats, see the ducks, chickens and geese as well as to learn about the hotels' very thoughtful environmental management system such as their compost section and energy-saving techniques. Don't forget to take some time to relax at the spa!
Vine Tip: Make sure to go to their complimentary Sunset Cocktail for some drinks and nibbles as well as a great neck massage while you enjoy the sunset!
Six Senses Samui, 9/10 Moo 5 Baan Plaileam Bophut, Koh Samui, Surat Thani, 84320, www.sixsenses.com
Six Senses Main Pool
Our second stay at the Anantara Lawana Resort was only 15 minutes away from the Six Senses. This was quite a different feeling and environment. The resort was packed with families, inflatables and a fun atmosphere. This is NOT the place to go if you don't want to stress about getting a good chair by the pool… Needless to say, I am one of those people so we never ventured down to the main pool (which is located a few steps from the beach, making a super easy transition from pool to the hotel's private beach) but luckily we didn't have to since our room had its own lovely plunge pool with its own swing! Here you can also choose from villas, and rooms with direct access to a communal pool. The resort is located a few steps away from the busy beach town, Chaweng Beach (see below for more on what to do at Chaweng Beach)
Anantara Lawana Resort, 92/1 Moo 2, Bophut, Koh Samui, Surat Thani 84320, www.anantara.com
Vine Tip: the beach here isn't the best swimming beach, as there are rock banks very close by. You'll still get nice sand and a view but not exactly the "waves crashing down" sort of experience.
Anantara Lawana Deluxe Plunge Pool Room
Our final 3 nights of the trip were spent an hour away at Conrad Koh Samui at Taling Ngam Beach. This pool villa resort (all the rooms have their own infinity pools with a full view of the ocean) is set on a secluded hill on the Southwest tip of Samui. Oceanview, infinity pool villa. Not sure what else needs to be said. Steep hills mean you'll need a buggy to get anywhere outside your room but you almost won't need to leave. Daily activities included morning Tai Chi, Stretching, and Yoga as well as Kite Flying during the day. This is a very special property and I can highly recommend it for your holiday or especially if you're celebrating a special occasion.
Vine Tip: Little guests can visit the Turtle Club Kid's Club located near the pool for a fun playroom and daily activities. What a godsend!
Conrad Koh Samui, 49/8 Hillcrest Road Ko Samui District, Surat Thani 84140, conradhotels3.hilton.com
Conrad Samui 1 bedroom ocean view pool villa (the lowest room category)
Other great hotels to consider include whitewashed boutique hotels Sala Samui Chaweng Beach and The Library, both located on Chaweng Beach. For more uber-luxury, check out the Four Seasons. If you're looking for a wellness stay (think detox, colonics, yoga on the beach) then definitely stay at my favorite wellness resort in the world, Kamalaya (located in the Southeast part of the island). For a more budget-friendly health resort, try Absolute Sanctuary in the North East.
Sala Samui Chaweng Beach, 99/10 Moo 2, Chaweng Beach, Ko Samui District, Surat Thani 84320, www.salahospitality.com
The Library, 14/1 Moo 2, Chaweng Beach Koh Samui 84320, www.thelibrarysamui.com
Four Seasons, 219 Moo 5 Angthong, Surat Thani 84140, www.fourseasons.com
The Kamalaya, 3 102/9 Laem-Set Rd, Ko Samui District, Surat Thani 84140, www.kamalaya.com
Absolute Sanctuary, 88, 5 Tambon Bo Put, Amphoe Ko Samui, Chang Wat Surat Thani 84320, www.absolutesanctuary.com
---
WHERE TO EAT
---
CHAWENG BEACH
The Tent at Sala Hotel is a beachfront restaurant serving up international and Thai dishes focusing on seafood. Located in the very cool boutique hotel, Sala you'll find a good vibe and buzz in here. On the weekends you'll find live music, grill buffet and fire shows happening as well. Supattra Thai Dining is where you'll eat super fresh seafood, all caught daily from local fishing boats. This simple restaurant is rustic and food is cooked with love, be sure to call for a table as there are only a few. Poppies is one of the best little restaurants in this area, located far enough away from the bikini-clad diners and pubs of the main road. Set right on the beach, this cute wooden restaurant is located in a tropical garden inside Poppies Hotel and serves both Thai and International fare. Try their steamed snapper or try their catch of the day. If you're in need of a break from Thai food you'll find tons of other stuff along Chaweng Beach, but Baci Italian Restaurant is run by an actual Italian resident of the island is a good option. Openair views, woodstove pizzas are incredibly thin and delicious, the pasta is al dente and overall will make you forget you're sitting down the road from a Hooters (ha). For a more upscale Southern Thai meal, check out Mai Pai restaurant at the Anantara Lawana Resort. Dine above the beach with a lovely view of the sunset on the water and enjoy a delicious Seabass Salad, Massaman Curry or Beef Noodle Soup. For a fine dining option set in treetop canopies, head to Tree Tops Sky Dining & Bar also at the Anantara Lawana. The mood is romantic and the cuisine is European-Asian fine fusion.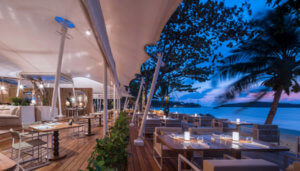 The Tent at Sala
The Tent, at Sala Samui, Bo Put, Ko Samui District, Surat Thani, Chaweng Beach,www.salahospitality.com
Supattra Thai Dining, 32/6 Moo 4 Sanam Bin Road Bophut, Koh Samui, Surat Thani 84320, Facebook Page
Poppies, Bo Put, Ko Samui District, Surat Thani 84320, www.poppiessamui.com
Baci Italian Restaurant, 38/69 M. Bophut, Chaweng, Bophut, Koh Samui 84320, www.bacisamui.com
Mai Pai at Anantara Lawana Resort, 92/1 Moo 2, Bophut, Koh Samui, Surat Thani 84320, www.anantara.com
Tree Tops Sky Dining & Bar at Anantara Lawana Resort, 92/1 Moo 2, Bophut, Koh Samui, Surat Thani 84320, www.anantara.com
SOUTH WEST
Jahn is one of the island's best fine dining options with sweeping oceans views. This award-winning restaurant serves Thai fusion in an elegant setting (and luckily for us was a short buggy ride away from our villa at the Conrad). From other places (around 40 minutes from Chaweng), it's a bit secluded but the gorgeous views from atop this hill combined with the exceptional food will make up for it! In all honesty though, if we weren't staying so close, it would have been quite a hassle to get here and maybe something we would have skipped.
Vine Tip: try their signature dish, The Wagyu Beef Massaman Curry. It's a bit steep at 1,800 baht but dare we day, worth it. The tender beef is literally flat-ironed (with an iron!) at your table and covered in the most amazing and rich Massaman sauce.
Jahn at the Conrad, Taling Ngam, Ko Samui District, Surat Thani 84140, conradhotels3.hilton.com
NORTH EAST
My favorite restaurant of the trip was definitely the first evening during our stay at The Six Senses at Dining on the Rocks. With 270 degree views of the ocean, this restaurant is perched at the edge of the hills and sits at a slight slant. Choose from seven or five-course set menus, or else choose three courses from their a la carte menu. We really enjoyed our Tuna Sashimi dish and the Beef Tenderloin was unbelievable. It was the standout meal of my time in Koh Samui. This award-winning restaurant is definitely on the pricey side, but if you're staying at the hotel or nearby, it's worth a try!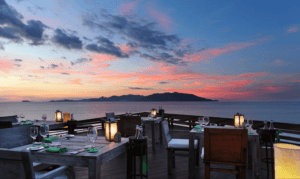 Dining on the Rocks
Dining on the Rocks, 9/10 Moo 5, Baan Plai Laem, Bophut, Koh Samui, 84320, www.sixsenses.com
---
WHAT TO DO
---
CHAWENG BEACH
This busy beach town is not much different than other Thai beach towns. A hundred pharmacies, street-side restaurants displaying fresh fish, pubs and bars and stalls selling colorful goods. We spent a few hours walking down the road which is fun for market shopping (straw hats and bags, Full Moon Tank Tops, Elephant Pants, fun inflatables and more!). You'll also find one Thai Massage salon after the next, so good luck deciding which one to choose (I usually choose based on how many pairs of shoes I see out front and the uniforms the ladies are wearing). You can also get your hair braided in 20 minutes for 200 baht for a fun holiday look. Any excursions can be booked at the activity centers which offer everything from Full Moon Party tickets, snorkeling, Crocodile Farm visits, ATVing and more.
FOOTGOLF
As a fun family activity, we spent a few hours at Samui Football Golf. They sent a car to pick us up from the hotel (about 10 minutes away) and we had a great time playing 18 holes of "FootGolf" which is exactly what it sounds like. Kick the ball into the soccer ball-sized hole in the least amount of kicks. It was fun for both kids and adults! Adults tickets were 750 baht each and kids were 350 baht including cold drinks, cold towels and transport.
Samui Football Golf, 63/240 Ko Samui District, Surat Thani 84320, www.samuifootballgolf.com
ELEPHANT SANCTUARY
Thailand often brings up images of riding elephants. For those of you looking to spend some time with these gentle creatures but don't want to ride a chained animal, visit the retired elephants who now enjoy their lives at an elephant sanctuary. You'll be able to walk with, feed, and observe the elephants in a natural setting without too much intrusion (bathing with them is not allowed). You can visit for a morning or afternoon session which comprises of three hours including a hotel pickup and a veg buffet. Prices are 3,000 baht per adult, 1,500 baht per child 11 and under and free for children under 4. Make sure to book as it is required!
Samui Elephant Sanctuary, 43/2 Taweerat Pakdee Rd, Tambon Bo Put, Amphoe Ko Samui, Chang Wat Surat Thani 84320, www.samuielephantsanctuary.org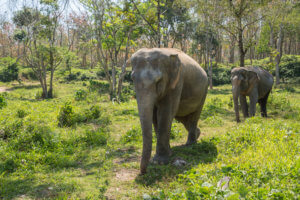 NA MUANG WATERFALL
Looking for some nature during your island trip? Head into the lush jungles to experience "The Purple Waterfalls" situated halfway between Nathon and Lamai Beach. There are two waterfalls, easily named 1 and 2. The second one is a bit further in. You can choose to swim, picnic and just relax at these cascading waterfalls. The walk to Nu Muang 1 is around 30 minutes by foot, make sure you wear good shoes as there are slippery areas on the trail. Visiting the waterfalls is free (although there are guides offering paid tours) and you'll find stalls selling souvenirs and snacks along the way.
Na Muang Waterfall 1
There are lots of other activities to do in Samui. ATVing, boat tours, snorkeling and more! Cultural sites to see include the 12-meter tall Golden Big Buddha at the Wat Phra Yai Temple.
---
GOOD TO KNOW
---
The high season to travel to Koh Samui is from late December to April where you won't have much rain. From May to September you'll still get lots of sun but also some showers. As we experienced during our stay in July, it would occasionally rain for a few minutes in the late afternoon or at night, but never for too long.
Most of the big hotels can be found around three main beaches: Bophut Beach in the Northeast and Chaweng Beach and Lamai Beach in the East. You will also find secluded places however which are lovely if you are looking to truly get away from it all. Chaweng is a bit of a busier feel while Lamai is a bit more chilled. Traveling around the island is also easy and usually won't take more than an hour (even quicker than it takes me to go into Indiranagar from Whitefield!) so day trips are easy.
There are tons of mosquitos- bring your preferred mosquito spray if you are picky, otherwise, you'll find numerous products at every pharmacy and convenience store.
---