I TRAVELED:

with my family + child (age 4)
TYPE OF TRAVEL:

child-friendly, luxury, cultural
LENGTH OF TRIP:

6 days
DATES:

December 2018
PRICE POINT:

$$$
---
This Christmas holiday we decided, or should I say I decided to do something a little different. We usually spend Christmas with our families rotating between Sweden, Switzerland, and California but this year we had the year off from familiar 'home' destinations and were able to freely choose where we wanted to go. No offense to our families, but sometimes we need a vacation after staying with family. Jordan had been on my bucket list for some time now, and when we first moved to Bangalore, I was extremely excited about traveling more in the Middle East. In the year and a half we have lived here we have visited Oman, Qatar, UAE and now Jordan was next!
---
ITINERARY
---
Eleven days in Jordan seemed like a bit much for our family with our four-year-old, and as we love to indulge in great food and hotels when out of India, we decided to combine our Jordanian adventure with a bit of a cosmopolitan city vibe before and after. Find my full Abu Dhabi Itinerary here.
DECEMBER
20th- 23rd:

Abu Dhabi, UAE
23rd-26th:

Dead Sea, Jordan
26th-27th:

Petra, Jordan
27th-28th:

Wadi Rum Desert, Jordan
28th-29th:

Amman, Jordan
29th-31st:

Abu Dhabi, UAE
---
GETTING THERE
---
ABU DHABI
Since there aren't any direct flights to Jordan (connections are possible via Dubai, Abu Dhabi, Kuwait City, Bahrain, Doha, Muscat), we decided to spend the first few days surrounded by sleek modern skylines, shopping and sushi brunches. There are two flights a day from BLR to Abu Dhabi (AUH) both from Etihad which is one of our favorite carriers. There is a decently timed 9:50 PM flight as well as the dreaded 4:25 AM flight (we, of course, were on the 4:25 AM one for reasons I'm not quite sure anymore- most likely because the earlier flight was much more expensive.) I'm sure it goes without saying that I would highly recommend the 9:50 PM flight. The flight is around three and a half to four hours though so, either way, you arrive feeling pretty groggy. We spent the first three nights here before heading back to the airport and onwards to Amman.
JORDAN
To get from Abu Dhabi to Jordan, we took a Royal Jordanian flight (there are 3 flights a day on Royal Jordanian and Etihad). Flights were surprisingly more than we expected considering it isn't high season (high season is April, May, September, and October). The flight was another three and a half hours to Queen Alia Airport where we easily entered the VISA ON ARRIVAL PASSPORT CONTROL line. Visas are 40 JOD per person, or around Rs. 4,000 per person and easily payable with a credit card or cash (there were ATMs right next to the line which accepted our Indian Standard Chartered cards without a problem). Bags arrived quickly and we were impressed by the modern airport which even has a Starbucks after exiting the baggage claim area. After a quick stop to the Orange SIM stand we were on our way to the Dead Sea.
DEAD SEA
We stayed at the Dead Sea for the first three nights at the Kempinski Hotel Ishtar which was around 50-60 minutes from the airport. We chose to have a hotel car pick us up (65 JOD) but you can also rent a car (we debated renting a car for the entire journey as we were traveling around Jordan and knew friends who have done this) or take a taxi. The sprawling hotel is directly on the Dead Sea and has 7 pools and one of the best spas in Jordan. As it was low season, the massive hotel felt pretty dead with so few people in it but overall it's a lovely hotel and we had amazing views from the room, breakfast, the pools, restaurant, and decks. Other hotels worth considering are the neighboring Mövenpick Resort, Marriott and Crowne Plaza as they are all on the same strip on the water. The main attractions here are obviously the Dead Sea but also the close proximity to some historical sites such as The Baptism Site of Jesus Christ by John the Baptist (20 minutes away), Mount Nebo where the Prophet Moses was buried (30 minutes away) and the city of Amman.
Kempinski Hotel Ishtar, Swaimeh, Dead Sea 11194 Jordan Dead Sea, Jordan, www.kempinski.com
PETRA
After the Dead Sea, we went about three and a half hours south to Petra where we stayed at the Mövenpick Resort Petra. We chose this hotel because it is located directly at the entrance of The Lost City of Petra and as we were only here for one night we wanted to be close. This three-story hotel is no-frills and was packed with other tourists there to see Petra, which made it feel more like a train station than a hotel. The buffet breakfast was decent, rooms were older but clean but being so close to the visitor center made it worth it. The lunch restaurant (same as breakfast) wasn't too bad and of course, the Swiss Mövenpick Ice Cream was yummy! There aren't too many other choices in Petra but we drove past the Marriott Hotel (maybe 15 minutes away) which is situated on the top of Petra and offers nice views over the valley. A cool option which I only found out about after our trip is the Bubble Luxotel Petra located near Little Petra which offers bubble rooms (King, Family, and Doubles) with their own hot tubs!
Mövenpick Resort Petra, Mövenpick Resort Petra, Tourism Street, Wadi Musa, 71810, Petra, Jordan, www.movenpick.com
WADI RUM
From Petra, we drove an hour and thirty minutes to Wadi Rum (wadi means valley in Arabic). I love a dessert almost more than a beach landscape so I was very excited about this. While I am not the biggest fan of camping (like, at all) I knew we needed to stay at one of the cool and very Instagrammable Bedouin tent hotels. I wouldn't quite call this full "glamping", as it really is more in between real camping and glamping but they are nicer tents with bathrooms in them. We stayed at the Wadi Rum Night Luxury Camp* which is one of the ones with all the bubble tents that you see all over Instagram. Our room was literally a huge bubble that was about 40% transparent giving us amazing views of the valley and the stars in the sky. Our room was even named Mars 11 of the Under The Stars section. Other nearby Bedouin camps that have bubble rooms are the Memories Aicha Luxury Camp and Sun City Camp. We first had to stop at the Wadi Rum visitor center to buy tickets (5 JOD per adults in Rs. 500) and then our driver dropped us off at the Wadi Rum Village where the Jeeps to all the campsites pick you up. Most of them are open-air trucks with a tarp over the back portion for people to sit in. Lucky for us (as it was raining) the Wadi Rum Night Luxury Camp had a truck where we were able to sit inside. The camp is about 10 minutes of bumpy red-sand dessert driving through amazing landscapes. There was ZERO phone service once there which was annoying and refreshing at the same time. Breakfast and dinner are included and the camp can organize lunch, shisha, beer and more as well. As it was winter, the weather was pretty cold, especially at night but they provide you with huge faux fur Bedouin coats to wear around the camp which is helpful. Each tent also has a heater in it which is a literal lifesaver. There is a restaurant, a lounge tent with a pool table and Bedouin tent for the evenings which serves tea, Turkish coffee, beer, and shisha.
*Booking here was not without its' problems as apparently the hotel's website had been hacked in March and they did not have access to any of their bookings despite getting a confirmation email (we had to book through the website as they aren't on Hotels or Bookings.com) so if you do book, follow up to confirm with the actual hotel with a call or email to +962-3–215 7070 / +962 -792 815 515,

[email protected]
Wadi Rum Night

Luxury

Camp, Anfeshiah, Wadi Rum Protected Area and Natural Reserve, Wadi Rum 00962,
Jordan, www.wadirumnight.com
AMMAN
As we had an early morning flight and a three and a half hour drive from Wadi Rum to Amman, we decided to drive back the day before and spend the last night in Amman. We arrived at the Fairmont Amman just in time for nice hot showers and a relaxing few hours (the sand from the desert gets EVERYWHERE!) to lounge before dinner. We decided we were ready for a non-Arabic meal and went to the sushi restaurant instead of the recommendations we had received from our drivers and friend living in Amman (listed below). The hotel is very new and has a good selection of restaurants and a cool lounge as well (not that we would know, we were asleep by 9 PM). Another luxury hotel option to consider is the Four Seasons Hotel right across the street. The hotel was around 25 minutes away from the airport (20-25 JOD for a taxi).
---
WHAT TO DO
---
DEAD SEA
During our time here, we mostly stayed at the resort and enjoyed the many pools and obviously, the Dead Sea itself. Be sure to bring a bathing suit (even in the colder months) as I forgot to pack mine and the selection at the gift shop was… to put it politely, horrific. While they had a large range of the more modest pieces (think capris, skorts, mid-sleeves and turtleneck bathing suits), the best looking Western suits resembled 80's Speedo designs and still cost about Rs. 5,000-8,000. I decided to go in with my gym clothes instead. Also, don't forget NOT to shave anything on your body especially your legs for a few days before or you'll really feel the burn! But overall, it's such a cool experience and floating feels fantastic! Our hotel recommended putting the black sea mud all over your body and letting it dry for about 20 minutes before rinsing it off again in the water for some super healing benefits to your skin. Saved us from having to pay for a mud wrap from the spa!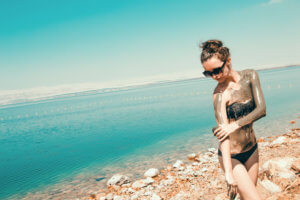 JERUSALEM
We were very close to booking a day trip to Israel as we were so close to the border and felt we shouldn't miss the opportunity. There are private tours which will pick you up from your hotel, help you cross the border, show you the major sites and drop you off again. This was definitely an all-day activity starting from 6 AM and returning at 6 PM. The border crossing seems to take anywhere from 45 minutes to 4 hours depending on your luck. The price of one of these tours was around 750-1,000 USD for 2 adults and a child as they require car changes at the border, border crossing help, and the traditional tours through town. Flights ended up being even more expensive and still would have required transport to and from Amman to the airport. We also read about less expensive options where you can simply take a taxi to the border and a bus into Jerusalem or join a group tour. There is lots of information about this trip on the internet for all budgets. In the end, the reason we didn't go was that the only day we could have gone was Christmas Day and it seemed like a hectic way to spend it.
THE BAPTISM SITE OF JESUS CHRIST
Our hotel was located only 20 minutes away from The Baptism Site of Jesus Christ on the Jordan River. The entrance fee was 12 JOD or Rs. 1,196 per person and the site is open from 8:30 AM to 4:00 PM in the Winter and 6:00 PM in the Summer. From the main entrance, you will need to take a 6-minute shuttle bus to the river where you will be on a group tour. There is also about a 2km walk to once you get off the bus to the actual river. We took a private tour which allowed us to drive our car all the way (there are strict military check-points) and we had our own tour guide but there honestly wasn't much that he told us about. Once you get to the river, the guide doesn't come with you so there is really no point to pay the extra 20 JOD. Being at the baptism site on the river is pretty interesting as you are right across from the Israeli side where people are also visiting the spot from. We witnessed people dressed in white robes dunking themselves in water as others cheered and sang songs. People cried and laughed but overall it was interesting to experience no matter our religious beliefs. You are allowed to go in the water, dip your feet, fill up a water bottle, etc. The church and gift store also sells rosary beads and other souvenirs such as holy water, soil, oil and more.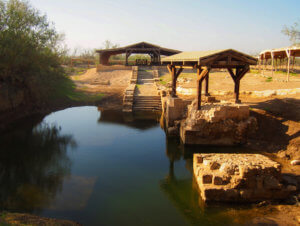 THE LOST CITY OF PETRA
We were extremely excited to visit one of the New Seven Wonders of the World, The Lost City of Petra. As our hotel was directly across the street from the visitor center and entrance, we walked over and bought our tickets. Ticket prices were 50 JOD for one day (Rs. 4,985), 55 JOD for two and 60 JOD for three (Rs. 4,985, Rs. 5,483, and Rs. 5,981) and children under 12 are free. These tickets did not include Petra by Night which happens every Monday, Wednesday, and Thursday evening where you can see the Treasury lit up by 1,500 candles. The best time to see Petra is the early morning or late afternoon. You are able to book a licensed guide from the visitor center- guides are available in English, Russian, German, French, Spanish, Arabic, and Greek. We had contacted our guide beforehand on a recommendation from a friend in Bangalore.
Once you pass the entrance gate, there is a path that leads to a long Siq (narrow walkway through rock walls) which brings you to the Treasury (the most well-known building). The 1.2 km path is long and winding and could take anywhere from 20 -45 minutes depending on how fast you walk. There are options to ride horses or donkeys to the main area which is a really fun option for kids and adults alike! You can also hire a horse and carriage to take you to and from the Treasury (20 JOD for the return trip for 2 people). As we were not taking the main path and Siq to the Lost City, but the Indiana Jones Way, also known as the Madras Trail, we rode horses for about 10 minutes to the point where we got off the main path. After that, we went on foot through the Madras Trail which loops around to the southwest across a wide desert plain to reach the High Place of Sacrifice. This route is unmarked and requires a guide who knows his way, but it leads to an amazing overlook high above the Treasury. I actually had no idea what this Trail would entail so was not prepared at all for the narrow paths overlooking steep hills. Had I known, I would not have thought it was a good idea for a 4-year-old but lucky our guide Mohammed took him and amazingly my son loved it. Wear good walking or hiking shoes as there are many steep and slippery parts. Don't carry more than you need and definitely grab a water bottle or two at the visitor center.
When you arrive at the Treasury (which took us through another brutally steep hike down which our guide described to me as stairs) you meet back up with everyone who has walked through the Siq. From here you can walk further in to see the royal tombs, The Altar, Monastery, Streets of Facades, The Theater and more. I think this is a must-see if you're in Jordan- it's really amazing and makes for a fun adventure for kids too. We immediately watched the Indiana Jones movie after this and my son loved seeing the same places in the film!
Mohammed, the guide we used to take us through Madras Trail to the overlooking view of Treasury (150 JOD for 4-5 hours) +962 77950 0237 (available on WhatsApp)
Petra, Timings: 6 AM- 6 PM in Summer, 6 AM- 4 PM in Winter, Petra by Night: Monday, Wednesday, Thursday 8:30-10:30 PM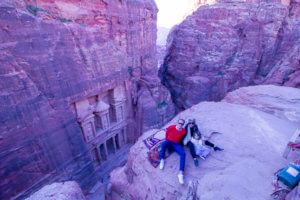 WADI RUM
During our stay in Wadi Rum, there was a lot of down time, on account that you have no cell phone service. No TV or internet, it was nice to relax but it did get boring. Had the weather been a bit nicer it may have been fun to spend more time outside. Our camp arranged for us to take a two-hour 4×4 Jeep Tour (50 JOD or Rs. 4,985) to see a few sites. We started out sitting on the back of the truck (which is actually super cool as you have a great view) but as it was pretty cold (2 degrees C) we moved inside after the first stop. The sandstone mountains are so amazing to see and it really does feel like you're on another planet. The guide brought us to see the Burdah Rock Bridge which we had to climb (the climb is fine with kids, we even saw moms with carriers on up there) but be sure to wear some sporty shoes (or Alexander Wang booties with no grip like me if you're a real daredevil). We also stopped at a large sand dune, Al Ramal near Jabal Khazali which we could climb. The sand is extremely fine and red so it was fun to take our shoes off, climb to the top and then run down. We even saw a guy who brought a snowboard. Other places that we could have gone to were spots where they filmed movies such as Lawrence of Arabia, The Martian, Red Planet, Transformers and more. Another popular thing to do in Wadi Rum is to take a hot air balloon ride (our hotel was 130 JOD or Rs. 13,000 per person) to check out the dramatic landscape from an aerial view. For the last part of our tour, we were taken to see some camels near a site with prehistoric scriptures carved into the rocks. We just took a 10-minute camel ride for our son and some pictures and then were dropped off back at the Wadi Rum Village.
Tour company for Jordan, Khaldoun Issa / Sherazade Travel Jordan, [email protected]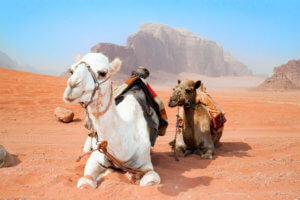 We love Middle-Eastern food and ate very well during our time in Jordan. With the exception of two meals, we ate only local food (Levantine and local Jordanian). Most were not too fancy and they all served the usual suspects in terms of mezze (hummus, falafel, tabbouleh, kofta, baklava) but also Jordanian specialties such as Mansaf (lamb cooked with fermented yogurt powder) and Knafeh (a cheese-based dessert made with syrup, rose water and pistachio).
DEAD SEA
Ashur Pizza and Grill – poolside Italian restaurant at the Kempinski Hotel
Burj Al Hamam– Lebanese restaurant at Crowne Plaza
PETRA
My Mother's Recipe– Jordanian dishes served in a nice homey setting, close to the entrance of Petra, 3-minute walk from Mövenpick hotel
AMMAN
Tsuki Japanese and Sushi restaurant at the Fairmont Hotel
SAFETY
Jordan was definitely an unforgettable experience but it also surprised me in more ways than one. Described to us by one of our drivers on the trip, "Jordan is a rose among the thorns." We felt VERY safe throughout our trip but sensed a bit more tension when we were closer to the Israeli border despite the declaration of peace between the two countries in 1995. We were told by our guide at the Baptism Site of Jesus Christ (directly on the border at the Jordan River) to stay on the path just "in case" of old landmines. He explained that they had long been removed by the Jordanians to the best of their knowledge but there may still be some outside the path. As of January 2019, they are working to remove the remaining ones. So just watch your kids! Throughout the country, we came upon about 5 security checks, where armed soldiers waved us through with a smile after a glance. To be fair, Jordanians were extremely friendly not just to foreigners but to each other. Drivers would wave to each other crossing through the desert highway like they knew each other when in reality our driver lived 3 hours away. We experienced our drivers stopping to ask for directions and be greeted with such helpful people (men, women and children alike!)
PRICES
I was surprised to land at such a modern airport in Amman and there were many times throughout the trip where I would feel this way. I also did not expect Jordan to be as expensive as it was. By this, I don't mean hotels and restaurants, but visa, attractions, guides, and transport. Since Jordan does not have many natural resources, the country relies heavily on tourism but I did not think things would cost as much as they did. The entrance for Petra alone is Rs. 4,985 per adult but guess that's the price they can charge for one of the New Wonders of the World! The transport was a lot more expensive than other places such as India or Sri Lanka and additional tips were always expected from guides and drivers.
WEATHER
Jordan's winter weather may also come as a shock to some. Jordan has relatively cold winters and hot dry summers. Snow is even a possibility in Amman, Petra and other western areas in the winter. We experienced temperatures of 4 degrees c to about 14 c in Petra and Wadi Rum and 10-18 c at the Dead Sea. The nights were brutally cold, especially in Wadi Rum at the desert campsite. The high seasons span from March until May and September until November.
---
Main Photo by Alekosa, Photo #1 from Ra66, Photo #2 from Nikki, Photo #3 courtesy of Lisa Renstroem, Photo #4 from Aleksandar Todorovic