So you know how Paytm used to be pretty easy to use? Well that all changed in February 2018 as users who do not have an Aadhaar Card (or haven't filled out their KYC which requires an Aadhaar Card) are no longer able to send money to others or a bank account. They can still recharge mobile phones, make utility bill payments, buy movie tickets but just not add or send money to other Paytm users. Find out more here. But now there is an even easier way! WhatsApp is used daily by over 200 million people in India (!) so it makes sense for them to roll out this Payment Function (currently ONLY available in India). Setup is a breeze and making payments even easier! Read on to find out how.
---
WHATSAPP PAYMENTS
---
WHAT YOU NEED TO HAVE:
1. WhatsApp app (running at latest version)
2. An Indian mobile number
3. A bank account with a bank that supports UPI (Unified Payment Interface) that allows easier real-time transfer of money between bank accounts and smartphones)
Your WhatsApp Phone number will need to match the number you have linked to your account (i.e. if your husband gets the OTPs on his phone, that account won't work)
HOW TO SET IT UP
1. Open up the WhatsApp app, click on

SETTINGS

in bottom right corner

2. Click on
PAYMENTS

listed underneath NOTIFICATIONS (*if you don't see Payments read below)

3. Choose
ADD NEW ACCOUNT

4. Select your
BANK

from the list of banks

5. Click
ACCEPT AND CONTINUE
6. Hit

VERIFY VIA SMS

and follow the prompt to send an SMS to start linking the account

7. If your number is linked to any bank account, it will show up. Click on the account you want to add

8. It may then ask you to verify your card linked to your bank, press
CONTINUE

9. Enter the
LAST 6 DIGITS

of your credit/debit card and

EXPIRATION DATE

10. Enter the One Time Password that is sent to your phone and your bank account will be added!

11. Choose a
UPI Pin

which you will need to use every time you make a transaction
*If you don't see the PAYMENT option under Settings, don't worry. There is an easy solution for that. Just find somebody who already has payments set up and ask them to try and send you money (ask them to put in Rs. 1- it won't go through!) You'll receive a message in the chat with them which says, "To receive a payment from XXX, set up your payment account", click on that and you can begin the process above.
HOW TO SEND MONEY
This will only work between two users who have enabled the Payment option within WhatsApp. You can only send money to other people and not verified businesses (MakeMyTrip or BookMyShow) but lots of businesses have started setting up individual accounts.
1. Open up a chat with the person you would like to send money to. For iPhones, click on the
+

button in the bottom left corner, for Androids, click the

ATTACH

button

2. Choose
PAYMENT

3. If you haven't already, it will ask you to choose your

UPI PIN
4. Choose
PAYMENT

, enter the

AMOUNT

and write a message if you'd like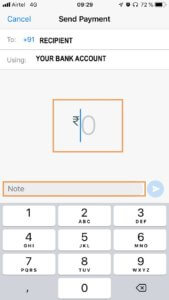 5. Enter your
UPI PIN

of the bank account you are using to send money (multiple accounts may have different passwords)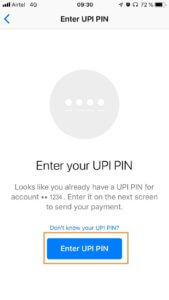 6. After the transaction goes through, the amount and message will show up as a message in the conversation
To switch between accounts, press on the bank account while sending money to see your account options
You will be able to check out all your transactions under
PAYMENTS

—>

SETTINGS

and

VIEW HISTORY
(For those of you wondering about my avocado order, check out kerehaklu for some amazing avocados, fruits, spices + more!)
---
Main photo by oatawa