---
COPPER + CLOVES
---
Our last Healthy Eating Reviews highlights a small company that is on a mission to show that nourishing food can be delicious, affordable and easy to make. Think colorful salads filled with more than just boring iceberg lettuce- grains like barley and quinoa infused with flavor as well as hearty slow roasted lamb drizzled with pomegranate molasses. Interesting yet simple food that definitely won't leave you feeling deprived which celebrate fresh ingredients and seasonal produce.
COMPANY NAME:

Copper + Cloves
ABOUT THE COMPANY:

The amazing founder of Copper + Cloves, Sarah is a passionate home-cook turned menu consultant/ mindful eating coach and soon-to-be author of her very own cookbook! C+C conducts workshops + cooking lessons, private catering, one on one coaching, yoga events (she's one of the women behind the famous Nicobar Yoga Brunches and Yoga Supper Clubs) and health events. Most recently, they teamed up with Blue Tokai Coffee Roasters to design the menus for their cafes in Bangalore and Mumbai! Copper + Cloves focus on strong flavors from cuisines around the world using local ingredients found in Bangalore, put together in a way that is nourishing. They believe eating should be joyful and satisfying!
TYPE OF FOOD:

Fresh ingredients, local and seasonal products, nourishing, international flavors
DIETARY OPTIONS:

Veg, Non-Veg, Vegan, Dairy Free, Gluten Free
PRICE:

Cooking Lessons at your home start at 3,000 per person (minimum 4 people) plus the cost of ingredients
ORDERING OPTIONS:

Contact Copper + Cloves to schedule a workshop/catering/cooking lesson or order from her menu at Blue Tokai Cafes available on Dunzo and Entrée
DELIVERY SCHEDULE:

On-demand delivery is available from the Blue Tokai Menu via Dunzo and Entrée
WHY WE LOVE IT:

Healthy, local and affordable ingredients infused with strong flavors make us forget how good the food we're eating actually is for us! Whether it's something we learned to make at one of her cooking lessons, sampled at a healthy workshop, tried at a Blue Tokai Cafe over a cup of coffee, or shared amongst a group at a Yoga Brunch the food is amazing. We love that we C+C teaches us how to re-create these dishes for us at home as well.
GREAT FOR:

Delicious and nourishing food that everyone will love! Perfect for catering your next party or brunch at home, or learn to cook it yourself (or have your cook learn) for the family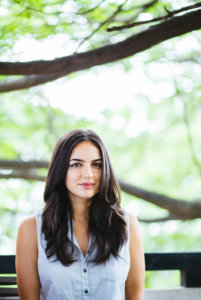 ---
CATERING + COOKING LESSONS +
+ BLUE TOKAI
---
For this review we tasted dishes from Copper + Cloves from a variety of places. First, Sarah conducted a cooking lesson for myself and three friends at our home followed by a lunch where we devoured everything we made. Secondly, Copper + Cloves catered an event that we hosted where we were able to try all the food alongside our guests. We also tasted dishes that were taught to my cook during a Salad Masterclass for Domestic Help. Lastly, we sampled numerous dishes from the Blue Tokai Cafe menu which were created by Copper + Cloves both in their cafes (VR Mall and Koramangala) and delivered home to us by Dunzo!
PRIVATE CATERING:
Lentil + Pepper Salad
INGREDIENTS:

Charred tomatoes, red peppers, black lentils with tahini, lemon-marinated ribboned zucchini, feta cheese, fresh mint, and basil, pomegranate, pistachios
This dish was created by Copper + Cloves for a weekend backyard party we hosted at our home. This fresh salad filled with fresh ingredients was extremely popular and ran out quickly. The beauty with a salad like this is the large variety of items in here- unlike a traditional boring salad.

Roast Pumpkin, Avocado + Miso Salad
INGREDIENTS:

Quinoa, charred corn, avocado, roast pumpkin, fresh coriander, paprika chickpeas, miso dressing, pumpkin seeds
Another dish delivered to us from Copper + Clove for our backyard party was this yellow and green beauty. Each of C+C's salads always wows us with the variety of roasted veggies, fresh topper, sweetness and crunch in every bite. We loved the toasted pumpkin seeds and creamy avocado covered in a miso dressing. This quinoa-based salad was a hit with toddlers, kids, and adults aline!
SALAD MASTERCLASS WORKSHOP:
Roasted Root Veg + Barley Salad
INGREDIENTS:

Barley, beetroot, carrots, onions, croutons, spinach, aubergine, honey mustard, olive oil, honey
We tried this dish after our cook spent 4 hours at a Copper + Cloves Salad Masterclass for Domestic Staff learning the 7 steps to making healthy and tasty salads. This first dish was a hearty salad filled with fresh spinach leaves and root vegetables. Covered in a honey mustard dressing, there was a perfect balance between sweet and savory yet tangy.
Mediterranean Salad
INGREDIENTS:

cherry tomatoes, masoor brown lentils, red and yellow capsicum, onions
This next salad our cook learned was a Mediterranean inspired salad alongside a salsa verde. Here again, we were introduced to a new and readily available base of masoor lentils. The crispness of the capsicum balanced the sweetness of the roasted tomatoes well and made for another lovely combination of ingredients. We couldn't wait for our cook to be able to whip up more creations like she learned during this course!

COOKING LESSONS
:
Roast Pumpkin Salad over Barley
INGREDIENTS:

pumpkin, feta, pearl barley, red onions, cooked chana, zaatar, salt, olive oil, coriander, greek yogurt, garlic, mint, pomegranate seeds, pomegranate molasses, mint
We learned to make this delicious salad during a private cooking class with four friends held at my house. The trick to making this pumpkin taste so delicious is rubbing the wedges in olive oil, salt, and zaatar (one of Copper + Cloves go-to spices) before roasting the pumpkin to perfection. This dish was amazing- and I was surprised that I had never tried pearl barley before! What an eye-opener to such a tasty and healthy grain. Sarah taught us to make a coriander dressing using Greek yogurt and coriander which was a super refreshing topping to an already lovely dish!

Pumpkin Miso Hummus
INGREDIENTS:

pumpkin, cooked chana, tahini, garlic, lemon juice, miso, dates
Another dish that we had the pleasure of learning at our cooking class was this pumpkin miso hummus. Served with some Oven Spring Sourdough, it was one of those things that you could eat until you literally burst. The texture was thick yet the dates sweetened the pumpkin taste and just made for a lovely snack during the day, or accompaniment to a meal.
Slow-Cooked Lamb
INGREDIENTS:

Lamb shoulder, garlic, pomegranate molasses, mint, olive oil, honey
Copper + Cloves instructed us to order a bone-in lamb shoulder from Bamburies a few days before our cooking class. The meat was salted the night before and massaged in a rub which included mint leaves and olive oil. After a painfully slow 6-7 hours in the oven (we could smell it which made it tough to be patient) the participants of our cooking class gorged on the most delicious lamb we've ever eaten. The fall-off-the-bone lamb was drizzled in pomegranate molasses and served with a yogurt sauce- SO good. As someone who isn't a huge fan of lamb, this dish definitely changed my mind!

Energy balls
INGREDIENTS:

dates, almonds, cashews, coconuts, cacao, sea salt
This super easy and quick dessert is a great alternative to sweets and snacks if you are trying to eat healthier. It was even a huge hit the next day with my four-year-old and his friends at a playdate! Win-win!
BLUE TOKAI MENU:
Romesco on Sourdough
INGREDIENTS:

peppers, charred tomatoes, thyme, chickpeas, parsley
I was skeptical during my first visit to the beautiful Koramangala Blue Tokai cafe where my friend ordered this. I'm not a fan of tomatoes and even less so of peppers so I declined her offer to try a bite. Fast forward to a visit to the newly opened VR Mall Blue Tokai where I reluctantly tasted it, mostly out of politeness more than anything else. Wow- game changer! Since then I have ordered this flavorful Spanish influenced spread on fresh sourdough four times (all in the span of a week and a half) from Dunzo.

Buddha Nourish Bowl
INGREDIENTS:

beetroot, zucchini, aubergine, tomatoes, carrots, falafel, quinoa
This colorful and vibrant Buddha Bowl is the perfect combination of different tasty snacks- including quinoa, beetroot hummus, roasted zucchini, burnt aubergine, roasted tomatoes, pickled carrots, and falafel. Accompanied by a tahini dipping sauce, it's a great platter to share with some friends or to have as a whole meal! It's also vegan and gluten-free!
---
OVERALL THOUGHTS
---
Everything we have tried from Copper + Cloves definitely has something in common- it's made with love. It also doesn't hurt that it's extremely Instagramable but the most important thing is that it's all good for you. Listening to founder Sarah speak about food, we love that she is an advocate of healthy choices and mindful eating but not depriving oneself. No calorie counting here. Good fats, flavourful grains, a sweet touch, and a satisfying crunch. She believes in eating food that tastes wonderful and wants to make that accessible to others in their own kitchens as well. While she could easily open a restaurant or home kitchen and Swiggy out her food, she chooses to focus on spreading her beliefs and food through social activities such as cooking classes, community meals, and workshops bringing people together with yummy nourishing bites. While it's nice to be able to order food from Copper + Cloves from Dunzo at the click of a button or hire them to cater an event, it's great to be able to learn a recipe we can use for life, or even better, a way of cooking and creating dishes. This is the perfect way for someone who is looking to start eating clean and healthy- and believe us, you won't give up any of the taste. Copper + Cloves offers sustainable programs to start eating better- whether that's teaching you or your cook how to make these changes.
---
Main photo from