---
FRESHMENU
---
Our fourth Healthy Eating Review features FreshMenu.

Five years ago founder and CEO Rashmi Daga saw a space in the food delivery sector and created FreshMenu, "the thought was to create a differentiated product that was delivery optimised." The everchanging menu (of 60 new products a month!) offers fresh and balanced meals directly to your dining table!
COMPANY NAME:

FreshMenu
ABOUT THE COMPANY:

FreshMenu prides itself on its daily changing menu filled with farm fresh ingredients, created and executed by highly experienced chefs. They believe that we should be able to experience a range of international cuisines at the click of a button. All the meat is halal certified and responsibly sourced, fruits and veggies are farm fresh from local suppliers. With over 25 kitchens throughout Bangalore, food is delivered within 45 minutes and only made either 10 minutes after ordering or 10 minutes before it leaves for delivery. They recently have launched their Fit N Fab menu which offers more low carb and Keto options as well as Superbowls which provide a balanced grain and protein.
TYPE OF FOOD:

Balanced, Fresh, Keto, Low Carb
DIETARY OPTIONS:

Veg, Non-Veg, Vegan
PRICE:

Rs. 140-250 for a main, Rs. 50-150 for a dessert, Rs. 89-100 for burgers + wraps, Rs. 100-200 for a starter
ORDERING OPTIONS:

Mains, Desserts, Starters, Burgers + Wraps, Fit N Fab, Pizzas, Fresh Meats, Healthy Snacks, Biriyanis
DELIVERY SCHEDULE:

Quick delivery is done by their own team within 45 minutes throughout Bangalore between 9:00 AM- 11:00 PM
WHY WE LOVE IT:

With so many kitchens across BLR, the food is always delivered super quick and fresh! The menu changes daily so there is no getting bored of the selection. We also LOVE their new biodegradable packaging which disintegrates after 14 days in the landfill
GREAT FOR:

Well balanced meals for the whole family, a healthier and fresh alternative to food delivery without needing to plan too far ahead, yummy superbowls for a healthier diet
CONTACT:

Check out their website or Instagram and download their easy to use App
---
OUR TASTING SESSION OF BALANCED MEALS
---
We were lucky enough to be invited to an exclusive Tasting Session at the FreshMenu head office. We tasted a variety of starters, mains, superbowls and desserts presented by Chief Innovation Officer Tilak (none of the items were made onsite, instead were delivered just as they would be to our home). We also ordered several items at home using their app to test out the delivery experience.
BREAKFAST ITEMS:
Sunrise Smoothie Bowl + Mango Smoothie Bowl
INGREDIENTS:

Yogurt, almond confit, saffron, strawberries, grapes, apple pieces
NUTRITIONAL INFO:

Energy (KCal)-400-450
This breakfast replacement looked more like a dessert than a breakfast, and tasted just like one too! This would be an amazing way to start our day, everything tasted sweet and fresh, yet filling. The almond confit was especially delicious. At a reasonable 400-450 calories per bowl, we were off to a good start. We also tried the Mango Smoothie bowl which had muesli instead of the almond confit and coconut slivers. Yum!
SUPER BOWLS:
Butter Chicken 'n' Quinoa Superbowl
INGREDIENTS:

Quinoa, boneless chicken leg, brown rice, green peas, sweet corn, onions, tomatoes, green chili, coriander leaves, turmeric, cumin, butter, garlic, lemon, hung curd, garam masala, kasuri methi, cardamom
NUTRITIONAL INFO:

Energy (KCal)-550 Net Carbs (g)-40 Fibre (g)-10 Fat (g)-14
Chief Innovation Officer Tilak explained to us the idea behind the new FreshMenu Superbowls were to replace white rice with a healthier grain. This Butter Chicken Superbowl has a 60/40 ratio of quinoa and brown rice and topped with refreshing tomato salsa and a dollop of cumin sour cream. This dish was divine, the butter chicken was tender and flavored well. Unlike other butter chicken we've had, it wasn't overly sweet which was nice. The sour cream and salsa mixed in well with the grain and we really enjoyed this high protein bowl!

Peri-Peri Chicken Quinoa Superbowl
INGREDIENTS:

Boneless chicken breast, quinoa, bell peppers, zucchini, onion, peri-peri seasoning, green peas, sweet corn, red chili, tomato concasse
Another Superbowl loaded with protein, the chicken was flavorful with a kick or peri-peri but complimented the green pea mash well (which we first thought was guacamole.) The quinoa was cooked well and the whole bowl made for a nice filling meal! We especially love the new packaging they are using for these bowls which are biodegradable and made using Indian materials.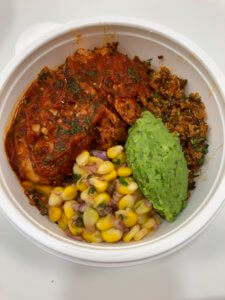 Mediterranean Chicken Quinoa Superbowl
INGREDIENTS:

Boneless chicken breast, quinoa, bell peppers, zucchini, onion, mushrooms, broccoli, parsley
We ordered this last superbowl to our home. As usual, the delivery was extremely quick due to the number of kitchens FreshMenu has, guaranteeing that there is one close to us. The food arrived hot, and it made us think of something that we discussed with FreshMenu at the tasting session. We asked what the best way to reheat our food was, to which they replied that their food is best eaten fresh within 90 minutes and should not be reheated if possible. Their own kitchens do not reheat anything and even their office does not have a microwave! We loved the taste of the mushrooms in this bowl and the sauce went well with the quinoa and hummus.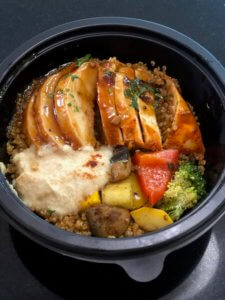 KETO:
Keto Broccauli Cheese Bake
INGREDIENTS:

Broccoli, cauliflower, onion, oregano herbs, black pepper, white sauce, fresh cream, pizza cheese sauce, chili flakes
This Keto dish that we tasted is high in fat and low in carbs- a filling meal with a light taste. We love the Broccauli marriage of broccoli and cauliflower drenched in cheese. The herbs give it a nice flavor as well.

Chargrilled Keto Chicken Steak
INGREDIENTS:

Boneless chicken breast, broccoli, red pepper, green pepper, squash, mushroom
We ordered this low calorie meal after a day where we had eaten a heavy lunch out and wanted something light yet tasty. After trying the FreshMenu chicken (sourced from multiple sources including Nandus) we knew the chicken would be flavorful and cooked perfectly and once again it was. The veggies were also well seasoned but we would have liked even more, as the portion of chicken was much bigger than that of vegetables. All in all though, it ended up being surprisingly filling due to the protein.
Chicken 'n' Spinach in Creamed Cauliflower Keto Bake
INGREDIENTS:

Boneless chicken breast, spinach, cauliflower, cheese, parmesan cheese, onion, parsley
This Keto meal arrived at our door piping hot- so hot in fact that we almost burned our finger on the metal container as we don't usually expect delivery to be so hot. We expected it to be heavier on account of all the cheese listed in the ingredients, but it was surprisingly less heavy than expected. We found some items which weren't listed such as olives and tomatoes but
DESSERTS:
Chocolate Mud Cake
INGREDIENTS:

Salad with tomato, parmesan cheese, chickpeas, and pesto dressing. Cottage cheese with broccoli, beans, bean sprouts, and sauce
So we have to confess, this Chocolate Mud Cake is not on FreshMenu's Fit 'n' Fab menu, nor is it exactly healthy, BUT it is the best dessert we have ever had in Bangalore so we felt we had to include it. Now we know that sounds extreme, but it was. The bottom half was very similar to a Swedish Kladkaka (or a gooey cake) topped off with whipped cream and coffee powder, a la tiramisu style. It was simply amazing, and we couldn't get enough. We even had to bring one home to our Swedish husband to get a second opinion and even he agreed that it was by far the best dessert we've tasted in India.
But FreshMenu does also have healthier desserts including Low Fat Desserts such as a Low Carb Berry Brownie and Cheesecake and a Keto Fat Bomb. They also offer a Healthy Snack section which includes things like Nutty Trail Mix, Tibetan Lemons, Super Kale Chips, British Roast Lotus Seed Pops, Granola Bars and more.

---
OVERALL THOUGHTS
---
After tasting a variety of meals from FreshMenu's Fit N Fab menu as well as some items from the breakfast and dessert section, we were very impressed with the quality of the food. After meeting the head chef and hearing of the work that goes into catering to more diets and constantly creating new items, we can say that FreshMenu tries to appeal to people who are conscious of what they're eating, yet still want that "feel good factor." A downside would be that the nutritional information is not yet available for all their dishes which would be difficult for someone who was looking to track certain nutritional info such as fat or calories.
The positive delivery aspect of FreshMenu should also be mentioned, as we didn't receive a single unnecessary call asking for our address as some of our other experiences with different food delivery services we reviewed. The food is always delivered hot and within the designated time, and we love that you can any time anytime of the day.
Ordering from FreshMenu would be a super alternative to ordering takeout and appeal to the whole family. Their Superbowls are a great healthy option to take to work or to eat for a lunch or dinner, and most importantly they taste great! A vast selection or everchanging choices delivered hot and quickly!
---