Besides the usual favorite kids brands from abroad such as The Gap, Zara, Tommy Hilfiger, and H&M, Bengaluru also has a great selection of Indian kids labels. You'll find these adorable and proudly Indian brands at boutiques in Bangalore and online with quick and cheap delivery (usually less than Rs. 60). From block print pajamas, Khadi cotton shirts, silk dresses, cool casuals and more- you'll find clothes that your kids can rock both abroad and when they're home in Bengaluru! But why stop at clothes, check out these great kids' accessories and home items in this great list below.
---
BOUTIQUES
---
This conscious lifestyle store in Cooke Town carries gorgeous organic handloom pieces from Delhi brand Sunbird. Baby pinks, blues and cream buttoned shirts and dresses all created with safe natural dyes. They also stock a selection of block printed kurtas and PJs as well as baby blanket sets, backpacks and bags. You can also read more about their adorable range of toys here. Aside from clothing for kids, 12/2 also source natural soaps, shampoo bars and bamboo toothbrushes for kids!
12/2, Banaswadi Main Road, (Opp. ITC Infotech), Balaji Layout, Cooke Town, 560005, Tel: +99014 04074, Facebook Page
This Jaipur based company specializes in beautiful block print textiles and garments. While the majority of their clothes are for adults, they do have a small children's section as well. Rompers, baby bloomers, tank top, simple dresses, kurtas, pajamas and shirts in pinks, oranges, blues and greens- their designs are a nice fusion of Indian and Western which makes them wearable at home in Bangalore or back in Europe during the summer holidays! We also love their toiletry bags which are perfect for kids items. Toothbrushes, pens and pencils, pool bags, travel toy bags- you'll find a hundred things to store in these cute, block printed, fabric bags that come in a variety of sizes. Their pretty notebooks are also great gifts for little ones to draw or write in.
Anokhi, 3 locations- The Leela Galleria, and "Raintree", 4 Sankey Road, Opp. Windsor Manor, High Ground, and 11th Main Road, 3rd block, Jayanagar Tel. 080 41262360/ 080 22354397/ 080 26631345/46, www.anokhi.com
We're lucky to have a small branch of this Delhi brand started by a mom and daughter duo in the Cinnamon complex. We especially adore their cotton nightwear for kids up to 12 years old. We love that the prints that aren't overly bright or loud (think animals in soft blues, pinks, mints and yellows). You'll also find more contemporary short Kurtas with "that little Indian edge" as well as beautifully embroidered long tops. The Almirah also produces hand quilted and embroidered bedding and accessories.
The Almirah, Cinnamon Complex, 24 Gangadhar Chetty Road, Near RBANMS High School, 5600042, Tel: 080 4168 1688, www.thealmirah.com
FabIndia is always a great place to drop in to browse their well-priced and cute ethnic wear for kids as well as jewelry and bedding. Kurtas, tunics, dresses, shirts and jackets, you may even find kid-sized saris and lehengas! They also have a great selection of Indian jewelry for kids- which also make a great gift for family and friends at home. Like with all FabIndia stores, you may find that some stores are better stocked than others and items are constantly changing. If you're looking for something specific, your best bet is to shop online!
FabIndia, over 30 locations around Bangalore and online, www.fabindia.com
Everyone's favorite store also has a baby and kids line combining eco-friendly fabrics with modern Indian aesthetics. With a beautifully muted color palette, you won't see any obnoxious loud colors or prints instead opting for downplayed greens, maroons, oranges and grey shades. Their collection includes linen short sets, cotton and silk Kurtas, smart little pajama sets and dresses. The prices may make you do a double take, but the clothes are beautifully made. At their Bangalore location, you'll find their kids' section tucked away upstairs on the same floor as Nicobar in a separate small room. Here you can also pick up bedding items such as muslin baby pillows, quilts and bolsters, towel sets, as well as their ever popular indoor tents.
Good Earth, Lavelle Road, 4, Walton Rd, KG Halli, Shanthala Nagar, Ashok Nagar, 560001, Tel: 080 4092 1029, www.goodearth.in
Another fave brand of ours, Nicobar has recently released a small kids collection! The Little Nico Collection features a few easy buttoned shirts, kurta tops, dresses, pajama bottoms and basic pants. As with everything from this lifestyle design studio, the designs are distinctly cool – red and pink stripes, red polka dots on a white base and plain colors. Small fun details can be found stitched on the clothes. They may seem simple but they make a big impact. Shop the collection at select Nicobar stores around India (Delhi and Mumbai) or order online!
Nicobar, No 4, Walton Rd, Above Goodearth, off Lavelle Road, Shanthala Nagar, Ashok Nagar and Unit No – 125, First Floor Forum Shantiniketan, Hoodi, Whitefield Main Rd, Whitefield, www.nicobar.com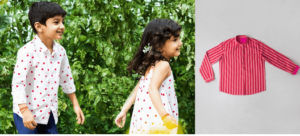 Pretty pastels and crisp whites- we love the simple color palette of the clothing from Love The World Today. With whimsical style and collection names such as, "How long does the scent of lavender last?" and "freshly laundered sheets" sizes fit ages 6 months to 6 years old. We really want ALL of the beautiful white handspun woven cotton pieces such as the maxi dresses, mandarin collared tops, kurtas and roll-up sleeve tees. You'll be able to purchase some LTWT pieces at stockiest Go Native in Jayanagar and HSR Layout or online.
Go Native, #64, 10th Main, 5th Block, Jayanagar, 560041 and 29, Sector 4, HSR Layout, 560102, www.lovetheworldtoday.in
Aomi does kids apparel for newborns up to 7 years old. Their casual western style and party dresses for girls always catch our eye. Think lemon and butterfly prints, ribboned details, sweetheart necks, ruffled collars, and one shoulder formal dresses. This is a great place to check out if you're looking for an outfit for a special occasion or if you have a girl that just loves wearing pretty dresses and frocks any day of the year!
Apple of My Eye, 4 locations around Bangalore including Indiranagar, Brookefield, Whitefield, Sahakar Nagar, aoimidirect.com
This Bangalorean brand is currently online and also carried at Go Native stores. Liz Jacob designs clothes for infants up to age 6 (will soon extend to reach 10-year-olds). The style of the clothes leans towards understated, simplistic elegance and fresh pastel palettes. They don't want to over-design clothes with too much fabric and too many add-ons and embellishments (much to both parents' and kids' delight!) The company works with artisans all over Indians using weaving, block, screen and digital printing and embroidery techniques. We adore the pretty printed frocks and cute button up shirts for little boys! Shop online here
Go Native Stores, Instagram, Facebook Page, lizjacob.com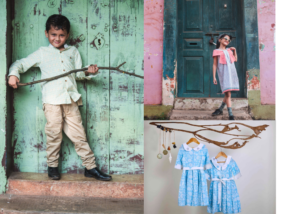 ---
ONLINE STORES
---
At first glance, looking at the Milk Teeth website makes you think that would need to factor in a lot of shipping and import taxes onto those prices- this must be an international brand, right? Wrong! This Bangalore-based kidswear brand wanted to create international designs and styles made in India for the Indian market. And we couldn't be happier. We are obsessed with their deliberately small themed collections (currently Doodle Clan, Geometry and Marine Friends) for kids ages 2-7. Gorgeous jumpsuits, pom-pomed sweaters, stiff tutus, smart shirts, and cool unisex brooches – we adore everything! Shop until you drop online here
Fayon carries made to order lehengas for girls from 1-month-old to 15 years and these are not the normal ethnic wear you can find on Commercial Street, these are the lehengas we want to wear ourselves! Beautifully made with ornamented details and embroidery adorning each piece, each lehenga is very special. This is the perfect outfit for a formal Indian occasion and will make for a beautiful memory of your child's time in India. For boys, we like the slight modern touch on their Kurtas with Churidars. Order online at least 7-10 days before you need it!
This Bangalorean brand started by two French expats primarily serves the French market but have recently begun doing private sales in Bangalore. Navilou, the Kannada word for Peacock, makes lovely block printed and hand stitched pajamas for kids as well as parents (who doesn't love matching family jammies?). Fabrics are sourced from Jaipur and stitching is all done in Uttar Pradesh using fair-trade production. You can see their collection online (French only for the moment) and order via WhatsApp or organize a private sale at your home for your friends.
Navilou, Stephanie Tel: +33 7509 22403, www.navilou.com
We adore Essika for their clean lines and simple styles without too many embellishments. Founder Merlin realized that children's fashion needed more options without hot pink, glitter and cartoon characters and we couldn't agree more! Essika's design aesthetic is inspired by Japanese fashion using hand-woven and natural dyed yarn Indian fabrics. Their Khadi Lollipop Shirts paired with their handloom cotton shorts are our must-haves both for casual wear on the playground as well as a nice dinner out with family. The Toddler ranges from 6 months to 3 years and the girls and boys up to 9 years old. Order online here
essikakids.wordpress.com, Facebook Page

This earth-friendly Bangalorean brand uses unused scraps to repurpose them into incredibly cool kids clothes and toys (read more about their awesome playmates here!) Even the colors are hand dyed using things like dried pomegranate shell, Indian matter and indigo plant extracts. These earthy pieces feature patches of textiles hand stitched onto shirts, jackets and dresses in hues of indigo, mustard yellow, olive green and maroon. We are in love with the edgy, unisex, and oversized Katano Jacket for any small earth explorer! Sizes start from 1 year old to 7 years old. Order online here for same day delivery within Bangalore
Buying from No Nasties means that all the clothes are 100% certified organic cotton made from fair trade factories using PETA approved materials. They have a great range of cotton jersey tees and shirts, skirts, tunics for kids from 2-12 years old. These are great basics that are soft and come in cool colors such as grays, navy, olive green and stripes. Want to know another great feel-good-factor when you buy from No Nasties? Each time you buy a product online (or sign up for their email newsletter) they will plant a tree in their grove! You can find No Nasties online
Another brand lovingly created by an expat living in India, Tuk-Tuk Anouk hails from Jaipur and is known for its floral block prints and handwoven cotton pieces. Production takes place around India with silk made from Tibetan refugees in Himachal Pradesh, knitwear from a tribe in Northern India, and stitching takes place in Goa, We can't get enough of the palm tree print on everything from baby rompers, boys trunks and swimsuits, button-down shirts and girls dresses. The brand focuses on mostly girls clothing (dresses, jumpsuits, and swimsuits) with a few "boy styles for boys and girls" which we love! Shop online here
---
KIDS ROOMS
---
Looking for some Scandinavian styled stuff for your children's rooms? This brand originated in Delhi after the founders spent a summer in Copenhagen surrounded by all the amazing Scandi Design. Clean and functional, minimal aesthetics, they strive to deliver "Nordic Niceness" to the Indian market. You'll love their fun and imaginative collections of play rugs, storage bags, baby gyms and nursery accessories, as well as their sweet swaddles, cushions, blankets, crib sheets + bumpers, and pillows. One of our favorite Sommer Home products is definitely their tents with cool designs that you haven't seen anywhere else in Bangalore. Shipping is totally free within India and takes about 7-8 days! Shop online here
Crib, bed + pillow sheets, bolster covers, blankets and more can be found at this eco-friendly bedding company. The Baby Atelier strives for the longevity of products by using high thread counts without any chemical processes. You'll find simple designs with colors that you and your kids won't get tired of. We like the classic polka dots, striped and plain colored sheets instead of the loud, brightly colored cartoon characters found elsewhere. The Baby Atelier also has a kids organic home design section featuring lovely wooden shelving in cute shapes such as hexagons or houses. These Pinterest popular shelves will make a stylish and practical addition to any child's room! Find them online here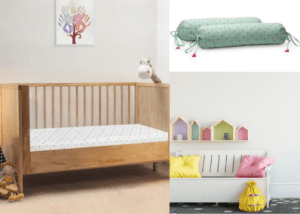 This brand out of Mumbai creates gorgeous baby bedding, crib decor, bathtime accessories and more. We love having a local option for our favorite baby product ever- the Baby Nest (which they call Nestilos). These nests come in cute chevron and cloud fabrics. You can even buy extra lining inserts (genius!). You'll also find adorable storage bags, indoor/outdoor playmats, mobiles and bunting. Their bedding sets come complete with matching bolsters, pillow, bamboo muslin fitted sheet, cot blanket, and shaped cushions. It's hard to choose just one set as they're all so cute (Tropical Vibes Only anyone?!). Order online with a flat fee of Rs. 250 for orders within India.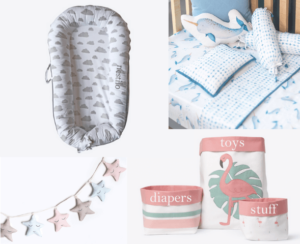 ---
ACCESSORIES
---
Looking for cute girly accessories? Look no further! On this online shop, you'll find bows, bibs, bowties and other hair accessories for kids! Mini clips, headbands and scrunchies in colorful yet tasteful florals, geometric shapes, Indian, and velvet designs will surely please everyone's style! Rattle & Co. also have a monthly subscription where they send you 3 bows every month so you can mix up your girl's bow game on the regular. Shop online here
This kids eyewear company supplies great sunglasses from around India and abroad. All the glasses have non-acrylic lenses and are certified UV-safe which should important to all parents wanting to protect their kids' eyes from those harsh rays. Sunkissed was started by a husband-wife team, one of which is an optician who tests all their glasses out on their own kids. Your little ones will love the super cool selection of glasses for kids aged 3-12. For now, you can find their collection via their Instagram page.
Earth Baby offers a selection of cloth diapers as well as natural baby food, wooden toys and products for new moms. They have two types of diapers available- 100% natural dyed cotton nappies and the Bumpadum Duet Diapers that come with a waterproof outer shell to prevent leaks and an inner absorbent insert. You can pick up some of their products at Go Native stores in Jayanagar and HSR Layout or order online (subscriptions are also available).
Go Native, #64, 10th Main, 5th Block, Jayanagar, 560041/ 29, Sector 4, HSR Layout, 560102, earthbaby.in
A few years old, this Bangalore-based startup specializes in modern reusable cloth diapers. You won't get bored with the many cute designs of the outer shells. Choose from three types depending on weight and preference. Duet Stay-Dry, Aviva Organic Cotton and Neo Newborn Diapers or if you're not sure which is the best you can opt for the starter pack to try them all out! What's more, check out their potty training pants and Bhoomi Cloth Menstrual Pads. You can pick up a small selection at Go Native (mentioned above) or shop online for the full range!
---