If you're hosting a party or plan on putting together a picnic, your first thoughts will probably be about what to serve and how to make it look good, too! Luckily for you, you don't have to watch more DIY videos on how to style your own charcuterie board or scan Pinterest for ideas on what to include in a gourmet picnic basket. There are quite a few companies in Bangalore that are doing exactly what you want to do without all the hassle. Check out our list of where to find curated picnic baskets and gourmet platters/graze boards for your next event:
Started by buddies Bhawna and Swetha, The Picnic Company curates bespoke picnic hampers and sets-up picture-perfect fun picnics in and around Bangalore. They started their company to offer something unique that friends and loved ones could enjoy.
They currently have 2 options for picnic baskets:
The Quintessential Picnic Basket – perfect for a picnic in your backyard or terrace. Includes food, beverages, and a pinewood crate (doubles up as a table), and a picnic carpet.

Bespoke Picnic Set Up – Custom picnics styled keeping the vibe and occasion in mind. You tell them the location and they bring the food and set it up. Added benefit: they clean everything up to make it completely hassle-free!

Starter Board's main aim is to bring people close again. Offering an assortment of delicious food hoping to remind people of the importance of taking a breath in, and enjoying not only cheese and crackers but also those who matter. Starter Board caters to those looking for effortless hosting, personalized gifting, and food to make any occasion memorable.
They currently offer the following boxes:
Snacker Box

Mini Cheese Box

Medium Cheese Box

Large Cheese Box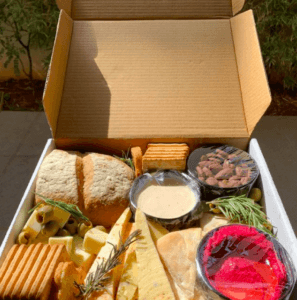 Started by Kavana, Graze Box serves up soul-satisfying locally sourced organic products curated just for you in 3 sizes:
Me Box – serves 1-3 people

Party Platter – 4-6 people

Feast Platter – up to 8 people

If you're looking for something healthy to gift or surprise guests with at your next gathering, check out Fruitness. Founded by Sumedra Kalra, these exotic fruit hampers come in a variety of options from seasonal to custom.

Local Ferment Co. is your one-stop-shop for everything gourmet started by Akash Devaraju, techie who moved into the F&B scene. For a delicious picnic basket, ask about their Curation boxes where you can choose from:
A selection of handcrafted fermented beverages

Breads (foccaccia, bagels, etc.)

DIY Sandwich Box

Specialty cheeses (Burrata, Bocconcini, Camembert)

Salad in a Box

Condiment Box
Apart from picnics they can also set up a perfect date meal, wholesome breakfasts & brunches, and gift hampers.

Indulge offers a curated culinary experience that specializes in various charcuterie platters, gift hampers, and custom gourmet meals to enjoy at home. Started by Ayesha Katrak, Indulge wa\s conceptualized during the first lockdown to find pre-assembled easy to snack on platters that could be home delivered and shared with family indoors. They even offer options that are vegetarian-friendly. Want to try them out, outside of the house? Visit the Indulge Cafe at Beruru in Indiranagar!

Begum Victoria is your go-to place for Artisan Cheese in Bangalore. They offer various platter sizes for the fromage lover. You can choose from 2, 3, 4, 5, or 6 Cheese Platter.

---