I TRAVELLED:

with my husband
TYPE OF TRAVEL:

adventurous, budget, relaxing, food, art, history
FOR:

2 days
DATES:

December 2018
PRICE POINT:

$-$$
---
A WEEKEND IN FORT KOCHI PLANNED BY PACK YOUR PASSPORT
---
Looking for a hassle-free weekend outside of Bangalore?
Want to leave the busy city behind you and enjoy the cozy atmosphere of a colonial fisherman's town?
Fancy some fresh seafood and coconut-rich dishes?
Go to Fort Kochi and let Pack Your Passport support you in planning an unforgettable trip!
We love travelling and finding unique experiences in India, however, busy weeks and a lot of planning when travelling in India sometimes holds us from exploring to the maximum. I was delighted to have found Pack Your Passport, a travel agency run by the amazing Ella and Bejoy. Ella is from the UK and Bejoy is a local from Kerala. Together they have connections, tips and the best recommendations for your trips throughout Kerala. We decided to give it a go and asked them to book us a weekend away in Fort Kochi. A colonial fisherman's town on the west coast of India. Fort Kochi is a charming heritage town, a step back in time and we wanted to visit the heritage sites originally built by the British, Chinese, Dutch and Portuguese and wander through the Jewish Quarter well known for its eclectic antique shops and a beautiful 400-year-old synagogue.
We booked the flight tickets ourselves and after we landed in Kochi we could sit back and relax as we were picked up by a driver. A 1.5 hours' drive will bring you from the airport to the lovely city centre of Fort Kochi.
---
ITINERARY
---
DAY 1: AYURVEDA COOKING + MASSAGE
The next morning we woke up and after a nice south Indian breakfast, we explored the boulevard by foot.
Lunchtime was coming up and we'd opted for an Ayurveda cooking class as recommended by Ella. With a small group, we learned about the philosophy of cooking following Ayurveda methodology. It resulted in a super tasting and filling meal consisting of a wide variety of dishes.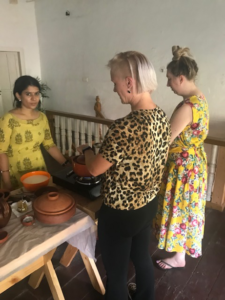 Full from lunch it was time for some relaxation and how to better do this than with a good massage. Ayurveda is advanced in massage practices which are typically rich in oils and strong massage style. The oil dripping therapies you might have heard about are available at the same place and originate from Ayurveda as well. Pack Your Passport booked our massage at their personal favourite Fort House. The word Ayurveda is a Sanskrit term and translates as 'The Science of Life'. Ayurveda is the oldest school of medicine, it was founded thousands of years ago in India and is based on the belief that health and wellness depend on a balance between the mind, body, and spirit. Its main goal is to promote good health through a balanced lifestyle.
Barely hungry from our rich lunch we had to prepare for dinner at the Old Harbour Hotel (Rs. 7,500 Rs. for a 4-course dinner including wine for two). Ella made us a booking and we had the best seats in the courtyard overlooking a pond and local music performance. The food and service were outstanding, combining local cuisine with a good French accent. We enjoyed fresh fish, a good bottle of wine and amazing deserts.
DAY 2: CITY TOUR + ART GALLERIES + SHOPPING
After a refreshing morning run, we started our rickshaw city tour with our tour guide, Fredi. He had great knowledge about the Fort Kochi and showed us local life, the fishing nets, fish markets as well as bringing us for a coffee and a sweet snack in the famous pastry shop Shantilal located on Palace Road, the Hindu Quarters. A stop at the Mattancherry Palace surprised this Dutch writer with a museum hosting a good collection of Dutch heritage items.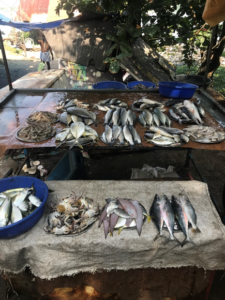 The remainder of Sunday we spent strolling around the lovely city and shopping at the many artsy and antique shops. We got very lucky to visit Kochi during the Kochi-Biennale where many of the warehouses were turned into galleries for contemporary art. Aside from the permanent galleries and museums, the Biennale turned Kochi in heaven for art lovers.
---
WHERE TO STAY
---
Ella had given us a variety of options for accommodation; both luxury and homestay type of hotels. We opted for a nice colonial but budget-friendly hotel in an old, lovely decorated house. The name is Rossitta Wood Castle (Rs 4,000 per night). Welcomed by a nice arrival card, a flower and a lovely message from Pack your Passport we immediately felt this was the right decision.
Rossitta Wood Castle, 1/334, Rose Street, Fort Kochi , Cochin, Kerala, hotelrossitta.com
---
GOOD TO KNOW
---
I would absolutely recommend a weekend getaway to Kochi. Food, shops, art, history; you'll find it all at great quality and quantity in the city of Kochi. Also, I would highly recommend booking with Pack Your Passport, they are going to make your trip unforgettable without you having to worry about anything.
WHAT THEY ARRANGED:

driver to-from the airport, hotel, restaurant, cooking class, dinner reservation, rickshaw city tour and a good list of recommended shops, cafes, and restaurants to make our stay perfect.
WHAT THEY CHARGE:

we paid around 20% on top of the costing price for the services of Pack Your Passport. After the bank transfer, they ensure all is paid so you do not have to worry about that either. Pack Your Passport receives discounted prices from providers, which they pass on to the clients. They charge a 20% service charge on top of the total cost of the trip, the 20% charge means you get access to their detailed planning, execution and trip assistance before and throughout the trip.
packyourpassport.in, [email protected], Instagram
Stay tuned for our next trips with Pack Your Passport! Munnar and Alleppey will be amongst the next.
---
Main Photo from patrick_worldwide, Other photos courtesy of Floor Peels