I TRAVELLED:

with my entire family, in laws and a one year old
TYPE OF TRAVEL:

City, beach, culture, food
FOR:

5 days
DATES:

December 2021
PRICE POINT:

 $$$
After living in Dubai for six years, this was the first time I went back as a toddler mom and boy was it a different trip! Dubai is always fun, but this is the first time I realized just how family-friendly it was and how much fun it can be with a baby that is just finding his feet and becoming aware of the world around him. From beaches and playgrounds to family-friendly pubs and of course Expo, this is your guide to toddler Dubai.

Please note the COVID19 travel regulations change all the time. Make sure to check the latest guidelines before travel. 
Masks are mandatory in all public spaces and there is 3.000 AED fine for not wearing them properly.
---
GETTING THERE
---
It seems like everyone is either in Dubai or in the Maldives and for good reason! Dubai is fully open for tourists, the weather in December is perfect and the Expo is on! There are many direct flights between Bangalore and UAE and the bubble has been steadily operating since the last lockdown. We always fly with Emirates because my husband grew up in UAE and airline loyalty is a thing! Also, if you fly FlyDubai or Emirates you get a free day pass to the Expo. You need a negative PCR 48h before the flight, a negative rapid test 6h before the flight and a negative test on arrival. The only annoying part is the 6h test at the airport, especially if you are flying with a child, but I do have to say that the new restaurant zone at the airport is very nice and the test is organized very efficiently. We try to fly night flights with the baby so we time it with sleep, but even so, it was a pain. The lounges at the airport are open if you're flying Business or First or have Priority Pass.
The test at the Dubai airport is super well organized. I recommend getting Marhaba airport service if you are flying with a toddler because they just whizz you through the airport! Getting to the city from the airport in Dubai is very simple, there are plenty of taxis, Ubers, limo service via Emirates and the Metro.  I highly recommend using the metro because it's fast, clean and very cost-effective. More on metro later!
---
WHERE TO STAY 
---
One thing Dubai doesn't lack in is world-class accommodation. I will say though that Dubai is very expensive in winter and even more so now with the Expo going on. There are a few "party" hotels like The V on the Palm or Media One in Media City, but the vast majority of hotels are baby-friendly and geared towards families. Since the weather is so nice right now, you will want to look into hotels close to the beach or with private beach. In my opinion, Medinat Jumeriah is the one of the nicest properties in Dubai, even if there are new ones popping up all the time. One & Only Royal Mirage is stunning if you want to splurge. I am personally a fan of Rove hotels for great value for money. Their rooms are on the smaller size but no one comes to Dubai to stay in their room anyhow. Rove La Mer is the best if you want to be close to both the beach and Downtown Dubai. Atlantis is very popular with families with bigger kids that can enjoy the water park, but I am honestly not a fan- I think it's too big and too mall-like. You can still go to the water park and stay somewhere else.
This time we have stayed at Fraser Suites because we prefer staying in hotel apartments with the baby. Also, since we met the entire family it was nice to have an apartment with a kitchen and living room to chill in while the baby was asleep. Since we both have UAE driver's licenses and have driven in Dubai for years, we have rented a car, but even without the car getting around is very easy. There are taxis everywhere and Uber and Careem work great.
---
WHAT TO DO  
---
Eat, drink, sunbathe, shop and see the Expo! There is a ton to do in Dubai beyond the malls and the hotels and I always made it my mission to show my guests the other side of Dubai. However, I will say that when you go for a short few day trip, you do want to get your restaurants and your shopping sorted. Here is our itinerary to use a guideline:
DAY 1
Land in Dubai, get tested, wait in the hotel for your test results (they come in about 4h). Once you get your test results you are free to go as you please. Since I have been craving walking and the beach, we went to JBR for a walk and a meal. First meal in Dubai? Got to be one of the many excellent junk food joints! I am partial to Shake Shack so we had burgers on the beach followed by ice cream. JBR has a long beach walkway and a ton of activities for kids, as well as camel rides. It is very touristy, but hey, no shame in the tourist game.
JBR
DAY 2
Time your Dubai trip with a Friday brunch. A Dubai brunch is an institution and while there are plenty of family-friendly brunches in hotels (Al Qasr brunch is legendary), we took advantage of the whole family being in town and went all out with a party brunch at Iris. One thing everyone is always worried about is the dress code- Dubai clubs are bars are very liberal; feel free to live your best Kardashian fantasy! If you do a brunch, you probably won't be in the mood to do anything else, so plan an easy afternoon. I suggest going on a walk around Al Qouz and checking out the many galleries and hidden gems. While walking around Alserkal Avenue, stop at Wild and the Moon for some juices (you'll need a post-brunch detox).
DAY 3
Lazy day starting with breakfast! My favorite place on Earth for breakfast is Cocoa Room in Galleria Mall. There are a ton of great breakfast options on the Palm as well at the newly opened Pointe, as well as in City Walk so choose based on the rest of your plans. Post-brekkie, we went to Green Planet, an indoor rainforest where animals roam free in their natural habitat. Check out the timings for different experiences, like feeding the slots or the rainforest downpour. Leo is only one year old, but he loved it and most importantly, we also had a good time. After Green Pocket, it was time to shop a bit! City Walk has a nice selection of shops and is in close proximity to Dubai Mall. While I stocked up on my beauty products from brands we don't have in India, the fam took the baby to see the aquarium and we all met to see the Infinity Des Lumieres, a super cool light and art exhibition. For bigger kids, the ice skating rink is a ton of fun as well. Dubai Mall has a lot of food options, but I would suggest Logma since it is one of the only Emirati places, plus it has the view of the fountains. Outside of the malls, Dubai also has a lot of interesting standalone stores. Comptoir 102 is a must for fashion, décor and beauty lovers!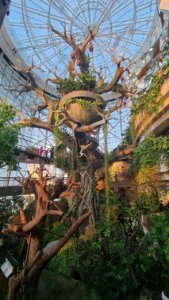 For sunset drinks, head over to Duck Hook. It has great views of the Dubai skyline, a lawn, which is baby and dog friendly, and a great vibe. I wish we had a family-friendly place like that in Bangalore, where we can drink with our friends while the toddler toddle. 
Duck Hook
DAY 4
Expo! Expo is MASSIVE. One day is not nearly enough but if you have a game plan of what you want to see you can still make the most of it. The Expo site has all the information you need, so check it out beforehand to plan your visit and time it with the shows and performances. Also please note that some pavilions and shows have been canceled due to Covid so check it to avoid disappointment. You need to have either a Covid vaccine certificate or a PCR test to show to enter Expo, all vaccines are accepted. To get there, definitely take the Metro. It takes about 40 minutes from the city center, it's a straight line and it takes you to the heart of the Expo. Metro is stroller-friendly.
The Expo
First thing to do is of course to eat. I highly recommend Baron, a Beirut-based restaurant, which is probably one of the best places to eat in the Middle East. Definitely order the cauliflower, the eggplant and the bone marrow. After that, it's up to you! The water feature is a must-see, so is the Sky Garden. Most popular pavilions have massive lines, so if you want to see them plan you will only see one or two in one day. Germany, Saudi Arabia, South Korea, Terra Pavilion, Women's Pavilion, Pakistan, Palestine and UAE are amazing!
Bone Marrow at Baron
Women's Pavilion
DAY 5
Old Dubai. If there is one thing I think everyone should do, it's a Frying Pan Adventures tour of Old Dubai. These long time Dubaians have such a passion for Old Dubai, its people, history and food that you cannot help but fall in love with Dubai. It will also show you the city behind the glitz and its wonderful soul. They know all the hidden gems and all the stories. I would suggest contacting them for a tailor-made tour based on your child's age. Also, Old Dubai has some of the best kunafa joints outside of Palestine and you do not want to miss that.
Spend your afternoon at one of the many beaches. If you plan to visit one of the cool beach clubs like Cove or Twiggy or Nammos, make sure to call in advance because a lot of them do not accept children! I love La Mer, Kite Beach and the Secret Beach behind Sunset Mall.
 Nammos Beach
The Marina
---
GETTING BACK
---
For flying back to India, you need another PCR test done within 72h. There is no need to get to the airport any earlier than you normally would, but make sure you have all the documents printed, as soft copies are not accepted. There are currently no tests on arrival for passengers coming from UAE, but as always, make sure to stay up to date with the latest rules and regulations!
---
Main photo by abandurenko, all other photos courtesy of the author