We've only scratched the surface of exploring North India, but here's what we loved and recommend.
I TRAVELED:

with my husband + friend
TYPE OF TRAVEL:

adventurous, sightseeing, historic
FOR

:

7 days
DATES:

June 2019
PRICE POINT:

$$-$$$
---
AGRA
---
MUST-SEE: THE TAJ MAHAL
The Taj Mahal, India's most recognized monument. Described by Poet Rabindranath Tagore as "a teardrop on the cheek of eternity," this masterpiece truly must be admired in person to appreciate its immense presence, intricate marble carvings, and beautiful inlaid precious and semi-precious stones. This perfectly symmetrical white marble mausoleum is believed to have been completed in 1653 by Shah Jahan as a final resting place for his most cherished wife, Mumtaz Mahal after her death. It will leave you awestruck and in wonder of the depths of love that would have motivated such an undertaking. Witnessing it in person will show you why people call it an international symbol of love.
HIGHLIGHT
Sunrise at Taj Mahal. We've seen the Taj Mahal at sunrise, mid-day, sunset, and full moon, and sunrise was undoubtedly the best. Picture the cool, misty morning air, no long line to enter or crowds to deal with. Your photos at this time are more extraordinary with no crowds in the background.

TIPS
If visiting at sunrise: while it is tempting to take lots of photos as soon as you get in view of the Taj, go to the back left (west) area as soon as you can and watch the sunrise over the Yamuna River and peak behind the Taj.

View the sun setting from across the Yamuna River at Mehtab Bagh, Mughal-era gardens.

Definitely hire a government-approved tour guide. They will help you bypass long security lines, know the best spots and angles for photos, and they will share their wealth of knowledge with you. Many of the ancestors of the 20,000 original Taj Mahal constructors and marble craftsmen still reside and work in these industries in Agra. Your tour guide can take you to a local marble shop for demonstrations of how they use the same stone inlaid techniques as used for the Taj over 300 years ago. You can even pick up a piece for yourself.
FUN FACT
The four tall minarets at each corner of the Taj Mahal are actually angled outward. If they are struck by lightning or experience an earthquake, they will fall away from the Taj Mahal.
AGRA FORT
Although you'll want to limit your time in Agra, you should make time for Agra Fort (also called the "Red Fort"). Better described as a walled city, this is the only fort in India to have been home to all the early Mughal emperors. Primarily made of red sandstone, travel back in time as you wander through the many courtyards and palaces.
HIGHLIGHT
The beautiful architecture and archways, viewing the Taj Mahal from Shah-Burj.
FUN FACT
While entering from the southern gate, a walkway will take you to the main complex. This walkway was specifically inclined at a 60-degree angle to slow down enemies attacking with their elephants and horses.

ANCIENT CITY OF FATEHPUR SIKRI
About 45km west of Agra, view the unique architecture of the magnificent structures, Jama Masjid mosque, the three palaces, and gardens.

WHERE TO STAY
From the ITC Mughal you are able to climb to the top of the watchtower for a view of the Taj in the far distance. For a real splurge, stay at The Oberoi Amarvilas which is only 600 meters from the Taj Mahal and offers amazing views from your hotel room.
ITC Mughal, Taj Ganj, Agra, Uttar Pradesh 282001, www.itchotels.in
---
JAIPUR
---
Known as the Pink City, Jaipur is the capital of Rajasthan and India's first planned city. This city really captures the vibrant culture of India for me: historic forts and palaces; bustling streets filled with snake charmers, elephants, camels, and vendors selling their jewels, flowers, and handicrafts. It earned the nickname "The Pink City" when the Prince of Wales visited India in 1876: pink being a symbol of hospitality, Maharaja Ram Singh painted all the buildings in the city pink.
MUST-SEE: AMBER FORT
Arguably the main attraction in Jaipur, this elaborate 4-level fort is extraordinary in beauty and history. Constructed in 1592, this lavish fortress hosts four courtyards and many buildings and palaces within. Careful attention to artistic detail was taken here, while keeping things functional. Learn about how the summer palace and winter palace were designed with temperatures in mind by using specific colors and designs. The winter palace, known as Sheesh Mahal, a stunning hall of thousands of stones and glass tiles resembling mirrors is a must-see.
FUN FACT
Underground tunnels from Amber Fort can lead you to Jaigarh Fort. This was used for royalty and other noble staff to be able to escape during battles. Just watch out for bats in the dungeon!
JANTAR MATAR
A collection of architectural astronomical instruments built in the 1700s. This observatory is strangely appealing from an artistic and architectural sense, even though, overall, it's a collection of scientific instruments. See the largest sundial in the world!
HAWA MAHAL
You can't miss this "Palace of Wind" while driving through the city. This palace was built to allow royal women to watch everyday events and processions. As we had read and heard there is not much to see inside, we opted to just stop and click a pic from across the street.
ELEFANTASTIC
This rehabilitation center for Asian Elephants is focused on proper healthcare and breeding management while allowing visitors to learn about and interact with elephants. Experience the magic of meeting & gaining the trust of these gentle giants up close and personal. You can then feed, paint using non-harmful organic stone colors, wash, take a bath, and take a walk with your elephant.
JAL MAHAL
Stop by for a glimpse of this water palace in the middle of the Man Sagar Lake.
WHERE TO STAY
Feel like a maharaja staying at the Samode Haveli, a 175-year old restored haveli mansion. You will be treated like royalty and enjoy beautiful courtyards, a swimming pool, bar & restaurant, and spa/gym. Starting with check-in, you will feel as if you're an honored guest of the royal family.
Samode Haveli, Samode House, Gangapole, Jaipur, Rajasthan 302002, www.samode.com
---
UDAIPUR
---
Udaipur, known as the white city, Venice of India, and the most romantic city in India. This seemed like the most peaceful and friendly city in India we've visited so far. Surrounded by the Aravali Range, you can see some beautiful panoramic views here.
MUST-SEE:
City Palace: located on the banks of Lake Pichola, this 400-year-old palace has 11 palaces within. They will take your breath away with their showcase of impressive courtyards, pavilions, mirror-work, and murals.

Dharohar folk dance performance at Bagore Ki Haveli: captivating traditional Rajasthani dances.

Udaipur Ropeway: take in the views as you ascend up a cable car, followed by a walk up to Mansapurna Karni Temple. You can see some spectacular views of the city and its lakes here. Instead of taking the cable car back down the mountain, we chose to hike. Along the way down, we stopped at a watchtower to take in the view and search for the screaming peacocks in the distance.
Sunset Point, as you probably guessed, is a lovely spot to watch the sun sink into the mountains surrounding the lake.

Take a morning walk on the tiny side streets and along the river ghats (steps leading to the river).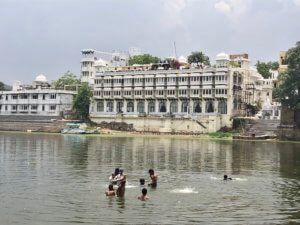 WHERE TO STAY
We were very lucky and found an excellent AirBnB. It was a unique 400-year-old haveli in a great location with warm and helpful hosts. It was a comfortable stay, complete with rooftop views of City Palace. Check out the AirBnB we stayed at here. The Leela Palace is a very special place. While we did not stay here, it is a 5-star hotel on Lake Pichola and seems very memorable. Another option is The Jagat Niwas Palace Hotel– a family-run 17th Century haveli with stunning views.
The Leela Palace, Lake Pichola, Udaipur, Rajasthan 313001, www.theleela.com
Jagot Niwas Palace Hotel, 25, 23, Lal Ghat Road, Near Kankarwa Haveli, Silawatwari, Udaipur, Rajasthan 313001, jagatcollection.com
WHERE TO EAT
Upre offered an excellent rooftop dining experience with romantic Lake Pichola and palace views. Ambrai was another great restaurant with a lake view.
Upre by 1559 AD, Roof Top Hotel Lake Pichola Road Outside Chand Pole, Lake, Pichola, Udaipur, Rajasthan 313001, 1559ad.com
Ambrai, Amet Haveli, Outside Chandpole, Naga Nagri, Pichola, Udaipur, Rajasthan, 313001, www.amethaveliudaipur.com
---
NEEMRANA
---
Continue your journey as a sultan touring your realm with a stay at the Neemrana Fort Palace in Neemrana, just over 100 km from Delhi's Indira Ghandi Airport. This 15th-century fort-palace has been tastefully restored but enhanced with comfortable amenities. Only the essentials of modern conveniences are provided, leaving you feeling like you've stepped back in medieval times (with indoor plumbing, of course). It's absolutely immense: 9 palace wings on 14 levels tiered along a hill, with numerous passageways, courtyards, an amphitheater, and two thoroughly-modern pools. You could spend days exploring and still not see it all.
Neemrana Fort Palace, 122nd Milestone, Delhi- Jaipur Highway, Neemrana, Alwar, Rajasthan, 301705, www.neemranahotels.com

HIGHLIGHTS
Camel ride to Neemrana Baori (stepwell). A short camel ride from the fort with our guide, Balu, led us to the stepwell. This impressive 9-story stepwell is the largest and deepest in India and you will be astonished by its depth and presence. In an effort to battle the growing drought and blistering heat in the area, this stepwell was built in the 15th century for locals and travelers to collect water. While it had such a historic and abandoned feeling, the many green parrots flying in and out of the crevices made this relic come alive.
Visiting Balu's jewelry shop, Bijoux du Rajasthan. Balu was humble, not at all pushy, and an all-around lovely person we spent a lot of time chatting with. All his jewelry is handmade and beautiful.
Bijoux du Rajasthan, Near Neemrana Fort Palace, Alwar, Rajasthan 301705, Facebook Page
---
GETTING THERE + AROUND
---
Kiwi.com has a very useful multicity feature (instead of round trip/one way, select multicity) that we used for flights.
We used KD Singh as our travel agent to book the drivers, tour guides, and entry tickets when needed. He came highly recommended by other expat friends and he was a pleasure to work with. All drivers and tour guides were reliable, professional, and made the trip more special.
KD Singh, Tel: +91 96940 15000, [email protected]
---
Photos by Cassandra and Frank Deutschmann