Diwali 2022 is almost here and with that comes all the fun and joy of gifting for the Festival of Lights!
We round up a mountain of gifting options to suit everyone's desires, tastes and budget!
If you're new to the Festival of Lights, read our intro to Diwali guide here.
---
SOMETHING YUMMY
---
WHAT:

Sourhouse's Sweet and Savory box contains four cookies, four palmiers, an almond croissant, sourdough crackers, and a jar of hung curd. There is also an option for an Assorted Pastries Box.
PRICE:

Rs. 950 for the Sweet and Savoury Box, Rs. 550 for Assorted Pastry without delivery charge
WHAT:

A hamper of handcrafted rolls mixed with Sugar Glazed, Classic, Nutella, Mixed Berries, Apple Pie and Walnut Raisin
PRICE:

Rs. 1,500 excluding delivery
ORDER:

 Instagram, Tel: +91 8527717308
WHAT:

 Mother-daughter duo of Rasa & Co. are offering The "Festive Favourite" Hamper which packs in an assortment of three Chutney Pudi's and a Jar of of Puliyogare Gojju. Add-ons such as pepper corns and coconut chips are available.
PRICE:

Rs. 950 – Rs. 1,450 for the three hamper varieties
ORDER:

 Tel: +91 98452 31368, Instagram
 
WHAT:

Guilt-free hampers filled with goodies such as Pecan Brownies, Pink Salt Chocolate Chunk Cookies, Chocolate Babka, Truffles and more! Gluten-free options are also available.
PRICE:

Rs. 1,400 – Rs. 4,500
ORDER:

 Instagram, Tel: +91 98860 79125

WHAT:

Marzipan Greek Cafe's have created Diwali Hampers filled with Saragli (Greek baklava with walnut & pistachio), Kariokes (Greek walnut filled chocolates), Hot Chocolate Bombs (Dark chocolate Bombs or Rose flavoured Almond Hot Chocolate Bombs), Spiced Tea Blend and Savoury Shankarpali.
PRICE:

Rs. 2,625
ORDER:

 Instagram, Tel:

+91 98 4442 2724
---
SOMETHING CHEESY
---
WHAT:

A gorgeous cheese hamper filled with Pecan & Dill Soft Cheese with a hint of honey, Red Pesto Soft Cheese coated with crushed crackers and Curry Leaves Soft Cheese topped with crushed fried curry leaves and candied mustard seeds. Other cheese hampers also available!
PRICE:

Rs. 2,000
ORDER:

Instagram, Tel: +91 9731669332
---
SOMETHING VEGAN
---
WHAT:

All of THB's hampers are filled with wholesome goodness and delicious food and can all be made in vegan versions. The Treasure Chest of Wholesome Joy comes with Mini-Nutjobs, Li'l Teas, Bars, Vegan Nut Butter, Granola and festive candles and diyas!
PRICE:

Rs. 2,800 (hampers start at Rs.500)
WHAT:

This luxurious collection of Crave's limited edition dessert selection, with hand-made irresistible 100% Vegan sweet treats comes with favorites such as Autumn Espresso Nut Crackers Cake, Hazelnut Dragees, Chilli Fig and Chocolate Jar Dessert, Macarons, Stuffed Dates and Atom Bomb. 
PRICE:

Rs. 2,500 and Rs. 3,500
---
SOMETHING FOR CHOCOLATE LOVERS
---
WHAT:

Their dark chocolate bursts with intense and succulent chocolate and they do not contain any added sugar. Its pleasant sweetness comes from the sugar substitute stevia and maltitol, rounded off with bourbon vanilla extracts.
PRICE:

Rs. 899
WHAT:

For Chocolate Gifts in all sizes and budgets, look no further.  Macarons, Baklava, Danish Butter Cookies and nuts and other non-chocolate items are also available.
PRICE:

 Prices range from Rs. 450 to Rs. 10,000 (Smoor Aura Chocolate Hamper pictured below is Rs. 4,500)
ORDER:

Online here
WHAT:

The Conscious Baker has put together a hamper of sugar free, gluten free desserts that includes chocolates, cookies, mendiants and more! The Gluten Free option comes with Dense Chocolate Travel Cake, Turkish Hazelnut Chocolate, Orange Cranberry Almond Flour Cookies, Hot Chocolate and Peri Peri Trail Mix.
PRICE:

 Prices range from Rs. 1,500 to Rs. 2,000
---
SOMETHING FRUITY
---
WHAT:

 Fruit never looked so gorgeous in these beautiful gift baskets. Choose exotic fruits in boxes, pine wooden crates or metal baskets for a fresh gift for your loved ones.
PRICE:

 Hampers range from Rs. 1,400 to – Rs. 8,500
ORDER:

 Instagram, Tel: +91 99005 18668 (Order 3 days prior)
---
SOMETHING FOR COOKIE MONSTERS
---
WHAT:

 Choose your own Diwali Cookie box from an assortment of decadent handcrafted soft cookies (100% eggless). Oatmeal Raisin Chocolate or Double Chocolate are available.
PRICE:

Rs. 249-349 for a box of 5 depending on choice
ORDER:

 Instagram, WhatsApp +91 85019 71929
WHAT:

 Freddie's original designed cookies inspired by diverse culture and local markets are available in a number of Diwali gifting options such as Edible Diyas and Patakas. We love the 1000 wala wishes cookie box which you can personalize with your family member's names!
PRICE:

 1000wala wishes box Rs. 900, other options starting from Rs. 500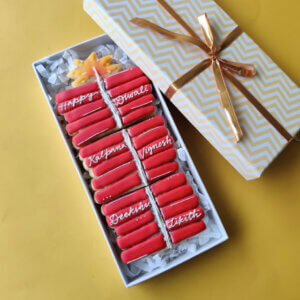 ---
SOMETHING COLORFUL
---
WHAT:

 The Diwali Ramayan Collection is a fun and colorful box that has the entire story of the Ramayana beautifully illustrated on the gold foil base and the contents inside are just as fun! Tulsi Incense Stick Box and Nagchampa Incense Cone Box (both made from temple flowers), 4 exquisite, handcrafted ceramic Diyas, Ras Gold Face Elixir, Patakha Boxes (plantable crackers containing seeds that germinate when planted), packs of dry fruit mix from The Eat Better Company, and a Plantable Mithai Box. PHOOL has many other equally fun and thoughtful gift boxes.
PRICE:

 Rs. 1,725 for the Diwali Ramayan Collection Box, Boxes range from
 to Rs. 345 – Rs. 2,645
---
SOMETHING PACKAGED WITH LOVE
---
WHAT:

 Tenacious Bee can customize hampers to suit your tastes and budget using a selection of products from their range of ethically
harvested Himalayan hive produce such as Raw Himalayan honeys, Curated hive-based gift sets, Beeswax Aromatherapy Candles.
All products are prepared and packaged with love and care by a group of
enteprising tribal women in a village in Himachal Pradesh.
PRICE:

 Hampers range from Rs. 699 to – Rs. 4,999
WHAT:

 SNEH, or Special Needs Empowerment Hub are putting together an exciting collection of dry fruit gifting options. These lovely packages are packed by adults with special needs.
PRICE:

 Gifts starting from Rs. 200
ORDER:

snehindia.com, Tel: +91 9840 076322, 9949 138612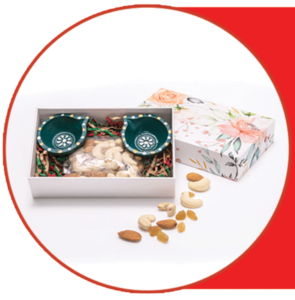 WHAT:

 The Delight Gift Box is eco-friendly basket handcrafted with love by the Women Artisans of Auroville which has specialty coconut items such as Vega scented candles, coconut soap, coconut Rochers Chocolate, coconut chips and a coconut mobile stand. There are other options such as The Exotic Gift Box as well.
PRICE:

 The Delight Gift Box is Rs. 1,000
ORDER:

Instagram, Tel: +91 974033 0316
---
SOMETHING ARTSY
---
WHAT:

 Create your Diwali Gift Hampers at Maple Ink from a basket of handmade products, personalized art, and gourmet food. The collection includes – trendy jute bags, bamboo baskets, smart artsy boxes and coasters, pashmina shawls and stoles, and more.
PRICE:

 Hampers range from Rs. 1,250 to – Rs. 15,000
---
SOMETHING FOR KIDS
---
WHAT:

 We love these gorgeous set of dark chocolate cakesicles with handmade stunning fondant ethnic toppers. Colorful and delicious these are perfect for kids! Flavors include 100% Vegan and 100% eggless Sinful Chocolate and Double Chocolate Chip. Brownies and cupcake boxes also available.
PRICE:

Rs. 700 for box of 6
WHAT:

 Taste of Blighty is offering 12 different hampers filled with sweets and treats for the holiday season. From cakes to cupcakes, brownies, dessert jars and chocolate barks, we think these decorated cupcakes will make for a lovely Diwali gift for little ones and big ones alike.
PRICE:

 Hampers start at Rs. 500, Rs. 650 for box of 6 cupcakes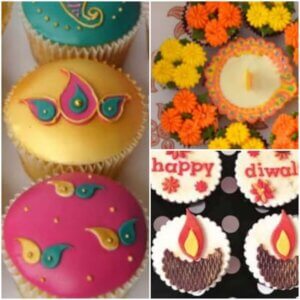 ---
SOMETHING FOR WELLNESS LOVERS
---
WHAT:

Health brand Näck's Diwali Strong Kits comes with power-packed unflavoured Plant Protein and antioxidant ace Natural Astaxanthin. Each kit comes with a Goji Berries and Almond mix. Choose from the Astaxanthin or Strong kit.
PRICE:

 Rs. 2,279 for the Strong Kit
---
SOMETHING 5-STAR
---
WHAT:

 A large range of hampers ranging from traditional Indian Sweets to the Luxurious Delights box which includes items such as House of Tea, Honey and Oils, Tropical Fruit Drops, The Lela Scented Candle, Luxurious Bath Amenities, Auspicious Silver Coin and Set of Handcrafted Diyas. You can also customize your own box to fit your desires.
PRICE:

 Hampers range from Rs. 1,250 to – Rs. 15,000
ORDER:

 Email [email protected], Tel: +91 89519 74424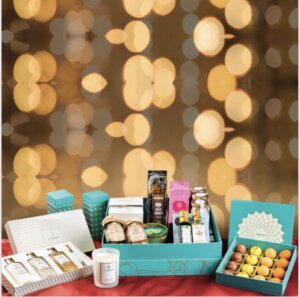 WHAT:

 The Sheraton Grand is offering curated luxury hampers filled with mixed nuts and Indian sweets, cakes, cookies, chocolates and more. With an option to create your own hamper from a variety of jams, honey, sauces, spreads and teas and more.
PRICE:

 Hampers start at Rs. 950 to – Rs. 9,500 + tax
ORDER:

 Tel: +91 89040 52101
WHAT:

 Chefs at Four Seasons Hotel Bengaluru have curated selections of sweet treats in their offering of three festive hampers, the Silver, Gold and Diamond Hampers.

The opulent Diamond Hamper

comes with Cookies, Macarons

in delicious flavours like Chennai Filter Coffee, Rose and Kerala Coconut

,

the s

eason's staple

Gujiya

,

selection of

mithais

and savouries like

Methi

Mathi

and

Namakpara

,

collection of loose-leaf Teas,

salted almond spread,

a bottle of lush

Red Wine, and a

handpainted

terracotta

Diya

. Other gift boxes are also available.
PRICE:

The Silver, Gold and Diamond Hampers are Rs. 3,500, 5,000 and 6,500 respectively. Gift boxes start from Rs. 500
ORDER:

Tel:

 +91 76191 46004 (

All orders must be placed 24 hours prior)
---
SOMETHING THAT SMELLS LOVELY
---
WHAT:

 Eira's gift boxes include a choice of five candles which comes with a personalized handwritten note to the person you are gifting to!
PRICE:

Rs. 1,295 for 150 grams- Rs. 1,995 for 240 grams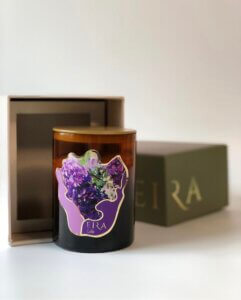 WHAT:

 The Glint Collection is a dream gift for any gold lover. This set of four calming scented candles come in glittering, textured glass bowls with a honeycomb design.
PRICE:

Rs. 9,999 for The Glint Collection, other options available as well
---
SOMETHING FANCY
---
WHAT:

 A bespoke collection of exquisite boxes filled with an assortment of artisanal mithais and spiced nuts handcrafted by the JW Marriott master chefs. This special collaboration between India's leading couturier Manish Malhotra and Marriott Bonvoy comes in a gorgeous white and gold box.
PRICE:

 Gift boxes priced at Rs. 1,250-2,500 for 18 pieces to 36 pieces
ORDER:

 +91 87929 29225/ +91 7980805549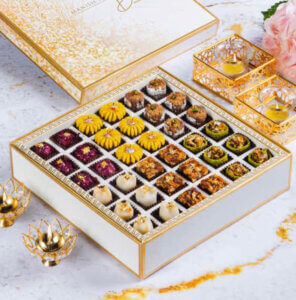 WHAT:

 It's hard to choose just one gorgeous gift box from Dotted I, but the Festive Chandon Hamper is worth a mention… This stunner comes in a lovely Wicker Basket and includes a large bottle of Moët Chandon, box of brownies, an Agate Platter, scented candles, herb and cheese crostini and a home utility item.
PRICE:

 Hampers starting from Rs. 2,950 to Rs. 12,500
WHAT:

 Who doesn't love being gifted something beautiful from Good Earth in the aqua gift box? The gifting section of Good Earth offers many great options, we love the jewel-like Cartouche Glassware with decals and 24 carat gold detailing.
PRICE:

 Set of 6 for Rs. 8,500
ORDER:

 Order here
WHAT:

 Nishita Design is offering exceptional tableware for extraordinary gifting. An exclusive hamper set of two coffee mugs and a tray handcrafted in 24k gold.
PRICE:

 Rs. 7,800
ORDER:

 Online here, Tel: +91 98860 56665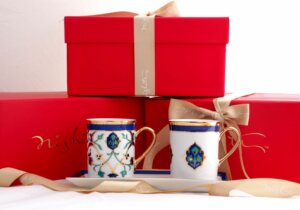 ---
SOMETHING FOR THE FACE
---
WHAT:

 Daughter Earth's Greatest hits box makes for an amazing holiday gift! It contains their most-loved products in a beautiful metallic soft golden tin such as Hemp + Vitamin E Purifying Mask, Succulent Gel Moisturiser, Vitamin-E Lip & Cheek Tint (The Original Pink), Rejuvenating Serum, Blue Light Mist, AHA BHA PHA Exfoliating Cleanser, Purple rice + Quinoa Shampoo and Sacred Lotus & Vanilla Body Butter.
PRICE:

 The Greatest Eight box is Rs. 6,985, The Greatest Six is Rs. 4,985
ORDER:

 Online here
---
SOMETHING FOR DIYA LOVERS
---
WHAT:

 This home decor brand that has minimalistic and elegant products for the festive season including this must-have set of pearl and beaded diyas which will be sure to brighten up your Diwali even more!
PRICE:

 Rs. 590
ORDER:

 Online here
WHAT:

 You'll find lots of festive gift boxes, bags, Diwali tags and gift wrap, as well as trays and diyas. We love the colorful Diya options!
PRICE:

 Rs. 360 for set of 2
ORDER:

 Online here
---
Main photo courtesy of The Sheraton Grand Bangalore, All photos courtesy of the brands