Not my circus not my monkeys!
… we all have been there and some of us still are due another wave of COVID lockdowns and the limitations that come with that. Our little monkeys (aka our beloved sweet children) are home and there isn't a known date when we will be able to send them back to school or kindergarten. Many of us parents are already pretty busy with life's side gigs such as full-time jobs, homeschooling, providing for the family, caring for sick relatives and equipped with zero ideas and energy when the big question is popped (3 zillion times a day). Nope, we are not talking about the dreaded, "What's for dinner tonight?" we are talking about her nagging little sister, "What can I do? I am soooooo bored!"
So we tried to gather a few ideas from Pinterest on how to keep kids (
from babies to teens)
busy with things that you will easily find in your household or that you could still purchase through Amazon or borrow from a neighbor. Because this is your circus and those are your monkeys. Hang in there everyone … here we go!
---
BABY 0-2 YEARS OLD
---
While babies and young toddlers are not really able to craft by themselves, we added a few ideas to keep them happy and busy. With sensory bottles, bags and bins the sky's the limit. Do you not have specific toys for the sensory bin? It's no problem to put in some safe cooking tools from your kitchen e.g. wooden spoon, whisk etc. You could also put them (or baby's favorite fruit or snack) in a plastic box and wrap it as a present. The joy of pulling paper, ribbon and the unwrapping process will keep them busy for a few minutes at least. Do you have no pearls for a sensory bottle? Use dry beans or chickpeas or coffee beans or whatever will make a sound when shaken in the bottle. Edible colors and safe-taste playdough are super messy but easy to produce and loads of fun in an outdoor space or on a towel inside. Pots, Pans, plastic bowls and plastic cups can build "waterparks". Or use the baby gym and attach new things to it. You will be surprised how engaged your little one will be. Pillow fortresses or little crawling Parcours are easy to set up, disassemble fast and go a long way.
SENSORY BOTTLES
TASTE SAFE DIY KINETIC SAND
TASTE SAFE EDIBLE PAINT ( 2 INGREDIENTS)
GREEN PEA SENSORY BIN
TUGGING BOX
TACTILE MONTESSORI MOBILE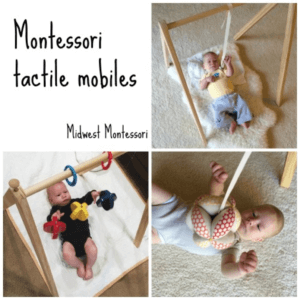 DIY PULL TOY
SENSORY HULA HOOP RING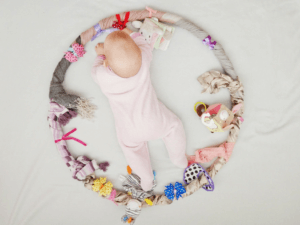 FOOTPRINT ART
BUBBLE WRAP PAINT RAINBOW
TYE DYE BABY WIPES
---
TODDLER 2-4 YEARS OLD
---
2-4 year-olds will still need lots of help with these activities but they will keep them occupied. As already explained in the Baby section those sensory bins can be anything and cover any topic. Beans, dry rice, dry pasta, grass, stones, water, ice, the most random toys or items make great landscapes and keep little hands busy. Dry pasta can also be put on thread and become a pretty necklace (color with watercolors), paint pasta and then use it to sort shapes sizes and colors. Salt dough to make some funny ornaments that could be sent to grandparents and other relatives. You might like to use big buckets and containers to create some aquascapes on balconies. If the weather allows it, set up an old tent you have in your storage on the balcony or even in your living room and do a little adventure Pyjama Party with torches and nice stories. Maybe all plush toys and dolls need a bath and some grooming so set up a washing station in the shower or in a bowl. A scavenger hunt through the house can be adapted to any age group.
FOOTPRINT ART

FINGERPRINT ART

TODDLER SENSORY BINS

CONSTRUCTION TRUCK SENSORY BIN

DIY TODDLER BUSY BOARD

SENSORY TUFF TRAY FARM

DIY SCOUT DRUM

LADY BUG ROCK PAINTING

SALT DOUGH ORNAMENTS

TISSUE PAPER SUNCATCHER
https://pin.it/4NIalg0

SALT PAINT PICTURE

DIY LANTERN FROM PET BOTTLE

UNPOPPABLE BUBBLES

HOMEMADE PLAYDOUGH

---
YOUNG KIDS 4-8 YEARS OLD
---
There are plenty of things 4-8 year olds can already craft by themselves. Depending on their skills and interests those ideas can be easily tweaked. Besides crafting it's maybe time to open the costume trunk and throw an impromptu-themed dinner (or breakfast or lunch) or everyone can just dress up as any character they like. Upcycling, especially regrowing from kitchen scraps and germination experiences are super exciting activities. This is also the age and time for basic experiments and observations such as an erupting volcano in the kitchen sink, growing crystals and more.. Home-built racetracks or a little home beauty parlor for the weekend and you are good to go or spend a night in your old tent or sleeping bags on the balcony using torches to explore the night. Hand over the dessert production ( ice cream – no-bake cakes – muffins – fruit salad – fruit rolls …) once a week to the kiddos it might surprise you how creative they are (and their skills to fully trash your kitchen in under 5 minutes). Calling the grandparents for extended storytime or family board game night never gets old either.
EXPLORING GERMINATION- GROW BEANS IN A BAG

VEGGIE & HERBS REGROW FROM KITCHEN SCRAPS

PAPER PLATE PARTY CROWN

BETTER THAN SALT DOUGH HOMEMADE CLAY

MELTED BEAD SUNCATCHER

HOMEGROWN NAME CRYSTALS

EASY KIDS SCAVENGER HUNT AT HOME

DIY PAINTED PASTA NECKLACES

COLOR CHANGING VOLCANO ERUPTION

2D 3D MARSHMALLOW SHAPES

BLACK SCRATCH ART

DIY KALEIDOSCOPE

GIGANTIC BUBBLES

LIFE SIZE BODY MAP

---
KIDS 8-12 YEARS OLD
---
8-12 years old, congratulations you have kind of reached the sweet spot of parenting meaning they are mostly independent just need ideas, supplies, prayers and off they go. These kids are also pretty busy with online schooling so handing them a device letting them relax never gets old (no judgment here). For some extra activities besides screen time you could hand them some basic tools (eg. screwdriver) and whatever broken appliance you have (old radio, hairdryer, broken toaster ) and let them disassemble and assemble the full thing. Google and YouTube for trickier questions. Involve them in cooking and baking. You might end up with a yummy treat while they are learning basics that might come in handy later. Many cool tutorials for upcycling, bullet journals, tie-dye, mind-boggling paper art or homemade Instagram-worthy clay crafts, easy sewing projects, an online class for drawing their own gaming characters and small DIY outdoor Parcours to test their new skateboard or roller skate skills for the win.
PAPER FLEXTANGLES

MINI JAPANESE FLYING CARP DIY

PAPER FLOWER CROWN

POMPOM PENCIL

CUTE SODA BOTTLE PLANTERS

COLORFUL ROCK ART

AIR DRY HOMEMADE CLAY (NO COOK)

SUNCATCHER/ NATURE WIND CHIMES

MACRAME RAINBOW CHARM

DIY RAINBOW SLIME

PLASTIC BOTTLE WIND SPINNER

---
TEENAGERS 12+ YEARS OLD
---
Teenagers 12+, super busy with online school, sleeping, gaming and extravagant mood swings it can be tough to motivate this particular crowd for any extra action. However, we gathered some ideas to upgrade their rooms, daily used appliances and clothes.
DIY HANGING BOTTLE GARDEN POTS

PAPER CRAFT THE ENDLESS WHEEL

DIY CHERRY PAPER FLOWER GARLAND

DIY FLOWER CROWN

ZERO WASTE HOME PROJECTS FOR BEGINNERS

REPAINT YOUR OLD PHONE CASE

UPCYCLED DENIM POCKET ORGANIZERS
UPCYCLED OLD SKATEBOARD DECKS

UPCYCLED WALL HOOKS MADE FROM SKATELAND TRUCKS & WHEELS

INSTAWORTHY AIR CLAY PROJECTS

MACRAME BUNTING/GARLAND FOR BEGINNERS

DIY MACRAME CAMERA/CELLPHONE STRAP

UPCYCLED T-SHIRT BAG

ICE DYED SNEAKERS

PASTEL TIE DYE TEES + MORE