Books are such an essential part of the cultural landscape of a country, especially a country as vast, complicated and diverse as India. This is by no means a full list, but it is enough to get you going! Let us know what other books about India you enjoyed.


Love him or hate him, left or right-wing, no one can deny that Tharoor is an intellectual force to be reckoned with. This book is based on his famous (or infamous, depending on who you ask) talk at the Oxford University in 2015. In the speech, he asked Britain to pay reparations to India in an amount of 1 pound for the next 200 years- a pound for every year of the British colonial presence. In this book, he expands on his argument and gives an insight into the sheer scale of abuse India has gone through during the Raj. Great read for everyone and easy to follow for those not well versed in that point in history.
A blend of empirical and anecdotal, The Billionaire Raj looks into the ever-growing levels of inequality in India, made ever more pronounced by the rapid economic growth. It is easy to read deep dive into the economic reforms aimed at reducing the inequality, corruption and the world of Indian billionaires who co-exist with abject poverty. You do not need to be an economist to get into it and it will give you a great tour of the Indian economic system.

The family is the central unit of Indian society. It is not uncommon for families to live all together in one house, expending and shrinking depending on marriages and deaths. The Lives of Others is a fictional account of the slow decay of a Bengali family set among wider unrest falling onto the country. This book has it all, intrigue between sisters in law, family drama, political insights, class struggle. It is a big, ambitious novel that asks a lot from the reader, but it is so worth it.

ASKEW BY T.J.S. GORGE
Askew is a short book about our home, Bangalore, and how it changed from the Garden City of Indian in the 70s to the monster of a city that it is now. George has great insights into the cultural inteligencia of the city, the mafia and the entrepreneurs that have formed Bangalore and a few not so bright predictions for what happens next. A very quick read for everyone who wants to learn more about Bangalore.

As far as I am concerned, there is no list of books about India that doesn't include Rushdie. His brand of magic realism is not for everyone and I do feel he is at his best when he is more restrained and Midnight's Children is Rushdie at his best. Set at the stroke of midnight on the night that India gains independence and many consider it the prime example of postmodern literature. Yes, there are people with superpowers in this book, but that doesn't take away from the insights into India past and present. If anything, it brings to life the magic that is India.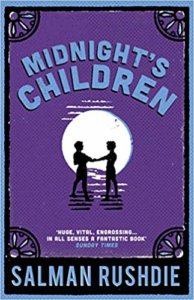 I love a good debut novel because I feel the writer has more freedom and fewer expectations from themselves as well as from the audience. You will not believe that this is a debut. The White Tiger is phenomenally crafted novel with tight, fast-paced storytelling that deals with such ubiquitous themes in India, such as the class struggle and the eternal quest for freedom from caste, class and the lot we have been given at birth. We join the main character on his journey from his native village to Delhi to Bangalore and the decision he makes to get himself out of poverty. Easy and yet deep read, full of gems that will open your eyes to a different India.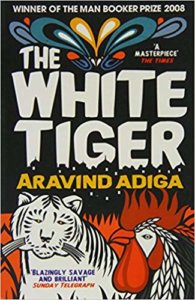 The quintessential Indian novel from one of the most prominent activists, a novel of rare beauty, depth and sadness. Not a lot of writers have such control over their language and manage to conjure such profound imagery from thin air. There is no major Indian theme that Roy skips in The God of Small Things, from politics to caste, to family expectations and the treatment of women. Roy hasn't published a novel for 20 years after The God of Small Things and while The Ministry of Utmost Happiness is good, it will be a long time until a novel can hold a candle to The God of Small Things.

Could this be the saddest book ever written? Maybe, but don't let that stop you from reading it. A Fine Balance is set in an unnamed coastal town during Indira Gandhi's Emergency and explores the ways in which the lives of four ordinary people are affected by political and cultural changes around them. A Fine Balance is a tour de force and a deep dive into the human nature, as it tries to answer the eternal question: how much injustice can one person really take.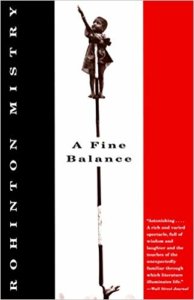 The most polarizing book out there (my editor and I fought over including it), Shantaram is either amazing (my editor's opinion) or terrible drivel (my opinion). In either case, it is a sprawling, engaging novel that takes place in the fascinating underbelly of Mumbai and introduces an unforgettable gallery of characters. It is the novel for when you are on the beach in Goa or sitting at Leopold's in Mumbai. The storytelling is on point, it is easy to read regardless of its volume and it has a special kind of atmosphere that really sucks you in. It is also full of purple prose and plot lines that go nowhere, so enter at your own risk!

You can find all these books in both physical copy and Kindle version on Amazon India as well as most at Crossword bookstores around the city or online (Vine Tip: Amazon In seems to have better pricing). To helo ease the pain of Bangalore traffic, we also recommend listening to these titles on Audible where you can find most of them as well!
---