"Outside of Swiggy" should be added to the title above. Not that we have anything against our tried, tested and loved Swiggy deliveries, but after so many months of being stuck at home we are all in the mood for something a bit more refined and a lot tastier! Here are some of our favorite home deliveries from home chefs, new dining concepts and kitchen from across the city!
CONOSH
We have a long-standing love affair with Conosh from pre-COVID times. Their dinners at the homes of some of the best home chefs of Bangalore are not just feasts, but also an amazing opportunity for cultural exchange. While we are not yet at a point in 2020 where we can eat at stranger's houses, that doesn't mean we cannot indulge in all of those amazing, authentic flavors! Conosh puts out a weekly menu that covers everything from Italian, Thai, Coorgi, brunch food and everything in between. The biggest problem on some weekends is to decide what you are in the mood for (not really, just get everything). Conosh also does great online cooking and baking classes for those of us using this year to up our cooking skills. Follow them on Instagram to make sure you never miss the next menu.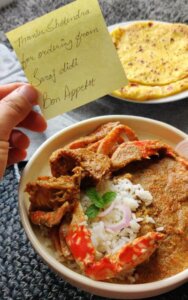 GHIZA KITCHEN
Ghiza is for serious meat-lovers only. This Afghani-Pakistani couple is serious about their flavors as well as portion sizes! We were lucky to catch one of their sit down lunches in January and I have been craving their nihari at least once a month since then. The food is as authentic as you could possibly hope for and every weekend brings two food combos, one that features their famous nihari (slow-cooked mutton shank in a stewy, spicy sauce) and one that features the biryani. Again, don't even try to choose, just get both. It is food coma inducing food; so don't plan any activities for after the meal! The food is more aromatic than spicy, so even if your palette is not ready for serious heath you will love it.
NAVU PROJECT
The ladies behind Bangalore's supper clubs (which I still claim used to be the best night of the month) really came through for us during the lockdown with their Blackboard menu. Known for their experimental and cerebral approach to food, Navu Project constantly does something different, from ramen and Japanese bar food to riffs on Heston Blumenthal's greatest hits and nostalgic flavors of Bangalore in the 80s. Keep a close eye on their Instagram because you never know what is coming next! Lately, they have been partnering with The Soul Company on their amazing brunch boxes and special thematic menus. Ready to throw a private dinner party? They also create bespoke dining experiences, especially at The Courtyard, so you can be sure that all safety protocols are being followed.
THE BOHRA BOHRA THAAL
I have never had Bohri food before this lockdown and let me tell you I was missing out- and chances are so are you! Bohras are a Muslim community mostly found in India and Pakistan with members in East Africa and Gulf countries and are famous for their food and food etiquette. Bohras are believers in communal dining and no food wastage, around a steel thaal that accommodates 8-9 people. The Bohra Bohra Thaal adapted to the "new normal" with their amazing home dining menus. As is fitting for a community that bonds over food, the portions are big and heavy! Again, not a meal to have before your Cubbon park jog. You absolutely have to have their mutton raan, which is a whole leg slow-cooked until the meat is falling off the bone in their ridiculously delicious masala. They also do Bohri fried chicken and nargisi kebab, which is Indian scotch egg. They also do bulk orders of biryani for your next office or home party.
THE FOOD LOVER COMPANY
If you are serious about the Bangalore food scene, you know Nikki, the face of our beloved and sadly closed Forage. Nikki is also passionate about the wellbeing of Coorg, its people and animals. She combined those two loves and started The Food Lover Company, which makes THE best sandwiches in Bangalore. No joke, I take my sandwiches very, very seriously and these are just insanely good. You message The Food Lover Company, tell them if you are vegan, vegetarian or a meat eater, any allergies and restrictions and Nikki will make you a sandwich you won't forget. Good news travel fast, so now sandwiches are sold out for days in advance. I started ordering every Monday for every Thursday just so I don't miss out on my fix. Fan favorites include pork with strawberries, spicy prawn with orange slices and all vegetarian sandwiches.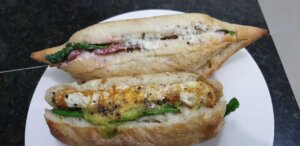 SLURP STUDIO
My go-to place every time I had visitors in town, Slurp is known for its fun, honest, delicious approach to food and their cooking classes. To make sure we don't miss out on all the goodness that comes with the space, Slurp now does online classes and weekend pop-ups. Every pop up is different, from biryanis to puffs to burgers and you really can't go wrong with any of it. Make sure to follow them on Instagram because they do sell out each and every pop-up- I am still kicking myself over missing on the puffs. Appropriate for both veg and non-veg eaters, there are always multiple options. Also, their jerk chicken wings might just be the best in town. Check out their digital classes as well, as classes are what these chefs are best known for!
LAVENDER BAKERY
We love Fresh Pressery for their clean juices and meals, but I just might love their little indulgent sister even more. Lavender Bakery does classic bistro-style food and super indulgent desserts, but what is even more important is that they do lobster rolls!! I don't know about you, but I can't say I have seen or eaten many a lobster roll in Bangalore. They also do a great blue crab roll, which I might personally like even more than the lobster roll and my husband swears by their lamb burger. Also worth checking out is the Cordon Bleu Panini and literally every dessert. I am just waiting for an occasion that will require me to order their full apple crumble cake- that occasion might just be a Friday.
THE ARTISANAL PASTA COMPANY
I'm a pasta snob. I live off carbs and I eat more pasta than I am willing to admit to anyone except my husband and I especially love fresh pasta. Enter The Artisanal Pasta Company! Their pasta is vegetarian and as fresh as it gets. They deliver it to you uncooked, so you can either freeze it for later or just toss it straight into to pot because who are we kidding, fresh pasta never lasts. They also partner with other companies such as Le Cheesery to bring you DIY lasagna kits, which are super fun for a date night at home or for cooking with the kids. The Artisanal Pasta Company also does sauces, so when you are in the mood for home-style food with minimum effort, look no further.