2022 is coming to an end which means it's time for one of our favorite lists! Our reccomendations of favorite handicraft markets as well as expat-run Christmas Bazaars and huge holiday fleas! This year we can already tell that there will be a lot of great options for your holiday amusement and shopping with holiday-themed items or local artisanal handiworks on display!
Keep checking back as we'll keep adding to it!
WHAT:

Find the perfect gift from over 70 carefully selected vendors at our extraordinary holiday shopping experience. Whatever you're looking for this holiday season, the OWC Christmas Bazaar has it all!
Entry fee Rs. 100 per person (cash!)
WHO:

Over 70 confirmed vendors!
WHEN:

Saturday, November 19th, 10:30 AM- 4:30 PM
WHERE: JW Marriott Prestige Golfshire, Convention Centre Linkway
WHAT:

The WZCC Revival of Parsi Artisans invites Bangaloreans to a Parsi Bawa Style place to eat, drink shop and be merry!
WHO:

 Stalls selling Parsi embroidery and garas, handicrafts, Christmas goodies, delicious food; baked, cooked, preserves as jams and pickles and children's games!
WHEN:

Saturday, November 19th, 3:00 PM- 9:00 PM
WHERE:

Lady Jehangir Kothari Memorial Hall, Queen's Road Corner
WHAT:

A little Christmas market with unique products that will make wonderful gifts get to meet your neighbors and friends at the market! A fun day of food, drink and shopping!
WHO:

 Hosted by Knowhere and HabbaHabba- small business owners from in and around Cooke Town
WHEN:

Saturday, November 26th, 1:30 PM- 8:30 PM
WHERE:

Knowhere (Banaswadi Main Road)
WHAT:

Find the perfect gift at their annual winter bazaar and find over 40 vendors offering food, craft and gifts! Bouncy castles and live music!
WHO:

New Artisans, Old Favorites, Old Traditions, New Avatars, Dying Arts, Revival Projects, Contemporary Crafts, Homemade Foods
WHEN:

Saturday, December 3rd, 10:00 AM- 3:00 PM
WHERE:

Canadian International School
WHAT:

Maple Ink is a community space where you can unwind with art, crafts and events! Food and Kid's activities as well!
WHO:

Christmas decor, art, food, soaps, candles, ornaments, stoles, blankets, wellness, plants, planters, pashminas, tailored jackets, kid's stationary, book ends, casual clothes and more!
WHEN:

Saturday, December 3rd, 10:00 AM- 6:30 PM
WHERE:

Maple Ink, Near Fab India off Whitefield Main Road
WHAT:

Christmas shopping with Santa hosted by stylist and Event Curator Kay Reynolds. A festive shopping experience with magical entertainment for the whole family! Expect tree lighting, carols, mulled wine and Santa!
WHO:

 Some very cool fashionable wearable pieces for the whole family!
WHEN:

Wednesday, December 7th, 11 AM-8PM
WHERE

: The Den Hotel, Whitefield
THE CHRISTMAS CARNIVAL 2022
WHAT:

 Shop, Eat, Play & Celebrate for a cause! A charity fund raising event. All proceeds will go towards Indus Community Project!
WHO:

 Home bakers and entrepreneurs with stalls selling goodies such as French/Alsace specialties, Linder Brioches, Pain devices, panettone's and West African drink and snacks, another stall with Marzipan, Greek Christmas cookies, chocolate bombs and more!
WHEN:

Saturday, December 10th, 9:30 AM-2 PM
WHERE

: Indus Early Learning Centre, Whitefield Lawns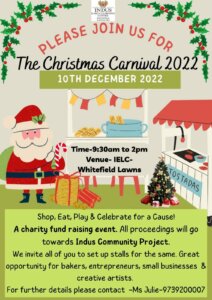 EMBASSY BOULEVARD CHRISTMAS CARNIVAL
WHAT:

 Holiday carnival on the lawns at Embassy Boulevard!
WHO:

 TBD
WHEN:

Saturday, December 10th, 5:00PM-9 PM
WHERE

: Embassy Boulevard Community Lawns
WHAT:

Celebrate this Christmas as a family at this Christmas Carnival. With DIY Activities for all ages, best photo ops, yummy food and mini Xmas market!

Buy tickets here
WHO:
WHEN:

Saturday, December 17th, 2PM- 9PM
WHERE

: Bangalore International Centre, Indiranagar

WHAT:

All that's merry and full of cheer with another Christmas pop-up of curated brands!
WHO:

TBD
WHEN:

Saturday, December 17th, 11AM- 6PM
WHERE

: The Green Pocket
WHAT:

Vegan holiday market for all plant based gifts and goodies!
WHO:

 With over 70 all plant based stalls including Araku, Brik Oven, Habibi Falafel, Dad's Hack, India Hemp & Co., Cosmix, Ethik, Urban Platter, Flyberry and more!
WHEN:

Saturday and Sunday, December 17th and 18th, 12:00 PM- 8:00 PM
WHERE:

Jinvara, Yelehanka
KELACHANDRA GROUP PRESENTS WISH UPON A STAR
WHAT:

Come celebrate with us all things Christmas from fun activities (such as making your own ornaments and decorating Christmas cookies and cupcakes) to a Christmas Market, all proceeds from the event go to charity!

2,999 for kids, 1,999 for adults, all proceeds go to charity! RSVP to +91 99019 60301
WHO:

Food and Christmas goodies!
WHEN:

Saturday, December 17th, 4PM- 8PM
WHERE

: Hilton at Embassy Golflinks
WHAT:

 Shop, eat, drink and be merry! An annual favorite at a stunning new venue!
Buy tickets here
WHO:

Handmade, unique products with a special Christmas theme!
WHEN:

Saturday, December 18th, 12:30 PM-1:20 AM
WHERE

: Ecoworld, Bellandur
---
Main Photo by Jill Wellington