After the fun of 2020, we are so excited to even be able to create our 2021 list (even if it is a bit smaller than in past years)! You'll find a list of favorite handicraft markets as well as expat-run Christmas Bazaars and huge holiday fleas! Vendors and products from all over India will be on display for you to choose all your Christmas presents for your loved ones- pick from holiday-themed items or local artisanal handiworks, there will be something for everyone! 
Keep checking back as we'll keep adding to it!
WHAT:

 A Hundred Hands brings you Bangalore's best-loved collective for handmade! From over 25 states and 1–+ artisan groups!
Entry fee Rs. 50 per person
WHO:

New Artisans, Old Favorites, Old Traditions, New Avatars, Dying Arts, Revival Projects, Contemporary Crafts, Homemade Foods
WHEN:

Wednesday, November 24th to Sunday, November 28th, 10:30 AM- 8:30 PM
WHERE:

Bangalore International Centre (BIC) 7, 4th Main Rd. Stage 2, Domlur
THE VINE TIP: This market is not to be missed! A must-see for all craft lovers!
PALM MEADOWS CHRISTMAS SALE
2021
WHAT:

An expat-run Christmas sale benefitting Zion Whitefield Orphanage!
WHO:

Christmas Decoration and Gifts including Reborn by Sylvie (eco friendly jewelry) , Lotus Vibe (handcrafted products), Footprints (home decor), Flames of the Forest (jewelry), Hand Art Treasures by Tahmina (paper light), Esperanza, Sosha Tissu (Clothes), Temple Tree (Stationary and gifts), Habibi Falafel (Medjool dates), Dimensionless Art and Tattoo Studio (paintings), Bishnu (paintings) and Bottega Pereira (home textiles)
WHEN:

Thursday, November 25th, 10 AM- 3:00 PM
WHERE:

Villa 48 Phase 1, Palm Meadows Whitefield
WHAT:
Find the perfect gift from over 30 carefully selected vendors at our extraordinary holiday shopping experience. Whatever you're looking for this holiday season, the OWC Christmas Bazaar has it all!
Entry fee Rs. 100 per person
WHEN:

Saturday, November 27th, 10:00 AM- 4:00 PM
WHERE:

Prestige Golfshire Clubhouse
THE VINE TIP: Great for Kids! Meet Santa! A bouncy castle, face painting and a playground!
WHAT:

A2Z Events presents the most fascinating exhibition of the city.
WHO:

Shop for the unique collection of Art, Craft, Handicrafts, Home decor, Handlooms, Clothing, Wooden toys, Jewelry, Bed linen, Paintings, Mats, Brass Artifacts apparel, fashion accessories, beauty products, home decor, and much more at the most attractive prices directly from the #Artisans from across India.
WHEN:

Friday, November 26th- December 5th, 11 AM- 7 PM
WHERE:

Chitrakala Parishath, Kumara Krupa Road, Shivananda Circle
POP UP SHOP: CHRISTMAS EDITION
WHAT: Amiel Gourmet hosts this Christmas edition of jewellery, clothes, bags, fragrances, Christmas goodies as well as a cooking class and activities for kids!
WHO: Amar Kosa, Flames of the Forest, Tamah, Sunsita, Bottega Pereira, Krishnamanim Julieta, Zafran, Sunshine for a School
WHEN: Thursday, December 9th, 10:00 AM- 7:00 PM
WHERE: 20th Cross Road, CQAL Main Road, Sahakarnagar
RAINTREE CHRISTMAS MAGIC
2021
WH

AT

: RainTree presents a collection of vendors on their lawns
WHO: TBD
WHEN: Friday and Saturday, December 10th-11th, 10:30 AM- 6:30 PM
WHERE: Lawns at RainTree, No. 4 Sankey Road, High Grounds Opp. to Windsor Sheraton
THE HANDCRAFTED EDIT
2021
WHAT:

The Handcrafted Edit is a one-day pop-up featuring niche & sustainable brands across fashion, lifestyle, home & gourmet.
WHO:

 Shop from an amazing curation of contemporary clothing for women, men & kids, jewellery & accessories, bags, holiday gifting, artisanal and homemade products & more featuring niche brands from all over India!
WHEN:

Saturday, December 11th, 11 AM- 8 PM
WHERE:

WeWork Galaxy, Residency Road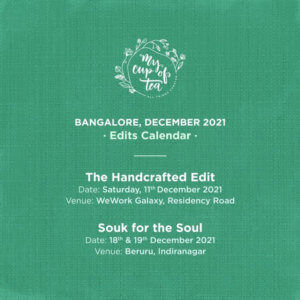 WHAT:

An artisanal Christmas market held at Studio Orenda on the lawns on Lake View Farm with free entry!
WHO:

Over 25 brands showcasing art, Xmas decor, sustainable ethnic & contemporary apparel, bags, paper lights, variety of jewellery, soaps & wellness products, eco-friendly products, organic produce fresh from the farms, mouth-watering eats & bites and cheese & cakes & bakes & bread & jams & more…. alll made with a whole lot of love & attention.
WHEN:

Saturday and Sunday, December 11th-12th, 11-6:00 PM
WHERE:

Studio Orenda, Lake View Farm Lawns, Varthur Main Road, Whitefield Bangalore
WHAT:

Kick off the festive season by shopping, eating and enjoying cruelty free conscious goodies at the Justbe Flea Market!
WHO:

Vegan brands TBD! Treat yourself or surprise someone with a range of conscious products!
WHEN:

Saturday and Sunday, December 11th-12th, TBD
WHERE:

Justbe Resto Café
WHAT:

Award winning popup Whimsical Wonderland is back with a BANG this December in Bangalore, where 40+ niche International and Indian brands will showcase their kids products for ages 0-12!
WHO:

You can expect child-safe food, kids fashion + accessories, innovative gifting solutions, newborn essentials, pregnancy must-haves, brain development toys, decor needs, stationary and school supplies and lots more.. Quality Conscious Brands For Quality Conscious Parents!
WHEN:

Wednesday, December 15th, 11:00 AM- 7:00 PM
WHERE:

Taj West End, 41/3 MG Road, Bangalore, 560008

Due to COVID restriction, they will not be having their annual event but you can experience the world of Christmas at your home here.
WHAT:

World of Christmas is an on-ground event to celebrate the spirit of Christmas and an online shop for all your Christmas shopping needs. The event is held in the cities of Mumbai and Bangalore in December where you get to experience world class decor, buy festive decorations, taste festive food and drinks and witness stellar stage shows and performances. It also has the country's largest Online shop for Christmas decorations with handpicked and top quality products from different parts of the world.
WHERE:

Online here
WHAT:

Say hello to the most unique Christmas shopping festival, your city has ever seen – SteppinOut Night Market – Christmas Wonderland with the best designer & festive products from across the country.
WHO:

 Vendors showcasing clothing, jewellery, home decor, furnishing concepts, fashion accessories, designer bags, terrariums & lots more
WHEN:

Saturday, December 18th, Noon to Midnight
WHERE:

Taj West End, Bengaluru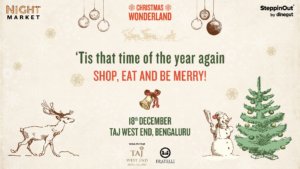 WHAT:

The Souk for the Soul is a 2 day pop-up for your festive gifting needs at Bangalore's favourite store, Beruru -Indiranagar.
WHO:

Stay tuned for more details!
WHEN:

Saturday and Sunday, December 18th- 19th, 11 AM- 8 PM
WHERE:

Beruru, Indiranagar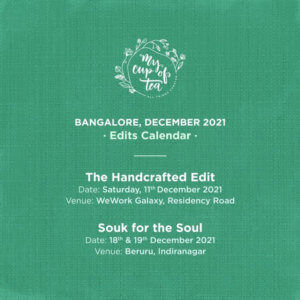 WHAT:

That's right! Sunday Soul Sante is back to bring you some holiday cheer! Join us on December 19th, 2021, for a day of Fun, Food, Flea, Music, and much more. Bring along all your family, friends, four-legged companions, and join the holiday cheer!
WHO:

Great handpicked stalls with products related to art, craft and design only
WHEN:

Sunday, December 19th, 12:30 PM- 12:30 AM
WHERE:

Jayamahal Palace Hotel, 1 Jayamahal Road, Behind Cantonment Railway Station
THE VINE TIP: Always a fan-fave, we love the Sunday Soul Sante's Christmas Editions!
SUPER MUMS OF INDIA CHRISTMAS BAZAAR + DONATION DRIVE
WHAT:

Run by Super Moms of India, this fun day will be filled with festive activities and Santa may even show up! Carol singing, face painting and more! Bring items for donation to hand over. Donated items will go to "helping hands" drive where they donate to the needy in and around their areas.
Entry Rs. 250 per head, kids below 2 free
WHO:

12 stalls will be selling homemade food, some Christmas items, books etc.
WHEN:

Sunday, December 19th, 11 AM-4 PM
WHERE:

The Green Pocket 37, HAL Old Airport Road, Rustam Bagh Layout
WHAT:

A Christmas day bake sale held at the lovely Courtyard!
WHO:

Wine and cake bake sale!
WHEN:

Saturday, December 25th,
WHERE:

The Courtyard, 105, KH Road (Lalbagh Double Rd Opp. Corporation Bank, Shanti Nagar, 560027
CHITRASANTHE 2021 

TBD
WHAT:

This is THE event to get great art! This reoccurring event is a one-day mega event showcases artists from all over the country.
WHO:

Drawings, Paintings, Graphic Prints, Miniature Formats, Sculptures and more
WHEN:
TBD (Plans are on now but will be finalized depending on situation later on)
WHERE:

 Chitrakala Parishath, Kumara Krupa Road, Shivananda Circle
We hope that the hard work that organizers and vendors have put into these markets is not for nothing and that these events will happen, but due to the nature of our Covid environment, things may be canceled. Please be sure to double-check in case things have changed.
---