I TRAVELED:

with my family + child (age 4)
TYPE OF TRAVEL:

luxury, city, beach
FOR

:

5 days
DATES:

December 2018
PRICE POINT:

$$$
This Christmas my family (husband and four-year-old son) wanted to visit Jordan. Since there aren't any direct flights to Jordan (connections are possible via Dubai, Abu Dhabi, Kuwait City, Bahrain, Doha, Muscat), we decided to spend the first and last few days of the trip surrounded by modern sleek skylines, shopping and sushi brunches. There are two flights a day from BLR to Abu Dhabi (AUH) both from Etihad which is one of our favorite carriers. There is a decently timed 9:50 PM flight as well as the dreaded 4:25 AM flight (we, of course, were on the 4:25 AM one for reasons I'm not quite sure anymore- most likely because the earlier flight was much more expensive.) I'm sure it goes without saying that I would highly recommend the 9:50 PM flight. The flight is around three and a half to four hours though so, either way, you arrive feeling pretty groggy. Luckily for our passports (list of passports that do not require visa below*) we were able to fly by the passport control without a visa or wait. I picked up my usual SIM card from the Virgin stand next to the baggage claim (I paid 79 AED or approx. Rs. 1,500 for 2 GB valid for a month) and we grabbed a Limousine transport service from the stand outside WH SMITH after the Baggage Claim but Uber is newly available in Abu Dhabi and there were taxis readily available (cash payment only). I can highly recommend just grabbing one of the large black airport taxis waiting in the line outside the door, they are mostly Mercedes Vans and cost even less than an Uber.
*Citizens of Australia, Andorra, Austria, Brunei, Belgium, Bulgaria, Canada, Croatia, Cyprus, Czech Republic, Denmark, Estonia, Finland, France, Germany, Greece, Hong Kong, Hungary, Iceland, Ireland, Italy, Japan, Latvia, Liechtenstein, Lithuania, Luxembourg, Malaysia, Malta, Monaco, The Netherlands, New Zealand, Norway, Poland, Portugal, Romania, San Marino, Singapore, Slovakia, Slovenia, South Korea, Spain, Sweden, Switzerland, United Kingdom, United States of America and the Vatican State can get a free-of-charge entry visa upon arrival at Abu Dhabi International Airport.
We spent our first three nights at The Four Seasons Al Maryah Island which was lovely. 25 minutes from the airport, connected to The Galleria, tons of restaurants (Zuma, Koya, Sambusec, Nusr. Et aka Salt Bae's restaurant, and more) and the waterfront promenade. We always try to choose a hotel with a Kids Club and the Four Season's didn't disappoint our 4-year old (who we had to pretend was 5 as that is the minimum age to be left unaccompanied- nobody said we were perfect parents). The only downside was that the hotel breakfast was not amazing (nor included in our room rate) at the Cafe Milano so we ended up venturing out on the other days to nearby cafes and restaurants (Cafe Magnolia, Cafe Nero, Leopolds). Of course, there are many hotel options for different budgets in the area.
On our way back from Jordan we decided to try out The Ritz Carlton Grand Canal due to its location next to the Grand Mosque. Unfortunately, I would not recommend this hotel at all as we experienced some of the worst service we ever have and the hotel was overly crowded and had much more of an all-inclusive resort in Turkey or Egypt feel than that of a luxury hotel. Save your money and stay somewhere else, anywhere else.
Four Seasons Al Maryah, Al Maryah Island, Abu Dhabi, United Arab Emirates, www.fourseasons.com
---
WHAT TO DO
---
We mostly just chose Abu Dhabi as a before and after stop to relax, enjoy some good food and drinks, catch up with some friends and shop but there is actually a good amount of things to do here. Obviously, you will find most luxury brands here (although not exactly at cheaper prices despite the 5% tax back) which wouldn't be that appealing if you were coming from the States or the UK but if you are coming from India and in need of something then it's a good place to find it.
We were excited to check out the Louvre which opened in November of 2017 located on the Saadiyat Island Cultural District. Standard tickets cost 63 AED (approx. Rs. 1,200) per person, 31.5 AED (approx. Rs. 1,205) for children from 13-22and free for kids under 13. Tickets were easy to purchase on-site using international credit cards or cash and could also be purchased ahead of time online. Free audio tours are offered and they even have a 2-floor Children's Museum with interactive art which gives kids a nice break to run around and actually touch things. The museum itself is extremely modern and offers tons of resting seated area for those with kids or who just need a break. There is a large outdoor area where you can walk around and admire the water as well as the cool architecture of the building. It was easy to grab a taxi or Uber to and from and they even offer golf cart rides from the taxi stand to the entrance and back as well as a small cup of coffee at the entrance! We spent around 2 hours there with our 4-year-old but depending on how interested in art you are, you may not need that much longer. Stand out pieces for me were the Piet Mondrian oil on canvas (Composition with Blue, Red, Yellow, and Black), Vincent Van Gough's Self-Portrait, Leonardo Da Vinci's Portrait of a Woman, Called La Belle Ferronoire, Pablo Picasso's Portrait of a Woman, and the Monumental Statue with Two Heads.
Louvre, Saadiyat, Abu Dhabi, United Arab Emirates, www.louvreabudhabi.ae Timings: Closed Mondays, Saturday-Wednesday: 10 AM- 8 PM, Thursday -Friday 10 PM- 10 PM
This amazing Mosque should definitely not be missed. Chances are you will pass it on your way from the airport anyway and it really is a sight to see. It's also completely free to visit and there are even guided tours given throughout the day. Make sure to dress appropriately as this is a religious and sacred place for Muslims. This does mean rather strict rules, especially for women. Long sleeves, long pants, and covered hair is a must (nothing tight). If they find that your outfit is still not appropriate they will provide women with abayas at no cost. Lots of women chose to do this just for the experience as well. Men are allowed to wear short sleeved t-shirts but must be in pants. Check the website more for more details in case of any future changes. The best time to go is at sunrise or sunset. We went right before sunset and caught the amazing light for some great pictures. After sunset, the blue lights illuminate the domes in the most lovely way.
Sheikh Zayed Grand Mosque, Sheikh Rashid Bin Saeed St, Abu Dhabi, United Arab Emirates, www.szgmc.gov.ae, Timings: Saturday-Thursday 9 AM- 10 PM, Fridays 4:30 PM- 10 PM, the month of Ramadan has reduced hours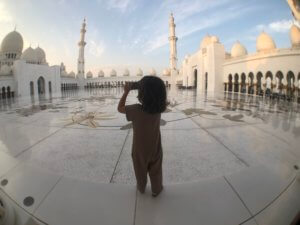 We did check out The Galleria which was connected to our hotel as well as the Abu Dhabi Mall which is a bit more down to earth (Laduree, Massimo Dutti, Zara, MNGO, Sephora, Virgin Megastore, Borders, etc.) and also Yas Mall which a friend who lives in Abu Dhabi told us is the only mall worth going to. Yas Mall is the largest mall in Abu Dhabi and has some great shops including a full Victoria's Secret and PINK store (a full store with bras and undies – not just the beauty products), COS, Pottery Barn as well as high end and all the usuals.
Some other things that we considered doing but that eventually lost out to lying by the pool and just relaxing were going to Yas Island where you can find Ferrari World Theme Park, Yas Waterworld, and Warner Bros Studio. Take a stroll on the Corniche where you will find snack and food stalls and just enjoy something that we in India aren't able to do much of- walk outside on flat, wide sidewalks.
Friday Brunch at Coya – Peruvian Nikkei- think ceviches, skewers and wagyu sushi rolls
Friday Brunch at Zuma- sushi and Japanese grill
Sushi 99 at Four Seasons -go for their business lunch Sunday-Thursday for 149 AED per person
Asia de Cuba – Chino-Latino food at St. Regis
Sambusek– middle eastern food, rooftop terrace overlooking water at Rosewood Hotel
Byblos Sur Mer– at Intercontinental on the water (middle eastern mezze)
Alymayass– middle eastern at Sheraton
Nusr.Et– the meme famous Salt Bae's steak restaurant
Entrecote Cafe de Paris– Swiss restaurant with only one item on the menu consisting of a salad, steak with secret sauce and unlimited French Fries (note they don't have a kids meal and as there are only options of different types of steak and the cheapest option is 200 AED (around Rs. 3,795), it may add up if you have lots of small kids), about 5 minutes away from the Grand Mosque
So Cho– casual Japanese sushi restaurant/lounge overlooking the water, about 5 minutes away from the Grand Mosque
---
GOOD TO KNOW
---
Abu Dhabi has the best weather from December to March but as this is definitely high season (November-March), hotel prices are higher. Coming from Bangalore, going to the UAE is quite the shock price-wise. Restaurants and alcohol are not cheap but it is not as strict to find alcohol as people may say. Most restaurants we went to (outside of hotels) served beer and wine. Ubers and taxis are very safe, clean, and easy to get. Taxis only accept cash payment. As a woman, I have never felt unsafe in the UAE including on this trip to Abu Dhabi. I have personally had never experienced anything other than respect and generous hospitality from Emirati men but of course, I cannot speak for everyone. Other than religious sites (mosque) and cultural tours, I have never covered up more than I usually do (but I also don't usually wear very low cut tops or short shorts/skirts). Also, the weekend in Abu Dhabi is Friday and Saturday and all the brunches are usually held only on Fridays.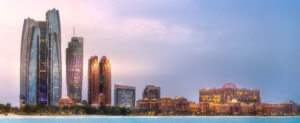 ---
Main photo by Alexugalek, Photo #1