Last year I made a move to Amsterdam, all ready to be Emily in Paris – the Amsterdam/India edition.
Instead I felt like Peppa Pig without the whole cast.
Luckily, I brought some things along with me based on suggestions and my research. And today, I am sharing that list with you for if you ever leave India.

1. SKINCARE
I have a minimal skincare routine but some things that I always need are rose water and coconut oil. So my skincare kit has these:
Kama Ayurveda's Rose Water:

 

I have been using this since my pre-wedding rituals and I have never parted with it. It helps my skin stay moisturised even during winters, which has been perfect for the European weather. 
Coconut Oil: Yes, I know I can find it in Indian stores in Europe but I wasn't going to spend massive bucks on something that's available quite literally in every nook and corner of Bangalore. It's another product that reminds me of home, and comforts me when I miss my mother's 'champi' (hair massage)

Your Usual Serums: While European beauty products are revered, moving to a new country brings dozens of challenges and disruption to routines. Your skin undergoes a lot of changes so if there is a serum or skin care product that has been working for you, I'd suggest carrying them with you. You can experiment a few months later but during the first few months it's best to give your skin what it knows. I carried Inde Wild day and night serum with me. Created by Amsterdam-based influencer Diipa Khosla, I was excited to use the serums but shocked to find that they were available on Nykaa but not in any EU stores! And now that my bottles are finishing I am forced to rethink what product to experiment with.

Rituals

is a brand I've been experimenting with – and so far it's been quite nice.
2. UTENSILS + COOKWARE
 

I'll be honest – I love cafes and pizzas and trying new cuisines. But coming from an Indian household I consider Dal, curries and Rajma-Chawal (red kidney beans and rice) my staples. So while I transported my whole Indian kitchen via shipping, in case you don't want to dole out for extra luggage, here are the minimum things you should carry:
The traditional pressure cooker  – and some extra gaskets: 

I carried a 3.5 litres cooker with me for a household of two but you could decide according to your needs. Also ensure that it is induction and dishwasher friendly – like this

one from Hawkins

.
A tea strainer: I love a good cup of coffee in cafes but when it comes to tea, I like to go desi. One of the first things that went in my luggage was a durable steel tea strainer because I cannot get my caffeine hit from 'chai latte'. 

Kadhai (Indian wok): I know Ikea has a lot of options for deep woks, but for my dry 'subzis' I prefer a flatter one. Since Indian stores have a bigger variety, I chose one with a lid, like this

one from Bergner

.
Tempering pan: Whether you call it 'tadka' or 'bagar', tempering is a definite flavouring step in many Indian recipes. You can still use other alternatives for this, but I find this pan adding a tinge of cuteness to my kitchen. You could find one in a local utensils store, or

this one by Milton

.
Tawa: As a north Indian, I love my rotis. So I brought a cast iron tawa or flat pan with me that I was using in my Bangalore kitchen. It is induction-friendly, and way cheaper than the alternatives I have found in Dutch stores, so I consider this a must-have from India. You can also think of carrying a dosa pan, although I've seen some cast iron variables from Ikea that could work as well.
3. CLOTHES

While it is advisable to buy winter wear from Europe, I carried a bunch of my sarees and -wait for it- my wedding attire along! I wouldn't advise this to everyone considering the houses in Europe could be smaller than the Indian houses. But I will strongly suggest carrying at least 3 Indian attires when you move – be it a traditional silk suit or an heirloom sari or
pavadai chatti –
and don't forget to include some men's kurtas for your partner. Clothes are a nice way to bring a bit of home into your new city – especially when you want to dress up for a festival or some community event. 


4. PIECES OF HOME
Moving far away from home isn't easy, especially emotionally. Having seen my mum go through something similar once, I wanted to carry something that reminded me of home. It could be anything – from the blanket you love to framed pictures of your friends and family – it's the little things that feel like a warm hug on days when you feel homesick.
5.

EDIBLES

(NOT THAT ONES THAT I CAN GET IN THE NETHERLANDS)


Even though I knew about the many Indian stores in the Netherlands, I carried a few spices and ready-to-eat items in my luggage.
The list depends on your preference, but I would strongly recommend:
Dried red chillies 

Dried curry leaves

Asafoetida or

hing

Maggi masala
Be cognizant of the fact that your limited luggage shouldn't hold stock that could last for years, but it should suffice for the first few months when you are still adjusting to the new flavours around you. Or if you're lucky – you might find Sarvana Bhawan just around the corner!



BONUS (and probably the most important)
Portable bidet shower: 
You may think that you will miss the food and the people from India but what you will miss EVERYDAY is water when you do you business. 
Western toilets don't have the concept of bidets or jet shower (or bum pistol) so be prepared for this culture shock by purchasing a portable bidet shower. These are easily available on
Amazon
, and easy to carry too.
The Vine Pro Tip – buy at least 3 and skip the 'mug' – you can thank me later.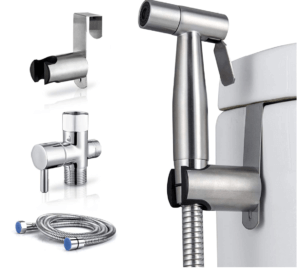 Travelling to a new country, let alone a new continent, can be fun, magical and sometimes nerve wrecking. I hope this list helps you a bit in the beautiful adventure you are about to embark on.
---