Diwali in India is like Christmas in London- the streets go buzzing with energy, every corner has a sweetshop or crackers on sale and every home gets busy with its annual cleaning. Or at least that's what happened till last year.
Like everything else in 2020, Diwali too has taken a somber turn. With many states in India banning the usage of crackers and restricted parties, people have taken their gift-giving traditions a bit more seriously. And in case you are looking for some last-minute gifting ideas, don't fret; The Vine has you covered.
---
FOR PEOPLE WHO PREFER GUILT-FREE DESSERTS AND LOVE CHOCOLATE
---

WHAT: Luxury Diwali Hamper that has 6 luxurious vegan desserts including blueberry cheesecake, brownies and stuffed dates
WHERE: Crave by Leena, order on their website
PRICE: ₹ 2,200
DELIVERY TIME: Confirm upon order
Crave by Leena is a Vine Favorite, not just because they create vegan desserts but they are seriously some of the most lush brownies we have ever had! They also have a mini Brownie Hamper that's topped with Diwali-themed icing, for ₹ 800/-
You can place your order on their website and have the hamper delivered directly to your loved ones. They can also add a personalized note upon request.
---
FOR PEOPLE WHO LIKE GOURMET DESSERTS BUT DON'T LIKE CHOCOLATE (YES THEY EXIST)
---

WHAT: Lavender shortbread cookies
WHERE: Lavender Bakery by Fresh Pressery, order via Instagram DM
PRICE: ₹650 for Box of 15
DELIVERY TIME: Pre-order required, confirm delivery time upon order
Known for their gourmet desserts and clean desserts, Lavender has a wide range of desserts that are great for non-chocoholics. We recently tried their desserts and are so happy about these festive cookies! Orders can be placed via Instagram; slide into their DMs for more details. They are also available on Swiggy and Zomato for regular orde₹
---
FOR ECO-CONSCIOUS FRIENDS + RELATIVES WHO LOVE ARTISANAL CHOCOLATES
---

WHAT: The Box of Indulgence
WHERE: Go.Native, available online and in-store across Bangalore
PRICE: ₹ 1,149/-
DELIVERY TIME: Online orders may take 4-5 days to deliver, but check the store in person!
If you have been in Bangalore since before the lockdown (which was what, like 200 years ago?) chances are you may have visited Go.Native or heard the name. For the uninitiated, Go.Native is a Bangalore-based café and store that promotes the usage of locally sourced ingredients and materials. They believe in sustainability and their gift hampers sing the same tune.
The Box of Indulgence includes vegan candles, dark chocolates created by Indian chocolatiers, and a diary along with some seeds that you can plant.
They also have some other hampers for under ₹1000; you can check their website or visit one of their 4 stores.
www.gonative.live, Instagram, Stores located in HSR Layout, Sadashiv Nagar, Lavelle Road and Jayanagar.
---
FOR YOUR IN-LAWS + FRIENDS WHO LOVE FLOWERS + COLOR
---

WHAT: Triumphant Glory bouquet
WHERE: The Flora.in, order online
PRICE: ₹ 2800/-
DELIVERY TIME: Usually takes one day to deliver. Charges ₹150/- extra for same-day delivery
The Flora is a local florist business that makes the most gorgeous bouquets using garden-fresh flower stems and leaves. You can also ask them to add a handwritten note to make your message a bit more special. Even better? You can gift someone their flower subscription that will deliver 4 different packages per month. Their blooms stay alive for a long time (from 5 to 25 days, depending on the type of flower) so this will be a gift that lasts for long.
---
THE LAST MINUTE RESORT
---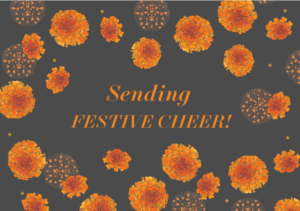 WHAT: Gift E-card
PRICE: Starts from 1000/-
DELIVERY

TIME:

Link emailed immediately
Let's be honest, it is not always easy to choose a gift for someone. And if your recipient is someone like Rachel from Friends (who will happily exchange your gift, unless it comes from her pre-approved list), the safest and quickest option is a gift card.
Nicobar is a Vine favorite lifestyle brand that has something for everyone. From flowy apparels to insta-worthy décor, their range suits everyone's tastes. They have special e-card designs available for the festive season, and you can choose any amount between ₹ 1000 & ₹ 20,000. These can be redeemed online or in-store and last for 1 year.
www.nicobar.com
Amazon.in is a locally loved portal. These will be ideal for –well, literally anyone who has the need to shop in the next 1 year. If you are looking to gift many people and are restricted on the budget then these e-gift cards will be great as they start from ₹ 500 and can be delivered to the recipient via e-mail or through WhatsApp or Messenger. A much better message to receive than a forward, no? You can also find physical gift cards on Amazon; these start from ₹ 1000 and may take 1-2 days to deliver within Bangalore.
www.amazon.in
Here's hoping this guide comes to your rescue when you need it, Diwali or not!
From Team Vine, wishing you all a very happy Festive season!
---